Dramatic plans for First Baptist Church appear to have caught the media by surprise, but they have been a long time coming – and are still some way from being realized.
Last week the church at the corner of Nelson and Burrard in the downtown core – working in partnership with
Westbank Projects Corp.
and
Bing Thom Architects
– unveiled proposals for a striking 550 foot tower, an eight-storey building and seismic upgrades for the heritage church building.
Vancouver Sun
reporter Jeff Lee wrote about the project in a September 18
article
:
The most striking aspect of that redevelopment is a proposed 56-storey tower housing 300 condominium units with a series of community gardens every three floors. Another eight-storey building with 66 units of below-market rental housing will be operated by the church. Between the tower and the stone church will be a glass-enclosed atrium that [senior minister Darrell] Johnson hopes will become a community gathering space.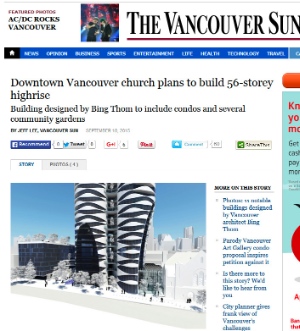 Westbank and the church have not yet filed an application with the city. However, it held two open houses earlier this week, one for the congregation and one for the public.
Johnson said First Baptist sold the air rights to the lands adjacent to its church to Westbank for an undisclosed sum. In return, Westbank will build the new facilities the congregation needs, as well as seismically upgrade the existing stone building. It will also restore Pinder Hall, an adjacent two-storey sanctuary that was converted half a century ago for a gym and other programming needs. The church will also get a new daycare and space for a new cold-weather shelter. Johnson said the deal translated into tens of millions of dollars in investment into the church, including seismic upgrading that will cost upwards of $12 million.
The unique tower design particularly caught the media's attention.Vancity Buzz said, "Another proposed skyscraper with a distinct architectural flair, designed by internationally renowned Vancouver-based Bing Thom Architects (BTA), could help shake up downtown Vancouver's mundane skyline."
Global TV reported on the 'Heavenly Highrise Proposal' during its September 18 News Hour (at the 8:10 mark). Anchor Chris Gailus said, "Vancouver's skyline could soon be changed by another dramatic tower," while reporter Jill Bennett added, "One of the unique ideas of this tower is it would actually curve [from its base in the current parking lot behind the church] around the existing church, to maintain its integrity."
Behind the media splash lies the reality that this project is just part of a long-term process. On the Vision page of First Baptist's Heart for the City site – which will be the place to look for updates on the project – senior minister Darrell Johnson says:
For over 125 years now, the people of First Baptist Church have tried to live out the great commandments at the heart of our faith: "You shall love the Lord your God with all your being," and "You shall love your neighbours as yourself." . . .
Over the past decades, the church leadership has slowly been buying the lands adjacent to First Baptist Church along Nelson Street. Two years ago, with the completion of the new YMCA complex, the last piece fell into place, allowing FBC to own five contiguous lots. Now the church has been given the opportunity to make its resources available to bless the city in ways no one ever dreamed possible!
Johnson refers to the church's desire to extend their care for children and street people, to offer concert and meeting space for the community, to create "a different kind of coffee house" and more. Go
here
for details.
Also on the Heart for the City site is the
Project page
, which has links to all the presentation boards from the pubic open house on September 15, along with an opportunity for feedback.
A key point is that Westbank and the First Baptist have not yet made an application with the city. The 'Planning Process' board at the open house noted that "The proposal is still in the early stages of the planning process. [First Baptist] will continue to engage the community as we further develop our plans." 
Mayor Malcolm Brodie welcomed Trinity Western University to Richmond during an official ribbon cutting ceremony September 17 at the university's new campus on Minoru Boulevard in the centre of the city. Here is a brief description of purpose for the Richmond site:
Designed to meet the needs of people in Richmond and surrounding areas, TWU Richmond will host a Master of Arts in Leadership, Richmond's first graduate program. It will also host a Bachelor of Arts in Leadership tailored for full-time international students as well as adults who wish to study part-time. TWU Richmond will be home to the university's MBA program in 2016.
The campus is on the third and fourth floor of the Carol Tong Centre, above Richmond's new City Community Centre. Some 140 students are enrolled in classes this fall, with room for as many as 400.
A recent
Trinity Western Magazine
article,
University Planning
, put TWU Richmond in context, describing a process of 'revitalizing the past; building the future':
Trinity Western University's campus [in Langley] started back in 1962 with an aging barn and a few outbuildings that became a gym, classrooms and administrative offices. Since then, 22 buildings have been built or purchased, a number of them receiving multiple additions, for a total of 670,000 square feet, at a replacement value of over $250M.
As many of these buildings are now in need of upgrades, TWU's focus in the coming decade will be on building renewal. Several renovations have taken place in 2014-15 alone, and many more are planned for 2016.
This year's highlights include the now-complete $4.6M full re-enveloping and interior redesign of the Robert N. Thompson and Stanley Nelson Centre buildings; an expansion of the David E. Enarson Gymnasium; and the new construction of TWU Richmond.
Go
here
for the article and a map and pictures of 13 improvements.
Beautiful Gospel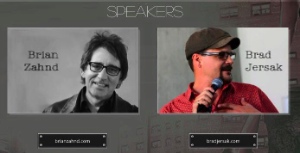 Fans of Beauty Will Save the World may want to make the trek out to Abbotsford to hear author Brian Zahnd in person, as part of The Beautiful Gospel Conference at Cascade Community Church October 1 – 3.
Joining Zahnd will be local author/scholar Brad Jersak. Zahnd wrote the foreword to Jersak's most recent book, A More Christlike God, A More Beautiful Gospel. The SHIYR Poets, led by Brian Doerksen, will provide the music.
Here is the organizers' description of the event's approach:
The Beautiful Gospel is that in a broken and lamenting world, God is love. God has heard our heartcry and shown us his love perfectly in the person of Jesus Christ. Jesus is what God says about himself, because God is like Jesus – exactly like Jesus – and always has been. And the clearest image of this Beautiful Gospel is the cross, where God's self-giving, radically forgiving, co-suffering Love is revealed in Christ!
C2C: October 2 National Day of Prayer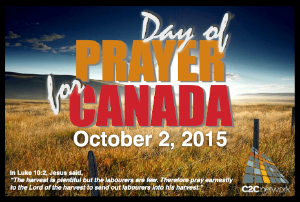 C2C Network is calling for a
National Day of Prayer for Canada
October 2. The movement, which began in the Metro Vancouver area, "exists to be a catalyst for multiplication and church planting throughout Canada." Here is their invitation:
"Call to me and I will answer you and tell you great and unsearchable things you do not know."
Jeremiah 33:3
What a great and mighty promise to hold on to as we join together on Friday, October 2nd for a Day of Pray and intercession on behalf of our country.
We invite you to set aside the whole day or part of the day to spend praying for Canada, for the effective proclamation of the Gospel, for planters, pastors, church leaders and all who call on the name of Jesus as Lord and Saviour.
May God move in our country to transform lives for the praise and glory of His great name!
September 23, 2015
Istoria Conference: Tell Your Story!
– September 23, 2015 - September 25, 2015 at All Day
September 24, 2015
Shine Vancouver 2015
– September 24, 2015 at 12:00 am
Shine Vancouver 2015
– September 24, 2015 - September 27, 2015 at All Day
At the Movies: The Necessity of Heroism (Istoria Conference)
– September 24, 2015 at 7:00 pm - 9:00 pm
Q Commons
– September 24, 2015 at 7:00 pm - 9:00 pm
September 25, 2015
Igniting Spiritual Gifts with Russ Kline
– September 25, 2015 - September 27, 2015 at All Day
Servants Training Weekend Vancouver
– September 25, 2015 - September 27, 2015 at All Day
Young Life Women's Camp
– September 25, 2015 - September 27, 2015 at All Day
Apologetics Seminar
– September 25, 2015 - September 26, 2015 at 7:00 pm - 4:00 pm
Sam Tudor / Noah Derksen
– September 25, 2015 at 7:00 pm - 9:00 pm
Willie George: Using Story to Reach This Generation (Istoria Conference)
– September 25, 2015 at 7:00 pm - 9:00 pm
Vancouver Chamber Choir: From Byrd to Bard - the Glorious English Tradition
– September 25, 2015 at 8:00 pm - 10:00 pm
September 26, 2015
Cross-Cultural Temple Tour
– September 26, 2015 at 9:00 am - 2:00 pm
The Daniel Plan
– September 26, 2015 at 9:00 am - 1:00 pm
Walk the Wall
– September 26, 2015 at 9:00 am - 1:00 pm
Dr. Donald Chittick: The Puzzle of Ancient Man
– September 26, 2015 at 2:00 pm - 5:00 pm
Dr. Donald Chittick: Submerged Megaliths and the Ice Age
– September 26, 2015 at 7:00 pm - 9:00 pm
Gibson & Gretsch Combo
– September 26, 2015 at 7:30 pm - 9:30 pm
Gratitude Live: In Honour of UGM's 75th Anniversary
– September 26, 2015 at 7:30 pm - 9:00 pm
September 27, 2015
Dr. Donald Chittick: The Bible and Time
– September 27, 2015 at 10:30 am - 12:00 pm
Jazz Vespers: Diane Lines
– September 27, 2015 at 4:00 pm - 5:30 pm
Organ Recital at the Memorial Pipe Organ
– September 27, 2015 at 4:00 pm - 5:00 pm
September 28, 2015
Book Launch: Donald Grayston: Thomas Merton and the Noonday Demon – The Camaldoli Correspondence
– September 28, 2015 at 7:00 pm - 9:00 pm
Speaking My Mind Toastmasters Club
– September 28, 2015 - December 14, 2015 at 7:30 pm - 9:00 pm
September 29, 2015
Public Lecture Series: Competing Paradigms: Christianity and Naturalism – God
– September 29, 2015 at 7:00 pm - 8:30 pm
Why the Inklings Matter Today
– September 29, 2015 at 7:00 pm - 9:00 pm
September 30, 2015
Yonghua Ge Theology Lecture: Aquinus on Creation
– September 30, 2015 at 12:00 pm - 1:00 pm
Adele's Wish: filmmaker Terrence Turner on his controversial documentary
– September 30, 2015 at 4:00 pm - 5:15 pm
Ethics Panel on Physician Assisted Death
– September 30, 2015 at 7:00 pm - 9:30 pm
Metro Vancouver Alliance: Federal Election Assembly
– September 30, 2015 at 7:00 pm - 9:00 pm
Jazz Evensong: Gabriel Mark Hasselbach
– September 30, 2015 at 8:00 pm - 10:00 pm
October 1, 2015
Life of Significance Golf Classic
– October 1, 2015 at All Day
Rend the Heavens World Summit
– October 1, 2015 - October 4, 2015 at All Day
The Beautiful Gospel Conference
– October 1, 2015 - October 3, 2015 at All Day
Verge Conference 2015: Arts + Environment
– October 1, 2015 - October 2, 2015 at All Day
October 2, 2015
National Day of Prayer for Canada
– October 2, 2015 at All Day
Perogy Night in Vancouver
– October 2, 2015 at 5:00 pm - 8:00 pm
Heroic Truth Conference with Josh McDowell & Sean McDowell
– October 2, 2015 - October 3, 2015 at 6:30 pm - 12:30 pm
Prayer For Canada
– October 2, 2015 at 6:30 pm - 8:00 pm
Bible Conference: It's All About Life for the Church & the World
– October 2, 2015 - October 3, 2015 at 7:00 pm - 2:30 pm
Women of Faith Says 'Farewell'
– October 2, 2015 - October 3, 2015 at 7:00 pm - 5:00 pm
International Men's Choir Concert for First United
– October 2, 2015 at 7:30 pm - 10:00 pm
musica intima: Bach and the Boys
– October 2, 2015 at 7:30 pm - 9:30 pm
October 3, 2015
Sea Change Colloquium
– October 3, 2015 at All Day
Redleaf Prayer: Ember
– October 3, 2015 at 7:00 am - 9:00 am
Ride for Refuge
– October 3, 2015 at 7:00 am - 1:00 pm
Transitions of Life: Healthy Aging, Retirement & the Spiritual Journey
– October 3, 2015 at 9:00 am - 3:00 pm
A Rocha Harvest Celebration
– October 3, 2015 at 1:00 pm - 4:00 pm
Gospel Night 2015
– October 3, 2015 at 7:00 pm - 9:30 pm
Violin Virtuoso Jaime Jorge
– October 3, 2015 at 7:00 pm
Book Launch: Donald Grayston: Thomas Merton and the Noonday Demon – The Camaldoli Correspondence
– October 3, 2015 at 7:30 pm - 9:30 pm
Music at Queen's: West Coast Symphony
– October 3, 2015 at 7:30 pm - 9:30 pm
October 4, 2015
LifeChain 2015
– October 4, 2015 at 2:00 pm - 3:00 pm
October 6, 2015
Public Lecture Series: Competing Paradigms: Christianity and Naturalism – Spirits
– October 6, 2015 at 7:00 pm - 8:30 pm
Common Cup Company in Concert
– October 6, 2015 at 7:30 pm - 9:30 pm
October 7, 2015
Vancouver Pastors Prayer Fellowship
– October 7, 2015 at 10:30 am - 12:30 pm
Business By the Book: Peter Irvine
– October 7, 2015 at 12:00 pm - 1:00 pm
Regent Redux: Me, My Stuff & God: Making Space in a Culture of Want
– October 7, 2015 at 12:00 pm - 1:00 pm
R. Scott Smith: Facts, Values and Modern Myths About Ethics (two lectures)
– October 7, 2015 - October 8, 2015 at 4:00 pm - 5:30 pm
Jazz Evensong: Darlene Ketchum
– October 7, 2015 at 8:00 pm - 10:00 pm
October 8, 2015
Christopher Kasongo / Sadao Watanabe: Through the Eyes of the Beholder
– October 8, 2015 - October 15, 2015 at All Day
October 9, 2015
Mental Health Week - The Thief: Anxiety
– October 9, 2015 at 7:00 am - 8:30 am
Jordan Klassen
– October 9, 2015 at 7:00 pm - 9:00 pm
October 10, 2015
White Rock Full Gospel Business Men's Fellowship ALL DAY EVENT – Business Men's Life Stories
– October 10, 2015 at 9:00 am - 10:00 pm
War Room: A Private Showing
– October 10, 2015 at 9:45 am - 12:00 pm
October 11, 2015
A Jubilant Thanksgiving: Celebrating 30 Years of Fujian Evangelical Church
– October 11, 2015 at 12:00 am
Homelessness Action Week
– October 11, 2015 - October 17, 2015 at All Day
Thanksgiving Jazz Vespers
– October 11, 2015 at 4:00 pm - 5:30 pm
October 13, 2015
Kairos Canada: Gendered Impacts Symposium
– October 13, 2015 at 9:00 am - 3:00 pm
Journey Discipleship Course (Tuesdays)
– October 13, 2015 at 7:00 pm - 9:45 pm
Public Lecture Series: Competing Paradigms: Christianity and Naturalism – Challenges to Religion
– October 13, 2015 at 7:00 pm - 8:30 pm
October 14, 2015
Jazz Evensong: LJ Mounteney
– October 14, 2015 at 8:00 pm - 10:00 pm
October 15, 2015
New Wine Renewal Conference (and Leaders' Day)
– October 15, 2015 - October 17, 2015 at All Day
Inklings Institute of Canada: Tea Party for Alice in Wonderland's 150th Anniversary
– October 15, 2015 at 7:00 pm - 9:00 pm
October 16, 2015
Hungry for Life Leaders Conference
– October 16, 2015 - October 17, 2015 at All Day
Two Generations Leadership Conference
– October 16, 2015 - October 17, 2015 at All Day
Women's Weekend
– October 16, 2015 - October 18, 2015 at All Day
Genesis Through Ancient Eyes: The Lost World of Adam and Eve
– October 16, 2015 at 7:00 pm - 9:00 pm
Strings of Hope
– October 16, 2015 at 7:30 pm - 9:30 pm
October 17, 2015
Dying in Canada: A Pastoral Approach
– October 17, 2015 at 9:00 am - 12:00 pm
Highlands Annual Gigantic Flea Market
– October 17, 2015 at 9:00 am - 2:00 pm
Hello Neighbour Project (Homelessness Action Week)
– October 17, 2015 at 10:00 am - 6:00 pm
James Coggins: Book Signing for 'Springtime in Winnipeg' and 'Je Me Souviens'
– October 17, 2015 at 11:00 am - 1:00 pm
lifeTOUR 2015
– October 17, 2015 at 12:00 pm - 2:30 pm
Norine Braun Band / Rae Dawn and Eco Systems
– October 17, 2015 at 6:00 pm - 9:30 pm
Theo's Feast
– October 17, 2015 at 6:00 pm - 9:30 pm
Dr. Jason Lisle: Apologetics and Astronomy
– October 17, 2015 at 6:30 pm - 9:00 pm
Stand on Guard: Election Prayer Night
– October 17, 2015 at 7:00 pm - 10:00 pm
Faculty and Friends Recital Series
– October 17, 2015 at 7:30 pm - 9:30 pm
John Walton: Genesis Through Ancient Eyes
– October 17, 2015 at 7:30 pm - 9:00 pm
Vancouver Cantata Singers: Angeli Archangeli
– October 17, 2015 at 7:30 pm
October 18, 2015
United in Prayer City-wide Rally: Canada at the Crossroads
– October 18, 2015 at 6:30 pm - 8:30 pm
Ancient texts; modern science: two leading scholars share their views on Adam, Eve and evolution
– October 18, 2015 at 7:00 pm - 9:00 pm
October 19, 2015
Diana Butler Bass: God in a Post-Religious Time
– October 19, 2015 at 9:00 am - 12:30 pm
Hope for Dalit Women: More Precious Than Pearls
– October 19, 2015 at 6:00 pm - 9:00 pm
Canada's Thanksgiving Concert Tour: Greater Vision & The Browns
– October 19, 2015 at 7:00 pm - 9:00 pm
October 20, 2015
Public Lecture Series: Competing Paradigms: Christianity and Naturalism – Structures of Theories and Evidence
– October 20, 2015 at 7:00 pm - 8:30 pm
October 21, 2015
Managing Me, Loving You
– October 21, 2015 at 2:00 pm - 4:00 pm
Dan Law: Visions from the Slash - Sculptural Meditations on Heaven & Hell (Opening Reception)
– October 21, 2015 at 4:30 pm - 7:30 pm
Laudato Si Symposium: Climate of Change
– October 21, 2015 at 6:30 pm - 9:00 pm