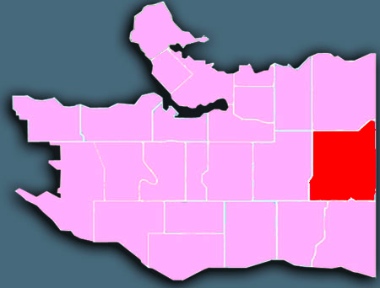 Renfrew-Collingwood is on the eastern border of Vancouver. Three major thoroughfares bring the bulk of the traffic into town from points east: the Lougheed Highway feeds into Broadway, the Trans-Canada Highway becomes Grandview Highway and Kingsway runs through the southern part of the neighbourhood.
Renfrew-Collingwood is bordered by Broadway on the north, 41st Avenue on the south, Nanaimo Street on the west, and Boundary Road (i.e., Burnaby) on the east.
Demographics
From Statistics Canada, 2011 Census, custom order for City of Vancouver Local Areas (comparative data for the Census Metro Area in parentheses).
population: 50,505     under 18: 17% (19%)      aged 65+: 13% (13%)
married/common-law: 45% (48%)    living alone: 8% (11%)  
have kids at home: 44% (40%)     lone parents: 2,645     widows: 2,015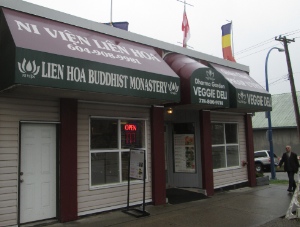 ESL: 71% (44%)     mother tongues:  Cantonese 20%, unspecified Chinese 12%, Tagalog 7%, Vietnamese 4%, Mandarin 4%, Punjabi-Hindi 4%
Renfrew-Collingwood is a working class neighbourhood with significant numbers of modest- and low-income households. Chinese immigrant families predominate, and commonly three generations share one dwelling. The neighbourhood has the city's third-highest percentage of ESL speakers.
History
Renfrew-Collingwood is one of the oldest neighbourhoods outside of Downtown. The first houses and businesses began sprouting up in 1891 around Vanness Avenue and Joyce Street, site of the Collingwood East Tram Stop for the then-new interurban railway between New Westminster and Vancouver.
As the main regional highway, Westminster Road saw significant commercial and residential development.
Vancouver's first school, now called Sir Guy Carleton Elementary, opened at the corner of Joyce Street and Westminster Road in 1896 with 30 students. Westminster Road was paved and renamed Kingsway in 1913.
The growth of Vancouver's transit system killed the interurban in 1954, but SkyTrain took over the right-of-way and tram stop, spawning condo towers around the Joyce Street Station in the 1980s. 
Notable features

Norquay Village: Now the pendulum of development is swinging back to Kingsway, with high-rise condos going in at the controversial Norquay Village (around Nanaimo Street) and across from Carleton Elementary School.
Former Mayor Sam Sullivan trade-marked the term 'eco-density,' which refers to a controversial array of urban planning policies intended to incrementally and strategically rezone the city. Laneway housing may be the highest profile policy. But the creation of high density 'neighbourhood centres' along arterial roads, Kingsway in particular, and around Skytrain stations will have far more long-term impact.
Norquay Village, centred on the intersection of Nanaimo, 29th Avenue and Kingsway, is the most recent example: 12-storey towers form a hub for concentric circles of lessening density (four- to six-storey apartments, row housing, duplex courts).
Debates on density: Advocates argue that a land-locked city obviously must densify or face further price hikes due to lack of supply, and that doing it this way reinforces walkable neighbourhoods and public transit. Detractors, not a few of whom currently reside in the Village zone, say the sudden up-zoning destroys existing communities and radically inflates prices, thereby displacing more low- and moderate-income households than will be accommodated in future.
Collingwood Neighbourhood House: Each year more than 100,000 people of all ages and ethnicities are assisted by the Association of Neighbourhood Houses BC, which has six locations in Vancouver, plus two more near White Rock and Port Moody. Incorporated in 1894, the ANHBC was part of the settlement house movement that began in 1880s England to serve the crush of migrants moving to urban centres.
Neighbourhood Houses are award-winning hubs for local community development, and although secular are nonetheless excellent models for faith groups looking to engage their home communities with holistic presence. Collingwood Neighbourhood House has particularly good partnerships with nearby congregations, even hosting worship services for Urban Village Church.
Still Creek runs through the lengthy Renfrew Ravine in the centre of the neighbourhood; it is one of only two remaining above-ground streams in Vancouver. Remarkably, spawning salmon have recently begun to return to the section north of Grandview Highway.
Churches
Broadway; Cascade Gospel Chapel; Collingwood Baptist; First Hungarian (Calvin) Presbyterian; Kehillath Tsion Messianic Fellowship; Lord's Harvest Fellowship; St Jude's Catholic; St. Mary's Catholic; St. Nicholas & Dimitrios Greek Orthodox; Standard Holiness; True Jesus; Urban Village. See map.
Here are a couple of ways in which Renfrew-Collingwood churches are linked to their neighbourhood. The list is far from complete and we would love to hear about other examples:
* Broadway Church is one of the largest and most active churches in the city. Its Community Initiatives page demonstrates the range, much of it operating from The Warehouse, just down the hill: Community Closet (clothing sale), Poncho Paks (for the homeless and others), City Reach Care Society (various programs), Out of School Care Program, Club Freedom (meal) and Food for Families (food bank). The church also runs The Manor apartment complex, across Broadway.
* St. Mary's Catholic Church on Joyce Street runs a very wide range of programs, both for church members and the broader community. Those for the latter include everything from line dancing on Friday evenings to a Migrant Workers program and participation in Metro Vancouver Alliance.
* Urban Village Church worships at Collingwood Neighbourhood House, right across Joyce Street from St. Mary's. Pastor Daniel Louie says: "It's not always a formal church 'program' that God can use but often it's the things that you are interested in and passionate about. I like to call these 'community initiatives' because they are ways to build relationship in our church, and to connect with those in our community."
Further information

* The Courier did several articles on Renfrew-Collingwood as part of a year-long series of articles on Vancouver neighbourhoods in 2013/2014.
* The City has a Renfrew-Collingwood page.