An intrepid contingent of carollers braved the rain to serenade passers-by at the Vancouver Art Gallery on Wednesday evening (December 23). Most were members of St. Peter's Fireside, which meets right next to the Art Gallery at UBC Robson Square.
Robson Street was busy, of course, just two nights before Christmas. Quite a number of people stopped, no doubt attracted by the confident singing. Everyone who even hesitated was handed a nicely put together 20-page carol-songbook-cum-testimony-invitation-to-church – and a candle. And some of them joined in with pleasure.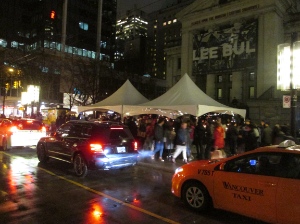 Songs were mainly upbeat, with crowd-pleasers such as 'A Holly Jolly Christmas' and 'Rocking' Around the Christmas Tree,' but there were plenty of sacred carols as well, including a rousing version of my favourite, 'O Holy Night.'
Dubbing the event Christmas Eve Eve: Carols in the City: (yes, two 'Eves'), the church hopes to carry it on as a regular Christmas event. I say go for it; it could become a seasonal staple.
Carols at the 7-Eleven
Members of New West Community Church brought some unexpected Christmas cheer to shoppers at the 7-Eleven Sapperton store on several evenings leading up to Christmas.
Lead pastor Paul Dirks, who lives in the neighbourhood with his wife Rachel and their five children, guided the choir. The church is just a few blocks down Columbia Street from the store, on Hospital Street, close to Royal Columbian Hospital.
On one evening, pastor Doug Friesen and members of Connecting Point led the carol singing.
Organizers hope to be back at the Sapperton 7-Eleven next year – and maybe even expand to sing at a couple of other 7-Elevens. Send an email here if you might like to be involved.