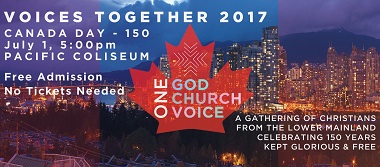 Thousands of Christians will gather at Pacific Coliseum this Saturday to worship God and celebrate Canada Day on the 150th anniversary of the founding of the nation. The celebration will last from 5 – 7 pm.
Giulio Gabeli, chair of the Voices Together leadership team, said:
Imagine for a moment what it must have looked like 150 years ago when the Fathers of Confederation gathered in Charlottetown PEI and established the constitution of this new Dominion. I'm sure that they did not foresee the expansion and the great growth of our nation as Canada has now become one of the most desired destination countries in the world.
Added to this, we can safely say that our Canadian passport is the most valued and sought after passport in the international community; and thus we have become the most ethnically diverse country in the world. We truly live in one of the most wonderful countries of the world and for this very reason there is so much to celebrate and commemorate on July 1st.
Voices Together 2017 will focus on the celebration of Canada's 150th birthday with an historical presentation commemorating the righteous foundation of our country. Our Fathers of Confederation by and large were very conscious of the Judeo-Christian values and principles that find their source in the Bible. In the establishment of our Canadian laws and constitution the Word of God played a central role in shaping the framework of our national conscience. Sadly today we are seeing a trend away from God and the values of the scriptures.
Dave Carson, another key organizer of Voices Together, sent me this description of the evening:
Worship Central will lead our praise starting with 'O Canada,' followed by a violin medley from the talented Rosemary Siemens.
Jonathan Mitchell of Chapel will inspire us with what the Lord has planned for youth and young adults, and the Pacific Academy Dance Team will delight us.
We will have a special presentation from Praise 106.5 followed by the offering to help us cover costs for this free – but expensive – event! During the offering the Vancouver Oratorio Choir will present two songs, one in English and the other in Mandarin.
Pastor Dave Koop from Coastal Church will share an inspiring message with a challenge followed by a time of prayer including small group prayer. We will then see a brand new video produced specially for us by Wakefield Productions that takes us all across Canada with a thoughtful narration.
Worship Central Band will close us out and all this expertly mceed by Pastor Giulio Gabeli and Laura-Lynn Thompson tag teaming with millennials John Etchi (RCCG) and Jessica Chan (Coastal). Please pray that all will flow to the glory of God. One more thing – the Gideons are shipping 6,000 New Testaments to be given out as people leave!
Hope to see you there!