Trixie Ling was walking in her East Vancouver neighbourhood May 9 when a young white man walking toward her began making racial and sexual comments. Though she tried to ignore him, he spat in her face. She spoke about the incident with CTV News. 
In this interview Trixie reflects on her experience and on her thoughts about systemic racism and the intersection of faith and race. 
How has your recent experience of racism impacted and changed you?  
My recent encounter of anti-Asian racism with a white man who spat on me while I was walking home has changed everything for me in how I see, understand and speak against racism today.
As I continue to process my feelings of grief and rage about the individual and collective impact of historical, systemic and structural racism against Asian, Black and Indigenous communities in Vancouver and across Canada, I know this is the hard work that we all must do to dismantle white supremacy, anti-blackness and colonization. 
I have been encouraged and challenged by Ji-Youn Kim, an anti-oppressive coach in Vancouver who says,
We process our feelings so that we don't get stuck in helplessness. We process our feelings so that we don't take action that is stemmed in guilt and shame – because that makes it about us, and not the actual work.
I am thankful for many friends and strangers who have reached out, checked-in, supported and cared for me by listening, processing and engaging in many difficult and healing conversations about racism.
I am doing my own hard work of learning about racial injustice, practicing decolonization, amplifying the voices of people doing anti-racist work and speaking out against systemic racism and inequities. I am breaking the silence, apathy and fear of racism by taking back the power, sharing my story with friends and the public, and speaking to the media to raise awareness, education and action.   
What would you like people to learn about racism? What can individuals do about it?
People need to learn about the history of systemic racism and how we have actively benefited from the oppression of people of colour. We need to reflect, understand and confront our own power, privilege and bias, and how they uphold and contribute to ongoing racism.
My Korean American friend and pastor often says that "distance is a privilege," so we have to start by acknowledging that we cannot distance ourselves from the problem of racism because we are all interconnected and have to keep each other accountable for our action in the church and community. 
We need to wake up, rise up, and speak up. This means doing your own homework of listening, reading and learning from people of colour; having hard honest conversations in your own circle of family, friends, neighbours and colleagues; supporting people who are fighting against racism; resisting the status quo; decolonizing society's mindset; practicing resilience; and empowering people of colour to share their own narrative.          
What action do you think churches should take to combat racism?
I think churches need to come together as the body of Christ to grapple with what it really means "If one member suffers, all suffer together, if one member is honoured, all rejoice together" (1 Corinthians 12:26).
Churches need to learn and recognize that they are part of perpetuating a system of racial injustice and how our collective action or inaction have affected those who have suffered because of racism. 
In 1 John 3:18, the apostle said, "Dear children, let us not love with words or tongue but with actions and in truth."
The call to speak the truth in love means having these hard conversations about racism and oppression in the church and institutions, repenting and confessing our wrongs, reconciling and asking for forgiveness of others, making restitution and reparations for systems that continue to create injustice, and working toward healing of the land and renewed relationships with people.
My hope is that as Christians we will shine as the light in the darkness and pave the road to peace through justice.      
I like a tweet by Ijeoma Oluo I saw the other day. Can you comment on it?: "The beauty of anti-racism is that you don't have to pretend to be free of racism to be an anti-racist. Anti-racism is the commitment to fight racism wherever you find it, including in yourself. And it's the only way forward."
These are powerful words spoken by anti-racist activist and writer Ijeoma Oluo, and I'm thankful for her reminder of the everyday internal and external work that we must commit to fight the structures of racism, speak the truth and take real action.
According to Oluo, we must learn how to be better allies in the service of Black liberation, which means limiting our responses to what is practical and tangible help. This includes giving money to groups that are doing anti-racist work, calling your local representative to demand policy changes, protecting Black people at protests, and elevating the voices and work of Black communities.
"Don't make us swim through your tears while we fight," said Oluo. We must commit to learning and doing anti-racist work together wherever we find ourselves.        
Can you tell us something about the work you are doing with Flavours of Hope? 
I'm the founder of Flavours of Hope, a non-profit social enterprise that empowers newcomer women to build social connections and experience belonging in the community through cooking, storytelling and entrepreneurship.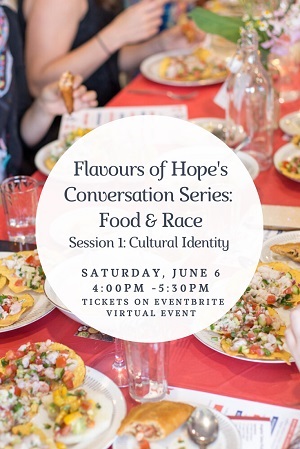 We just launched Flavours of Hope's Conversation Series: Food & Race with stories around a table. It's a three part conversation series that explores the intersection of food and race with themes of cultural identity, resilience and belonging. Food has the power to break down barriers, heal and unite different people together. This is a timely conversation about how we are all interconnected and impacted by increasing divisions and rise of racism in the communities.  
Our first roundtable conversation will be this Saturday, June 6 from 4 – 5:30 pm with women from Flavours of Hope and special guest Iona Santos-Fresnoza, co-founder of Kapé, ethically sourced coffee from Philippine indigenous women coffee farmers.
We will explore how we can use food and drinks to share our cultural identity, history, struggles and celebrations! Participants will receive a traditional recipe with a cultural snack and drink that they can easily make and enjoy during the conversation.
Tickets are by donation on Eventbrite: https://flavoursofhopefoodxrace.eventbrite.ca  
[Go here for several previous posts on Church for Vancouver about Flavours of Hope.]
Trixie Ling was born in Taipei, Taiwan and grew up in many places and learned about different cultures living in Taiwan, Singapore, United States and Canada. She attends First Christian Reformed Church, Vancouver.
She spoke at some length about ant-Asian racism with two other Asian women – Sunia Gibbs, a friend and pastor from Portland, and Celine Chuang, a friend who lives in the same Grandview Woodland neighbourhood, on a Parish Collective video.
She encourages people to take part in Bystander Intervention training, "to stop anti-Asian/American and xenophobic harassment."
Resources
Trixie recommends several books to learn more about cultural identity and racism: 
David P. Leong: Race and Place
Randy Woodley: Living in Color
Steve Heinrichs: Unsettling the Word
Austin Channing Brown: I'm Still Here: Black Dignity in a World Made for Whiteness
Tanya Talaga: Seven Fallen Feathers
Thomas King: The Inconvenient Indian
Alicia Elliot: A Mind Spread Out on the Ground
Lydia Collins: Angry Black Woman
A June 3 story on CBC News featured Joshua Koh, the English ministry pastor at Fraser Lands Church, In another situation of anti-Asian racism.