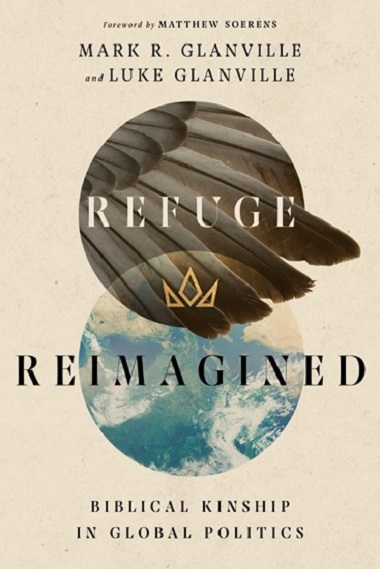 Almost 80 million asylum seekers, refugees and internally displaced people are seeking new homes in our world today, a reality requiring urgent conversation and action.
A timely new book is now available to help us reimagine personal, national and international responses to create pathways to safety and new homes for those who are forcibly displaced.
If you have even the smallest amount of curiosity or concern for such people, Refuge Reimagined: Biblical Kinship in Global Politics (InterVarsity Press, 2021) by brothers Mark and Luke Glanville is a relevant, readable, engaging and loud call to action.
Return to front lines
Many factors might hold back our imaginations or keep us from taking action – a fatalistic dismissal of a problem too big to solve; or a yawn in the presence of the old, unending story of displacement; or an uncertainty that leaves us feeling immobilized or fearful.
But Canadians have, over and over again and in the most remarkable ways, stepped forward to welcome those who are displaced. There is something deep inside that keeps us returning to the front lines to welcome and include those who have been forced from their homes and countries.
Refuge Reimagined will deepen, stretch and enrich the Canadian imagination for further opening of our homes, hearts and communities to refugees.
Shared journey
Before I say more, I need to make a review-bias disclosure: at their invitation, I've co-journeyed with authors Mark and Luke over the past few years as they wrote this book, meeting and investing with them in my role as co-founder and member of Kinbrace, one of BC's housing and support communities for people seeking refugee protection in Canada. I am quoted and Kinbrace is mentioned in the book.
Refuge Reimagined unearths the ancient biblical summons to welcome the stranger as kin. It goes on to develop a strong case that this ethic is as relevant today as it was thousands of years ago.
The book inspires scalable empathetic and practical action that starts personal and goes global, infused with a really thoughtful (and helpful) blend of theological and political reflection.
Mark and Luke bring complementary strengths to this book: Mark is associate professor of pastoral theology at Regent College, here in Vancouver. Luke is associate professor in the department of international relations at Australian National University in Canberra, Australia.
Together they articulate their reasoned, impassioned and compassionate voices based on solid exegesis, a gracious and generous experience of God and a strong grasp of international politics.
The stranger as kin
The theological / biblical premise for welcoming the stranger as kin is developed in Part One (The Bible), rooted in Deuteronomy's repeated message to the people of God to protect the stranger, the fatherless and the widow.
The authors point out that the Hebrew word for stranger is used in the context of care and concern 22 times in Deuteronomy (indicating forced displacement might have been a significant issue then, as it is now) while mnemonically anchoring the people of Israel to their lived experience as reason for empathetic justice and action:
You shall also love the stranger, for you were strangers in the land of Egypt. (Deuteronomy 10:19 
Through the reciprocal three-way love initiated by God, of Israel, for the stranger, "The stranger is enfolded within all Israel and is understood to enjoy the kinship of Yahweh, Israel's divine Kinsperson" (p. 44).
Ethic requiring action
This ethic requiring action isn't limited to ancient Israel or the church (Part Two) according to Mark and Luke, who go on in Part Three of the book (The Nation) to "outline a political theology of national community, applying the biblical ethic of kinship with the vulnerable and displaced to a world of sovereign nation states" (p. 124).
Here they grapple with national identity, the rather new (in human history) idea of nation states and their sovereignty, the question of whether citizens are more deserving of a government's attention than strangers, and, among other fears, concerns and opportunities generated in the presence of mass forced migration, the enduring disruption of colonialism that deeply impacts many countries in our world, not least Canada and Australia where Mark and Luke live.
Are we responsible?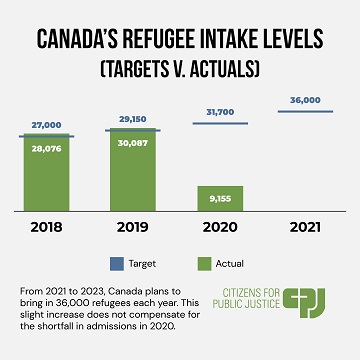 Part Four (The World) takes the question of responsibility to its furthest reach: Are we responsible for the displaced person or people halfway around the world who we will likely never meet in person, yet perhaps see on our TV screens?
Yes, according to the Glanvilles. They apply the same scaleable biblical ethic of welcoming the stranger as kin to challenge the pervasive Christian realism that tends to focus on what is realistic and strategic for a state, which inevitably remains "a self-centred way of thinking about the plight of the displaced" (p. 201).
Using as inspiration the Christian-led movement to abolish the transatlantic slave-trade, Mark and Luke suggest there's a significant opportunity for Christians today to initiate global change with and for those who are displaced.
Modelling creativity
These author-brothers employ their own creativity to make the book accessible and memorable. Both jazz musicians, they reference their experience of making jazz as a metaphor for how people, communities and countries might improvise creatively today, using biblical ethics – in this case the summons to welcome strangers as kin – to build freeform, contextual and creative responses to forced displacement.
As an example of modern-day improvisation, they point to Angela Merkel's Germany, which welcomed more than a million asylum seekers over the course of 2015, a stunning response to an urgent need, with impressive outcomes.
They also tell stories – biblical, historical, biographical, personal – throughout the book, to illustrate and explain. Hearing the voices of those who have lived the asylum seeker / refugee experience, makes the academically footnoted pages accessible and memorable.
Worldview to share
Based on its length (250 pages) and content, the most likely audiences for Refuge Reimagined are Christian academics, students, pastors, activists, advocates and people interested or already engaged in welcoming refugees – but I would encourage anyone interested in or wanting to learn more to read it.
While targeted at Christians, the book, with its well-researched and written content, definitely can and should reach those beyond the Christian worldview.
From idea to action
The challenge, with any book, is moving readers from idea to action. 
In the conclusion (Kinship Creativity), the Glanvilles offer a number of actions Christians and churches might take including cultivating a vibrant spirituality, a tenderness for and with those experiencing vulnerability, a shared life in diversity with a goal to learn and change, and a practice of seeking the kingdom of God far beyond one's own church into the global community.
What I felt was missing was a call to action based on the memory of our personal or ancestral migration stories, connecting us to the book's central biblical ethic: Love the stranger, because I remember how vulnerable it feels to be a stranger.
Perhaps the most interesting and potentially influential action recommendation – prompted by comments from Angela Merkel reflecting on her country's response to asylum seekers, and from the authors' (and probably your own) observations of Canada's and other western states' stimulus responses to stabilize citizens through the  COVID-19 pandemic – is to reimagine and then implement immediately enough resources and capacity to welcome 10 times the number of refugees we currently do.
Loren Balisky is Director of Engagement with Kinbrace.
Mark and Luke Glanville will be featured in two events during the next couple of weeks:

Register by March 12.
Refuge Reimagined authors Mark & Luke Glanville will partner with James Grunau (Journey Home Community, Vancouver) to discuss with us 'Offered Refuge: Making Family at the Intersection of Scripture and Global Politics.'
In this workshop context, Mark Glanville will put a biblical ethic of kinship to work on the issue of forced displacement. Via close examination of a biblical text, we will see how God's people are consistently called to extend kinship – a mutual responsibility and solidarity – to those who are marginalized and without a home.
Luke Glanville will explore how nations have both an opportunity and a responsibility to replace dispositions of fear and antagonism toward refugees with dispositions of trust and welcome. Luke will equip us to answer the "but what about . . ." questions that so often come our way!
Please join Regent College Bookstore for a conversation with Dr. Mark Glanville and Dr. Luke Glanville about their recent publication, Refuge Reimagined: Biblical Kinship in Global Politics. They will be hosted by Regent President Dr. Jeff Greenman.
The global crisis of forced displacement is growing every year. At the same time, Western Christians' sympathy toward refugees is increasingly overshadowed by concerns about personal and national security, economics, and culture. We urgently need a perspective that understands both Scripture and current political realities and that can be applied at the levels of the church, the nation, and the globe.