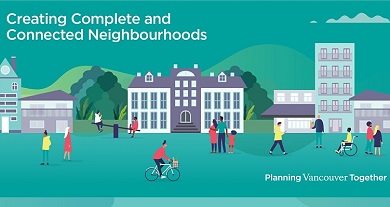 Maybe it's just me, but I don't seem to have heard much about the Vancouver Plan lately.
I hadn't heard a peep about the second stage of the process – 'Envision the Future' – which apparently began last October and runs through to May. Probably the pandemic.
At any rate, the city did sent out a release March 4:
As part of Planning Vancouver Together, we're inviting all those who live, work and play in Vancouver to help "map the city" by joining one of our fun, new workshops!

This is your opportunity to pinpoint all of the places you love in your community – think of your favourite local shops, cafes where you grab a coffee, parks you like to walk to on a sunny day, cultural centres and any other spots that are important to you.
We'll also ask for your input on your neighbourhood, what makes it unique, and invite you to shape your experience of living there.
Sign up to help create 'Complete Neighbourhoods' for all – ensuring a strong network of unique, connected places across Vancouver with easy access to daily and weekly needs.
Workshops will be 90 – 120 minutes, and each participant will work individually, with the support of a facilitator. The first workshop took place yesterday, but there are several more over the next couple of weeks: March 11, 13, 16, 18 and 22.
Go here for more information and to register. There are also links to self-guided walking tours.
Organizers add:
Creating "Complete, Connected, and Culturally Vibrant Neighbourhoods" is a key goal of the City's strategic Vancouver Plan: a long-term, strategic vision for the future of the city that will guide how we grow, invest, govern and work to build a city where current and future generations can thrive.
We know that as the city has grown, it has started to feel less 'complete' – more sprawled, less walkable and with fewer community hubs. Planning for complete neighbourhoods is an opportunity to strengthen all areas of the city – for the benefit of everyone.
Jonathan Bird wrote an excellent three-part series – 'City of Vancouver is vitally interested in places of worship' – in the spring of 2019. I followed up with another post.
Small Grants for all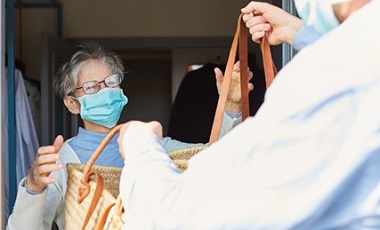 Another neighbourhood-building project is supported by the Vancouver Foundation, which is again handing out free money for good works:
Responsive Neighbourhood Small Grants (NSG) provides grants of up to $500 for projects that connect people socially or involve sharing skills or talents with each other. Projects must stay within guidelines for physical distancing.
And yes, a grant means you don't need to pay back this funding – no matter the outcome. . . .
Since 1999, we've seen small amounts of money make a visible difference in communities across BC. We see and feel the ripple effect of the grants in the book exchanges, benches and community gardens people have built.
What also matters are the waves and smiles from neighbours. Each tells the story of safer, more inclusive and connected communities. Though our grants are small, the results are powerful. Each project creates new relationships and a better tomorrow. . . .
You may not apply on behalf of a business or registered organization [like churches], but you may apply on behalf of an informal group (for example, a meetup or shared interest group).
Go here for the main Neighbourhood Small Grants page, and here for connections in Metro Vancouver, the Fraser Valley and other areas around the province.
St. Augustine's new neighbour?
A major new development is being proposed for the block right between St. Augustine's Catholic Church and St. Augustine Elementary School, at 8th and Arbutus, in Kitsilano.
Not surprisingly, both elements of the community are expressing concern.
BC Housing puts a positive spin on the development, saying it and the City of Vancouver "are taking collective action to address the critical needs of people who are at risk of or are experiencing homelessness."
They are planning "new warm, safe homes with supports" in two 12-story buildings; the one on Arbutus would have 140 studio homes.
St. Augustine Elementary School principal Michael Yaptinchay, on behalf of the church's Fr. Andrew (Rev. Andrzej Stendzina, OMI) posted a "call to action" on Facebook March 10, noting that the deadline for public response to the project is March 15.
It began:
For 110 years, St. Augustine School and Parish has been a cornerstone of the Kitsilano community, having embraced and often led positive change in our neighbourhood.
We understand Kitsilano will undergo significant change in the years ahead as the Province, City and other agencies address transportation, homelessness and densification challenges. We are prepared to work through these challenges as we engage all levels of government to assess their plans, identify shortcomings and offer solutions that work for everyone.  
Over the past two weeks, the parish and school leadership received feedback from a cross-section of our community related to BC Housing's recently proposed 12-storey supportive housing complex on a small lot immediately across the street from St. Augustine School, close to a toddler park, nearby day care, and the Sancta Maria women's recovery home. Your feedback has helped us to prepare our response.  
Go here for the eight-point response, which includes these recommendations:
There should only be modest building height increases from current standards, consistent with recommendations in the Broadway Plan to ensure the building fits into the neighbourhood. The school and nearby buildings dwarf in comparison to the proposed 12-storey complex.
Any application for rezoning of the property should NOT go forward until the neighbourhood has been properly consulted. The BC Housing proposal, as currently designed, should not proceed to rezoning. 
The school and parish had already been concerned about development related to the SkyTrain station planned for Arbutus and Broadway.
Book launch: Art and Faith
Makoto Fujimura is well known locally, having taught at Regent College, and having had exhibitions both at the school and at the Vancouver Art Gallery (sponsored by Image in 2014).
So it is not surprising that Regent and its Dal Schindell Gallery will host Fujimura March 18 for the launch of his new book, Art and Faith: A Theology of Making:
In this book, Fujimura attends to both the spiritual and creative aspects of making. Interviewed by Dr. Iwan Russell-Jones, this integrative conversation will be of interest to theologians and artists alike.
Hailed as "a real tonic for our atomized time," by Christian Wiman, Fujimura's book offers wisdom and knowledge born of a 30 year period as artist and cultural carer.
Makoto Fujimura is an artist, writer and speaker who is recognized worldwide as a cultural shaper. A Presidential appointee to the National Council on the Arts from 2003 – 2009, Fujimura served as an international advocate for the arts, speaking with decision-makers and advising governmental policies on the arts.
Fujimura's work is exhibited at galleries around the world, including Dillon Gallery in New York, Sato Museum in Tokyo, The Contemporary Museum of Tokyo, Tokyo National University of Fine Arts Museum, Bentley Gallery in Arizona, Gallery Exit and Oxford House at Taikoo Place in Hong Kong, and Vienna's Belvedere Museum.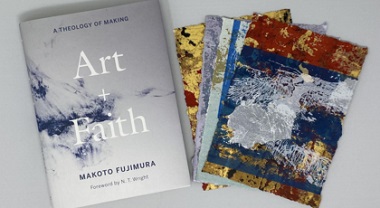 He is one of the first artists to paint live on stage at New York City's legendary Carnegie Hall as part of an ongoing collaboration with composer and percussionist Susie Ibarra.
In celebration of the 400th anniversary of the King James Bible, Crossway Publishing commissioned and published The Four Holy Gospels, featuring Fujimura's illuminations of the sacred texts. In addition to Art and Faith, he is also the author of Refractions and Culture Care.
Go here for a Livestream link to the March 18 book launch.
Charlene Kwiatkowski interviewed Fujimura at the time of his Vancouver Art Gallery exhibit in 2014.
Mar 2021
Spiritual First Aid Summit
– March 11, 2021 at 12:00 am
Reading the Bible Right Now with Dr. George Guthrie
– March 11, 2021 at 12:00 pm - 1:00 pm
Kathryn Chan: The Adjudication of Religious Refugee Claims
– March 11, 2021 at 5:00 pm - 6:00 pm
Eleanor McLaughlin: Disability, Technology and Human Flourishing
– March 12, 2021 at 12:30 pm - 1:30 pm
Building Relationships: Elder Care and Christian Political Advocacy
– March 13, 2021 at 10:00 am - 11:00 am
Kim's Convenience by Ins Choi | Reunion Reading, Pacific Theatre
– March 13, 2021 at 7:00 pm - 8:00 pm
Values for a New World: Panel Discussion, with Noam Chomsky, Miroslav Volf, Esi Edugyan, Linda Woodhead
– March 16, 2021 at 11:00 am - 12:30 pm
Alpha Webinar: Leading with Hope
– March 17, 2021 at 9:00 am - 10:00 am
Refugee Highway Partnership: Workshop on Biblical Kinship
– March 17, 2021 at 1:00 pm - 2:00 pm
Book Launch with Makoto Fujimura – Art and Faith: A Theology of Making
– March 18, 2021 at 12:30 pm - 1:30 pm
The Diakonia Project: Religious Faith in Action
– March 18, 2021 at 1:00 pm - 2:00 pm
Prayer Night for Bold Climate Action
– March 18, 2021 at 5:00 pm - 6:00 pm
Harnessing the Power of the Church to End Domestic Abuse
– March 19, 2021 at 6:00 am - 7:30 am
Ashley Moyse: Education by Dissent: A Theological Interrogation of Transhumanist Anthropology
– March 19, 2021 at 12:30 pm - 1:30 pm
A Cross-Canada Day of Prayer for Hong Kong
– March 21, 2021 at All Day
A Conversation with Tom Holland, hosted by Iwan Russell-Jones
– March 22, 2021 at 9:00 am - 10:00 am
Reflection on Uyghur Witness & Voices
– March 22, 2021 at 7:00 pm - 8:00 pm
Alpha Webinar: Transforming your Alpha through Prayer
– March 23, 2021 at 9:00 am - 10:00 am
Alpha Webinar: Youth Leader Gathering – Student Empowerment
– March 24, 2021 at 10:00 am - 11:00 am
Refuge Reimagined: Biblical Kinship in Global Politics
– March 24, 2021 at 12:00 pm - 1:00 pm
ACTS Seminaries Theology Symposium: The Church's Ethical Imperative in a COVID Age
– March 24, 2021 at 5:00 pm - 6:30 pm
Alpha Webinar: Run Alpha Q & A
– March 25, 2021 at 10:00 am - 11:00 am
A Conversation with Laura Fabrycki
– March 25, 2021 at 12:00 pm - 1:00 pm
Zaac Pick presents 'Passages — Unplugged' Virtual Show
– March 25, 2021 at 7:00 pm - 8:00 pm
The Musical Comedy Murders of 1940
– March 25, 2021 - March 27, 2021 at 7:30 pm - 9:00 pm
Joshua Chestnut: Three Questions for a Pornified Imagination: Finding Hope for Unwanted Sexual Behaviour
– March 26, 2021 at 7:00 pm - 8:30 pm
Songstage Livestream: Host Ivan Boudreau with Chris Ronald & Scott Cook
– March 26, 2021 at 7:30 pm - 8:45 pm
A Lenten Vigil for the Silenced
– March 27, 2021 at 12:15 pm - 1:00 pm
Easter at the Shining Rose with Brian Doerksen & Friends
– March 28, 2021 at 12:00 pm - 1:00 pm
A Conversation with Dr. Ross Hastings, hosted by Dr. Jens Zimmermann
– March 29, 2021 at 12:00 pm - 1:00 pm
Beauty & Brokenness: A Journey to Easter
– March 31, 2021 at 9:00 am - 9:45 am
CRISPR-Cas9: From Anti-Viral to Going Viral
– March 31, 2021 at 1:00 pm - 2:15 pm
Remembering the Forgotten Level of Government: Christian Engagement in Local Politics
– March 31, 2021 at 7:00 pm - 8:00 pm
Apr 2021
A Conversation with John Inazu
– April 1, 2021 at 11:15 am - 1:30 pm
Clark Elliston: Work and Leisure in a Technological World
– April 2, 2021 at 12:30 pm - 1:30 pm
Pacific Theatre: Testament
– April 3, 2021 at 7:00 pm - 8:00 pm
Reading the Bible Right Now with Dr. Mariam Kobalishyn
– April 8, 2021 at 12:00 pm - 1:00 pm
Michael Mawson: Living in the Midst of Death: Theological Reflections on Aging and Technology
– April 9, 2021 at 12:30 pm - 1:30 pm
Kairos Course (Sunday evenings)
– April 11, 2021 at 2:00 pm - 4:00 pm
Al Massira Online Training Event (Wednesdays)
– April 14, 2021 at 12:00 pm - 2:00 pm
Refugee Sponsorship: Building Friendships
– April 14, 2021 at 12:00 pm - 1:00 pm
Addressing Grief + Loss in Community Programs
– April 14, 2021 at 6:30 pm - 8:00 pm
Human Flourishing with Jaron Lanier
– April 14, 2021 at 7:30 pm - 9:00 pm
Addressing Grief + Loss in Community Programs
– April 15, 2021 at 2:00 pm - 3:30 pm
Communication(s) and Mission: Virtual Conference
– April 16, 2021 at 8:00 am - 2:00 pm
Brent Waters: Remaining Focused: Human Flourishing in the Emergent Techno-Culture
– April 16, 2021 at 12:30 pm - 1:30 pm
Bill C-7 (MAiD): What Will Happen Now?
– April 16, 2021 at 7:00 pm - 8:00 pm
Mission Central: Church Leaders Roundtable – Refuge Reimagined with Mark and Luke Glanville
– April 21, 2021 at 4:00 pm - 5:00 pm
Understanding Our Muslim Neighbors
– April 22, 2021 at 5:00 pm - 6:00 pm
George Grant and the Nature (and Loss) of a Moral Tradition
– April 23, 2021 at 7:00 pm - 8:30 pm
Imprisoned for Christ
– April 24, 2021 at 3:00 pm - 4:00 pm
Good Seed Sunday, Delivered by A Rocha
– April 25, 2021 at All Day
John Stott, Pastor, Leader and Friend: Global Overview of Stott's Influence
– April 27, 2021 at 8:00 am - 9:00 am
Reading the Gospels While Black: A Conversation with Esau McCaulley & N.T. Wright
– April 28, 2021 at 9:30 am - 12:00 pm
Who Will Determine the Course of Human Genome Editing?
– April 28, 2021 at 1:00 pm - 2:15 pm
Under the Sun: Types and Shadows in a Biblical and Brazilian Perspective
– April 29, 2021 - May 3, 2021 at All Day
The Church in a Post-COVID World
– April 30, 2021 at 6:00 am - 8:00 am
Himalaya: A Drive-in Film Festival (two shows)
– April 30, 2021 at 8:30 pm - 11:50 pm