This is the first of a two-part series by Matt Humphrey, who is assistant director of the Brooksdale Environmental Centre at A Rocha Canada, based in south Surrey.
He is involved with an event coming up at Grandview Calvary Baptist Church October 29: Famine or Feast: Connecting Faith, Food & People in Vancouver & Beyond.
The church is waking up to the reality of our creaturely existence. 
From the many charitable endeavours which support our brothers and sisters in the urban margins, to suburban congregations tearing up their lawns to install community garden plots, food is at the heart of this awakening. 
But what does it have to do with faith, really? Is this just a new fad? Or does our engagement with the food system tie more deeply into our faith?
Here are three ways that food and faith relate together, each of which invites us to a deeper discipleship.
1. Food is a basic need
Food is one of our most basic needs as human creatures and we humans fulfill that need in a unique and dangerous way. All creatures need to eat to survive, this much is true. 
Human beings, however, uniquely bear the image of God and are thereby entrusted with the task of caring for and keeping the Garden. (Genesis 2:15) This divine vocation of earth-keeping is never relinquished nor replaced, but frames the basic way that Adam (the human) relates to Adama (the soil). 
Throughout scripture this is celebrated as one of the ways God relates to creation – through food. Psalm 104 states; "All creatures look to you to give them their food at the proper time." Among those creatures are human beings, of course, but standing alongside creatures of the air and sea, as well as the domestic and wild creatures – all of whom, in the language of Psalm 104, "seek their food from God." 
As we hunger for daily sustenance, we stand with the vast community of creatures who depend on the gifts of God in creation for our fill.
2. Food makes us human
Food is one of the things that make us human. While we are creatures just as the cattle, Psalm 104 does wisely differentiate, noting, "He makes grass grow for the cattle, and plants for people to cultivate – bringing forth food from the earth."  
Human creatures don't simply graze (though if you spend much time in a university food court you might disagree), we have meals. We feast.
These human meals are how we continue the story – as families sit around a dinner table, and communities gather for a potluck.
Feasts become the central ways that we pause and remember ourselves, not just as part of a creaturely story (as though food was nothing more than fuel), but also as members of a sacred story . . . in which God rained down bread in the wilderness for our ancestors who had escaped slavery in Egypt . . . in which we celebrate at the time of harvest in thanksgiving to God for the bounty that comes up from the ground . . . in which we kneel at a table and remember Jesus, Emmanuel – God with us – in the breaking of bread and the cup.  
Our food makes us human and the way we feast together says something about the sort of world we want to live in. This is why Paul's stern words to the Corinthian church ring true today – the holy meal was, for the early church, about enacting a new way of being human in the world. 
Far be it that the rich Christians should go on and eat ahead of the poor! (1 Corinthians 11: 20-27) Paul knows that essential to "discerning the body" is that the whole human community be gathered around one table.
3. Food is central to worship
Food is the central act of Christian worship. The Lord's Supper stands at the centre of what we remember when we gather and is the means by which we become the body of Christ.
When we reflect carefully on the centrality of this meal in the New Testament, we find again and again that God is at work in this meal – a meal which links us to the whole tradition. 
Just as God rained down bread from heaven to the Israelites in the wilderness, just as Jesus went out to the wilderness and took the bread and distributed it, so too is the early church known for its devotion – not just to the apostles' teaching and to prayer, but "to the breaking of bread." (Acts 2:42)
Taking food seriously
I often ponder how we seriously we modern Christians take our life with food. Does our devotion "to the breaking of bread" link us throughout time and history to the story of Jesus and the disciples, to the Israelites in the wilderness? Do our mealtimes remind us that we are both creatures, dependent upon the sustenance of creation and human image bearers, who cultivate the gifts of God in creation and offer them up in lavish feasts of remembrance?
How does our food system today reflect any of these basic realities? How in a world of famine and hunger, do we bear witness to God's feast? 
I will take up these questions in part two of this essay.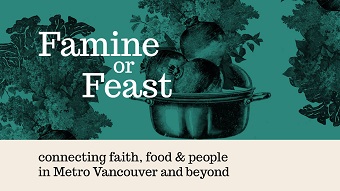 Famine or Feast is supported by a number of local groups, including A Rocha, Planted and Earthkeepers. Following is an outline of the focus for the October 29 event:
In light of God's vision for a just and celebrative approach to food, our hope for this day is to help individuals and churches engage in food issues both locally and globally. Together, we will learn to take concrete actions towards personal, corporate and systemic change.  
This event is part of the Good Soil campaign, a partnership with the Canadian Foodgrains Bank and its members, to advocate that the Canadian government increase its support for small-scale agriculture in Canada's international aid programs. As we look at global food issues, we also need to respond to what is happening locally. Join us to figure out what that means.