On October 8, 2021, Canada celebrated the 50th anniversary of its adoption of multiculturalism as its official federal policy on societal diversity. In acknowledging this significant milestone, Prime Minister Justin Trudeau stated:
The diversity of Canadians is a fundamental characteristic of our heritage and identity. For generations, newcomers from all over the world, of all backgrounds, ethnicities, faiths, cultures and languages, have been coming to Canada with the hopes of making it their home.
Today, in addition to First Nations, Métis and Inuit peoples, people from more than 250 ethnic groups call Canada home and celebrate their cultural heritage with pride – they are at the heart of our success as a vibrant, prosperous, and progressive country.[1]
The introduction of this policy in 1971 coincided with a shift in immigration trends, as for the first time, most new immigrants were of non-European ancestry – a precedent that has persisted ever since.[2]
Multiculturalism & church
For the Canadian church, multiculturalism has allowed for the preservation of heritage congregations of English, Scottish, German, Dutch or Mennonite ethnic identity that have shaped Canadian Protestantism, as well as increased its diversity within the body of Christ.
On any given Sunday, there are now worship services in Cantonese, Mandarin, Spanish, Korean, Tagalog, Swahili and Urdu. Multiculturalism is also portrayed as an opportunity to reflect Revelation 7:9 as a kingdom reality in our time.
With 400,000 immigrants projected to arrive annually on the shores of Canada over the next three years,[3] the multicultural church is appealing as a pathway to being a pragmatic witness of God's heart for the nations.
However, the efficacy and relevance of the multicultural church have been debated for almost 20 years. For example, Mark Naylor of the Centre for Intercultural Leadership Development [Northwest, ACTS Seminaries in Langley] states,
While applauding this vision, supporting the effort and sympathizing with the intercultural struggles that inevitably arise, I would like to take issue with those who promote this form of local church as more in conformity with the New Testament ideal than other less ethnically diverse churches.[4]
He contends that upholding multicultural congregations as the 'true' church over and against monocultural congregations promotes the perspective of the body of Christ as either universal or local instead of as both universal and local which allows for a more biblical multicultural expression of the Christian faith.
In contrast, Sam Owusu, lead pastor of Calvary Worship Centre, the largest multicultural church in Metro Vancouver, presented the following apologetic at the Symposium for Intentionally Multicultural Churches in 2002:
What does it mean for the church of Jesus Christ to live and make its witness in a multicultural world? Our world, our nation and our communities are rapidly changing around us. And the church finds itself as the bewildered cultural bystander to this multicultural change. . . .
Why bewildered? If the truth were told, most Christian congregations are homogeneous and ethnocentric. . . . How the Church of Jesus Christ deals with the rapidity and the complexity of this multicultural, postmodern ethos will tell the world whether it has reason to listen to the message we proclaim. . . .
We should not pursue racial or cultural diversity simply because it is politically correct or it is the latest theological fad. We should do it because it is the gospel.[5]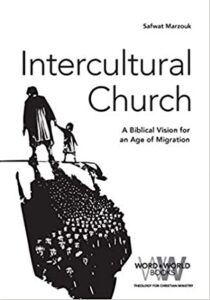 Safwat Marzouk states in Intercultural Church:
Although multiculturalism is a great step towards accepting cultural and linguistic differences, the concern is that people will end up forming islands within the same community while avoiding deep engagement with one another.'[6]
Ironically, though Canadian multiculturalism does motivate Christians to be hospitable and welcoming to the alien and stranger, it also presents a challenge for churches which wish to fully experience kingdom unity amid diversity.
The values of Canadian multiculturalism – accommodation, tolerance and coexistence – are contrary to achieving a kingdom-inspired intercultural community.
The reader is invited to reflect on the following multicultural values:
Accommodation is functionally to make or share space with the stranger without creating a sense of belonging.
Tolerance is the acknowledgement of the other's values, beliefs or practices without true acceptance or understanding.
Coexistence promotes the idea of equality at the cost of genuine commonality.
To clarify, I am not seeking to disparage Canada's multicultural policy, but am asserting that it falls short of the kingdom ideal that God has for his ecclesia, or 'called out' ones (Mark 3:13). Jesus' disciples were called out from Jerusalem to not only be witnesses of the good news but to be the good news by crossing ethnic, social and religious barriers.
In the same vein, as modern-day disciples of Jesus, we too have been called out from our ethnocentrism to be his representatives and ambassadors at the cost of our homogeneous preferences.[7]
Thus, I propose the following alternatives to the multicultural values of accommodation, tolerance and coexistence – the kingdom practices of involvement, empathy and commonness – which form the foundation for intercultural discipleship.[8]
Intercultural discipleship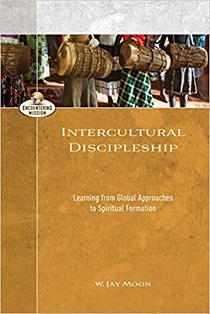 W. Jay Moon in Intercultural Discipleship describes intercultural discipleship as . . .
. . . the process of worldview transformation whereby Jesus followers centre their lives on the kingdom of God (Matthew 6:33) and obey Christ's commands in culture (Matthew 28:19-20), utilizing culturally available genres . . . [such as] symbols, rituals, proverbs, stories, dance, music and drama.[9]
Moon's model of intercultural discipleship is embodied in multicultural churches by displaying flags (symbols), dancing while tithing (rituals), singing songs in different languages (music) and learning about our different ethnic cultures (stories).
Moon asserts that the congregation that embodies intercultural discipleship will experience exponential spiritual growth in biblical literacy and theological acuity, as well as inward and outward disciplines.
These cultural appropriations may increase intercultural awareness but may not actually be shaping the congregation into being the intercultural people of God.
Although Moon's model opens our eyes to other forms of worship and faith expressions, intercultural discipleship must also influence the way we feel and think about humanity according to Scripture, grow in our empathy for the other and be reconciled to one another as people made in the image of God.
A review of the Old and New Testaments reveals that the God of the Israelites was incredibly involved in his creation and with his people.
In the garden, God is described as concerned that Adam has no suitable mate, so he creates one for him (Genesis 2:18). Later, the Exodus narrative describes in detail God's promise to Abraham by rescuing his descendants from Egypt, protecting them in the desert, and providing them with a land to call their own. At the consecration of the priests, God proclaims he will dwell among the people of Israel and will be their God (Exodus 29:45).
God's involvement is not limited to only his people. He also commands his chosen people, the Israelites, to show respect and love to the alien and sojourner who live among them (Leviticus 19:33). This ethic of mercy contrasts with the norm of taking advantage of or exploiting the alien and sojourner. Furthermore, the foreigner is to be afforded the same rights and freedoms as the inhabitants of the host culture (Deuteronomy 17:9).
Moreover, John 4:1-42 encapsulates the importance of empathy in building acceptance and, ultimately, trust.
Jesus does not stand on accepted protocol, instead crossing geographic, gender and cultural barriers to intentionally interact with the Samaritan woman at the well. This engagement would have made Jesus unclean and required stringent temple cleansing rites to be 'made right' before God.
The good news of this narrative is that Jesus focused on the person rather than the circumstance and provided space for her to be loved by God.
In the same way, the church should engage with the aliens and sojourners in our midst, empathize with their feelings of rejection and create not only welcoming spaces but belonging spaces for them.
Lastly, for genuine commonness to exist in an intercultural ministry, we must heed Jesus' command:
If anyone would come after me, let him deny himself and take up his cross daily and follow me. For whoever would save his life will lose it, but whoever loses his life for my sake will save it. (Luke 9:23-24).
Celebrating the food, language and culture that make up the mosaic of Canada is wonderful, but churches which aspire to a kingdom-inspired intercultural ecclesiology need to also put to death their ethnocultural approaches to homily and liturgy, systemic tribalism and fear.
There is a fear that our ethnic heritage will be forgotten or assimilated, and to protect our ethnocultural identity, we settle for coexistence. However, for God, death is not the end but the opportunity for something new and better to arise. Genuine common ground is achieved between Jesus' disciples when in dialogue we share our fears as well as hopes.
Hosffman Ospino suggests the following foundations for intercultural discipleship:
An intercultural methodology of Christian education must (1) affirm the possibility of dialogue between faith and culture(s); (2) acknowledge that for us such dialogue takes place and is significantly shaped by the demands of a culturally diverse context; and (3) contemplate the intercultural communicative factors that determine the vibrancy and outcomes of such dialogue.[10]
God's new community
The Canadian government, hospitals, schools and corporations have already incorporated the Canadian mosaic of ethnic diversity through the policy of multiculturalism.
However, unlike these institutions, the multicultural fellowship of Christ's disciples does not merely serve to be an illustration of inclusion. It is the representation and living testimony of God's people who amid diversity are intentionally living out kingdom unity in Jesus Christ, evidenced by our commitment to 'one Lord, one faith, one baptism' (Ephesians 4:5).
Thus, intercultural discipleship in the Canadian multicultural context is achieved when we shift from accommodation to involvement, tolerance to empathy and coexistence to commonness.
As God's new humanity, we are called out from our ethnocentrism as witnesses to the power of God to redeem and restore broken relationships with him and with one another in a multi-ethnic and multi-faith reality.[11]
Endnotes
Sherman Lau has recently become lead pastor of Killarney Park Church in Vancouver. He also serves as director of intercultural ministry at Pacific Life Bible College in Surrey and is pursuing a doctor of intercultural studies degree at Western Seminary in Portland, Oregon.
His vocational objective is to advance the development and praxis of intercultural ministry in the Canadian multicultural context by discipling Jesus followers to think and reflect theologically, grow interculturally, and live missionally with boldness and grace.
This article originally appeared in the May 2022 issue of Lausanne Global Analysis and is published here with permission. To receive this free bimonthly publication from the Lausanne Movement, subscribe online at www.lausanne.org/analysis.