Now in his 90s, Will Wilding is keeping a low profile during this Covid season, but he is able to look back on a unique journey – from his missionary childhood in the Belgian Congo to an accomplished career as an architect in Vancouver.
I had intended to cover both those elements of his life in one article, but each season deserves separate attention. See the accompanying article about his book Kabumbulu Congo.
Key church architect
Evidence of Wilding's work can be found all over Metro Vancouver, and the province, especially in the form of churches and other religious buildings.
David Dawes wrote a good assessment of Wilding's work for BC Christian News in 2002:
The man credited with revitalizing church architecture in the Greater Vancouver area is being honoured in an exhibit of photos by Simon Scott at Regent College's Lookout Gallery.
'Will Wilding: The Early Churches' displays striking images of 19 churches built from 1954 to 1965; in all, Wilding has designed more than 180 churches.
"In the '50s and '60s," says Lookout director Dal Schindell, "Wilding changed the face of what churches looked like – at least Protestant churches. He seems to have set the tone for that era. It was a Modernist equivalent of the way the Gothic style pulls you up – that's Will's look."
According to Rhodri Windsor-Liscombe, author of The New Spirit: Modern Architecture in Vancouver 1938 – 1963, Wilding was a significant figure of the Modernist movement in architecture.
I think his work was very adept at taking the ideas of Modernist architecture to create a new language of sacred form in the post-Holocaust era. The level of destruction of World War II – from the Holocaust to nuclear warfare – shattered many aspects of conventional faith.
Will Wilding was one of those people, in the post-war era, who was trying to re-understand the sacred – through very direct architectural means, such as the use of windows and support structures.
Wilding, says Windsor-Liscombe, endeavoured "to rethink what the purpose of design was, to rethink the making and meaning of space."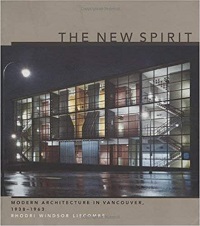 The results, he added, demonstrated "a high level of craft, and a genuinely spiritual dimension. There was an openness in his buildings – and a solemnity which allowed for ritual and liturgy, without being stuffy."
Wilding's greatest influence was architect Charles Rennie Mackintosh (1868 – 1928) who, Wilding says, "had a great sense of decorativeness. His approach had a lot to do with trying to apply human scale to any given architectural situation." Mackintosh "always liked lots of natural light. He was also very concerned with the final decor."
When Wilding began working with Greater Vancouver churches, "many had fixed ideas, and wanted to stick with their heritage." On the other hand, he says, "There were those that said 'go for it' – and in those instances I was able to use my creative abilities, with the influences of Mackintosh. In most cases, the response showed a willingness to move away from the staid, historical type of church."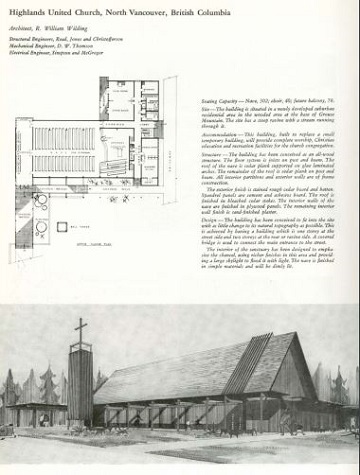 His purpose, he says, was "to look anew at the atmosphere of a church – at forms, colours, materials, stained glass windows. I wasn't wanting to produce a glorified Safeway. I wanted people to know it was a house of worship."
The period documented by the exhibit, Wilding adds, was an exciting time. "There was a sense that 'this is a new day' – and it was related to what was happening in the evangelical church."
Most of all, he concludes, "I was interested in the sacredness of what was going on in the churches, and I wanted to enhance the sacredness."
The December, 1956 issue of the Journal of the Royal Architectural Society of Canada featured an article on 'Design Factors in Building the Contemporary Church,' which included a page devoted to Wilding's Highlands United Church in North Vancouver.
These are the churches and religious buildings featured in the Lookout Gallery (now Dal Schindell Gallery) exhibit:
Highland United (North Vancouver)
Trinity Baptist (Vancouver)
Wilson Heights United (Vancouver)
Lutheran Campus Centre (UBC)
Bamfield United (Vancouver Island)
Central Heights MB (Abbotsford)
First Baptist (Kelowna)
North Lonsdale United (North Vancouver)
TWU Chapel (Langley)
First Lutheran (Vancouver)
Christian Reformed (Burnaby)
St. Andrew's United (Mission)
Queen's Avenue United (New Westminster)
St. Andrew's Presbyterian (Kamloops)
Kerrisdale Presbyterian (Vancouver)
Marineview Chapel (Vancouver)
Calvary Temple (Kamloops)
Mt. Olive Lutheran (White Rock)
Tenth Avenue Alliance (Vancouver)
Among his many other churches are: Richmond Baptist; Cascades Gospel Chapel (Vancouver); Granville Chapel (Vancouver); First Christian Reformed (Vancouver); North Delta Evangelical Free; Johnston Heights Evangelical Free (Surrey); Good Shepherd Lutheran (Coquitlam); Gordon Presbyterian (Burnaby); St. Andrew's United (Port Moody), Westminster Gospel Chapel (New Westminster), Gilmore Park United Church (Richmond).