Yani Lim is best known locally for her pioneering work with Voices Together. Over the years she has led the way in several large gatherings at Rogers Arena and the Pacific Coliseum, each of which drew thousands of Christians from all backgrounds to worship together.
Though she has lived in Vancouver for many years, she returns regularly to Indonesia, where she does even more important work.
Over the past 12 years, she has regularly ministered to prisoners on Nusakambangan, an island just off the south coast of Indonesia's most populous island, Java. Often called 'the Alcatraz of Indonesia,' it is home to eight prisons and some of the country's most serious criminals, including murderers, terrorists, drug traffickers and people convicted of corruption.
I had heard something of Yani's work over the years, though she has always been very hesitant to draw attention to herself. But I learned more about her ministry following my time at the World Evangelical Alliance General Assembly near Jakarta last November. (Go here for a description of the gathering.)
While there, I picked up a book called The Andrew Chan Story at the resource desk. Jeff Hammond, an Australian who has worked in Indonesia since 1974, describes Andrew's amazing transformation from self-absorbed gangster / drug runner to devout and influential Christian leader – right up until his execution on April 29, 2015.
It wasn't until I leafed through the book at home that I discovered that some elements of Yani's ministry had already been written up in The Andrew Chan Story. Following is an excerpt:
God's angel on Nusakambangan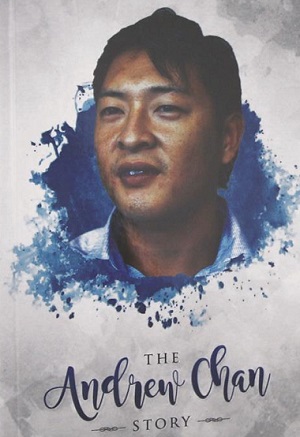 In preparation for the arrival of Andrew Chan and Myuran Sukumaran [from another prison in Bali], the Lord prepared a special angel who would care for the two Australians, and the other death-row convicts in their final weeks before the execution.
Prison authorities contacted Pastor Yani Lim, a Chinese Indonesian lady who had worked with many death-row prisoners. Yani is a very special, loving lady whom Annette and I had known for many years.
We had been with her in Malang visiting Mrs. Sumiarsih, a Javanese lady due for execution for masterminding the murder of several people. Yani had ministered to Sumiarsih who found faith in Christ and her life was totally transformed by the love of Jesus.
We had also worked with Yani in Vancouver, Canada, where she had a street ministry to the poor and discarded. She fed people, provided free hair cuts and clothing, and gave wise counsel and comfort to the suffering. She offered them hope of a transformation in life by having a personal faith and relationship with Jesus Christ as Lord and Saviour.
Over a few years I had been visiting Nusakambangan with Yani and knew that she was a special person. She is indeed God's angel ministering Christ's love in an amazing way. She had taken me to minister in several of the prisons on Nusakambangan.
Now Yani was asked to supervise the spiritual and material well-being of the two Australians, and there could never have been a better person to do this than Yani Lim. After the executions, the Australian Government, recognizing her special role, sent the Prison Warden a letter of appreciation for Yani's care of Andrew and Myuran.
Yani shared with me her joy in having had this special opportunity:
You know, Pastor Jeff, the Lord is so good. What a joy it was to serve Andrew and Myuran. I spent time with them five days a week looking after their needs, praying with them, encouraging them.
It was special to see what happened in Myuran's life. He wasn't in a good way at first, but then one day there was a breakthrough and he finally surrendered his life totally to Jesus. After that he had so much peace. He was totally different. . . .
We organized a birthday party for his birthday, 17th April, 2015. Myu had so much fun. It was a privilege to serve them and see them so faithful to Jesus to the very end.
Andrew and Myuran were executed as convicted drug smugglers. They were guilty. They acknowledged and regretted their crimes. They paid the full price.
Thankfully, that is not the only justice that exists. There is a Heavenly Court, and a Heavenly Judge – God Himself. There is also a Heavenly Lawyer, Jesus.
Yani was among the spiritual advisors and supporters who were with the condemned men – Andrew, Myuran and six others – on their last day.
Myuran's testimony
The authorities allowed the prisoners a prayer time and communion service on their final night. Several of the men prayed, and Myuran asked, "Ibu Yani, can I pray too?"
Hammond wrote in The Andrew Chan Story:
Yani told him it would be wonderful if he prayed. Then Myuran prayed an awesome prayer. Yes, Myuran really believed in Jesus. . . . Later . . . Yani had finished prayer with Sylvester, one of the eight being executed, and had moved towards the tent when she heard an enthusiastic voice calling out, as she explained to me:
Myuran called out excited and full of joy with a bold, loud voice. Others could hear it. It was like an announcement:
Ibu Yani, I believe. I really believe in Jesus and I'm going to see Jesus. I'm going to see Him tonight.
Yani was allowed to go over to him, hugged him and placed her hand on his heart and prayed with him. Yani said that Andrew also heard what Myuran was saying and this pleased him too.
Even though it was a tragic occasion, these words of Myuran were the final seal for Yani. This wonderful young man was a true believer, no doubt about it, and he would shortly be in Paradise with Jesus.
Spiritual advisor
Hammond added:
After each of the prisoners had spent their final sessions with their spiritual advisors, Yani explained that . . . Andrew came to her:
It was such a blessing to know that Andrew was so ready. At the end of his counselling session, he made an effort to come back to me with a guard, and he opened his arms wide and said to me, "Ibu Yani, this is it! It's now the time." He said, "Goodbye!" and then he left. I felt it was amazing that he was so ready to face his execution and to meet the Lord. . . .
As the prisoners left their cells for the last time, Andrew acted as the Master of Ceremonies and asked the guards if they could pray together before going to the execution field. They agreed. Andrew laid hands on the guards who were weeping, and hugged them, telling them that they were forgiven. . . .
The spiritual advisors had a final three minutes with the prisoners who were now strapped to their execution crosses. . . . Yani Lim, after first praying with Sylvester, then prayed with Myuram. As she left him, she was passing Andrew, and he called to her too. She went to Andrew, hugged him, anointed him with oil and prayed for him. As they parted, Andrew said:
Bu Yani, I'll see you on the other side.
Andrew led the men in singing worship songs right up to the end, first 'He is Mighty to Save,' then 'Amazing Grace' and '10,000 Reasons (Bless the Lord).' They were half way through the second verse when the order to fire was given.
Andrew Chan and Myuran Sukumaran were considered leaders of the Bali Nine, a group of nine Australians convicted for attempting to smuggle 8.3 kg (18 lb) of heroin out of Indonesia in April 2005. Their story was followed very closely in Australia and even around the world. Andrew and Myuran were executed in 2015. One man died of cancer in jail in June 2018, while the one woman involved was released and returned to Australia in November 2018. The remaining five men remain in Indonesian jails facing life sentences.