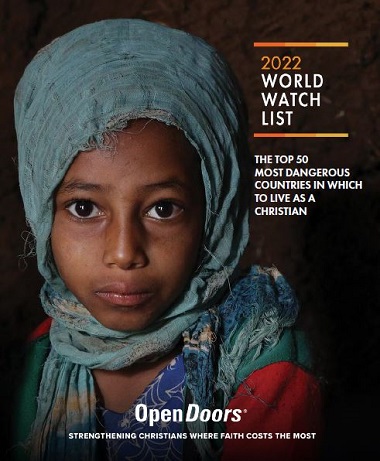 Early each year, Open Doors International offers us a glimpse into the lives of hundreds of millions of our Christian brothers and sisters around the world who are suffering for their faith.
The World Watch List ranks the top 50 countries where it is most dangerous to live as a Christian, reminding us that both the church and our Western governments are paying too little attention to the issue.
One in seven
This year's study reveals that more than 360 million Christians live in nations with high levels of persecution or discrimination – 1 in 7 Christians worldwide (1 in 5 in Africa, 2 in 5 in Asia and 1 in 15 in Latin America).
All 50 nations scored high enough to register 'very high' persecution levels on Open Doors' 84-question matrix.
Where it's hardest
These are the top 10 nations where it is hardest to follow Jesus:
1. Afghanistan
2. North Korea
3. Somalia
4. Libya
5. Yemen
6. Eritrea
7. Nigeria
8. Pakistan
9. Iran
10. India
Download a guide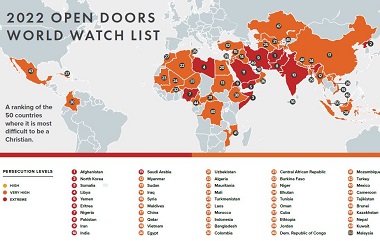 Gary Stagg, Executive Director of Open Doors Canada, sent out a link to the World Watch List January 23. He said:
This year, Afghanistan surpassed North Korea to take the number one place, a position North Korea has held since 2002. It's not that life has improved for North Korean Christians; in fact, it has become worse.
But with the takeover of the Afghan government by the Taliban and the increased pressure on Christians there, Afghanistan now holds the ominous title as the worst place on earth to live as a Christian. Incidentally, this development causes great concern as it has given jihadists worldwide a profound psychological boost.
Download your copy of this year's World Watch List guide here.
The guide contains numbers and data representing a very important and large part of the Body of Christ. These are family members who suffer, and even put their lives on the line daily, just because they follow Jesus. They teach us so much about what real faith is, and we have the great privilege to stand with them in prayer and support.
From the guide
Here are a couple of examples from the top 50 nations: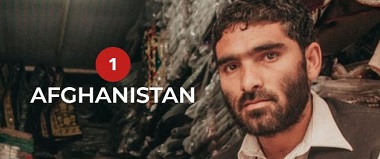 It is impossible to live openly as a Christian in Afghanistan. Leaving Islam is considered shameful, and Christian converts face dire consequences if their new faith is discovered. Either they have to flee the country or they will be killed. 
This was true before the Taliban takeover; the situation has become even more dangerous for believers this year. The Taliban will make sure that Islamic rules and customs are implemented and kept. Christian converts don't have any option but to obey them. 
If a Christian's new faith is discovered, their family, clan or tribe has to save its honour by disowning the believer or even killing them. This is widely considered to be justice. Alternatively, since leaving Islam is considered a sign of insanity, a Christian who has converted from Islam may be forcibly sectioned in a psychiatric hospital. 
The situation in Afghanistan made headlines around the world last year, as the Taliban advanced across the country and captured the capital, Kabul, on August 15, 2021. Many Afghans fled the country, and there was wide expectation that freedoms would be swiftly curtailed.
For Christians, though, there were basically no freedoms to lose: Afghanistan had been No. 2 on the Open Doors World Watch List for several years, and Christian persecution remains extreme in all spheres of public and private life.
The risk of discovery has increased since the Taliban controls every aspect of government. This extends to owning documentation – including paperwork from international troops – that may help identify Christians.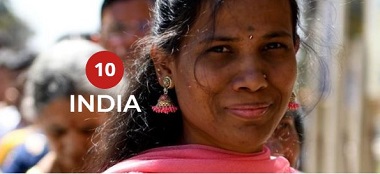 The persecution of Christians in India is intensifying as Hindu extremists aim to cleanse the country of their presence and influence.
The driving force behind this is Hindutva, an ideology that disregards Indian Christians and other religious minorities as true Indians because they have allegiances that lie outside India, and asserts the country should be purified of their presence.
This is leading to a systemic, and often violent and carefully orchestrated, targeting of Christians and other religious minorities, including the use of social media to spread disinformation and stir up hatred.
The COVID-19 pandemic has offered a new weapon to persecutors. In some areas, Christians have been deliberately overlooked in the local distribution of government aid and have even been accused of spreading the virus.
Although there has been a slight reduction in the levels of violence against Christians in India, overall violence remains at an extreme level, and levels of pressure in all spheres of life remain very high or extreme.
A key factor in this is the use of social media. When an extremist Hindu mob attacks Christians, one of the first things they'll do is snatch the victims' phones, to stop them from recording the incident. However, the group will record the violence and add it to social media to promote their extremist agenda.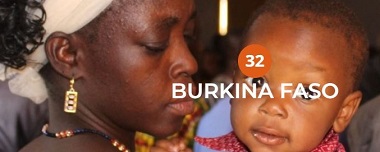 Burkina Faso is located in a region where Islamist groups have a huge and growing influence. The central government is very weak, particularly in the east of the country where Islamic law is informally implemented by groups who've gained control over these areas.
Jihadist violence has been rapidly increasing in recent years, and extremists have exploited the government's weakness during the COVID-19 crisis to gain control of the country's infrastructure. This has led to hundreds of church closures – while many Christians are among those who've fled their homes because of extremist attacks. There are over 1 million internally displaced people in Burkina Faso, many of whom are Christians.
Believers who've converted from Islam face the most persecution. Family and community members often reject them and try to force them to renounce their Christian faith. Many are afraid to express their faith in public because of such threats.
The persecution of Christians in Burkina Faso has worsened slightly over the past year. This is largely down to an increase in reported incidents of violence, which reflects the growing influence of Islamic extremist groups in the country. [Burkina Faso is in the news because of a coup this week, so the situation might deteriorate further.]
Go here for the full 50-nation World Watch list.
Why are Christians persecuted?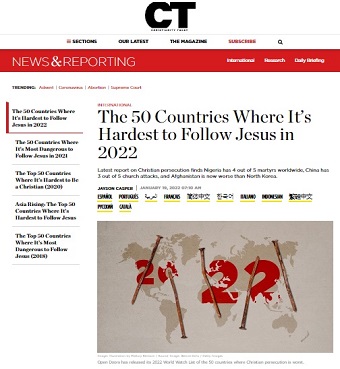 Christianity Today followed up on the 2022 World Watch List with a couple of very helpful articles. The first, by Jayson Casper, included this portion:
The main motivation varies by country, and better understanding the differences can help Christians in other nations pray and advocate more effectively for their beleaguered brothers and sisters in Christ.
Open Doors categorizes the primary sources of Christian persecution into eight groups:
Islamic oppression (33 countries): This is the main source of persecution that Christians face in more than half of the watch list countries, including 7 of the top 10 overall: Afghanistan (No. 1), Somalia (No. 3), Libya (No. 4), Yemen (No. 5), Nigeria (No. 7), Pakistan (No. 8) and Iran (No. 9). Most of the 33 are officially Muslim nations or have Muslim majorities; however, 6 actually have Christian majorities: Nigeria, Central African Republic (No. 31), Ethiopia (No. 38), Democratic Republic of Congo (No. 40), Mozambique (No. 41) and Cameroon (No. 44).
Dictatorial paranoia (5 countries): This is the main source of persecution that Christians face in five countries, mostly in Central Asia, with Muslim majorities: Uzbekistan (No. 21), Turkmenistan (No. 25), Bangladesh (No. 29), Tajikistan (No. 45) and Kazakhstan (No. 47).
Communist and post-communist oppression (5 countries): This is the main source of persecution that Christians face in five countries, primarily in Asia: North Korea (No. 2), China (No. 17), Vietnam (No. 19), Laos (No. 26) and Cuba (No. 37).
Religious nationalism (4 countries): This is the main source of persecution that Christians face in four Asian nations. Christians are primarily targeted by Hindu nationalists in India (No. 10) and Nepal (No. 48), and by Buddhist nationalists in Myanmar (No. 12) and Bhutan (No. 34).
Organized crime and corruption (2 countries): This is the main source of persecution that Christians face in Colombia (No. 30) and Mexico (No. 43).
Christian denominational protectionism (1 country): This is the main source of persecution that Christians face in Eritrea (No. 6).
Secular intolerance (0 countries) and clan oppression (0 countries): Open Doors tracks these sources of persecution, but neither is the main source in any of the 50 countries on the 2022 list. However, last year clan oppression was the primary driver in Afghanistan, Somalia, Laos, Qatar, Nepal and Oman.
Go here for the full article.
Credit where credit is due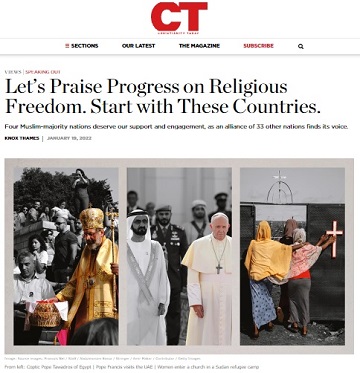 The other Christianity Today article, by Knox Thames, offered some words of encouragement:
Yet while the World Watch List paints a troubling picture, the news is not all bad. There are positive situations in a few countries.
Of course they are not perfect, and Open Doors still gives several low marks. But these glimmers of light are worthy of prayer, support and continued engagement to press for further improvements.
Here are my picks for five recent religious freedom developments worth praising:
United Arab Emirates
Sudan
Uzbekistan
Egypt
IRFBA (alliance)
Go here for an explanation of why he chose these four nations, and why he included IRFBA (International Religious Freedom or Belief Alliance) – which describes its work in this way:
The Alliance is a network of like-minded countries fully committed to advancing freedom of religion or belief around the world. Alliance members must fully commit to the Declaration of Principles.
The Declaration is grounded in Article 18 of the Universal Declaration for Human Rights, which states everyone has freedom to believe or not believe, to change faith, to meet alone for prayer or corporately for worship.
Currently 33 countries have joined the Alliance: Albania, Armenia, Austria, Australia, Bosnia and Herzegovina, Brazil, Bulgaria, Cameroon, Colombia, Croatia, Czech Republic, The Democratic Republic of Congo, Denmark, Estonia, The Gambia, Georgia, Greece, Hungary, Israel, Kosovo, Latvia, Lithuania, Malta, the Netherlands, Norway, Poland, Senegal, Slovakia, Slovenia, Togo, Ukraine, the United Kingdom and the United States.
Go here for the full article. (Note that Canada is not on the list.)