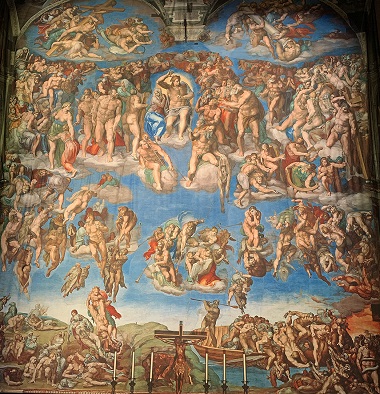 Unfortunately, Mission Central SERVE (formerly Missions Fest) won't be at the Vancouver Convention Centre this weekend – as it has been for so many years until COVID-19 struck. But it will be online – see just below.
In the meantime, there will be a spectacle at the Convention Centre. Running this weekend, and carrying on until February 20, Michelangelo's Sistine Chapel: The Exhibition will draw both faithful Christians and members of the general public:
Michelangelo's Sistine Chapel: The Exhibition showcases the awe and wonder of arguably one of mankind's greatest artistic achievements, while allowing its visitors to experience this art from an up-close, life-size and never-before-seen perspective.
With special expertise and care, the ceiling paintings from the Sistine Chapel have been reproduced in a truly unique way using licensed high definition photos. Brought to life using a special printing technique that emulates the look and feel of the original paintings, visitors are given a chance to engage with the artwork in ways that were never before possible: seeing every detail, every brushstroke and every colour of the artist's 34 frescoes.
Whether visitors have already been to the Sistine Chapel or not, everyone can admire the artwork up close, at their own pace, and with the ability to capture photographic memories of this iconic work.
While the promotional materials don't say much about the Sistine Chapel's religious significance, the work speaks for itself. Volumes have been written about it, but one thing that sticks with me is that for centuries the Sistine Chapel is where Cardinals have met to choose the next Pope.
Mission Central SERVE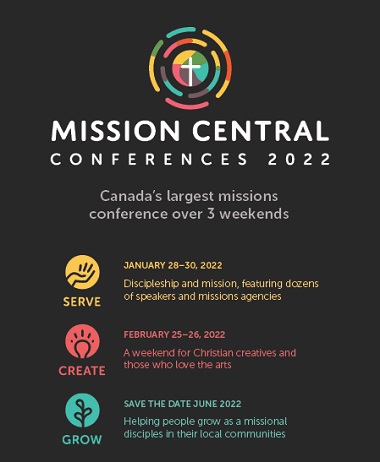 This is the weekend for Mission Central SERVE, which will feature several keynote speakers, a youth rally and many seminars. Go here to register for the event, which runs from Friday evening through Sunday afternoon:
In a recent interview with Allen Chang, a local pastor and advocate for Disciple Making Movements, we got around to asking how he defines a disciple. He basically said, "A disciple is a follower of Jesus who hears and obeys him."
At Mission Central we agree. While the concept sounds simple, we realize that living like a disciple is not. That's why this year we are focusing on the theme of 'Hearing and Obeying.'
We hope you'll be nourished, encouraged, and equipped by our speakers and seminars, by conversations you have with other attendees, and more.
Sponsoring agencies will be available for appointments beginning at 6 pm on Friday. Paul Williams, Chief Executive of the British and Foreign Bible Society, will give the first keynote address at 6:30. Go here to read about all the speakers throughout the weekend.
A wide range of seminars will take place throughout the weekend. For example:
* Loving God and Loving Creation
* Reaching the Least Reached: The Challenge of Muslim Ministry
* How Do I Become an Alongsider
* Poetry Speaks Louder than Words
Go here for the full list of seminars, and here for the weekend schedule. The Mission Central Youth Rally will take place Saturday evening at 8 pm.
Gerry Turcotte appointed
Dr. Gerry Turcotte has been appointed the next President of Corpus Christi College and Principal of St. Mark's College at UBC, beginning August 1:
An experienced post-secondary educator and administrator, Dr. Gerry Turcotte has been President and Vice-Chancellor of St. Mary's University in Calgary for 11 years and before this was Associate Provost and Executive Dean of the College of Arts and Sciences at the University of Notre Dame in Australia, both Catholic universities. . . .
"The Catholic Intellectual Tradition, which has underpinned the very creation of universities in the first place, is alive and well in the colleges and I hope to play a major part in supporting and helping to shape the next chapter in the colleges' exciting history," said Turcotte.
Turcotte succeeds Dr. Michael W. Higgins, who is retiring from academic administration in August; he will continue his highly-regarded work as an author, scholar educator and columnist.
St. Mark's College is the affiliated Catholic theological college of UBC. . . . Corpus Christi College is a Catholic liberal arts college
Go here for the full statement.
Jan 2022
Pallay by Daniela Amestegui
– January 19, 2022 - February 13, 2022 at All Day
Our Common Calling: Join January Discussion on Witness in Canada
– January 27, 2022 - January 29, 2022 at All Day
Run Alpha Q & A
– January 27, 2022 at 10:00 am - 11:00 am
Mission Central SERVE
– January 28, 2022 - January 30, 2022 at All Day
Social Media, Screen Time and Mental Health Workshop
– January 30, 2022 at 2:00 pm - 4:00 pm
Feb 2022
Postponed: The Gospel & Our Cities Conference
– February 1, 2022 - February 3, 2022 at All Day
John Evans: Theology of the Person – Personhood and the Public's Views
– February 2, 2022 at 12:00 pm - 1:00 pm
Postponed: Apologetics Canada Leadership Summit
– February 4, 2022 - February 6, 2022 at 4:00 pm - 12:00 pm
Postponed: Impact Conference
– February 4, 2022 - February 5, 2022 at 7:00 pm - 2:00 pm
Pathways to Reconciliation
– February 5, 2022 at 1:30 pm - 4:30 pm
Looking Ahead: Creation Care in 2022
– February 8, 2022 at 8:00 am - 9:30 am
National Day of Prayer SOS Event
– February 8, 2022 at 3:00 pm - 6:00 pm
Webinar: A Conversation on Afghanistan
– February 8, 2022 at 4:00 pm - 5:00 pm
Joel Mayward: Viewing Film as Theology: An Analysis of Terrence Malick's A Hidden Life
– February 9, 2022 at 12:00 pm - 1:30 pm
Perspectives on Synodality: Local, Global and Ecumenical
– February 9, 2022 at 6:30 pm - 8:00 pm
G. Peter Kaye Lecture with Prof. Santa Ono
– February 10, 2022 at 7:00 pm - 8:30 pm
Pastors Mini-Conference: Holding Faith and a Good Conscience
– February 11, 2022 at 8:30 am - 1:30 pm
Carey College Expansion: Two Open Houses
– February 16, 2022 at All Day
Mark Glanville: Called to This Time: Lent
– February 16, 2022 at 9:30 am - 12:00 pm
Alpha Webinar: Life on Purpose Launch
– February 17, 2022 at 9:00 am - 10:00 am
Human Rights Violations in Canadian Immigration Detention: An Interfaith Call to Action
– February 17, 2022 at 3:00 pm - 4:00 pm
Stacie Swain: Reorienting Politics through Public Expressions of Indigenous Ceremony
– February 17, 2022 at 5:00 pm - 6:00 pm
Free Little Art Gallery: Grand Opening
– February 21, 2022 at 11:00 am - 12:00 pm
Alpha Webinar: Making Connections in Moments of Isolation
– February 22, 2022 at 9:00 am - 10:00 am
Thomas Fuchs: Theology of the Person – Personhood and Neuroscience
– February 23, 2022 at 12:00 pm - 1:00 pm
Run Alpha Q & A
– February 24, 2022 at 10:00 am - 11:00 am
Postponed: Sentences & Sentience: C.S. Lewis & the Word, with Dr. Andrew Kaethler
– February 24, 2022 at 6:00 pm - 8:00 pm
Coldest Night of the Year: Vancouver Broadway
– February 26, 2022 at All Day
Canadian Religious Freedom Summit 2022
– February 26, 2022 at 10:00 am - 1:00 pm
Coldest Night of the Year: Vancouver DTES
– February 26, 2022 at 12:00 pm - 5:00 pm