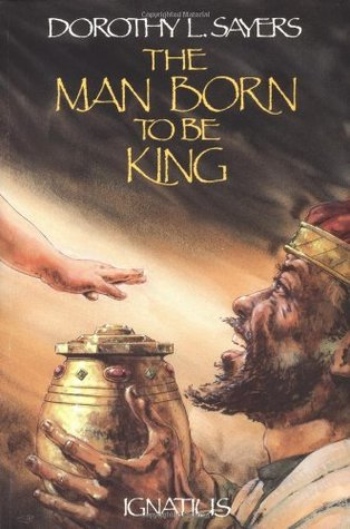 Every year we hear the same story. Yet, though the story of Jesus' incarnation has been with us for two millennia, it is still fresh every year.
Why is that? First of all, the story has been told in so many ways – in fiction, drama, poetry, song, paintings . . . with each version picking up on elements of the biblical narrative. Second, the story is always relevant. The simple fact that God came to be with us, in human form, offers such a unique blend of the immediate and the eternal. And third, we ourselves are changed from year to year, so our experience differs with each Christmas season.
Here are a few of the many Christmas elements that have particularly affected me this year. Some are shared with tens of thousands, some with a local community and some just with my own family.
Thank God for the significance of this season, and for the many ways we experience it, both communally and individually.
Dorothy Sayers: The drama of the dogma
My own congregation (New Life Community Church in Burnaby) was fortunate enough last Sunday to have the young people perform Dorothy Sayers' The Man Born to Be King.
Dorothy Sayers wrote the radio drama for the BBC during the Second World War; it was one of 12 plays focused on specific times in Jesus' life, from before his birth to his death and resurrection. The Man Born to Be King revolves around the court of Herod, the arrival of the three wise men and, of course, the birth of Jesus and the subsequent flight of his family to Egypt.
Dorothy Sayers (1893 – 1957) was probably best known for her mysteries, which featured gentleman sleuth Lord Peter Wimsey, and is normally included as a leading figure in the Golden Age of Detective Fiction. But the Oxford-educated author also made a mark with her poetry, plays and theological works, and as a translator of Dante's Divine Comedy.
While the New Life version of The Man Born to Be King may have fallen just short of BBC standards, Sayers' concern for clarity and immediacy shone through.
This excerpt from a Christian History interview with scholar Barbara Reynolds about Sayers' work gives a sense of what she had to contend with as she presented her work to the public:
Yes, I think we find this same concern for integrity in the way she put together her dramatic BBC radio series on the life of Christ, The Man Born to be King. Before the play had even been produced, the press began reporting that Sayers had put 'slang' in the mouths of the characters in a particular scene. There was an immediate response: Concerned Christians – never having heard the play itself – began a letter-writing campaign designed to pressure the BBC into toning down their writer's language. Some even went so far as to charge Sayers with blasphemy.
Sayers responded to this criticism in a letter to Dr. James Welch, the BBC's director of religious broadcasting, who had requested that she create the plays in the first place: "Nobody cares . . . nowadays that Christ was 'scourged, railed upon, buffeted, mocked and crucified,' because all those words have grown hypnotic with ecclesiastical use. But it does give people a slight shock to be shown that God was flogged, spat upon, called dirty names, slugged on the jaw, insulted with vulgar jokes and spiked up on the gallows like an owl on a barn-door."
In her letter to Dr. Welch, Sayers confessed to being "frankly appalled at the idea of getting through the trial and crucifixion scenes with all the 'bad people' having to be bottled down to expressions which could not possibly offend anybody." The Roman soldiers, she insisted, "must behave like common soldiers hanging a common criminal, or where is the point of the story?" I think this really exemplifies her deep conviction that we must be true to life both in our own artistic work and in our understanding of the Incarnation.
As it turned out, Welch saved the plays, supporting and defending Sayers staunchly through the ordeal. And when the public finally heard The Man Born to be King, it responded in an overwhelmingly positive way. Appreciative, even rapturous letters poured in from listeners of all ages, with many listeners testifying that they had been deeply affected by the broadcasts.
That, I think, was only natural: Dorothy Sayers had written, as she always did, out of the courage of her convictions – refusing to back down or water down "the drama of the dogma."
We were fortunate to experience a taste of Sayers' drama in our church.
Emily Carr: Humbug to Christmas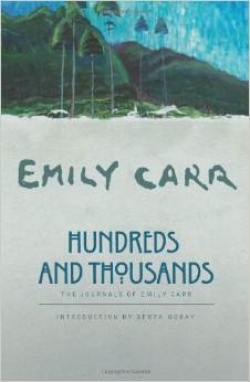 I have been enjoying Emily Carr's journals (Hundred and Thousands) and autobiography (Growing Pains). It has been a very pleasant surprise to discover that BC's (arguably) best known artist was a very spiritual person.
She was no fan of narrow, patriarchal religion: "My baptism is an unpleasant memory" is the first line in Growing Pains. And she was drawn, through Group of Seven painter Lawren Harris, to the doctrinal minimalism of theosophy.
In the end, though, she said: "When I tried to see things theosophically, I was looking through the glasses of cold, hard, inevitable fate, serene, perhaps, but cold, unjoyous and unmoving. Seeing things the Christ way, things are dipped in love. It warms and humanizes them."
However, she didn't always find 'the Christ way' in church (though she attended regularly). In particular, she wasn't a fan of the Christmas season, at least as celebrated in Victoria:
Oh, Holy Babe in your manger, how we have spoiled your birthday, and made it a greedy, toilsome time. We know it, but everybody else does the same, so we go on doing it.
I am very ashamed because Christmas has chafed and wearied and irritated me so this year – stuffing turkeys, making holly wreaths, postings and writings, hampers, donations. A week of dragged-out tommy rot. The most joyous thing about the whole show was the smell of the pine and the cedar – delicious! So much of the rest is silliness and sentimentality instead of holiness.
Emily Carr was as skillful with her words as she was with her paints; she was ahead of her time – and still relevant.
Richard of St. Victor on Advent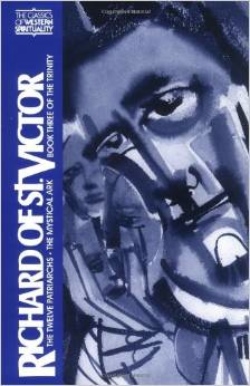 Thanks to Robyn from Many Horizons – a "collaborative theological blog by a group of former students of Regent College" – for bringing this excerpt to our attention this Christmas season.
She says: "Today's blog post is a sermon written in the middle of the 12th century by Richard of St. Victor. I have had the pleasure of reading Richard's writings almost every day for the past six months, and I want to share some of his words with you":
Be ready, Israel, to meet the Lord, for he comes. Beloved Brethren, just as everything is holy, so a place, in as much as it is a place, is holy; and so too a time is holy, in as much as it is a time. Nevertheless we say in relation to different places, 'this place is good or bad' and of different times, 'this place is good or evil'. But it is not on account of the place or time that we say either of these things, but because of the circumstances of place or time. Therefore as one place is described as less sacred because of some sin committed there and another more holy because of the operation of grace in that place, so also one period of time maybe called less holy because some wickedness took place then, and another more holy because of the practice of religion in that period. Nevertheless in as far as time is time, all time is holy and every place, as such, is holy.
Now Brethren, it is almost the time of our Lord's Advent during which we must prepare ourselves for a spiritual feast. This is the time when God comes as a Man to man to redeem man, to free and justify and beatify them; redeeming them from guilt, freeing them from punishment, justifying them by grace, beatifying them by glory. In such a holy time as this, we ought to exercise ourselves more strenuously in virtue, so that we may deserve to be more abundantly visited by His grace. Certainly if the king were to condescend to visit us and to make his dwelling place with us, we ought diligently to prepare ourselves and all that is ours to receive him.
 For the whole sermon, go here.
Our family's Christmas carol booklet
For four Sundays before Christmas our family – usually between half a dozen and a dozen of us – gather to light the Advent candles and sing Christmas carols. Our practice is to allow the youngest to choose first, and proceed all the way to the oldest. Our less-than-two-year-old granddaughter is not yet in the roster, but her four year old sister is. Both offer some intriguing dance steps to accompany the music.
We have carried on this practice since our children were infants. We have used a range of carol sheets over the years – including a prized set that my mother got free from Safeway (imagine that!) when I was a child. But as they became frayed, and our family grew, and we were no longer singing from the same songsheet, we created our own.
That is to say, our  oldest son and his wife created one. Brendan chose the songs and made sure all the verses were included. Some might feel he was a little hard on the modern Santa Claus / Jingle Bells staples (none are included), though 'Deck the Halls' was deemed worthy. Brendan and Lily (emphasis on Lily) designed and produced the booklet. So now we have plenty even for Christmas Eve, when we might have as many as 20 people around the room.
Every year it is a joy to sing the old standard carols – and every year the experience is different.
Seasonal plays, articles, music . . .
I could add many more highlights of the Christmas season: Pacific Theatre's It's a Wonderful Life (great reviews, running until the 30th) and Christmas Presence (so many good musicians, just a few shows left); some interesting articles (Tim Horman: Santa Claus: Patron Saint of Prostitutes, Ed Searcy: On Not Singing Carols Yet, etc); the annual Winter Harp concert at St. Andrew's-Wesley (which to my regret I have never yet made) . . . and much more . . .
Dec 2014
A Celebration of Chinese Christian Art
– December 18, 2014 at All Day
Winter is Coming Exhibit
– December 18, 2014 - December 19, 2014 at All Day
Timberline Country Christmas
– December 18, 2014 - December 21, 2014 at 4:00 pm - 8:00 pm
Vancouver Symphony Orchestra: A Traditional Christmas
– December 18, 2014 at 4:00 pm - 6:00 pm
Vancouver Symphony Orchestra: A Traditional Christmas
– December 18, 2014 at 7:30 pm - 9:30 pm
Winter Harp
– December 18, 2014 at 7:30 pm - 9:30 pm
It's a Wonderful Life
– December 18, 2014 - December 30, 2014 at 8:00 pm - 10:00 pm
Chor Leoni: All is Calm - The Christmas Truce of 1914
– December 19, 2014 - December 21, 2014 at All Day
Vancouver Symphony Orchestra: A Traditional Christmas
– December 19, 2014 at 4:00 pm - 6:00 pm
Musica Intima: A Christmas Story
– December 19, 2014 at 7:30 pm - 9:30 pm
Vancouver Symphony Orchestra: A Traditional Christmas
– December 19, 2014 at 7:30 pm - 9:30 pm
Vancouver Chamber Choir: A Dylan Thomas Christmas - A Child's Christmas in Wales
– December 19, 2014 at 8:00 pm - 10:00 pm
Vancouver Cantata Singers: A Christmas Reprise
– December 20, 2014 at 2:00 pm - 4:00 pm
Musica Intima: A Christmas Story
– December 20, 2014 at 2:30 pm - 4:30 pm
Vancouver Symphony Orchestra: A Traditional Christmas
– December 20, 2014 at 4:00 pm - 6:00 pm
Out of the Cold: Featuring Christmas Tales
– December 20, 2014 at 7:00 pm - 9:30 pm
The Story of Christmas
– December 20, 2014 at 7:00 pm - 9:00 pm
The Three Wise Men in Concert
– December 20, 2014 at 7:00 pm - 9:00 pm
Phoenix Chamber Choir: Shine
– December 20, 2014 at 7:30 pm - 9:30 pm
Vancouver Symphony Orchestra: A Traditional Christmas
– December 20, 2014 at 7:30 pm - 9:30 pm
Winter Harp
– December 20, 2014 at 7:30 pm - 9:30 pm
Christmas Presence
– December 20, 2014 - December 23, 2014 at 8:00 pm - 10:00 pm
Vancouver Chamber Choir: A Charlie Brown Christmas - Finding the True Meaning
– December 21, 2014 at 8:00 am - 10:00 am
Christmas Tales
– December 21, 2014 at 10:00 am - 11:30 am
The Story of Christmas
– December 21, 2014 at 10:30 am - 12:30 pm
J.S. Bach's Christmas Oratorio: Cantatas 1,3 & 6 and Orchestral Suite #3
– December 21, 2014 at 3:00 pm - 5:00 pm
Winter Harp
– December 21, 2014 at 3:00 pm - 5:00 pm
Vancouver Symphony Orchestra: A Traditional Christmas
– December 21, 2014 at 4:00 pm - 6:00 pm
An Evening with Michael W. Smith
– December 21, 2014 at 7:00 pm - 9:30 pm
Winter Harp
– December 21, 2014 at 7:00 pm - 9:00 pm
Vancouver Symphony Orchestra: A Traditional Christmas
– December 21, 2014 at 7:30 pm - 9:30 pm
VOC Sweet Soul Gospel Christmas 2014
– December 22, 2014 at 7:30 pm - 9:30 pm
Gospel for the City: Christmas Eve Gospel Music Service Featuring Good Noise
– December 24, 2014 at 1:00 pm - 3:00 pm
Christmas Tales on Christmas Eve
– December 24, 2014 at 6:30 pm - 8:30 pm
54th Canada Chinese Christian Winter Conference
– December 27, 2014 - December 31, 2014 at All Day
Langley Churches Combined Service
– December 28, 2014 at 10:00 am - 12:00 pm
Vancouver Christian New Year's Eve Celebration
– December 31, 2014 - January 1, 2015 at 8:00 pm - 2:00 am