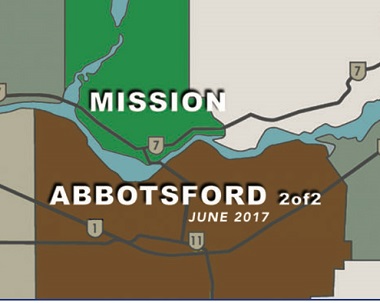 Peter Biggs of The Light Magazine is researching one Metro Vancouver / Fraser Valley municipality each month, and producing a four page feature. The July issue features Mission and Abbotsford. 
Mission
According to the 2016 Census, Mission's population is 38,833. Incorporated in 1892, this year the District is celebrating its 125th anniversary.
Mission has been home to Indigenous people  for thousands of years. Xa:ytem (Hatzic Rock, 35087 Lougheed Highway) is thought to be 5,000 years old; it includes an archaeological habitation site. The identifying feature is an ancient Sto:lo transformer stone, which sits on sloping, low-lying ground, formerly a beach on the northern banks of the Fraser River.
The name 'Mission City' was chosen due to the site's proximity to the historic St. Mary's Mission of the Oblate order just east of town, which was founded in 1868.
When Highway 1 was built south of the Fraser River in the 1960s,.population and commerce followed, with Langley and Abbotsford becoming more prominent.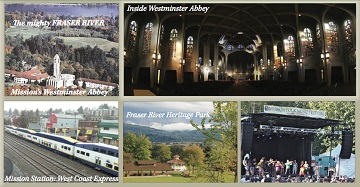 Mission lost Eaton's, which had been the Fraser Valley's main department store. Main Street businesses followed, with people preferring the new shopping malls only 20 minutes drive away across the Fraser River. The shift was compounded with the opening of the new Mission/Abbotsford bridge in the mid-1970s. However, Mission has retained a small town feel and authenticity, with timber mills still prominent.
Sociologically, Mission has some similarities to neighbouring Maple Ridge, with more than 60 percent commuting to work elsewhere, making Mission also something of a bedroom community. Its population is also primarily European Caucasian, with a low percentage of visible minorities.
Mission is noted as the home of a long-established professional drag strip, Mission Raceway Park, as well as the idyllic Fraser River Heritage Park, with its weekly summer concerts, and the highly regarded annual Mission Folk Music Festival, now in its 30th year.
There are two large penal facilities, one minimum security and the other medium security prison, both in Ferndale. In addition Mission is the closest town to two other prisons, at Matsqui and Agassiz.
Churches
There are about 22 churches in Mission. We spoke to Cedar Valley Mennonite Church senior pastor and Mission ministerial facilitator Dan Rempel, who has been in Mission for 17 years:
There is very warm camaraderie between pastors in the town. We have a monthly breakfast meeting, but informally a number of us connect more frequently. Good Friday seven churches came together for a service, and around 100 from various churches got up for an Easter Sunrise service.
Mission Men in Unity is organized by Ron St. Hilaire, who attends Cedar Valley. They gather more than 40 men from various churches three or four times a year.
The Penny: Coffee for Change
New Heights Community Church was planted in 1996, and currently meets at the Ecole des Deux Rives School (7674 Stave Lake). Since 2003 they have rented a downtown space to serve the marginalized, eventually purchasing the three-story building at 33129 Railway. The upper level has five rental apartments, while the First Avenue storefront is soon to open as The Penny Coffee Shop.
The lower level (ground level at the back on Railway Avenue) has  a large multipurpose room. The Copper Hall, with commercial kitchen and creche, helps to subsidize two significant community initiatives.
"The Penny we see as targeting a young adult crowd. All profits will go to support activities, mostly focused on the marginalized held in the downstairs Copper Hall," said pastor Greg Elford. "Hey, why buy your coffee elsewhere when you can also support the poor!"
The Copper Hall already offers a range of services and ministries to the marginalized, such as daily AA, a Young Life youth group and various rentals. When renovations are completed in coming months it will also host New Heights' Sunday gathering.
Given strong collaboration with the District's social services and other churches, it is hoped that the coffee shop will effect strong connections with the millennial generation and will include an area for young kids.
Christian schools
Abbotsford
This is the second in a two-part series on Abbotsford; go here for part one.
Abbotsford has been described as 'the buckle of the Bible Belt.' All told, the city has about 80 churches. Northview Community Church dwarfs all others in numbers of attendees,  with some 3,000 people per week at five services.
Historically the city has had a significant ministerial. In the late 1990s, the ministerial became the Abbotsford Christian Leaders Network (ACLN), with an intentional vision to represent Christians in leadership and not have a primary focus on pastors.
Tim MacIntosh, senior pastor at Heritage Alliance Church, is the chairperson for the ACLN.
"I grew up in Vancouver; Abbotsford is different. In a restaurant you often over hear people referring to faith or church here. Also pastors' groups (ministerials) were more localized; here we have one organization for the whole city. Though smaller clusters of pastors meet informally," he said.
MacIntosh spoke of a long tradition of good things happening citywide with the churches, with some 15 or so years ago being the golden days.
"However I do see a recent regrouping of churches connecting and working together," he said. "Twice a year we hold Sunday evening 'Together' gatherings of worship, sharing and prayer. They have imparted a unique blessing (Psalm 133)."
Last September the Salvation Army's Centre of Hope ran out of funds for its breakfast program. The ACLN put out the word to churches and rescued the program by raising $35,000. Last fall 13 churches all offered the Alpha course at the same time and raised $8,000 for two large billboards  and four bus shelters, along with joint ads in the The Abbotsford News.
Food Bank
Dave Murray, previously a pastor, heads up the Abbotsford Food Bank.
"Over the 17 years I've been here we've evolved into 'More than a Food Bank,' offering free dental, sports camps for kids in the summer and other supports," he told The Light.
Asked what he is struck by of late at the Food Bank, he responded, "There is starting to be an onslaught of seniors. When one partner dies or perhaps there is a divorce, the remaining one simply cannot make ends meet." He estimates they are seeing twice the number of seniors they did from last year, and are instituting a home delivery program for the many who simply don't have transportation or are shut in.
Every year the Food Bank engages 37 schools for food drives and 47 churches also support them. "This year food donations are definitely down."
Salvation Army Centre of Hope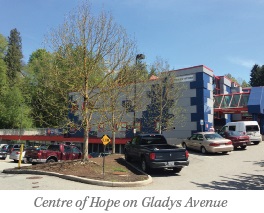 Social agencies in a number of municipalities have been in the news of late due to the mounting problems associated with homelessness and illegal drug use. Like Maple Ridge in 2015, last year saw a 'tent city' established near the Salvation Army.
The Light spoke to Ian Pollard, executive director of the Salvation Army Centre of Hope on Gladys Avenue. The Centre delivers an impressive range of services.
"We have rooms for both men and women which are conveniently situated around a comfortable, common area," said Pollard. "Up to 24 beds are available each night of the year. Both residents and guests from the community enjoy daily breakfasts and lunches."
In 2016 the Centre served 159,000 meals (up 40,000 from 2015). Over 200 people were housed and 8,750 bed nights provided. The program component within The Centre of Hope includes such things as art classes, recreational activities, gardening and volunteering opportunities, and field trips – while continuing to provide programs such as Supportive Independent Living, Foot Clinic and Adult Day Program.
Though not mandated, spiritual care is provided through discussion groups, one on one conversation, and opportunities to pray with the chaplain or staff. "This safe environment where clients can remain throughout the day makes a significant difference in their lives and in our community," Pollard said.
Christian schools
• Abbotsford Christian School (ACS) – pre-school to Grade 12
• Mennonite Educational Institute (MEI) – pre-school to Grade 12
• St. John Brebeuf Regional Secondary School – grades 8 – 12
• St. James & St. Ann's School – kindergarten to grade 7
• Cornerstone Christian School – pre-kindergarten to grade 9
• Columbia Bible College – an undergraduate seminary (Mennonite)
• Summit Pacific College – an undergraduate seminary (Pentecostal Assemblies of Canada)
House of James
Lando Klassen's House of James is one of the last Christian bookstores remaining in Metro Vancouver or the Fraser Valley. Big box stores like Costco, online shopping and the rise in popularity of eBooks have caused most Christian bookstores to close. The store has diversified with a coffee shop, live music and gifts, as well as offering strong customer support.
"We moved from Mission in 1983. Around 2008 we got into toys and opened our coffee shop, along with a live music stage seating around 90 most Fridays and Saturdays," Klassen said.
Asked about trends he's discerned over the years he responded, "I am seeing a dropping off of people attending church regularly, along with migration from church to church. As well people are reading less Christian books, younger folks getting their information in 'bites.' One UFV prof told me that it's a real challenge to get students to read books!"
Along with diversifying his 'product' Klassen said he gets a lot of joy from helping customers find books and Bibles that suit them. "That personal touch you can't get from Amazon" he said.                   
Homelessness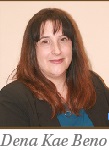 It has been four years since the infamous 'Chicken manure incident' in which Abbotsford City employees dumped manure on the site of a homeless encampment. Roundly criticized, the city has taken significant steps to address homelessness.
The Light met with Dena Kae Beno, who since May 2015 has been Abbotsford's homelessness coordinator – a new position. Her office looked something like a 'war room' with organizational flow charts on the walls, all reflecting something of the complex challenges homelessness presents.
"We are very actively updating our housing strategy, with a Homelessness Action Advisory Committee," she said. A number of initiatives are taking shape, including the Supportive Housing Project building: 30 (subsidized) rental units opening on Gladys Avenue.
Go here for The Light's complete Abbotsford profile (part 2).