"This is the next critical step towards reaching our goal of one million Canadians experiencing Alpha." Shaila Visser, national director of Alpha Canada, introduced the new Alpha Film Series last Thursday evening (April 14) before a full house at Performance Works on Granville Island.
A couple of days later, at Inhabit 2016 in Seattle, the well known 'new monastic' leader Shane Claiborne said of life in the Simple Way community in his north Philadelphia neighbourhood: "It's not too glamorous . . . we answer the door, help kids with homework, hang out on the front porch . . ." 
I felt very fortunate to be at both events; they seemed to exemplify a couple of the main ways forward for today's church.
Alpha invites people to join God's community. The scope is both worldwide and individual. Anyone who cares to watch the films and join the discussions is welcome. Alpha offers a magical combination of humility ("no question is too simple, too stupid or too obvious") and boldness (Jesus is the way, the truth and the life).
Inhabit focuses more on what it means to live out one's faith. We may be part of the universal body of Christ and we may each have to commit ourselves to Jesus individually – but we are also called to live in community, so they ask what it really means to be a neighbour, to be part of a local parish.
Alpha Film Series
Alpha has had a major impact locally. Coastal Church pastor Dave Koop introduced the Alpha Film Series evening by saying "It is one of the biggest means we've had of bringing people to Christ." And Paul Schratz, communications director for the Catholic Archdiocese of Vancouver, recently wrote: "Alpha was unanimously supported by so many people as a great way of introducing that personal relationship [to Jesus]." (During an extensive series of consultations aimed at formulating new priorities and goals for the archdiocese – see the accompanying 'Around Town' article.)
But Alpha is very much a worldwide phenomenon, and Visser reminded us that "You are part of a global launch," which began in Kuala Lumpur and went on to Vancouver, London and several other major world cities.
Here is Alpha's description of what is going on:
The Global Alpha Campaign is going to be the most visible, widespread and exciting invitation in Canada for people to explore life, faith and God. It will include an advertising campaign featuring internationally recognized adventurer Bear Grylls and a coordinated effort by local churches to simultaneously run Alpha in 2016/2017. . . .
The global Alpha Campaign will launch publicly on Thursday, September 1, 2016. This means all websites, social media and advertising featuring Bear Grylls will go live on this date globally. Churches will have access to training resources and promotional materials starting spring 2016.
The first episode of the Alpha Film Series is already available free online, and new episodes – there are 16 in all – will be released every week through April and May. Along with Alpha pioneer Nicky Gumbel and his wife Pippa, the series will feature two new hosts – Toby Flint and Gemma Hunt. Flint is a curate at Holy Trinity Brompton Church (home of Alpha) in London and Hunt is an award-winning BBC children's television host.
Alpha Canada has its headquarters in Richmond, and a lot of local inspiration, money and work went into the new film series. Several years ago, said Visser, a group of Alpha leaders asked themselves, "What can we do different?" From that discussion resulted the Alpha Youth Film Series; locals Ben Woodman and Jason Ballard "gave legs to it." Some 60,000 Canadian students – and many more overseas – have experienced the series.
Visser said the youth series was ground-breaking and led directly to this one, joking that "though Youth Alpha went very well, we're not going to use the term 'Adult Alpha'" for the current project.
Visser called Vancouver-based producer Jim van Dijk and director Daniel Stewart up to the stage. Van Dijk "has been looking through a camera for 30 years" and has almost 100 movie and TV credits. Stewart also directed Youth Alpha, and his work "has been seen on The Discovery Channel, MTV and ABC Family, among many others."
Van Dijk said: "This is probably the greatest opportunity I've ever had, being able to apply [my skills] to something that makes a difference in people's lives." When asked why he wanted to take part in Alpha projects – not, apparently, the most lucrative around – Stewart said, "Like Jim, missions is probably the greatest thing in my heart."
Here is some of the Alpha Film Series content:
With 29 million people globally having already experienced Alpha, the Alpha Film Series will engage a broadly global and multicultural audience while covering the traditional Alpha content such as: Who is Jesus?, How can we have faith?, Why and how do I pray?, How does God guide us?, and Who is the Holy Spirit?
It features inspiring stories and interviews [shot in a dozen nations] using interactive cinematography, as well as visual illustrations and motion graphics. These interviews and stories will feature contributors with various backgrounds and experiences including:
• Bear Grylls, world-renowned adventurer, writer and television presenter.
• Julia Immonen, Sky Sports News presenter and double Guinness World Record Atlantic Ocean rower.
• Ugo Monye, former English international rugby union player.
• Jackie Pullinger, one of the world's best known missionaries, based in Hong Kong.
• Cardinal Christoph Schönborn, Archbishop of Vienna.
• Father Raniero Cantalamessa, Preacher to the Papal Household.
• Jose Henriquez Gonzalez, one of the 33 miners trapped for 69 days at the San Jose mine in Chile.
• Alister McGrath, professor of science and religion at the University of Oxford.
• Scott Harrison, founder of Charity: Water.
Visser hopes 100 million people will have participated in Alpha by the time the Alpha Film Series is fully utilized. Spanish, Arabic, Mandarin and Hindi versions will be available by the end of the year.
In the meantime, she is encouraging local churches to choose either to participate in a regional advertising campaign or simply run Alpha through their church.
Several Metro Vancouver churches will be partnering with Alpha to introduce the Global Alpha Campaign to their local communities: First Baptist Church, Vancouver (April 27); Cedar Grove Baptist Church, Surrey (April 27); Cariboo Road Christian Fellowship, Burnaby (April 28); Northside Church, Coquitlam (April 28); and Christian Life Assembly, Langley (May 12).
Inhabit / New Parish
The Inhabit-ors were a mixed bunch, but the conference's promotional material suggests what they had in common:
An exciting movement is growing across North America as churches from every background join the ongoing work of God in their neighbourhoods – a movement that explores the potential for change in the unique facets of every community.
This year we ask the question: How does this change happen?
If you care about seeing real, on-the-ground change that transforms your neighbourhood, join us at Inhabit, the leading conference answering the church's radical call to faithful practice and presence in the particularity of place.
Participants came mainly from the American northwest, but there were also quite a number of Vancouverites.
Karen Reed, who lives in – and routinely shares – her six-bedroom community house in the Commercial Drive area, described something of her journey during one of the symposiums.
She says she has been converted to "another way of living" over the past few years, "one that is slow, rooted, shared and integrated," which has her "working toward a neighbourhood that flourishes and functions like an extended family.":
I had a well established theology of place, but in practice was very fragmented in my way of living – it was a very slow conversion. [She now asks], how can I nurture a sense of village? . . . it was in living my beliefs that I had to develop practices.
She also pointed to the pioneering work of Tim Dickau and Grandview Calvary Baptist Church in east Vancouver:
I've watched that evolve – staff working part-time, leaving lots of time for neighbours, living within a few blocks of the church, a strong social justice focus. . . . Tim would be seen as pastor of the business community.
Alan Briggs, author of Staying is the New Going and director of Frontline Church Planting, based in Colorado Springs, offered "six crucial commitments":
1. To improvization, to following rabbit trails . . . hospitality happens best at a moment's notice.
2. To folding others into your family – no need for special plans (eg, normal dinners).
3. To creating collective overlap between Christians and pre-Christians.
4. To finding sustainable rhythms – eg, a Free Coffee Friday, on private property right across from their kids' school; visibility and consistency are key.
5. To seeking faithful presence instead of impact; do what you're doing, more intentionally.
6. To moving from a sense of home as refuge to home as a place of ministry.
Shane Claiborne and Majora Carter were probably the 'stars of the show.'
Claiborne is widely appreciated for his long-term commitment to community and justice in Philadelphia and beyond. His low-key but often humorous presentation was a treat (which organizers said would be preserved on a podcast).
Carter has received worldwide recognition for her creative, entrepreneurial urban revitalization work in her native Bronx and beyond. She was a vulnerable and captivating speaker.
But equally impressive, for me, were the many unheralded stories of perseverance in suburbs, in blighted urban centres, and everything in between. Inhabit brings together some real pioneers, I expect its work to become increasingly well known over the next few years.
In the next week or two I will run an article by Tim Soerens and Christiana Rice on 'The Five Signs of the Parish Movement,' which will further clarify some of the key themes raised at Inhabit 2016.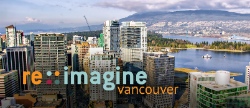 As well, consider attending ReImagine Vancouver, which will be held at Vancouver School of Theology June 17 – 18. Led by Dwight Friesen, Tim Soerens and Paul Sparks – who hosted Inhabit 2016 (and are behind the Inhabit conferences, the Parish Collective and The New Parish) – it should be a significant event.