Very encouraging, reading the most recent edition of Making Connections, a newsletter of Canadian Baptists of Western Canada, which included this story:
God is so good and actively moving in our churches! Emmanuel Iranian Church recently had a significant day where they baptized a total of 130 people using Hillside Baptist Church's facilities.
They laid down tarps and towels between the baptism tank and the washrooms, and got it all done in an afternoon!
We chatted with Pastor Arash of Emmanuel to learn more about this amazing event:
How did it come about that you had 130 people wanting to be baptized in one day?
A spiritual revival is happening among Iranians. On one hand, most Iranians are fed up with their inherited religion, as it is more than 40 years of Islamic rule in the country – and there is no sign of peace, happiness or hope for the future.
On the other hand, Iranians are the kind of people who are in need of God. We have a treasure of literature and culture that is amalgamated with the concept of spirituality.
There is a void, and a search for the true God in most Iranian's hearts. Jesus is one of the most respected personalities in our literature, and when Iranians get to know Him according to the Bible, they receive Him!
How long did it take?
Three hours and 12 weeks! We run a 12-week baptism course in order to introduce Christianity, and when we feel the readiness in heart and mind, we offer the baptism.
For an encouraging look at the growth of the church in Iran, read this recent artlcle by Lela Gilbert, a veteran writer on religious freedom issues.
Reformed Church challenges
Six local churches have joined a new denomination, the Reformation Canada Network (RCN). Here's how the group introduces itself:
The founding members of the Reformation Canada Network are Canadian pastors and church leaders who were formerly affiliated with the Reformed Church in America (RCA).
The reason these leaders decided to step out of their lifelong denomination to form a new association of churches was the RCA's refusal to hold to its own Biblical creeds and confessions.
We came to believe that the effectiveness of our local churches would be enhanced by leaving the RCA and establishing a new association of churches – Reformation Canada Network.
President Ron Opmeer (pastor of Bethel Community in Abbotsford) and Clerk Jim Moerman (pastor of Home Church in Langley) were brought up in the RCA denomination
It was very interesting to watch portions of the General Synods of the RCA and the Christian Reformed Church North America (CRCNA) over the past couple of weeks. (General Synod, according to the RCA, "is a once-a-year gathering that shapes the direction of the denomination.")
The denominations have worked closely together over the years, both having roots in the Netherlands and strong population bases in the Midwest. Both have a number of churches in Metro Vancouver and the Valley.
However, it appears they are on different trajectories with regard to human sexuality.
The Banner (CRCNA's publication) wrote June 15:
Synod 2023 upheld Synod 2022's interpretation that "unchastity" in the Heidelberg Catechism includes "homosexual sex" and upheld the "confessional status" of that interpretation. Synod was responding to overtures (formal requests) from six classes and five congregations to change the definition of "unchastity," and change the decision around its "confessional status."
Laura Osborne, Coordinator for Interreligious Relations for the RCA, was invited to speak at the CRCNA Synod June 13.
Coming straight from the RCA gathering, she said (introduced at 27:37):
We celebrated our mission partners, our newly organized churches, our church planting efforts and 50 years of women's ordination.
But she acknowledged that the last few years have been challenging as well.
She said General Synod still recognizes marriage as being between a man and a woman, but "affirmed that the authority to ordain and oversee pastors lies within the local classis." (According to the RCA, the local classis "oversees consistories [which govern churches] and ministers within its bounds.")
Thus the diversity already found in the RCA would continue, with some areas endorsing, or at least allowing, a view of marriage at odds with that confirmed definitively last year, and again this year, by General Synod.
She added:
After careful discernment and deliberation, General Synod called for for a restructuring of the RCA for sustained spiritual and organization health, anticipating a smaller denomination moving forward.
They also certified an exit path for churches and pastors who want to find a different denominational home. The desire was for a mutually generous separation.
Since October, we have seen a number of churches follow that path for generous separation, with others still in process. Since those October 2021 decisions, roughly a quarter of our churches have chosen to leave the RCA, accounting for 41 percent of our membership.
That is a huge loss and that is our reality right now.
She said most of the churches have gone to five groups, including the Reformation Canada Network.
Many churches in the RCA clearly wanted more denomination-wide clarity on the issue. The Classis of British Columbia had alerted the denomination several years ago that if it did not uphold the traditional parameters of marriage within a fixed period of time, churches in BC would leave the denomination. A handful of churches in the Classis of BC are still considering their future.
The last Christian Brother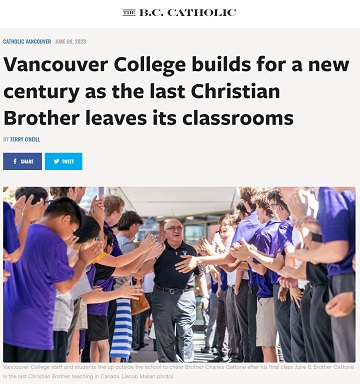 When Brother Charles Gattone retires from Vancouver College next week, it will mark the end of an era.
Here is part of an article by Terry O'Neill in The B.C. Catholic.
Vancouver College this month marks not only the conclusion of its year-long 100th-anniversary celebration, but also the end of a century-spanning era in which Christian Brothers taught at the school.
Brother Charles Gattone, 75, the last remaining Christian Brother to teach not only at the historic Catholic boys' school but also in the country, is retiring at the end of the month after devoting 53 years to Catholic education . . .
Reflecting on his vocation, Brother Gattone said he hoped he helped his students develop a relationship with God. "In the classroom and on retreats … I always remind them that we encounter God in the people and events of our lives," he said in an e-mail interview. "Whether it was in religion class or in a French class, I wanted them to know that they are important and cared for."
He also said the Christian Brother's founder, Blessed Edmund Rice, was correct in his belief that a solid Catholic education was the recipe for a successful and happy life.
Vancouver College has an excellent understanding of the Christ-centred "Essential Elements of an Edmund Rice Christian Brother Education," Brother Gattone said.
"I am confident that Edmund's spirit will continue to guide the many talented educators of Vancouver College. I leave here with confidence in the next 100 years of Vancouver College." . . .
While faith-based education, and academic and athletic achievements have long been hallmarks of Vancouver College, the school has also faced legal and financial challenges during the past two decades related to the Christian Brothers' record of sexual and physical abuse of students at the Mount Cashel Orphanage in Newfoundland. In 2002, the school paid an out-of-court settlement of $13.8 million to Mount Cashel victims.
Earlier this year, Vancouver College, St. Thomas More Collegiate and the Archdiocese were named in a class-action suit brought by former VC students who claimed abuse by teachers who were transferred to B.C. from Mount Cashel.
Notwithstanding such challenges, support for the school remains strong, allowing it to rebuild its Shaughnessy campus during the past decade. In 2021, it announced the successful conclusion of its Our Next Century Campaign, which raised $40 million.
Jun 2023
City-wide Worship Night: Worship in the City
– June 22, 2023 at 7:00 pm - 9:00 pm
God Said This by Leah Nanako Winkler
– June 22, 2023 - June 24, 2023 at 8:00 pm - 10:00 pm
Filmmaking Basics Workshop
– June 23, 2023 - June 24, 2023 at 8:30 am - 3:00 pm
Refugee Support and Volunteer Training
– June 24, 2023 at 8:45 am - 3:00 pm
House of James: 50th Anniversary BBQ
– June 24, 2023 at 11:00 am - 2:00 pm
Worship Invades Pitt Meadows
– June 24, 2023 at 7:30 pm - 10:30 pm
Jazz Vespers with Carman J. Price
– June 25, 2023 at 4:00 pm - 5:00 pm
One With Them: A Day for Christian Captives
– June 25, 2023 at 4:00 pm - 5:00 pm
Mark D. Roberts: Faith-Work Integration – New Learning for a New Day
– June 26, 2023 at 7:30 pm - 9:00 pm
Church Earthkeepers Meet-Up
– June 27, 2023 at 5:00 pm - 6:00 pm
Strategic Leadership for Christian Higher Education Administrators: (1) Having Difficult Conversations, and (2) Onboarding New Faculty
– June 28, 2023 at 8:30 am - 12:00 pm
Mabiala Kenzo: Developments in Postcolonial Theology
– June 28, 2023 at 12:00 pm - 12:45 pm
Jazz Evensong @ Brentwood: Karen Graves & Miles Black
– June 28, 2023 at 8:00 pm - 9:00 pm
Christian Climate Observers Program at COP28 (2023): Application
– June 29, 2023 - July 14, 2023 at All Day
Surroundings by Cara Bain
– June 29, 2023 - August 16, 2023 at All Day
Surroundings by Cara Bain: Opening Reception
– June 29, 2023 at 4:30 pm - 6:30 pm
New Roots 2023
– June 29, 2023 at 8:00 pm - 9:30 pm
Jul 2023
Summer Worship update
– July 2, 2023 - August 27, 2023 at 4:00 pm - 5:00 pm
FLO Summer Soccer Camp 2023
– July 3, 2023 - July 7, 2023 at 1:00 pm - 4:00 pm
Vince Bantu: The Global Roots of the Christian Faith
– July 3, 2023 at 7:30 pm - 9:00 pm
Vince Bantu: The Specificity of Church History Around the World
– July 5, 2023 at 12:00 pm - 12:45 pm
BC Christian Ashram: On Earth as in Heaven
– July 7, 2023 - July 8, 2023 at All Day
Retreat and Launch 2023
– July 7, 2023 - July 8, 2023 at 9:00 am - 6:00 pm
West Coast Gospel Music Summer Caravan
– July 7, 2023 - July 8, 2023 at 7:00 pm - 10:00 pm
David Ley: Postmodern Urban Spaces – a City Tour
– July 8, 2023 at 9:00 am - 1:00 pm
Wine & Soul
– July 8, 2023 at 10:00 am - 3:00 pm
Soccer Camp
– July 10, 2023 - July 14, 2023 at 9:00 am - 12:30 pm
Bishop Todd Townsend: Taking the Plunge – Biblical Patterns for Coming to Faith in Christ
– July 11, 2023 at 7:00 pm - 8:30 pm
Joy Marie Clarkson & James Smoker: Art, Spiritual Formation & Community
– July 12, 2023 at 12:00 pm - 12:45 pm
John W. Walton: What in the World are We Supposed to do with the Old Testament?
– July 12, 2023 at 7:30 pm - 9:00 pm
Arthur Boers: Peril & Promise in Penning Memoir – Grace-Filled & Faith-Filled Challenges
– July 13, 2023 at 12:00 pm - 1:00 pm
Servant Partners Training
– July 15, 2023 at 9:00 am - 3:00 pm
David Lyon: Everyday Life in a World of Digital Surveillance
– July 17, 2023 at 7:30 pm - 9:00 pm
Alexander Chow: Chinese Christian Thought
– July 19, 2023 at 12:00 pm - 12:45 pm
CMUS 205 Symposium on Variations of Violin Hymns (two evenings)
– July 20, 2023 - July 27, 2023 at 7:30 pm - 9:00 pm
Ruthie Foster: Fort Langley Jazz & Arts Festival 2023
– July 21, 2023 at 8:00 pm - 10:00 pm
Jeffrey Greenman: The Bible's Deep Logic – the Inseparable Connection Between Believing, Belonging & Belonging
– July 22, 2023 at 9:30 am - 11:45 am
Fraser Lands Community Day
– July 22, 2023 at 11:00 am - 3:00 pm
Mary McCampbell: Prophetic 'Deconstruction'? Literary Critiques of Cultural Christianity
– July 24, 2023 at 7:30 pm - 9:00 pm
Brittany Kim: The Every Voice Kingdom Diversity Project
– July 26, 2023 at 12:00 pm - 12:45 pm
Jonathan Pennington: What is the 'Good Life' and How Do We Find It? Christianity's Surprising Answer
– July 26, 2023 at 7:30 pm - 9:00 pm
Jesus the Great Philosopher: An evening with Dr. Jonathan Pennington
– July 27, 2023 at 7:00 pm - 8:30 pm
Joint Missions Convention: Go into all the World
– July 28, 2023 - July 30, 2023 at All Day
Healing Hearts Transforming Nations Retreat
– July 30, 2023 - August 3, 2023 at All Day
Jazz Vespers with Joelle Lush
– July 30, 2023 at 4:00 pm - 5:00 pm
Hans Boersma: Dionysius & Hierarchy – Why Modernity is Oppressive
– July 31, 2023 at 7:30 pm - 9:00 pm