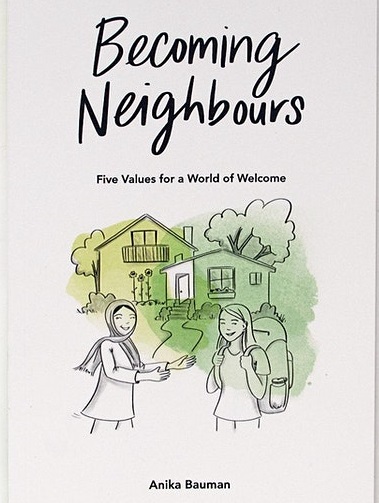 Kinbrace is the longest-serving dedicated housing provider for refugee claimants in British Columbia.
Since 1998 they have offered transitional housing and wrap-around support for about 40 refugee claimants each year. Two houses with a shared back yard are located in the Commercial Drive area of east Vancouver.
A new book by Anika Bauman demonstrates the practical daily ways in which the community lives up to its name – which is made up of two words, 'kinship' and 'embrace.'
An online book launch for Becoming Neighbours will take place next Wednesday (October 20).
Anika spent three years (2017 – 2020) at Kinbrace:
She found her niche setting up apartments for new residents, gardening, chicken-keeping and hosting spontaneous celebrations with neighbours.
The book, and the launch, ask questions and point to shared learning in the community:
Today, record numbers of people are on the move, displaced from their homes and countries by war, persecution and climate disruption.
How might those of us in refugee-welcoming countries engage with this global reality while recognizing our shared humanity with people seeking safety? Could we move beyond border politics, cultural differences, language barriers and personal anxieties to truly become neighbours?
This book shares Anika Bauman's personal experience of transformation as a member of the Kinbrace community, a place where refugee claimants and Canadians live side by side.
Through the warmth of her storytelling and her gift of reflection, Anika explores five core values – developed by a community in action – that are tangible, accessible and lead to a world of welcome.
Anika will read from Becoming Neighbours, and will be joined by former neighbours, who offer their stories.
Go here to register for the book launch.
Remembering the Poor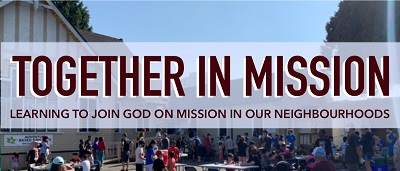 Three top-notch local speakers will lead the way at what looks to be a valuable Forge Canada event this Saturday (October 16):
One of the key questions churches face today, as we navigate this challenging season, is what does 'church' look like post-Covid?
God's heart is for the poor and the oppressed, it has always been, and will always be. Therefore, as we reconsider how we do church in today's world, surely this is the right time to think through whether we are being the church, by fulfilling our God-given mandate of caring for the poor. The early church leaders' call to 'remember the poor' is as much for us today as it was for Paul (Galatians 2:10).
Joyce Rees will lead us in 'Remembering the Poor,' followed by a short break before Mark Glanville shares on 'Welcoming the Stranger.' After lunch, Tim Dickau will teach 'An Incarnational Presence.'
Joyce Rees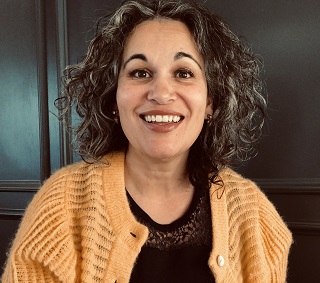 , admittedly, is no longer local, but she did start Jacob's Well in the Downtown Eastside and planted Strathcona Vineyard before moving to Calgary, where she and her husband pastor another Vineyard Church.
Mark Glanville pastored for several years before becoming a professor at Regent College. He is co-author of Refuge Reimagined: Biblical Kinship in Global Politics, of which theologian Christopher Wright said: "It is rare to find a single book that is as rich in biblical scholarship as it is well informed on one of the most urgent global issues of our generation."
Tim Dickau pastored Grandview Calvary Church for 30 years and is now CML Associate for the Missional Leadership Certificate Program, as well as Director of City Gate Leadership Forum. His new book has just been published: Forming Christian Communities in a Secular Age: Recovering Humility and Hope.
The gathering will take place at Southside Community Church in Surrey, but will also be available on Zoom.
Harsha Walia's explanation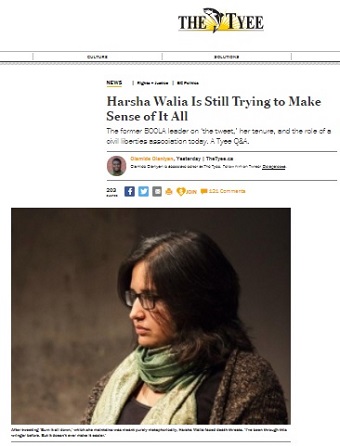 Some people feel sorry for Harsh Walia – and she seems to be among them. A very sympathetic article in The Tyee October 12 gave her lots of opportunity to explain herself.
Walia left her position as executive director of the BC Civil Liberties Association (BCCLA) in July. She had been under considerable pressure to step down after tweeting an inflammatory comment June 30, following the discovery of unmarked graves on residential school grounds.
She responded to a news story about two burned Catholic churches with a four-word tweet: "Burn it all down."
Reaction was swift, much of it very critical. BC's Public Safety Minister Mike Farnworth, for example, called the tweet "disgusting and reprehensible" and "vile beyond belief."
Unfortunately, as well, "Walia says she's since received a torrent of racist and misogynist harassment and abuse online, as well as death threats at her home."
She responded to the criticism at the time:
She locked her account temporarily and posted two Twitter threads explaining her intention.* She maintains that she wasn't being literal in the initial post and wasn't encouraging people to burn down churches.
Rather, it was a criticism of the genocide of Indigenous people through the residential school systems run by the state and churches. "I do think deadly genocidal colonialism, locally and globally, needs to collapse," she said in a July 3 tweet thread.
Walia was offered the opportunity to cast a positive light on her own work and respond to her critics in the Tyee interview. Apart from defending her comment, she was critical of the BCCLA's board, which accepted her resignation, adding:
I have to hold whatever regret I may have with the bigger reality, which is that systems of power and white supremacy and the right are ultimately responsible for having had this turn out the way that it did. The outrage was manufactured. And it could have been over anything.
Many who commented about the article strongly supported Walia, with several echoing her view that the outrage was manufactured. One said she "did nothing wrong" and another described her as "a true HERO."
I'm not too impressed with Walia's approach, neither her initial words – which were careless and inciting at best (imagine if any of her right wing bêtes noires had said anything similar) – nor her self-justification since.
But I do think the following portion displays some good instincts (and the priest she refers to deserves credit too):
What do you think about the people who criticize your words or say you should have chosen different words or been less inflammatory?
I think people have a right to their opinion. Not everyone has to agree with my choice of words. I can understand and respect that. And again, it depends on who's saying it and for what reason. If they're saying it in good faith, I accept it. If they're saying it because they're one of the genocide deniers, then I don't think it is a good thing.
What do you think a good-faith criticism of your tweet and what you're saying would have been?
Good-faith criticism would be like, "Did you literally mean that every church around the world should be burned down? What about people who are people of faith, who literally think that you mean that churches should be burned down?" You know, things like that.
I'll give you an example. I had a priest write me . . . I took their concerns as good faith. He was like, "I'm a priest. I'm engaged in the work of reconciliation." I mean, only he knows if he is or isn't. And he identified as a racialized pastor, a Christian who had immigrated from another country. I understand the nuances of that.
He told me that he'd heard about the comments on the news, and he hadn't even read Twitter or anything. And he said, "I'd like to know if how it is being conveyed is accurate." I sent him my first tweet thread responding to the whole "controversy," and he wrote back and said, "Thank you so much, I wish you well in your work."
So those are the kinds of things that I mean, where people are genuinely inquisitive and they're just reading the news story, how it's conveyed, and are wondering what's happening. That's what I mean by good-faith criticism, or maybe even good-faith inquiry.
Go here for the full interview.
No Events