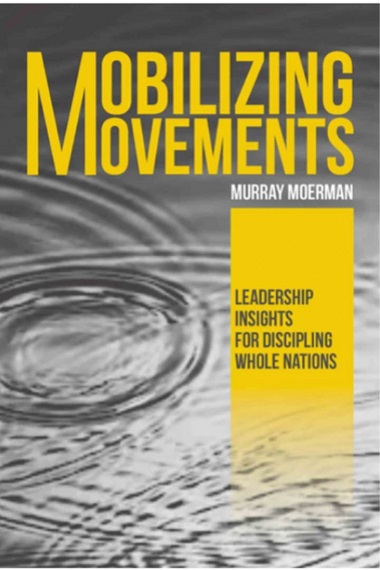 When I surrendered to Christ unconditionally many years ago, the first book I read, after the Bible, was Dietrich Bonhoeffer's Cost of Discipleship. It has shaped me to this day.
Bonhoeffer writes: "When Jesus calls a man (or woman) to follow, he bids him to come and die."
Jesus refers not only to the possibility of physical death, but first of all death to flitting between distractions, losing focus and purpose in a world which needs Christ above all.
This need of Christ above all is the impetus for the Great Commission, and the Great Commission is the reason for the church and her mission – and for my recent book Mobilizing Movements: Leadership Insights for Discipling Whole Nations.
Passion for Christ is enhanced by strategy
Mobilizing Movements is based on the belief that passion for Christ and his cause on earth is enhanced by effective strategy.
Three strategies are highlighted:
1. Disciple Making Movements
The first strategy is training disciple-makers to make disciples who make disciples to the fourth spiritual generation. All followers of Christ aim to be disciples. Being a true disciple must lead to being a disciple-maker. Multiplying disciple-makers leads to disciple-making movements.
Some key components of a disciple-making movement are depicted in this graphic:
What is involved? The four images are reminders of four key accelerators:
Prayer: List those in your social networks and pray daily for a few people the Lord is leading you to care about.
Seven Questions: Provide a simple reproducible small group process to grow as a disciple and as a disciple-maker.
Ordinary people: The disciples Jesus chose were ordinary working people. The means by which disciple-making has grown most in history has been the same. Don't underestimate what God does through ordinary people.
Three is better: Plan for your small group to start three new small groups in the next three years. Each can do the same as you encourage those who are growing in their commitment to Christ.
7 Questions provides more detail and support.
2. National church planting process
The second strategy involves planting disciple-making communities (aka churches) among those where Christ is least known and not yet followed. This is commonly termed a national church planting process. In Canada this process collaborates as Church Planting Canada.
A national process may sound challenging and not everyone is called to it, yet we all can participate at some level. Remember also that the same process by which a nation is engaged with the Gospel applies to a county, city or part of a city, a people group or part of a people group.
Mobilizing Movements outlines how to implement the following components:
The four images are designed to remind us of four key elements in the process:
Leadership: Perhaps you are called to be the leader coordinating efforts or perhaps you can participate on a team contributing to the process.
Information: Research reveals where churches are ministering and gaps in the cultures and locations where the church is not yet effectively engaged. The goal of research is to show where churches need to be planted to complete the task.
Gathering: The next step gathers leaders who can help make disciples and start churches. These leaders can be in the existing church or those just beginning to follow Christ. Gatherings are events.
Systems: Tools and training will be needed. Systems for communication, support, prayer and collaboration help focus on the goal. Systems are processes.
3. Seven mountains
The third stream involves strategies to bring kingdom values to culture-shaping areas of influence such as education, formal and social media, the home and family, the marketplace, government at all levels, and arts and entertainment. There is no area of life in which Jesus' Lordship and grace cannot bring transformation and healing. Some call these areas of culture-formation "seven mountains."
Only committed disciples can be the 'salt and light' of the Gospel for transformation (Matthew 5). For this reason, this third steam follows disciple-making and church planting, but in practice is never separated from the Great Commission (Matthew 28).
Where do you fit?
The call of Jesus to make disciples of all peoples involves for each of us: the call to prayer, to being and making disciples and to being salt-and-light where we live.
In addition, each follower of Christ may be called to specialize in one or more of the three streams touched on above – engaging our broken world with the healing grace and power of the Gospel of Jesus Christ. Where do you fit?
Mobilizing Movements
Mobilizing Movements is a book of leadership insights for practitioners committed to the Great Commission. The vision for collaborating as the body of Christ to disciple nations was born 30 years ago, initially termed Discipling A Whole Nation (DAWN). Mobilizing Movements unpacks both principles and practical learning gained in recent years by many leaders in applying this strategy.
Grass roots disciple-making movements have also developed at the micro level in many places. The joy and opportunity of our generation is to overlap both means and build on them processes to impact all spheres of life for Christ. Mobilizing Movements helps you find your place on the team!
Mobilizing Movements is for all those with a heart to see the earth filled with the glory and grace of God in Christ: church planters, disciple-makers, mission strategists, intercessors, teachers and students of missions, pastors, movement leaders . . .
If you are interested in more detail you may want to pick up a copy of Mobilizing Movements here.
And you can listen to a recent interview with Murray about his book here: Mobilizing Movements: An Interview.
Murray Moerman began his work with Outreach Canada as Director of Church Planting Canada. From there he and Carol moved to the United Kingdom, where he served for seven years as OC Europe Area Director and helped found the Global Church Planting Network (GCPN) which he led from 2009 to 2016.
Murray now serves within GCPN, leading the Saturation Church Planting Taskforce partnership and other national church planting process initiatives. 
Murray began his pastoral career in 1976 by planting and leading New Life Community Church in Burnaby.
This article is re-posted by permission from the Outreach Canada site.