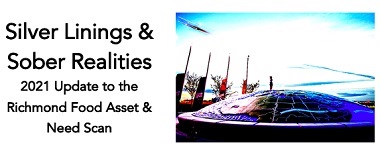 Karen Giesbrecht and partners from different churches and supportive organizations have carried out 'food asset and need scans' for three neighbourhoods.
Three weeks ago she wrote an overview, then West Side Vancouver and Downtown Vancouver. This week she focuses on Richmond. 
"Not much. A church stops by once a week or so."
This was the response from someone living in a vehicle in central Richmond, when an outreach worker asked where he finds food. 
With the unpredictable nature of the pandemic, we see significant shifts in the needs of vulnerable individuals and supports available to them. Thus there was a need to update Food Brings Community: the 2020 Richmond Food Access Report.
This update highlights the compassionate network of food-sharing with individuals on the margins in Richmond, and shows that there is much more to do.
Evidence tells us that food programs do not end hunger – only an adequate income will do that.
Still, every shared meal, every bag of groceries and every connection matters as we work alongside both our vulnerable neighbours, and those with the power to influence the policies, budgets and systems that reduce and eventually eliminate food insecurity and other poverty-related challenges.
Though we have all been negatively affected by COVID-19, we have also seen unprecedented collaboration and generosity. As one program coordinator said, it has been a season of "sober realities and silver linings."
Food insecurity in Richmond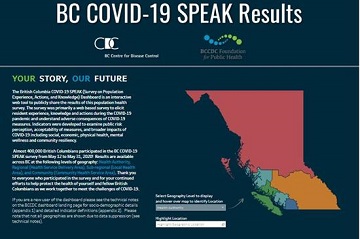 The 2020 BC Centre for Disease Control COVID-19 SPEAK survey revealed that 20.1 percent of Richmond residents were concerned about their food security.
This is a significant increase from the 6.3 percent of Richmond residents who were found to be food insecure from the My Health My Community report, conducted by Vancouver Coastal Health in 2013. Results from round two of the COVID-19 SPEAK survey are expected to be published before the end of 2021.
The Richmond Food Bank and Food Aid Delivery Coalition have been tracking food availability in order for member organizations to be aware of other supports and assess how well others are doing.
Members of the Food Aid Delivery Coalition distribute about 3,500 meals on average each week. The chart following this story does not capture all food supports, but does give an indication of what is available in Richmond each week.
Who is underserved?
For each of these food asset scans, we asked service providers who they see as still underserved in their area, as a crisis like the pandemic causes existing supports to disappear or change, and new challenges emerge.
As in other communities, the list included homeless individuals, people with disabilities and mental health challenges, seniors, new immigrants and refugees, vulnerable women and those living with addiction.
Pandemic lessons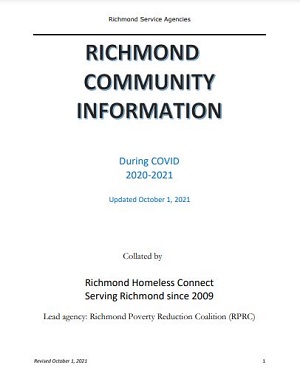 We have been shown again during the pandemic that extra and longer-term support is better than haphazard crisis responses.
When we have secure housing, food, income and autonomy to make choices about our lives, we do not need to operate in crisis mode and rely on social services. Service providers in Richmond also shared these lessons learned:
Collaboration – It is valuable to know what exists in our neighbourhood, city, region and beyond. Change will happen with input from multiple sectors, including city representatives and other groups with power and resources.
The Richmond Poverty Reduction Coalition (RPRC) was the lead agency in publishing a Richmond Community Information guide, updated with changes made because of COVID, for Richmond Service Agencies.
Partnerships – When trusted relationships exist, adaptations can happen quickly, such as resource sharing, new programs and shared space arrangements.
Income and financial support – No formalized funding models for individuals who need crisis relief exist in Richmond. However, there are several churches, agencies and individuals who quietly provide this kind of support. Reponses like the Canadian Emergency Response Benefit (CERB) were valuable to many, but not available for some who work outside of official workforces (for example, domestic labourers, caregivers, sex workers).
Agency – One of the hardest impacts of the pandemic was the necessary focus on safety. Program participants and many long-time volunteers could no longer participate in program delivery, and thus lost the opportunity to serve their community, which is vital for our sense of self and agency.
Awareness – As vulnerabilities were exposed, we gained an unprecedented awareness of the challenges of poverty, both locally and internationally. Although a compassionate understanding of vulnerabilities is only the first step, it is necessary in order to take the next step towards transformational supports.
See the report for recommendations on what to do with these lessons learned.
Conclusion
During an interview for this report, one of the program staff, referring to both the food they share and the lessons they had learned during this unusual year said, "We keep what we have by giving it away." The wisdom of this paradox is evident in the abundance of food and collaboration in Richmond, amidst the sober realities of the struggles of those living without adequate food and protective policies.
The pandemic has renewed desire for a formalized network of collaboration amongst service providers, and has caused a recognition that charitable food distribution is admirable and necessary as a stopgap response, but does little to address the root causes of food insecurity.
The resilience and adaptability of Richmond service providers and their guests alike are the silver lining of our present mutual crisis.
Karen Giesbrecht works with the Union Gospel Mission (UGM) church relations department (churchrelations@ugm.ca). Go here for the full 13-page Silver Linings & Sober Realities report.
Food available in Richmond:
Organization

In-House Meals/Day or Week

Drop-In Meals/Day or Week

Hampers

Other (i.e. future plans)

UGM Mobile Outreach Van

Bring ~40 bag meals out 1/week

St. Alban's

Tuesday: ~ 100 (guests + volunteers)

30 take-out meals for Hugh

Fridays: 30-35 people

Sundays: 100 people (outreach)

22-25 hampers every week in partnership with the Richmond School Board

Backpack buddies partnership with School Board over July/Aug to 35 families

Church On 5

Wednesdays: 80 meals + 31 for Hugh

Thursday 85 meals funded by Gilmore Park in collaboration with Urban Bounty

Goal is to return to indoor meals come September

A "Quest-like" model for food, clothing, etc.

Kehila Society

~ 200 meals/week between two programs

Provide hot lunch/breakfast three times a week to 18 children at the private Jewish day school

Provide some hampers with food and hygiene items to agencies supporting vulnerable individuals

Supply gift cards for groceries, cafes, and clothing, give through outreach workers

St. Joseph's the Worker Parish

Grocery gift cards provided

Re-engage with UGM to discuss and identify gaps and logistics for offering an ongoing food program

Salvation Army Emergency Shelter

3 meals/day for clients in shelter

Richmond Baptist Church

~50 hampers/week for vulnerable families

Exploring if they should re-start their Saturday meal
For more information, please contact Hajira Hussain, Executive Director of the Richmond Food Bank at hajira@richmondfoodback.org.