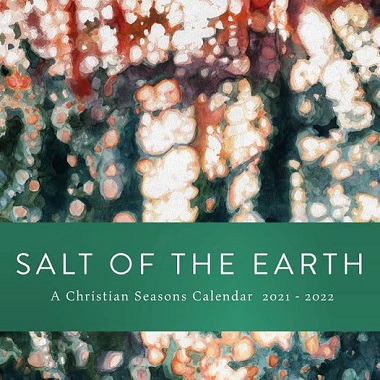 The 2021-2022 edition of the Christian Seasons Calendar has just been published – and you have plenty of time to get one before the 'beginning of the year'; the Advent season begins November 28.
Salt of the Earth: A Christian Seasons Calendar is a ministry of University Hill Congregation. (The church's former pastor, Ed Searcy, wrote here about how it got started, more than 20 years ago.)
Every year the calendar features original art relating to the seasons. Artists come from all over the world, though most are now based in North America.
Fiona Moes Pel, whose work graces the cover, is local:
Using a range of media, Fiona's artwork is anchored in how light and time relate to embodied experiences. She holds a Master of Fine Arts from Emily Carr University. Fiona makes and teaches art in Vancouver.
Vancouver School of Theology professor Jason Byassee states:
Christ's resurrection carves a new calendar. Our neighbours live by a January-December calendar, or sport-to-sport calendar, or an academic calendar. There is nothing wrong with those. But the calendar that rotates around the incarnation, passion and Pentecost literally reorients us. These calendars remind me daily that Christ is making a new people out of us.
This is how the producers describe Christian seasons concept:
The Christian year has its origins in the festivals held in the early centuries of the church's life. These gradually grew into the annual marking of time that many Protestant and Roman Catholic churches share today.
The Christian year divides first into the seasons that lead us through the birth, life, death, resurrection and ascension of Jesus, the Christ:  Advent, Christmas, Epiphany, Lent, Holy Week (a part of Lent) and Easter, which ends on the Day of Pentecost.
This is followed by the long Season After Pentecost, when, baptized by God's fiery Spirit, the focus becomes our sending to the world God so loves, in light of the story of Jesus we have lived through once again in the first part of the year.
Go here to order a Christian Season Calendar.
Wakey, Wakey: live life
Pacific Theatre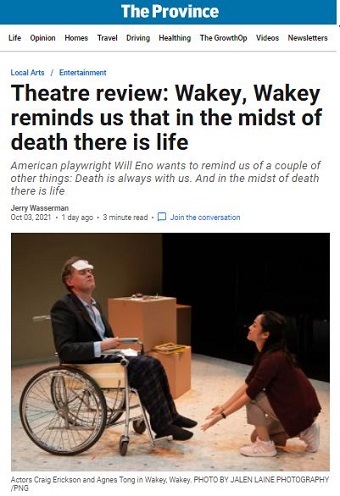 is welcoming audiences back this fall; artistic director Kaitlin Williams said:
We are welcoming you back home with plays that feel like pure Pacific Theatre. The season offers something for everyone, contemporary drama, comedy, lots of music and plenty of stage magic.
The first show up is Wakey, Wakey, by Will Eno, which was described as "a glowingly dark, profoundly moving new play" by The New York Times and received a very positive review by Jerry Wasserman October 3 in The Province (and The Vancouver Sun).
He said:
Craig Erickson plays Guy in Pacific Theatre's thought-provoking season-opener, sensitively directed by the company's new artistic director, Kaitlin Williams. Erickson turns in a beautifully modulated, very funny performance.
Though the script sometimes flirts with New Age banality, Erickson comically deflates every hint of pomposity with a shrug, a stutter, an easy double-take. And he drives home the important points with gentle suggestion. . . .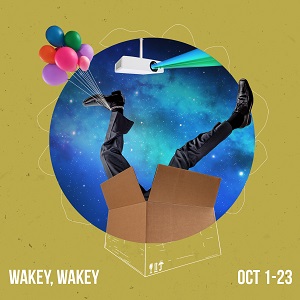 His consistent theme is that the imminence of death means we should wake up and live what life we have with attentiveness and joy. Take nothing for granted: "there are a million miracles in this room at least."
The projections provide vivid examples, everything from family photos to a densely starlit night sky to a hilarious montage of screeching animals. Guy asks us to join him in some visioning exercises that, with eyes closed, are eye-opening.
Erickson is joined by Agnes Tong in the production. Go here for the full review.
Wakey, Wakey runs until October 23. Two 'Music at PT' nights (Jenny Banai, November 18) and Cheryl Bear, November 19) will be followed by Christmas Presence (December 8 – 22).
Homeless Action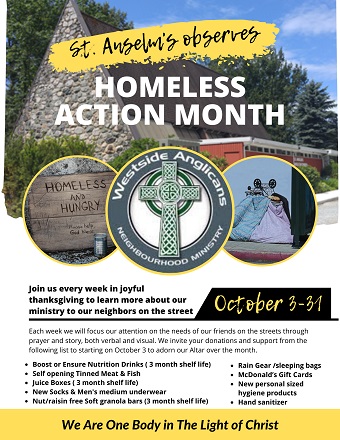 Local Anglicans are recognizing Homeless Action Month and the City of Vancouver is marking Homelessness Action Week. Either way, churches are involved.
An article on the Diocese of New Westminster site said:
Visit the Parish of St. Anselm's over the month of October, as they honour and mark Homeless Action Month.
Over the course of the month hear and celebrate the gifts of all volunteers in this ministry and their impacts on their neighbourhood, as well as learning more about how one might become more involved. . . .
Each week the parish will offer prayers and listening. This is an opportunity to sing and learn about what God is up to through this ministry with us.
St. Anselm's will be taking a special collection of food items during October for friends in need, a list of which is supplied in the poster [beside] this story.
St. Anselm's is one of several churches which participates in Westside Anglicans Neighbourhood Ministry (WANM), which "has been serving the homeless and vulnerable on Vancouver's West Side since 2007." An accompanying article by Karen Giesbrecht this week looks at 'Thinner & Thinner: West Side Vancouver food asset & need scan'; I have posted several stories about WANM's work.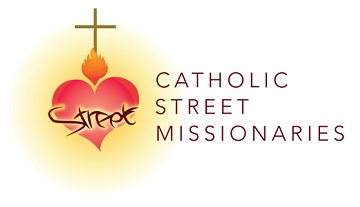 Each year in mid-October the City of Vancouver "joins communities and organizations throughout the region to mark Homelessness Action Week."
They provide grants to non-profit groups which host events and organize projects related to the week. One grant went to the Catholic Street Missionaries Society:
Cold and wet weather outreach during the pandemic: 
When winter comes between October and April, we shall go to the street to give out things that will keep those who sleep on the street warm. What plan to give includes:
Winter response items (including clothes, mitts, blankets, resources, pamphlets)
Our primary population is those who sleep on the street
Go here to see more from the city.
events_list_grouped scope="2021-10-07,2021-11-31″ limit="100″ pagination=0]#_EVENTLINK – #_EVENTDATES at #_EVENTTIMES<br />[/events_list_grouped]