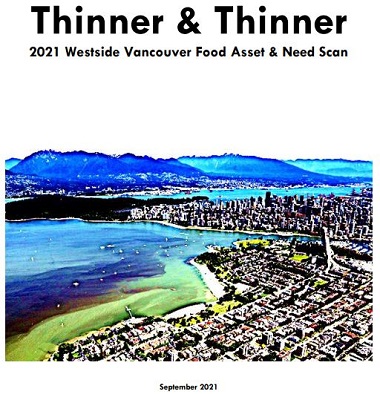 Karen Giesbrecht and partners from different churches and supportive organizations have carried out 'food asset and need scans' for three neighbourhoods.
Last week she wrote an overview. This week she focuses on the West Side of Vancouver and will follow up with reports on Downtown Vancouver and Richmond over the next two weeks.
We do not tend to think of the West Side of Vancouver as an area with significant poverty, food insecurity or hunger.
Food lines and encampments are too common in other parts of Vancouver, and although poverty is not quite as observable on the West Side, a closer look reveals it in this part of the city too.
When we see our neighbours struggle, sometimes we respond spontaneously to their felt needs, and sometimes we take a more systematic approach. With a trifecta of crises like the pandemic, waves of exceptionally hot weather and the overdose epidemic, a collaborative review of the food assets and needs in this part of Vancouver seemed timely.
See Thinner and Thinner: 2021 West Side Vancouver Food Asset & Need Scan here: https://plantednetwork.ca/resources/.
'Thinner and thinner'
A casual comment gave the report shape. One of the Kits Cares Café volunteers and I were watching our guests approach the church hosting the program, coming to pick up their weekly food hamper, when she observed that, "Our guests seem to be getting thinner and thinner each week."
The program had shifted from a welcoming community meal to a grocery program when the COVID-19 pandemic descended in early 2020, and has since had to move locations twice; it is now based out of Redemption Church.
The last neighbourhood-specific assessment of the state of local food security was done in 2007. Even then, food security needs were described as 'hidden' due to the perception of universal affluence across the area.
This led to a greater degree of social stigma in accessing food programs than elsewhere in the city. Seniors, young families, single parent families, people with mobility and transportation issues and individuals surviving on fixed low incomes were cited as the most likely to experience food insecurity.
Social indicators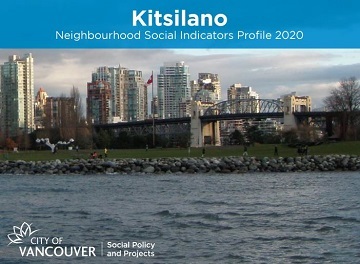 To understand if the same could be said for today, we looked at the Kitsilano Social Indicators Profile 2020[1] (using that as roughly representative for all the west side), which was derived from the 2016 census. It is the best data we have, although it is now five years old and does not capture the ripple effects of COVID-19.
An estimated 17 percent of Kitsilano residents have incomes below the National Poverty Line, which in 2021 is set at $26,500. Seniors (65-plus) make up 14 percent of the population, with more than a third living alone.
To address growing needs, several supportive organizations offer food programs. The report includes a list of these organizations and the number of meals, grocery hampers and other supports provided each week.
It is notable that on Vancouver's Free and Low-Cost Food Program Map [2], the Kits Cares Café is the only open non-restricted support in this entire quadrant of Vancouver, and the only program remaining of three pre-pandemic food supports available to the general public rather than to specific clientele.
For UBC students, or individuals living on the campus, there is an AMS Food Bank[3] and Food Hub hosted by Acadia Park[4]. Non-perishable foods, personal hygiene supplies, budgeting tips and information on additional resources in and around Vancouver are available to students in need.
Program logistics
We reviewed current program logistics, including where food is sourced from, how programs are funded, and what leadership structures are in place. Like in other neighbourhoods, food program staff and volunteers tend to address issues far beyond hunger, such as access to other basic necessities (i.e. hygiene items), advocacy and connection to medical care.
Several service providers suggested that a similar review of this part of Vancouver focusing on housing needs and gaps would be helpful, given the growing need and limited options.
​​Underserved populations
A crisis like the pandemic disproportionately affects vulnerable individuals as many of the existing supports disappeared or changed, and challenges emerged and compounded. We asked service providers who they currently see as the most underserved populations in Vancouver's Westside:
● Seniors: There are several programs for seniors if individuals can travel to the programs.
○ Those without mobility or who are not connected are not supported.
○ Most vulnerable seniors are those between 55.and.65 years of age, as they cannot access pensions and other funding for older adults.
● Families: There are several programs for families with young children, but fewer for families with older children.
● UBC (or other post-secondary) students, particularly international students and students who are also raising families, especially around end-of-term exams.
● Homeless individuals who reside in this part of the city (see the report for more details).
● Newcomers to the neighbourhood from other countries, often with language barriers.
● Indigenous peoples who reside in this part of the city.
Several service providers also spoke of the troubling, tricky dynamic of diagnosable hoarding and related mental health challenges. To address well, it will take careful dialogue among programs, staff and volunteers, and participants.
Recommendations
Thinner and Thinner closes with some tangible recommendations for addressing the needs highlighted above. Some of the actions are simple, such as a commitment from stakeholders to ensure any printed and online references to the available supports are kept up-to-date.
Others outline the collaboration, awareness-raising and advocacy necessary to sustain existing programs. And any support for vulnerable individuals must be done with a goal of capacity building, involving them in the process of planning and designing the most appropriate interventions: identifying their own needs and co-developing solutions.
Conclusion
Although there are people on the West Side of Vancouver who are getting thinner and thinner – and the same can be said for parts of our social support system – there is also a strong network of care and some key lessons learned in this difficult year.
We are seeing a renewed desire for a formalized network of collaboration amongst service providers and the collective impact of community-level responses to one of the basic human needs.
We know that charitable food distribution does not end hunger, and in an ideal world, community meals would not be needed, but valued for the joy of it – to build and bring community together.
Until then, we will continue to work together, to ensure we have the policies and social infrastructure that address underlying factors leading to food insecurity, advancing the vision for a just and sustainable food system for all.
[1] Social Policy and Projects (2020). Kitsilano: Neighbourhood social indicators profile 2020. https://vancouver.ca/files/cov/social-indicators-profile-kitsilano.pdf
[2]​​https://www.google.com/maps/d/u/0/viewer?fbclid=IwAR253xNbAn749cOhBl2-6Ntfp41KJj-CaMryCQ79zJgy4JHGRtjVuqZ-SbE&ll=49.26302640831428%2C-123.21217973636149&z=14&mid=11gyzTVyoZqSsUL7_-k6FbbElF3slegRv
[3] ​​https://www.facebook.com/amsfoodbank/
[4] https://www.ubyssey.ca/news/ams-food-bank-acadia-park/
Karen Giesbrecht works with the Union Gospel Mission (UGM) church relations department ([email protected]).