Ignite Vancouver (November 17) will be an excellent opportunity to connect with fellow Christians and focus together on the welfare of Metro Vancouver.
Roger Helland, Prayer Ambassador with the Evangelical Fellowship of Canada, sent me this note:
On September 20, about 50 Christian pastors and ministry leaders from Vancouver and the Lower Mainland met at Broadway Church in Vancouver to learn about Ignite: Cultivating United Prayer Across Canada.
Pastors David Koop of Coastal Church and Darin Latham of Broadway Church are hosting the gathering, which includes a free prayer and worship seminar and summit in Vancouver, on November 17 at Broadway Church.
Ignite is being co-sponsored by The Evangelical Fellowship of Canada, The Billy Graham Evangelistic Association of Canada, the National House of Prayer, the Peace and Reconciliation Network, Vineyard Canada and local leaders.
We'll offer a free half-day seminar to guide church and ministry leaders on how to cultivate a culture of prayer in their churches, followed by a complimentary dinner (2 – 6 pm). Registration by November 10 is required.
In the evening, we'll hold a free public prayer and worship gathering to seek God's presence for unity and spiritual awakening (6:30 – 9 pm). Registration is not required. This is open to everyone, including junior and senior youth.
 We've held Ignite in Ottawa, Calgary, Kelowna and Regina, where God's presence was strong.
Supporting Jewish community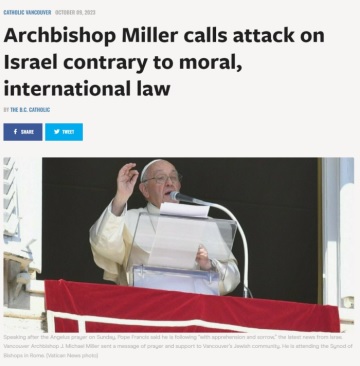 On the eve of a large Jewish Community Solidarity Gathering at Jack Poole Plaza October 11, the Jewish Federation of Greater Vancouver thanked the local leader of the Roman Catholic Church for his support:
We are grateful to #Vancouver Catholic Archbishop J. Michael Miller who unequivocally condemned #Hamas' attack on #Israel, calling it an offence against moral and international law. Todah rabah for standing in solidarity with the people of Israel.
An October 9 article in The B.C. Catholic stated:
In a message to Vancouver's Jewish community, Vancouver Archbishop J. Michael Miller "unequivocally condemned" Saturday's attack on Israel, calling it an offence against moral and international law.
Commenting from Rome where he is attending the Synod of Bishops on Synodality, the Archbishop said Monday the news about "the Hamas incursion into Israel is devastating." . . .
In a reply to the Archbishop, Rabbi Dan Moskovitz of Temple Shalom in Vancouver thanked the Archbishop for his words and prayer and said he would share them with his colleagues and community.
Go here for the full article.
Many other Christian groups have responded to the attacks. For example:
Christian Life Assembly in Langley has launched "a partnership with our Israel partners to bring emergency aid and love into the darkness there. We encourage people to pray, to give and to help us bring the love of God into these difficult days. Partner with us here."
The Evangelical Fellowship of Canada (EFC) "joins with the World Evangelical Alliance and other religious leaders around the world in condemning and lamenting the horrific terrorist attacks in Israel. We pray for those who are mourning, injured, for the safe return of hostages, and for those fearing for their safety. We pray for a just and lasting peace in the region. A full WEA statement on the Holy Land conflict is available here."
Serve Our Schools
CItyGate Vancouver has pulled together a strong team for Serve Our Schools, this Saturday morning (October 14):
Join us for a free, impactful event as we come together to envision how your church can partner with a local school in your neighbourhood!
You'll hear from local leaders and community organizations who will help you engage and impact your neighbourhood, connect with others who share the same vision.
Our hope is that you leave inspired and empowered to serve your local school!
Along with CityGate director Tim Dickau, the presenters are:
The gathering will be held at CItyReach Vancouver (just down the hill from Broadway Church).
Word Guild awards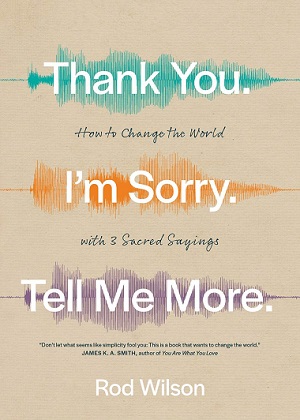 Three local writers received awards at The Word Guild's annual gathering September 16. The event "celebrated the power of the written word and excellence in Christian writing," recognizing "work published in 2022 for both Christian and mainstream audiences."
Awards were granted in more than 60 genres and categories, including books, articles, novellas, short stories and song lyrics. There were also several specialty awards,
Rod Wilson won in the Instructional Books category for Thank You. I'm Sorry. Tell Me More. How to Change the World with 3 Sacred Sayings (NavPress). He also received an Award of Merit for the book in Christian Living – Personal Growth.
Wilson has worked as a psychologist, served as a pastor in three different churches, and held multiple roles in education, including President of Regent College in Vancouver from 2000 – 2015.
He currently works with Lumara Grief and Bereavement Care Society, A Rocha, the Society of Christian Schools in BC, and In Trust Center for Theological Schools, and maintains an international teaching and mentoring ministry. He is also a Senior Writer for Faith Today and is the author of Counseling and Community, Helping Angry People and Exploring Your Anger.
Veteran scholar/author John Redekop, based in Abbotsford, actually won three awards:
Long Feature:

 "UBC Reflections" (Fraser River Books)

Personal Opinion:

 "Transgenderism" (Clearbrook Golden Age Society)

Long Feature – General Market:

 "UBC Reflections" (Fraser River Books)
And I received the Leslie K. Tarr Lifetime Achievement Award, which "recognizes a major career contribution to Christian writing and publishing in Canada," for my work with BC Christian News, Church for Vancouver and the Canadian Church Press over the past four decades.
Thank you to The Word Guild; I very much appreciate the honour. It was a very pleasant surprise to find out while travelling in the north of Scotland.
Oct 2023
Using Family Systems Theory in Ministry – October 12, 2023 at 9:30 am - 11:30 am
ARPA Youth Conference 2023 – October 13, 2023 - October 14, 2023 at 1:00 pm - 3:30 pm
Julian Davis Reid @ The Chapel – October 13, 2023 at 6:00 pm - 9:00 pm
The Chapel with Julian Davis Reid – October 13, 2023 at 6:00 pm - 8:00 pm
Vocation & Rest – October 13, 2023 - October 14, 2023 at 6:00 pm - 4:00 pm
Awaken 2023 - Women's Ministry Night with Joanne Goodwin – October 13, 2023 at 7:00 pm - 9:00 pm
Canadian L'Abri Lecture: Christina Eickenroht, "Redemptive Hiding: Visual and Verbal Poetics in Bruegel and Dostoevsky" – October 13, 2023 at 7:00 pm - 8:30 pm
St. Andrew's Fall Sale – October 14, 2023 at 9:00 am - 2:00 pm
Dr. Trineice Robinson: Appropriation or Appreciation? & Sing: A Gospel Style & Group Singing Workshop – October 14, 2023 at 9:30 am - 4:30 pm
Serve Our Schools – October 14, 2023 at 9:30 am - 12:00 pm
St. Philip's Book Sale – October 14, 2023 at 10:00 am - 2:00 pm
Affordable Housing Seminar – October 14, 2023 at 7:30 pm - 9:30 pm
Blues Hoodoo – October 14, 2023 at 8:00 pm - 10:00 pm
Benefit Concert for Westside Anglican Neighbourhood Ministry – October 15, 2023 at 4:00 pm - 6:00 pm
Regent Forum: Ross Hastings - "What DID Happen at the Ascension of Jesus?" – October 16, 2023 at 12:30 pm - 1:45 pm
Day of Prayer and Fasting – October 17, 2023 at All Day
Alpha & Church Collaboration – October 17, 2023 at 9:00 am - 10:00 am
Spiritual Care and Chaplaincy in Religiously Diverse Societies – October 17, 2023 at 10:00 am - 11:15 am
An In the Book Septuagint seminar – October 18, 2023 at 6:00 pm - 8:00 pm
Matt Maher & Friends: An Evening of Worship & Music – October 18, 2023 at 7:00 pm - 9:00 pm
Jazz Evensong: Quintessential Jazz – October 18, 2023 at 8:00 pm - 9:30 pm
Empire of the Son – October 19, 2023 - October 21, 2023 at All Day
Round Table: BAM x 5 Canadian Small Business Stories – October 19, 2023 at 9:00 am - 10:00 am
The Global Leadership Summit 2023 – October 19, 2023 - October 20, 2023 at 9:00 am - 3:30 pm
The Global Leadership Summit 2023 – October 19, 2023 - October 20, 2023 at 9:00 am - 3:30 pm
Coaching Leadership Super Conference – October 20, 2023 at 9:00 am - 3:00 pm
Manifest Conference 2023: Graced to Thrive – October 20, 2023 - October 21, 2023 at 6:00 pm - 10:30 am
Jazz Vespers: The Prodigal Son - The Dan Reynolds Trio – October 20, 2023 at 7:30 pm - 9:00 pm
Faith and Work Conference – October 21, 2023 at 8:45 am - 1:00 pm
Reimagining Home – October 21, 2023 at 9:30 am - 12:30 pm
All Saints Fall Garage Sale – October 21, 2023 at 10:00 am - 2:00 pm
Stand for the Land – October 21, 2023 at 10:00 am - 12:00 pm
Raise for the Well Fundraiser – October 21, 2023 at 11:30 am - 3:00 pm
Glory Trail – October 21, 2023 at 3:00 pm - 7:00 pm
Sam Weber – October 21, 2023 at 8:00 pm - 10:00 pm
MAID Day of Prayer – October 22, 2023 at All Day
Great Lake Swimmers: Uncertain Country Tour – October 22, 2023 at 7:00 pm - 9:00 pm
Canadian Youth Pastor Summit [West] – October 23, 2023 - October 25, 2023 at All Day
Trauma Informed Response in the Church (two events) – October 23, 2023 at All Day
Alpha 'Come and See': Regional Envisioning Event – October 24, 2023 at 6:00 pm - 8:00 pm
Inklings Institute Event with Ron Dart: Novalis, George MacDonald and German Romanticism – October 24, 2023 at 7:00 pm - 8:30 pm
Theatre of the Beat – October 25, 2023 at All Day
Transforming Employment Narratives: Refugee Claimants and Equity in the Workplace – October 25, 2023 at 2:00 pm - 5:00 pm
Heart of the City: Tour of Historic Building – October 25, 2023 at 5:30 pm - 6:30 pm
Heart of the City: Vancouver Cantata Singers – October 25, 2023 at 7:00 pm - 8:30 pm
Prof. Allen Haaheim - "Of Kingfishers and Other Fires: Inscapes as Patterns of Being in Hopkins" – October 25, 2023 at 7:00 pm - 9:00 pm
Jazz Evensong @ Brentwood: The Steve Smith Quartet – October 25, 2023 at 8:00 pm - 9:30 pm
Theatre of the Beat – October 26, 2023 at All Day
Andrew Root: When Church Stops Working – October 26, 2023 at 12:00 pm - 1:00 pm
Steve Bell: Sacred Word / Sacred Hope (Canadian Bible Society Event) – October 26, 2023 at 7:00 pm - 9:30 pm
White Rock-South Surrey Leadership Prayer Breakfast – October 27, 2023 at 7:00 am - 9:00 am
Canadian L'Abri Lecture: Beth Stovell, Ambrose Univ prof, OT scholar, "Job: Hope in the Midst of Suffering" – October 27, 2023 at 7:00 pm - 8:30 pm
Steve Bell Solo Concert – October 27, 2023 at 7:30 pm - 9:30 pm
An Evening with Amanda, featuring Amanda Sum – October 27, 2023 - October 28, 2023 at 8:00 pm - 10:00 pm
Guiding Schools to Flourish – October 28, 2023 at 8:30 am - 4:00 pm
Bible Saturday with Drew Lewis – October 28, 2023 at 9:30 am - 11:45 am
Fall Fair – October 28, 2023 at 10:00 am - 12:30 pm
The Awesome Sale – October 28, 2023 at 10:00 am - 2:00 pm
OM Fundraising Partner Luncheon: Arabian Peninsula – October 28, 2023 at 12:00 pm - 2:00 pm
Trunk or Treat – October 28, 2023 at 2:00 pm - 4:00 pm
10th Hallelujah Night presented by Blue Ocean Movement – October 28, 2023 at 7:00 pm - 9:00 pm
Steve Bell Solo Concert – October 28, 2023 at 7:30 pm - 9:30 pm
Worship Invasion Loves Surrey – October 28, 2023 at 7:30 pm - 10:30 pm
Very Very Improv – October 28, 2023 at 8:00 pm - 9:30 pm
Heart of the City: Introduction to the Pipe Organ – October 29, 2023 at 12:00 pm - 1:30 pm
Trunk or Treat – October 29, 2023 at 2:00 pm - 4:00 pm
Jazz Vespers with the Von Trapped Family – October 29, 2023 at 4:00 pm - 5:00 pm
Regent Forum: George Guthrie – Long Ago God Spoke: Divine Action in the Scriptures According to Hebrews – October 30, 2023 at 12:30 pm - 1:45 pm
Trunk or Treat – October 31, 2023 at 5:00 pm - 6:30 pm
Fall Fiesta (Coastal Church, 5 locations) – October 31, 2023 at 6:00 pm - 8:00 pm
FunFest 2023 – October 31, 2023 at 6:00 pm - 8:30 pm
All Hallow's Eve Vigil and Procession – October 31, 2023 at 6:30 pm - 8:30 pm
Light in the Night – October 31, 2023 at 6:30 pm - 8:30 pm
Vancouver Zion Mission Choir: Sing Hallelujah! - From Darkness into Light – October 31, 2023 at 7:00 pm - 9:00 pm

Nov 2023
Imagination Retreat – November 1, 2023 at 9:00 am - 5:00 pm
Holy War in the Holy Land – November 1, 2023 at 10:00 am - 11:30 am
Healing Journey: Art of Patricia June Vickers - Opening Reception – November 1, 2023 at 4:00 pm - 7:00 pm
Tanya Gaw & Guests: SOGI Indoctrination Exposed – November 1, 2023 at 4:30 pm - 6:00 pm
Resilience: An Exclusive Interview with Attorney Samson Inocencio Jr. – November 1, 2023 at 6:00 pm - 7:00 pm
2023 Delta Christian School Annual Open House – November 1, 2023 at 7:00 pm - 9:00 pm
Shaped by Shame: How do we receive the grace that can transform us? – November 2, 2023 at 10:00 am - 11:00 am
The Holy Spirit and the Eagle Feather: The Struggle for Indigenous Pentecostalism in Canada – November 2, 2023 at 12:00 pm - 1:00 pm
Discover the World of Bees – November 2, 2023 at 1:00 pm - 2:00 pm
Heart of the City: Bells of St. James – November 2, 2023 at 2:00 pm - 2:30 pm
Toast Talks: Updates from First United – November 2, 2023 at 4:30 pm - 5:15 pm
Christian Advocacy Society Autumn Banquet Fundraiser – November 2, 2023 at 6:30 pm - 9:00 pm
Heart of the City: Requiem for All Souls – November 2, 2023 at 6:30 pm - 7:30 pm
Requiem in D minor, K. 626, Wolfgang Amadeus Mozart – November 2, 2023 at 6:30 pm - 8:00 pm
An Around the Table intercultural ministry workshop – November 3, 2023 at 9:00 am - 12:00 pm
Canadian L'Abri Lecture: Josue Reichow, Brazilian L'Abri worker, "Reflections on Critical Theory" – November 3, 2023 at 7:00 pm - 8:30 pm
Jake Garton & Kathleen Nisbet – November 3, 2023 at 8:00 pm - 10:00 pm
Christmas Craft Fair – November 4, 2023 at 9:30 am - 3:00 pm
Church Network for Refugee Welcome – November 4, 2023 at 9:30 am - 11:30 am
Fair Trade & Artisan Market – November 4, 2023 at 10:00 am - 4:00 pm
The Nifty Thrifty Store – November 4, 2023 at 10:00 am - 2:00 pm
Hymn Festival: Great is Thy Faithfulness – November 4, 2023 at 7:30 pm - 9:00 pm
International Day of Prayer 2023: Courage to Rise Above – November 5, 2023 at All Day
Equip & Build Lunch – November 5, 2023 at 12:15 pm - 2:00 pm
Rise in Grace – November 5, 2023 at 5:00 pm - 9:30 pm
Healing Journey: Art of Patricia June Vickers - Panel Discussion – November 7, 2023 at 7:00 pm - 8:30 pm