The Regent College Atrium was full of friends and admirers July 19 as Regent College and St. John's Vancouver Anglican Church celebrated Canon Dr. J.I. Packer's 90th birthday – which apparently actually takes place this Friday. Regent president Jeff Greenman joked that, like Queen Elizabeth, Packer would have a day of public celebration separate from his actual date of birth.
Packer, originally from the United Kingdom, has been teaching at Regent since 1979, and has been at St. John's Vancouver, where he is an honorary assistant minister, for most of that time. Canon David Short, the senior pastor at the church, lauded him as a churchman, a catechist and a comrade . . . "a friend committed to a great cause."
Greenman noted that Packer had just recently completed one of his two spring courses. Apart from his teaching career, Packer is a best-selling author, known around the world for titles such as
Knowing God
and
A Quest for Godliness
.
Engaging Muslim neighbours
Fleetwood Christian Reformed Church in Surrey will host Engaging Our Muslim Neighbours on Sunday evening (July 24). The event will be led by Naji Umran, a Canadian – married to an Egyptian – who lives in Cairo, Egypt.
Umran, who is the Christian Reformed World Missions Leadership Developer for Transformational Networks in Egypt and the Middle East, will be speaking on his interfaith work in Egypt, as well as on what relationship, dialogue and witness looks like in a Canadian context.
For more information, contact
Dena Nicolai
. Nicolai works for the Christian Reformed Churches in the Metro Vancouver / Fraser Valley region as a chaplain and refugee support mobilizer; she acts as a liaison with other churches and with refugee settlement groups such as Immigrant Services Society of BC.
Numb on CBC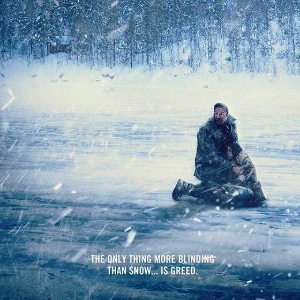 CBC radio host
Candy Palmater
says she likes to relax and escape the Toronto heat with movie thrillers. One that she enjoyed recently was
Numb
, and she
spoke
to its director,
Jason Goode
July 15.
Numb
, Goode's first full-length feature film, was a top five pick at the
Whistler Film Festival
in December, and was released across Canada this spring. It has been shown at several international film festivals since then, including Beijing, Shanghai and Busan (Korea). There was a special screening at Regent College –  Goode is an alumnus – earlier this month.
Numb tells the story of a couple in financial distress who discover GPS coordinates that promise to lead to stolen gold; they must partner with a pair of mysterious hitchhikers to enter the remote winter wilderness to recover the coins.
Jubilation on stage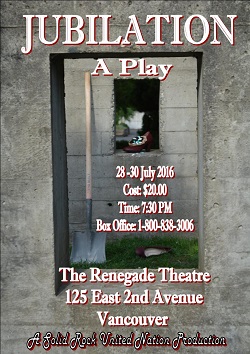 A new theatre company will offer a new play next week.
Solid Rock United Nation
is presenting
Jubilation
July 28 – 30 at the Renegade Theatre, 125 East 2nd Avenue.
a play about the human struggle for purpose, exploring the themes of life and death. Peter meets Ola at work . . . anything to get her to like him . . . she invites him to that meeting . . . there he is introduced to something alien and out of this world. She calls it truth.
For more on the production go
here
.
Jul 2016
Athletes in Action Hockey Camp
– July 17, 2016 - July 22, 2016 at All Day
Total Athlete Training: 2016 High Performance Camp, Week 1
– July 18, 2016 - July 22, 2016 at All Day
Richmond Baptist Church Soccer Camp
– July 18, 2016 - July 22, 2016 at 9:00 am - 3:00 pm
Athletes in Action: Langley Volleyball Camp
– July 18, 2016 - July 22, 2016 at 9:15 am - 3:00 pm
Perspectives on the World Christian Movement
– July 22, 2016 at 8:30 am - 4:30 pm
Worship and Prayer Night, with Andy Park
– July 22, 2016 at 7:00 pm - 8:30 pm
Serguei Popov: World Renowned Violinist in Concert
– July 23, 2016 at 2:30 pm - 5:00 pm
Bibles on the Beach
– July 23, 2016 at 7:30 pm - 9:30 pm
On Earth as it is in Heaven
– July 24, 2016 at 2:30 pm - 4:00 pm
Engaging Our Muslim Neighbours
– July 24, 2016 at 7:00 pm - 9:00 pm
Total Athlete Training: 2016 High Performance Camp, Week 2
– July 25, 2016 at All Day
Peace Portal Alliance Church Soccer Camp
– July 25, 2016 at 9:00 am - 3:00 pm
Everett Hamner: The Soul, the Cell and Fiction Since the Human Genome Project
– July 25, 2016 at 7:30 pm - 9:00 pm
Regen: Barrie Thiessen / City Life Church Band
– July 27, 2016 at 7:00 pm - 9:00 pm
Tremper Longman: Silent Suffering: Encouragement in the Midst of Pain of Life, from Job, Psalms and Lamentations
– July 27, 2016 at 7:30 pm - 9:00 pm
My (Re)conciliation
– July 28, 2016 - August 1, 2016 at All Day
The Colour Collective: The View from Here
– July 28, 2016 at All Day
Jubilation
– July 28, 2016 - July 30, 2016 at 7:30 pm - 9:30 pm
Surrey Night Market: Sunday Worship / Open Church Service
– July 31, 2016 - August 14, 2016 at 5:00 pm - 6:00 pm
Aug 2016
Vancouver Bach Festival
– August 2, 2016 - August 12, 2016 at All Day
Incarnation Tour Concert (Dave Siverns)
– August 2, 2016 at 7:00 pm - 9:00 pm
Business By the Book: Sam Chung
– August 3, 2016 at 12:00 pm - 1:00 pm
Regen: James Fam / Regen Band
– August 3, 2016 at 7:00 pm - 9:00 pm
Summer Community Day
– August 6, 2016 at 12:00 pm - 5:00 pm
The Coco Mamas: 17th Annual Burnaby Blues & Roots Festival
– August 6, 2016 at 1:00 pm - 10:00 pm
PRAISE Fest 2016
– August 7, 2016 at All Day
Regen: Simon Gau / Broadway Church Band
– August 10, 2016 at 7:00 pm - 9:00 pm
The Global Leadership Summit
– August 11, 2016 - August 12, 2016 at All Day
Roberts Liardon
– August 11, 2016 - August 12, 2016 at 7:00 pm - 9:00 pm
Marc Dupont: Revival Meetings
– August 12, 2016 - August 14, 2016 at 7:00 pm - 9:00 pm
Roberts Liardon
– August 13, 2016 at 12:00 pm - 2:30 pm
OM Vancouver Challenge
– August 14, 2016 - August 21, 2016 at All Day
Regen: Josh Loeve / Centre Church Band
– August 17, 2016 at 7:00 pm - 9:00 pm
Mozart's Die Zauberflote (The Magic Flute)
– August 19, 2016 - August 20, 2016 at 7:30 pm - 9:30 pm
Mozart's Die Zauberflote (The Magic Flute)
– August 21, 2016 at 2:30 pm - 4:30 pm
City-wide Prayer
– August 21, 2016 at 5:00 pm - 7:00 pm
Bethel Music Breakouts / Worship Night
– August 22, 2016 at 12:00 am
Catherine M. Kelly: Come Away and Rest Awhile - A Retreat on Sabbath-Keeping
– August 22, 2016 - August 23, 2016 at All Day
Fusion Ignite
– August 22, 2016 - August 25, 2016 at All Day
OM Surrey Challenge
– August 22, 2016 - August 29, 2016 at All Day
Bethel Music Worship Night
– August 22, 2016 at 7:00 pm - 9:30 pm
Regen: Chris Karuhije / Regen Band
– August 24, 2016 at 7:00 pm - 9:00 pm
Exodus Concert
– August 27, 2016 at 6:30 pm - 9:30 pm
Summer Choir Concert featuring music by Bach and Purcell
– August 27, 2016 at 7:00 pm - 9:00 pm