A Rocha Canada is working with like-minded groups to oppose Surrey's plan for an industrial park in the protected rural area which surrounds their Brookdale Environmental Centre property.
An October 9 CBC News
article
by Justin McElroy describes the situation:
A large area of rural land in South Surrey could soon have a land-use change that would allow for development.
Metro Vancouver's planning committee recommended a change in the region's urban containment boundary on Friday, which would turn the designation of 160 hectares of land from 'rural' to 'mixed employment.'
The City of Surrey asked Metro Vancouver for the change in July, after a council vote and contentious public hearing.
The area is directly south of the Campbell Heights industrial business park at the border between Surrey and Langley. The Surrey Board of Trade has argued it could create more than 20,000 jobs in the region, and said 135 businesses have expressed interest in moving into the area if developed.
But any rezoning requires approval by Metro Vancouver, because the land falls outside Surrey's urban containment boundary, intended to preserve agricultural and undeveloped areas. . . .
A vote by the full Metro Vancouver board is scheduled for October 29, with a final decision early next year.
A Rocha has consistently expressed its concern with and opposition to changing the allowable land uses in this area. Not only would it have an impact on operations at the Brooksdale Environmental Centre [at 16th Avenue and 192nd Street], but more importantly there are significant environmental concerns with the proposal. Proponents of the plan cite the 'urgent need for employment lands' as the primary reason for approval of this proposal.
A Rocha has been working to restore and enhance the Tatalu (Little Campbell River) and the surrounding watershed for 20 years. Changing the land use designation would allow for the first large-scale commercial and industrial development along the entire 30 km river.
None of the many long-time stewards of the river believe that a proposal of this scale and type can be placed on either side of the river without damaging the health and integrity of the river.
The conservation buffers, proposed along the river, are not enough to mitigate the impacts of development of this kind. The surrounding rural and agricultural lands are key habitat for a number of species at risk and are critical for groundwater and river recharge.
Go here for more, including their rationale for opposition and how you can help them.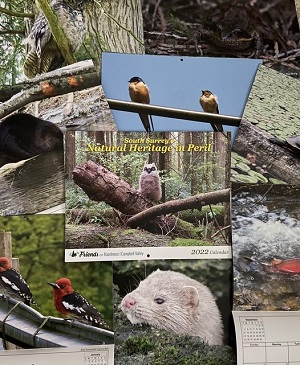 A Rocha is partnering with several local groups: Friends of Hazelmere – Campbell Valley, Little Campbell Watershed Society and Friends of Semiahmoo Bay Society.
A recent post of the Friends of Hazelmere Facebook page noted:
2022 calendar out now. Purchase at A Rocha market Saturdays and Tuesdays at 192nd and 16th. Or message us and we can get one to you. Showcases the bio diverse wildlife around the Little Campbell River and helps support the stewardship of the River.
A Rocha is "an international Christian organization which, inspired by God's love, engages in scientific research, environmental education, community-based conservation projects and sustainable agriculture." It is part of A Rocha International, which has teams and projects in at least 20 nations around the world.
The group will be sending 13 staff members to take part in COP26 at Glasgow. Six people from A Rocha Canada (two on staff) will be going – see the accompanying
story
(Joining COP26, 'the most significant climate conference of our generation').
A Rocha Canada will be celebrating its 20th anniversary November 6; the
virtual event
will feature Katherine Hayhoe.
A Change.org
petition
('Save Wildlife Habitat in Surrey, BC') has received almost 10,000 signatures.
Remembering Benno Friesen
Benno Friesen passed away September 29, at 92 years of age. Veteran journalist and author Lloyd Mackey, a close observer of federal politics over the years, wrote about Friesen, his political outlook and some of their interactions:
Benno Friesen was an outstanding example of a politician whose integrity was shaped, in part at least, by his long and well-honed Christian faith.
He was one of about 30 'God Squad' Conservative MPs who served in the Joe Clark and Brian Mulroney governments of the late 70s, the 80s and the early 90s. God Squad was the affectionate and congenial term Mulroney applied to these particular MPs, most of them from western Canada, whose Christian faith helped shape them into very effective members of parliament.
I always had a high regard for Benno Friesen, who became MP for what was known, for most of his time in parliament, as Surrey-White Rock.
That said, Friesen and I did not always see eye-to-eye, although our differences had more to do with what best could be described as the kinds of things that sometimes created tension between the body politic and the world of journalism.
The tension came when, in the 80s and 90s, I first wrote a book about Ernest and Preston Manning then, later, in the early days of the Reform party, served as editor of the party's monthly newspaper, the Reformer. It was a time when many western Canadian evangelical Christians saw the younger Manning as a potential leader whose conciliatory Christian approach would be of value to the nation.
Many in the God Squad did not quite see it that way. They believed Reform was a splinter group that was dividing conservatism. From where I sat, it was a bit of a phenomenon that grew out of some earlier writing by the two Mannings, about "political realignment."
When Friesen and I had opportunity to talk about the issue, I suggested that one day, the two factions – Reform and Conservative – would realign and come together, and that Christians in the two groups would help facilitate that development.
It did happen that way, through a complex four-step process which started with Preston Manning suggesting that if a leader stood in the way of reconciliation, Jesus offered a fair model – step aside or forgo one's own self to the greater cause.
Manning formed Reform into the Canadian Alliance and graciously, I would suggest, surrendered the leadership to Stockwell Day, another evangelical who came from the Conservative side of the political spectrum. The separation of some CA MPs from Day, to align with the re-emerging Conservatives was the next step. Among the Manning-inspired evangelicals highlighting that process were Chuck Strahl and Deb Grey.
Once the CA and Conservatives merged, Stephen Harper emerged as leader and, in due course, was prime minister. And he had been mentored politically and spiritually by Manning.
In recent years, I had at least a couple of good conversations with Benno, one at St. Andrew's Newton Presbyterian Church in Surrey.
Benno, with a glint in his eye, told me that I should know he kept a close eye on me during the 15 years Edna and I spent in Ottawa. And he indicated that it was Edna, as the administrative assistant to a CA-cum-Conservative MP, Maurice Vellacott, who kept me from straying too far off the path of conciliation that I professed to follow.
Benno will be missed. He lived his faith with integrity that was respected across party lines.
Trinity Western University honoured Friesen, calling him a "TWU pioneer, professor, political statesman and friend."
Regent College professor Iain Provan will lead a Friday evening / Saturday morning seminar November 5 – 6 at New Life Community Church in Burnaby.
Provan brings a tremendous depth of biblical, theological and historical knowledge to the subject. He has written several books, including commentaries on Lamentations, 1 and 2 Kings, Ecclesiastes and Song of Songs, as well as Seriously Dangerous Religion (2014), A Biblical History of Israel (2015, co-authored with Phil Long and Tremper Longman), Discovering Genesis (2016) and The Reformation and the Right Reading of Scripture (2017).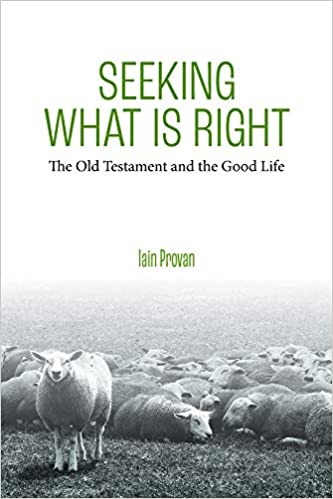 The question of the good life – what it looks like for people and societies to be well ordered and flourishing – has universal significance, but its proposed solutions are just as far reaching.
At the core of this concern is the nature of the good itself: what is 'right?' We must attend to this ethical dilemma before we can begin to envision a life lived to the fullest.
With Seeking What is Right, Iain Provan invites us to consider how Scripture – the Old Testament in particular – can aid us in this quest. In rooting the definition of the good in God's special revelation, Provan moves beyond the constraints of family, tribe, culture, state or nature.
When we read ourselves into the story of Scripture, we learn a formative ethic that speaks directly to our humanity.
He delves into Western Christian history to demonstrate the various ways this has been done: how our forebears identified with the narrative of God's people, Israel, and how they applied the Old Testament to their particular times and concerns.
This serves as a foundation upon which modern Christians can assess their decisions as people who read the whole biblical story 'from the beginning' in our time.
Provan challenges us to grapple with ethical issues dominating our contemporary culture as a people in exile, a people formed by disciplines steeped in the patterns and teachings of Scripture. To come alongside ancient Israel in its own experiences of exile, to listen with Israel to the utterances of a holy God, is to approach a true picture of the good life that illuminates all facets of human existence.
Provan helps us understand how we should and should not read Scripture in arriving at these conclusions, clarifying for the faithful Christian what the limits of the search for 'what is right' look like.
Jul 2022
Anton Dolfo-Smith: The Long Goodbye
– July 4, 2022 - July 9, 2022 at 12:00 am
Christian Climate Observers Program 2022: Application
– July 4, 2022 - July 25, 2022 at All Day
Kickers Soccer Camp
– July 4, 2022 - July 8, 2022 at 9:00 am - 3:00 pm
FLO Summer Soccer Camp 2022 (two camps)
– July 4, 2022 - July 8, 2022 at 1:00 pm - 4:30 pm
The Growing Season: Book Launch Party
– July 5, 2022 at 7:00 pm - 9:00 pm
Faculty Roundtable: Gender Dynamics in the New Testament
– July 6, 2022 at 12:00 pm - 12:45 pm
Jules Martinez-Olivieri: Reconciled to Reconcile – a Visible Witness in a Divided World
– July 6, 2022 at 7:30 pm - 9:00 pm
Lunchtime Concerts (Thursdays)
– July 7, 2022 - July 28, 2022 at 12:30 am - 1:15 am
Gary Hall: Tensions, Disruptions and Incompleteness: Thomas Merton on Sustaining Hope in the Face of Social Crisis
– July 7, 2022 at 7:00 pm - 8:30 pm
Bez Open Mike, with Russ Rosen (Thursday evenings)
– July 7, 2022 - July 14, 2022 at 7:30 pm - 9:00 pm
BC Christian Ashram: Thy Will Be Done
– July 8, 2022 - July 10, 2022 at All Day
Lance Odegard
– July 8, 2022 at 8:15 am - 10:15 am
July Contemplative Prayer Retreat
– July 8, 2022 at 10:00 am - 5:00 pm
Perspectives on Truth, Reconciliation and the Catholic Church, with Deacon Rennie Nahanee
– July 8, 2022 at 6:30 pm - 8:00 pm
Adult & Teen Challenge BC Open House
– July 9, 2022 at 11:00 am - 2:00 pm
A Rocha's Market Summer Celebration
– July 9, 2022 at 12:00 pm - 4:00 pm
C. Stephen Evans: The Fear of the Lord & the Virtue of Accountability
– July 11, 2022 at 7:30 pm - 9:00 pm
Lynn H. Cohick: God Shows No Favouritism – the Body of Christ & the Household Codes in Ephesians
– July 13, 2022 at 7:30 pm - 9:00 pm
Thomas Oord: Overcoming Obstacles to Love
– July 14, 2022 at 7:00 pm - 8:15 pm
Yohanna Katanacho: Theology of the Land from a Palestinian Perspective
– July 18, 2022 at 7:30 pm - 9:00 pm
Bach Festival 2022
– July 26, 2022 - August 6, 2022 at All Day
Church Earthkeepers Meet-Up (last Tuesday of each month)
– July 26, 2022 - November 29, 2022 at 5:00 pm - 6:00 pm
GCN Partner Dinner
– July 29, 2022 at 5:45 pm - 9:00 pm
Aug 2022
Kickers Soccer Camp
– August 15, 2022 - August 19, 2022 at 9:00 am - 3:00 pm
Sep 2022
Certificate in Missional Leadership
– September 24, 2022 - March 25, 2023 at 9:30 am - 1:30 pm
May 2023
Pope Francis and the Future of the Church: Prospects and Challenges for Renewal
– May 4, 2023 - May 6, 2023 at All Day