Four local people affiliated with A Rocha Canada will be taking part in COP26. The giant international gathering will focus on climate change from October 31 to November 12 in Glasgow.
Expectations are high for the COP26 summit, which will draw many political and social leaders – including Prime Minister Justin Trudeau – from around the world.
The World Evangelical Alliance Sustainability Center and partners created the eight-week COP26 Prayer Guide so their supporters would be prepared for the event:
This November, world leaders will gather for the most important climate summit since the landmark 2015 Paris Agreement. COP26 (26th convening of the Conference of the Parties) is being hosted by the UK government in Glasgow, Scotland.
These annual United Nations climate talks are key for building global consensus on climate action and justice. . . .
The science is clear: we must keep warming below 1.5°C to avoid catastrophic impacts on our planet and the communities more vulnerable to climate impacts. However, current commitments from world leaders to tackle the climate crisis would mean our planet's warming will reach 2.4°C – a death sentence for many communities around the world.
We need leaders to be more ambitious and take swift action that will put us on course for the
1.5°C threshold that they committed to during the 2015 climate talks in Paris. We need leaders from all nations to hear the voices of people across the world who are already facing disastrous climate change, and to deliver pandemic recoveries and climate commitments that secure a safer world for us all to flourish.
Go here for the COP26 Prayer Guide.
Attending COP26
Two A Rocha Canada staff will take part in COP26 – Rick Faw, Vice President of Programming, and Samuel Chiu, Multicultural Program Director.
They will be joined by two local students – Ellie Auton-Strolz from the UBC and Catriona Jenkins from Trinity Western University – and two others from across Canada. Auton-Strolz has interned with A Rocha and Jenkins has applied.
Chiu, who has attended similar events, including COP21, the Paris Climate Summit in 2015, said:
We are joining our international colleagues and associates of A Rocha global projects from a few countries (UK, Ghana, France), as well as being part of the Christian Climate Observers Program (CCOP2021) on which the Church for Vancouver website had a post a few months ago.
The CCOP2021, a program jointly organized / sponsored by a consortium of Christian organizations including A Rocha Canada and the World Evangelical Alliance, will bring almost 40 Christian observers with official credentials to the COP this year.
A Rocha International (ARI) was granted Observer-NGO status at the UNFCCC (UN Framework Convention on Climate Change) recently, and most of us going to Glasgow have official observer credentials under ARI. Most of the CCOP2021 participants are covered by five other Christian organizations.
Joining the A Rocha team will be at least one other Metro Vancouver resident. Philp Reilly is National Director of Development and Mobilization for Tearfund Canada (formerly World Relief Canada), which seeks to address the roots causes of poverty in many nations. One of their key themes is 'Care for Creation.'
Reilly, who lives in Langley but is a native of Scotland, will have observer status as part of the Canadian Foodgrains Bank team. (Fraser Valley resident Andy Harrington took over as executive director of CFB last September.)
Reilly told me Tearfund is particularly involved with conservation agricultural projects Ethiopia, Tanzania and other nations south of the Sahara.
Referring to how the church should be responding to the climate crisis, he said:
This is the most significant climate conference of our generation. It will have massive repercussions for the poor in the next 20 to 30 years. The issue is climate justice, in that it's well documented that the poor are disproportionately affected.
Tearfund Canada has developed an informative nine-video Christianity and Climate Change series with high profile Christian climate scientist Dr. Katherine Hayhoe.
Local involvement
Monica Tang, who has been active with Earthkeepers locally and has recently joined the board of Citizens for Public Justice (CPJ), said she is involved with several local initiatives.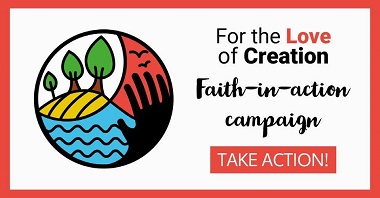 She emailed links to some of those:
Tang participated in the Christian Climate Observers Program at the December 2019 COP25 climate summit in Madrid.