Samaritan's Purse Canada sent disaster relief teams to help Abbotsford residents after major flooding in November 2021. They are now offering a day of training March 25 to local residents who would like to be able to help other disaster victims.
They say:
During times of crisis, volunteers help bring hope to hurting people. We want to equip you and your church to be prepared to serve, share about Samaritan's Purse approach to disaster relief and recovery, and provide resources for interacting with people affected by trauma.
The free event, which includes lunch, will be held at Gateway Community Church in Abbotsford.
I posted an article November 25, 2021 about several groups which helped out during the flooding; it included this:
The Province posted an article November 23 which began:
As damaging floods and landslides have displaced thousands of people from their homes in British Columbia, Calgary-based Samaritan's Purse has opened its largest domestic evacuation shelter to house people in Abbotsford, B.C.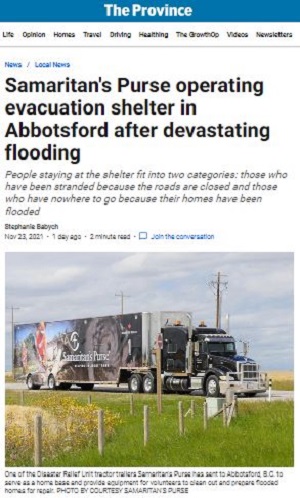 After receiving an invitation from Abbotsford officials, Samaritan's Purse sent a team of six to help operate a 200-bed shelter as parts of the city remain underwater from the flooded Fraser River.
Emergency social services are working closely with the Samaritan's Purse crew and the Salvation Army is supplying meals for those staying.
About 20 Abbotsford pastors and leaders met with people from Samaritan's Purse November 23 at Sevenoaks Alliance Church (with another 15 on Zoom).
Tim MacIntosh, senior pastor of Heritage Alliance Church and a member of the Abbotsford Christian Leaders Network (ACLN) executive team emailed me about the meeting:
The meeting yesterday was basically an informational meeting to let local churches know what Samaritan's Purse is doing – we weren't specially intent on forging a formalized working relationship, but rather hearing about open door opportunities
That being said, I think a number of us were impressed, encouraged, heartened by the expertise and commitment of Samaritan's Purse and how they are jumping right into the midst, ready to coordinate volunteers and get the work done by caring for the needs of individual homeowners – lots of mucking-out of damaged homes and furnishings, readying homes for the further work of rebuilding.
Go here to sign up for the day of disaster relief training.
Collecting Lloyd Mackey
Lloyd Mackey has had a rich career as a journalist and author, and that legacy will be recognized next Thursday (March 16, 1 pm) at Reimer Centre on the Trinity Western University campus.
Here is the invitation from TWU:
Retired journalist Lloyd Mackey has provided a collection of his written work to the TWU Archives based at the Norma Marion Alloway Library.
Come for a short retrospective and public presentation of the work of Dr. Mackey, a pioneer of Christian media in British Columbia and former member of the Ottawa Press Gallery. The public is welcome and refreshments will be served.
My experience with Lloyd goes back to the 1980s. He was founding editor of Christian Info News (later BC Christian News, where I eventually became publisher / editor, so we have worked together in several ways over the years.
But there is much more to Lloyd's story. One good survey come from Cardus's Convivium magazine, to which he contributed many articles:
Dr. Lloyd Mackey has close to half a century of experience in community, faith-based and leadership journalism, including 15 years working out of the Canadian Parliamentary Press Gallery in Ottawa.
Books he has authored include These Evangelical Churches of Ours (Wood Lake Books, 1994), Like Father, Like Son: Ernest Manning and Preston Manning (ECW, 1997) More Faithful than We Think: Stories and Insights on Canadian Leaders Doing Politics Christianly (BayRidge Books, 2005) and The Pilgrimage of Stephen Harper / Stephen Harper: The Case for Collaborative Governance (ECW, 2005/2006).
He is founding editor / director of the Online Encyclopedia of Canadian Christian Leaders, an outgrowth of his Doctor of Ministry (DMin) studies, completed in 2015 through Tyndale University College and Seminary.
In 1984, he earned a Master's in Business Administration (MBA) at Simon Fraser University. He and his wife, Edna, are trying to practice "active retirement" and an examination of "social architecture" in the emerging Central City urban core in Surrey, BC.
Mackey was part of the team that invited Billy Graham to Vancouver in 1984. He included this note about Graham's influence on his work in an article he posted on Church for Vancouver the day Graham died (February 21, 2018):
A highlight, perhaps, was in Ottawa, after a press conference prior to the 1998 mission there: We reminisced about 1984 in Vancouver, then he quietly and warmly encouraged me with his assertion that the work of Christian newspapering, in which I was involved, had some Canadian national significance.
That encouragement was helpful because I needed some sort of affirmation at the time, that Christian newspapers could be an extension to gospel communication. That was because they provided news and comment about the Christian community that could help new believers to integrate their faith into their everyday lives.
Mackey has been a pioneer in Christian media and beyond for many decades, across the nation. His presentation will be well worth attending.
Justice Olufunlola Adekeye
Trinity Western honoured another leader this week, welcoming Hon. Justice Olufunlola Adekeye, during the week of International Women's Day.
A release stated:
Widely regarded as a trailblazer and a role model for women in leadership, Hon. Justice Olufunlola Adekeye served as Justice of the Supreme Court of Nigeria from 2009 – 2012.
She was the first woman to rise to the High Court of Ondo and Ekiti States, and the second woman (and first in Southern Nigeria) to rise to the Supreme Court of Nigeria, which is the highest court in the country.
Her accomplishments have inspired many others to pursue their dreams, advance in leadership, and serve society with their gifts, training and potential.
On March 7, Justice Adekeye spoke at Trinity Western's Langley campus, sharing with students, staff and faculty her personal experience as a Christian woman who helped to break the glass ceiling in the Judiciary of Nigeria. She provided insights to young adults seeking to advance in leadership and especially young women who are striving for excellence. . . .
Justice Adekeye's talk also wraps up TWU's month-long celebration of Black History Month.
Go here for the full release.
Bubble tea evangelism
'Can bubble tea bring Gen Z into the Chinese church?' That is the headline for a recent article co-written by local author Isabel Ong for Christianity Today magazine. 
Here is a portion of the article:
[Living Water Tea House in Chicago] exemplifies the ways ministries are using bubble tea to open doors for evangelism in the United States and Canada. From Toronto to Chicago to New York, Asian church leaders are sitting down with young adults, in particular, over cups of the colorful beverage.
Bubble tea, or "boba" tea, originated in Taiwan in the 1980s and gets its name from the round, black tapioca balls that are added to the flavored, sweetened, tea-based drink. Drinks may be fruity – mango or peach with black tea, for instance – or they may be richer, incorporating chocolate or hazelnut. The beverage has grown rapidly in popularity around the world and is projected by Allied Market Research to be a $4 billion industry by 2027.
While in North American church circles, the phrase "grab a cup of coffee" is nearly synonymous with sitting down for a spiritual talk, Asian ministry leaders say their communities need something different: a cup of tea. And not just any tea. Traditional hot tea may appeal to older generations, but millennials and Gen Z favor bubble tea.
The article does not refer to Metro Vancouver, but it would obviously be of interest in Richmond, where Ong lives, or elsewhere around town. I wrote about Isabel Ong and her role on Christianity Today's Global Team here.
Jobs & Events
Go here for 200 – 300 job listings in the Metro Vancouver / Fraser Valley area and here to find several pages of local events.
Mar 2023
Jesus Revolution (movie) – March 7, 2023 - March 9, 2023 at All Day
Christian Deeper Learning Conference: Diving Deeper – March 8, 2023 - March 10, 2023 at All Day
2023 Laing Lectures: Curt Thompson, MD: Practicing for Heaven – Neuroscience & the Beauty, Trauma & Renewal of All Things – March 8, 2023 - March 9, 2023 at 7:30 pm - 9:00 pm
Joy Banks: Waymarkers – March 9, 2023 - March 16, 2023 at All Day
SIMinar: Explore North Africa – March 9, 2023 at 5:00 pm - 6:00 pm
Spirituality and Community in a Time of Loss – March 10, 2023 at 7:00 pm - 8:30 pm
A Rocha Volunteer Day – March 11, 2023 at 9:30 am - 2:00 pm
Thomas Merton Society of Canada One-Day Retreat – March 11, 2023 at 10:00 am - 3:00 pm
Indigenous Artist Showcase: Randall Bear Barnetson – March 12, 2023 at 2:00 pm - 5:00 pm
Jazz Vespers in the Valley with Amber Tsang and friends – March 12, 2023 at 3:30 pm - 4:30 pm
Dr. Matthew Lynch: The Land Keeps the Score: Violence in Creation According to the Old Testament – March 14, 2023 at 4:00 pm - 5:30 pm
Out of the Depths: A Time of Lament through Prayer and Worship – March 15, 2023 at 12:00 am
Stewardship Toolkit: Time, Talent, Treasures, Trees – March 15, 2023 at 7:00 pm - 8:30 pm
Theology Symposium: 'Just War' or Just Another War – March 15, 2023 at 7:00 pm - 9:00 pm
Jazz Evensong @ Brentwood: The Ruby Lane Organ Trio – March 15, 2023 at 8:00 pm - 9:00 pm
Lloyd Mackey Fonds in TWU Archives Launch Event – March 16, 2023 at 1:00 pm - 1:45 pm
Book Launch: Dr. Matthew Lynch – Flood and Fury: Old Testament Violence and the Shalom of God – March 16, 2023 at 7:00 pm - 9:00 pm
Dr. Aaron Kheriaty: The Growing Biomedical Security State: A Threat To Human Dignity? – March 16, 2023 at 7:00 pm - 9:00 pm
Wonderfully Good: River Prophetic Nights, with Isabel & Thrainn Skulason – March 16, 2023 - March 17, 2023 at 7:00 pm - 9:00 pm
Academic Symposium 2023 – March 17, 2023 at 10:00 am - 4:00 pm
Sarah Kurbjuweit: Rhythms & Roots – Opening Reception – March 17, 2023 at 4:00 pm - 7:00 pm
Traditional Hymn Sing Along at Elim Village – March 17, 2023 at 7:00 pm - 8:30 pm
Hawksley Workman – March 17, 2023 at 7:30 pm - 9:30 pm
Metro Vancouver ESL Ministries Network Event – March 18, 2023 at 9:00 am - 4:30 pm
North Shore Alliance Church Community Cleanup – March 18, 2023 at 2:00 pm - 4:00 pm
Taizé Service – March 19, 2023 at 4:00 pm - 5:00 pm
The Mr. Rogers' Neighbourhood Sacred Jazz Suite – March 19, 2023 at 7:00 pm - 8:30 pm
Inklings Institute of Canada: Dramatic Reading of Dorothy Sayers' King of Sorrows – March 21, 2023 at 7:00 pm - 8:30 pm
Jazz Evensong @ Brentwood: Nick Apivor & Friends – March 22, 2023 at 8:00 pm - 9:00 pm
DEI, CRT & Anti-racism: Common Sense, Campaigning & Courtesy – March 23, 2023 at 1:30 pm - 2:30 pm
SoulStream presents: Coming Home Lenten Retreat – March 24, 2023 - March 26, 2023 at 5:00 pm - 12:00 pm
Raise Your Spoon Fundraiser, Starring Leland Klassen – March 24, 2023 at 6:00 pm - 8:00 pm
Heart Conference – March 24, 2023 - March 25, 2023 at 7:00 pm - 5:00 pm
Presentation on MAiD – March 24, 2023 at 7:00 pm - 8:30 pm
How to Understand the Days of Creation with Dan Kreft – March 24, 2023 at 7:30 pm - 9:30 pm
Tax Clinic – March 25, 2023 at 12:00 am
Canadian Disaster Relief Volunteer Training – March 25, 2023 at 9:00 am - 4:00 pm
Wherefore Art the Begats? with Dan Kreft – March 25, 2023 at 7:00 pm - 9:00 pm
Handel's Messiah – March 25, 2023 at 7:30 pm - 9:30 pm
Jazz Vespers in the Valley with the Kayden Gorden Quartet – March 26, 2023 at 3:30 pm - 4:30 pm
Jazz Vespers with Bonnie Northgraves – March 26, 2023 at 4:00 pm - 5:00 pm
Buoyancy – March 26, 2023 at 7:30 pm - 9:00 pm
Book Launch: Criminal Law – March 28, 2023 at 12:30 pm - 1:30 pm
Cambodia Justice Journey Info Session – March 28, 2023 at 7:00 pm - 8:15 pm
Living Fruitfully: A Biblical Theology of Work – March 29, 2023 at 10:00 am - 11:00 am
The Man of the Shroud Exhibition – March 29, 2023 - April 2, 2023 at 6:30 pm - 1:30 pm
St. John Paul II and the Human Person – March 29, 2023 at 7:00 pm - 9:00 pm
Jazz Evensong @ Brentwood: Kayden Garden & Friends – March 29, 2023 at 8:00 pm - 9:00 pm
Book Conversation on Faith Formation in a Secular Age by Andrew Root – March 30, 2023 at 10:30 am - 11:30 am
Belonging: How has racism affected your sense of belonging within Christian churches? – March 30, 2023 at 11:00 am - 1:00 pm
You Can't Take it With You – March 30, 2023 - April 1, 2023 at 7:30 pm - 9:30 pm
Evangelical Missiological Society Canadian Regional Conference – March 31, 2023 at All Day
Learning How to Grow Restorative Churches – March 31, 2023 - April 1, 2023 at 9:00 am - 4:30 pm
The Seven Last Words of Christ – March 31, 2023 at 8:00 pm - 9:00 pm
Valdy – March 31, 2023 at 8:00 pm - 10:00 pm

Apr 2023
Lectures on Distinguishing Heresy (two events) – April 1, 2023 - April 2, 2023 at All Day
Iron Sharpens Iron Men's Conference – April 1, 2023 at 8:30 am - 3:30 pm
Garage Sale & Thrift Shop – April 1, 2023 at 10:00 am - 3:00 pm
Rheinberger's Mass in C major (op. 169), and Cherubini's Requiem in C minor – April 1, 2023 at 2:00 pm - 4:00 pm
St. John Passion – April 1, 2023 at 2:00 pm - 3:30 pm
Leeroy Stagger – April 1, 2023 at 8:00 pm - 10:00 pm
Palm Sunday Service – April 2, 2023 at 10:00 am - 11:15 am
Watoto Children's Choir – April 2, 2023 at 10:00 am - 11:30 am
Watoto Children's Choir – April 2, 2023 at 6:00 pm - 7:30 pm
Rheinberger's Mass in C major (op. 169), and Cherubini's Requiem in C minor – April 2, 2023 at 7:00 pm - 9:00 pm
TWU's Sustainability Week – April 3, 2023 - April 6, 2023 at All Day
Planetary Health Lecture: Plastic Pollution & the Microbiome Menace – April 4, 2023 at 7:00 pm - 9:00 pm
Climate Change 'Smart' or 15 Minute Cities – April 5, 2023 at 4:30 pm - 5:30 pm
Fire From Heaven: Michael Faraday and the Dawn of the Electrical Age – April 5, 2023 at 7:00 pm - 9:00 pm
Kinbrace Virtual Open House – April 5, 2023 at 7:00 pm - 8:30 pm
The Way College Info Night – April 5, 2023 at 7:00 pm - 7:45 pm
Jazz Evensong @ Brentwood: Dan Reynolds – The Sower Suite – April 5, 2023 at 8:00 pm - 9:00 pm
Sarah Kurbjuweit: Rhythms & Roots – April 6, 2023 - April 12, 2023 at All Day
At the Still Point of the Turning World: Music & Poetry for Holy Week – April 6, 2023 at 6:00 pm - 7:00 pm
How to Talk to Your Kids About Doubt – April 6, 2023 at 7:00 pm - 9:00 pm
Black and Rural – April 6, 2023 - April 15, 2023 at 8:00 pm - 10:00 pm
Fort Langley's Stations of the Cross – April 7, 2023 at 10:00 am - 11:30 am
Good Friday City-wide Gathering – April 7, 2023 at 10:00 am - 11:30 am
Good Friday Combined Service – April 7, 2023 at 10:00 am - 11:15 am
Good Friday / DTES Joint Gathering – April 7, 2023 at 10:30 am - 11:30 am
Good Friday Joint Service – April 7, 2023 at 10:30 am - 12:00 pm
Good Friday Service (First Baptist, Westside, Coastal) – April 7, 2023 at 11:00 am - 12:00 pm
Good Friday Service with Haydn's Seven Last Words of Christ – April 7, 2023 at 7:00 pm - 8:30 pm
Easter Bash – April 8, 2023 at 11:00 am - 1:00 pm
Easter Bash – April 8, 2023 at 11:00 am - 1:00 pm
Resurrection Egg Hunt – April 8, 2023 at 11:00 am - 1:00 pm
Family Easter Carnival – April 8, 2023 at 1:00 pm - 3:00 pm
Easter Sunday Service – April 9, 2023 at 10:00 am - 11:15 am
Gardening Course: Grow Your Own Food! (every second Tuesday) – April 11, 2023 at 6:30 pm - 8:00 pm
Book talk by Naoko Kato on Kaleidoscope: The Uchiyama Bookstore and its Sino-Japanese Visionaries – April 12, 2023 at 12:00 pm - 1:30 pm
David Moffitt: What Happened After Easter? – April 12, 2023 at 12:30 pm - 2:00 pm
Jazz Evensong @ Brentwood: Laura Crema & Bill Coon – April 12, 2023 at 8:00 pm - 9:00 pm
SIMinar: Explore South Asia – April 13, 2023 at 5:00 pm - 6:00 pm
Book Launch: Amazing Grace – the Life of John Newton & the Surprising Story Behind His Song – April 13, 2023 at 7:30 pm - 9:30 pm
Martyn Joseph – April 13, 2023 at 8:00 pm - 10:00 pm
Five Days of Prayer for Sikhs – April 14, 2023 - April 19, 2023 at All Day
49th Annual Delta Leadership Prayer Breakfast – April 15, 2023 at 8:15 am - 10:00 am
A Rocha Volunteer Day – April 15, 2023 at 9:30 am - 2:00 pm
Bible Saturday: Dr. Iain Provan: All Creatures Great & Small – the Psalms' Global Perspective – April 15, 2023 at 9:30 am - 11:45 am
Easter Pipe Organ Concert with audience singing – April 15, 2023 at 3:00 pm - 4:30 pm