The community's response has been so impressive in the wake of last week's punishing storms and flooding that it seems almost unfair (unnecessary?) to take special note of the work that churches and other Christian groups are doing.
Many regular folks, as well as agencies, businesses and communities have demonstrated their mettle by volunteering, opening their doors and donating.
But it is good to see the extent to which the church has been pitching in, and to note some of the ways it has displayed particular strengths.
1. Embedded, active
Churches are everywhere. So, it is not surprising that many of the shelters and gathering points are churches, and that media outlets often ask pastors what is going on in their communities.
In the wake of the first 'atmospheric river' and resulting mudslides and floods, Grace Baptist Church in Hope attracted lots of attention last week as it provided shelter nightly shelter for 250 and daily meals for about 400, beginning November 14. Two nearby camps pitched in as well: Camp Hope offered shelter to some 250 people stuck in their cars, and Camp Squeah hosted a Chilliwack minor hockey league team.
A November 18 article in the MB Herald reported that even though just one of seven Mennonite Brethren churches in the upper Fraser Valley had been directly affected by the flooding, they were all out helping their neighbours. It noted that the Mennonite Central Committee (with offices in Abbotsford) is working with the Mennonite Disaster Service.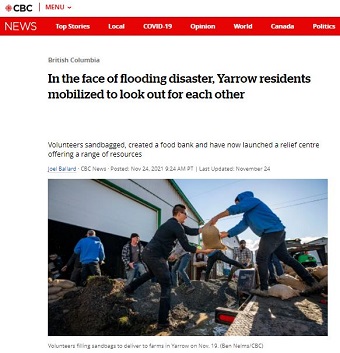 The support has carried on throughout the Fraser Valley over the past week. CBC News reported November 23:
In the immediate aftermath of the floods, with supply chains choked by damaged infrastructure on major highways, there was a grocery shortage in Yarrow. Within a day, the community established a food bank.
"If anybody needs anything you can walk in there and come out with eggs and milk and produce," said Shawn Vickar, a pastor at Yarrow Alliance Church.
Now, recognizing the ongoing needs of those affected by the floods and the ongoing willingness of the community to volunteer their time and skills, four local churches have launched the Flood Relief Community Care Centre in Yarrow to create a local database of volunteers and resources.
This is not our area of expertise on any level, but we are doing what we can and we're excited to see how the community has been so participatory," said Vickar, one of the relief centre organizers.
"What we really needed to do was begin to streamline and collectively work together . . . to help get resources focused because things were quite scattered, as Week 1 of a natural disaster would be."
In its first two days, the relief centre has already had hundreds of people come forward as volunteers. The centre offers access to resources such as lodging, help with physical labour, childcare, counselling and the food bank, among other services.
The pastors commented on the breadth of community support:
For the people of Yarrow, the notion of neighbours helping neighbours is par for the course.
"This is very much the fruit of the last 50 years of our elders trying to maintain this culture in Yarrow of people caring for each other," said Darnell Barkman, a pastor at Yarrow United Mennonite Church and a relief centre organizer.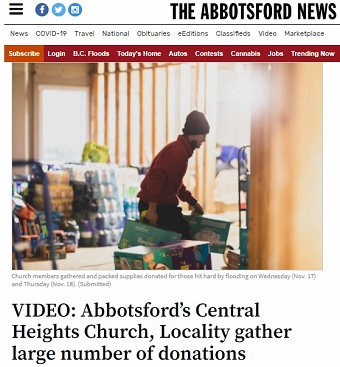 CBC News reporter Isabella Ragham sent a report from the Arnold neighbourhood of Abbotsford the same day; she spoke to pastor Cam Stuart of Arnold Community Church, who said, "I don't think [people] can be more devastated than they have been" by the heavy rains predicted for the rest of the week.
Abbotsford's Central Heights Church reacted quickly. An article in The Abbotsford News said:
"Donations came in from all over Abbotsford and beyond and have filled the entirety of our former office wing of the Central Heights facility," stated CHC associate pastor Jesse Wilson.
"One volunteer noted how people were driving from Vancouver to donate food. Another figured we've got three large classrooms full of donations. Our team has been incredibly inspired and encouraged to see generosity at such a large scale."
Volunteers also moved and sorted donations as large trucks arrived throughout both days. According to Wilson, at one point there were 16 full pallets of goods that arrived at once.
2. Connected
Not only are churches well connected and active in hard-hit towns such as Abbotsford, Chilliwack, Hope, Princeton and Merritt, they are also connected to fellow believers around the province and across the nation. And many of those churches also responded quickly.
Here are links to just a few of the denominations which are taking action:
* Roman Catholic Archdiocese of Vancouver: 'Archdiocese launches fund to help flood-struck migrant workers'
* Fellowship Pacific: "There will be ongoing support needed."
* Pacific Mountain Regional Council of the United Church of Canada: "We are witnessing firsthand, love, compassion and grace."
* Canadian Pacific District Christian & Missionary Alliance: "Our BC Emergency Fund is in place to assist where needed."
* Send Vancouver (Canadian National Baptist Convention West Coast): "Multiple local @CNBC churches are working together to gather provisions for a food bank . . ."
Christian Life Assembly in Langley has been particularly impressive. Faith Today posted a comment by lead pastor Derrick Hamre November 22:
I learned while pastoring in Kelowna during the Okanagan wildfires that the key to emergency response was to be quick in making decisions. Churches tend to be bureaucratic and slow. They need to be nimble and dynamic to change.
On Tuesday, November 16, I gave the green light for Christian Life Assembly (CLA) to be a gathering centre for relief supplies. . . .
In less than a week we managed to gather over $50,000 and delivered 30,000 lbs of relief supplies. It was a herculean effort. By God's grace, church partnerships and quick decision making we were able to see a lot accomplished over a short period of time.
This coming week we will narrow our focus to some First Nations that are completely cut off. One of them was adversely affected by this summer's fires, and now they are dealing with the floods. I was told that our coming flight of supplies will bring them "hope and relief" and great encouragement "to know that others are standing with them."
This week we are working to get another load of 30,000 lbs of supplies prepared and sent to Merritt B.C .to help prepare the town as people prepare to return. We will be working through a local church there called Crossroads Community Church. The story continues . . .
3. Forward-looking
Many Christian groups have extensive experience with disasters and are well prepared to persevere with the work once the initial response dies down.
Some key players are the Salvation Army, Mennonite Disaster Service (MDS) and Samaritan's Purse.
* Salvation Army: "At The Salvation Army, we are currently on the ground in six of the hardest-hit communities feeding and hydrating first responders and evacuees, while also providing shelter, blankets, jackets and much-needed spiritual care. And we need your help."
* Mennonite Disaster Service: "MDS Canada is calling for volunteers to help with cleaning out homes in Princeton, B.C. following the catastrophic flood that hit that town in mid-November. Around 20 volunteers are needed by December 6 to help people in that interior community clean out their flooded homes."
MDS Canada stated in its November 24 press release that while "MDS Canada is responding in Princeton, Samaritan's Purse is responding to needs in Abbotsford, Chilliwack and Merritt."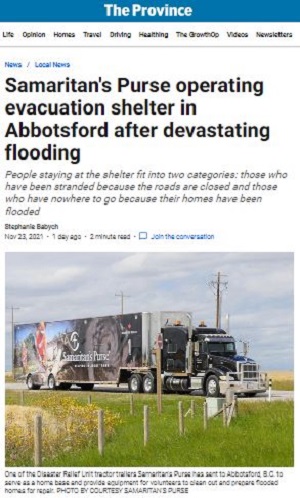 The Province posted an article November 23 which began:
As damaging floods and landslides have displaced thousands of people from their homes in British Columbia, Calgary-based Samaritan's Purse has opened its largest domestic evacuation shelter to house people in Abbotsford, B.C.
After receiving an invitation from Abbotsford officials, Samaritan's Purse sent a team of six to help operate a 200-bed shelter as parts of the city remain underwater from the flooded Fraser River.
Emergency social services are working closely with the Samaritan's Purse crew and the Salvation Army is supplying meals for those staying.
About 20 Abbotsford pastors and leaders met with people from Samaritan's Purse November 23 at Sevenoaks Alliance Church (with another 15 on Zoom).
Tim MacIntosh, senior pastor of Heritage Alliance Church and a a member of the Abbotsford Christian Leaders Network (ACLN) executive team emailed me about the meeting:
The meeting yesterday was basically an informational meeting to let local churches know what Samaritan's Purse is doing – we weren't specially intent on forging a formalized working relationship, but rather hearing about open door opportunities
That being said, I think a number of us were impressed, encouraged, heartened by the expertise and commitment of Samaritan's Purse and how they are jumping right into the midst, ready to coordinate volunteers and get the work done by caring for the needs of individual homeowners – lots of mucking-out of damaged homes and furnishings, readying homes for the further work of rebuilding.
All of that work starts next week – the rest of the Samaritan's Purse team arrives this weekend, ready to go. Local churches are encouraged to spread the word for volunteers – Samaritan's Purse has the expertise to deploy volunteers, plus they have the PPE and equipment necessary to get the job done.
As I say, I was very encouraged and impressed. It's an opportunity for the church, across denominational and organizational lines, to come together and serve.
MacIntosh said the arrangement is quite loose, but organizers are expecting an enthusiastic response.
4. Persistent
While everyone's attention is on damage caused by flooding, a couple of churches have not forgotten the people of Lytton, whose town burned to the ground during the summer heat.
Members of Fraser Lands Church in east Vancouver, along with some from Capstan Alliance Church in Richmond have made at least half a dozen trips with supplies and companionship since July.
They are carrying on, as explained in their recent press release:
Having seen the devastating effects of fire and flood in Lytton and Merritt, Fraser Lands Church invites the local community to help prepare Christmas hampers for families who have been affected by these natural disasters. . . .
Hamper Box pick-up is before November 30th, with drop-off by December 5. Boxes will be delivered to the affected communities in early December. For more information visit: https://fraserlands.ca/news/christmas-hampers-2021 or email Nicholas at [email protected]
(Go here for my earlier write-up.)
Another church has remembered the people of Lytton as well. St. Stephen's Anglican Church in West Vancouver held a Lavender for Lytton tea party / fundraiser November 21, raising $2,074 (having already raised $748 at a dessert sale earlier).