If you're concerned about the Vancouver housing situation – and who isn't these days? – do check out Reimagining Home, which will take place this Saturday morning (October 21) on the UBC campus.
The gathering will feature "conversations and presentations about neighbouring, shared living, economic realities and how we can think differently about the places in which we live."
Urban geography professor emeritus David Ley (author of numerous books including Housing Booms in Gateway Cities and Millionaire Migrants) will address the topic 'Vancouver Housing Landscape: A Lay of the Land.'
Melissa Giles, Managing Director of BC Rent Bank, will discuss rent banks, "an eviction prevention and housing stability resource for low to moderate income renters who are unable to pay rent or essential utilities."
Here is the description of the event, which is presented by CityGate Vancouver:
Our current culture of isolation and unaffordability is impacting everyone – from students, to families, to retirees; uncertainty, instability and loneliness crosses demographic lines. The conversations and news stories around housing challenges are prolific today.
Is there a better way to do 'do home?'
Through presentations, workshops and storytelling, you are invited to reimagine how we can approach our understanding of home. Pecha Kucha style displays – short, visually driven presentations offer an opportunity to hear from experts and those with lived experience in areas of shared living, porous and invitational hospitality, economic practicalities and considerations and more.
There will be time to share your ideas and hear from others. Come ready to participate, learn and contribute. Join in with other curious people to expand your understanding and challenge our preconceived ideas of how we consider housing and home.
Registration includes snacks and lunch and an invitation to connect and converse with the presenters.
Several other speakers will address a range of topics:
Karen Giesbrecht: Co-Creating a Shared Home

Barry Jung: Neighbouring

Tim Dickau, Cara & Thomas Bergen: Sustaining Life in a Shared Home for the Long Run

Stephen Rathjen: Creative Economics for Housing

Kate Miller: Sheltering the Daydreamer: Maintenance Art for a Reimagined Home

Jenny Shantz: Home as a Place for Healing
Reimagining Home will be held at Chapel of the Epiphany, 6030 Chancellor Boulevard, 9 am – 12:30 pm. Go here to register.
Sacred Word / Sacred Hope
Acclaimed musician Steve Bell will headline an evening to benefit the Canadian Bible Society. He will perform during Sacred Word / Sacred Hope, October 26, at Central Presbyterian Church in downtown Vancouver.
Here is what will happen, according to host Fr. Matthew Francis, CBS Regional Director for BC & Yukon:
Hear how the ministry of the Bible Society – helping people to hear God speak through the Scriptures – is bearing fruit across BC and Yukon.
Dig deeper into the ministry of reconciliation; the Sacred Word / Sacred Hope event ticket includes:
A delicious, West-Coast inspired meal with non-alcoholic beverages and dessert.

Live performances from musical guest, and legendary Canadian singer-songwriter Steve Bell.

Keynote presentation from Rev. Milissa Ewing, Pastor of Redwood Park Church.
Bell will also give two solo concerts in the area – at Highland Community Church in Abbotsford, October 27, and Jericho Ridge Community Church in Surrey, October 28.
Free counselling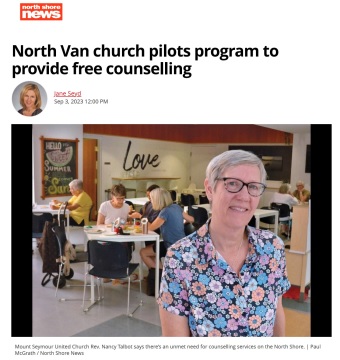 A recent North Shore News article pointed to a generous counselling program being offered by a local congregation:
A North Vancouver church is starting an innovative pilot program that will pay for free counselling sessions for people who can't afford the service.
Reverend Nancy Talbot of the Mount Seymour United Church said the idea grew out of a mental health ministry at the church that recognized counselling as an important need that often isn't being met. . . .
You don't have to be a church member to apply for help and there's no expectation that anyone will become a church goer, Talbot adds. She said there's also no particular profile of who the counselling sessions are targeting, but preference will go to North Shore residents with limited funds who have urgent mental health needs.
Those whose applications are accepted will get a voucher for up to eight free counselling sessions, with either the counsellor of their choice or a counsellor from a list approved by the church. It's possible those approved can apply for further support if needed.
Mary Sparks led a seminar on 'Mental Health Resources for Children & Youth' October 17, and Dr. Rami Nader will address 'Helping a Loved One with Mental Health Challenges' November 7.
Go here for the full article.
Fleetwood Campus
An new extension to the Fleetwood Campus of Surrey Christian School connects the already existing primary and middle schools. The school held a grand opening last Saturday (October 14).
The 12,000 square foot project includes a  multipurpose room, library commons, administration space and two classrooms.
Surrey City Councillor Linda Annis tweeted:
Congratulations to the Surrey Christian School on opening their Fleetwood campus. School space is needed in a growing Surrey. Well done Superintendent Ben Yao & Principal Tom Williams on adding more educational space & continuing your growth.
Surrey Christian School is an independent school with over 1,200 students on four campuses:
Fleetwood Campus (grades preK-7) at 8888 – 162nd Street;

Cloverdale Campus (grades preK-7) at 5950 – 179th Street;

Secondary Campus (grades 8-12) at 15353 – 92

nd

Avenue;

Early Learning Centre at 18625 Fraser Highway.
Oct 2023
Regent Forum: Ross Hastings - "What DID Happen at the Ascension of Jesus?" – October 16, 2023 at 12:30 pm - 1:45 pm
Day of Prayer and Fasting – October 17, 2023 at All Day
Alpha & Church Collaboration – October 17, 2023 at 9:00 am - 10:00 am
Spiritual Care and Chaplaincy in Religiously Diverse Societies – October 17, 2023 at 10:00 am - 11:15 am
An In the Book Septuagint seminar – October 18, 2023 at 6:00 pm - 8:00 pm
Matt Maher & Friends: An Evening of Worship & Music – October 18, 2023 at 7:00 pm - 9:00 pm
Jazz Evensong: Quintessential Jazz – October 18, 2023 at 8:00 pm - 9:30 pm
Empire of the Son – October 19, 2023 - October 21, 2023 at All Day
Round Table: BAM x 5 Canadian Small Business Stories – October 19, 2023 at 9:00 am - 10:00 am
The Global Leadership Summit 2023 – October 19, 2023 - October 20, 2023 at 9:00 am - 3:30 pm
The Global Leadership Summit 2023 – October 19, 2023 - October 20, 2023 at 9:00 am - 3:30 pm
Coaching Leadership Super Conference – October 20, 2023 at 9:00 am - 3:00 pm
Manifest Conference 2023: Graced to Thrive – October 20, 2023 - October 21, 2023 at 6:00 pm - 10:30 am
Jazz Vespers: The Prodigal Son - The Dan Reynolds Trio – October 20, 2023 at 7:30 pm - 9:00 pm
Faith and Work Conference – October 21, 2023 at 8:45 am - 1:00 pm
Reimagining Home – October 21, 2023 at 9:30 am - 12:30 pm
All Saints Fall Garage Sale – October 21, 2023 at 10:00 am - 2:00 pm
Stand for the Land – October 21, 2023 at 10:00 am - 12:00 pm
Raise for the Well Fundraiser – October 21, 2023 at 11:30 am - 3:00 pm
Glory Trail – October 21, 2023 at 3:00 pm - 7:00 pm
Sam Weber – October 21, 2023 at 8:00 pm - 10:00 pm
MAID Day of Prayer – October 22, 2023 at All Day
Great Lake Swimmers: Uncertain Country Tour – October 22, 2023 at 7:00 pm - 9:00 pm
Canadian Youth Pastor Summit [West] – October 23, 2023 - October 25, 2023 at All Day
Trauma Informed Response in the Church (two events) – October 23, 2023 at All Day
Alpha 'Come and See': Regional Envisioning Event – October 24, 2023 at 6:00 pm - 8:00 pm
Inklings Institute Event with Ron Dart: Novalis, George MacDonald and German Romanticism – October 24, 2023 at 7:00 pm - 8:30 pm
Theatre of the Beat – October 25, 2023 at All Day
Transforming Employment Narratives: Refugee Claimants and Equity in the Workplace – October 25, 2023 at 2:00 pm - 5:00 pm
Heart of the City: Tour of Historic Building – October 25, 2023 at 5:30 pm - 6:30 pm
Heart of the City: Vancouver Cantata Singers – October 25, 2023 at 7:00 pm - 8:30 pm
Prof. Allen Haaheim - "Of Kingfishers and Other Fires: Inscapes as Patterns of Being in Hopkins" – October 25, 2023 at 7:00 pm - 9:00 pm
Jazz Evensong @ Brentwood: The Steve Smith Quartet – October 25, 2023 at 8:00 pm - 9:30 pm
Theatre of the Beat – October 26, 2023 at All Day
Andrew Root: When Church Stops Working – October 26, 2023 at 12:00 pm - 1:00 pm
Steve Bell: Sacred Word / Sacred Hope (Canadian Bible Society Event) – October 26, 2023 at 7:00 pm - 9:30 pm
White Rock-South Surrey Leadership Prayer Breakfast – October 27, 2023 at 7:00 am - 9:00 am
Canadian L'Abri Lecture: Beth Stovell, Ambrose Univ prof, OT scholar, "Job: Hope in the Midst of Suffering" – October 27, 2023 at 7:00 pm - 8:30 pm
Steve Bell Solo Concert – October 27, 2023 at 7:30 pm - 9:30 pm
An Evening with Amanda, featuring Amanda Sum – October 27, 2023 - October 28, 2023 at 8:00 pm - 10:00 pm
Guiding Schools to Flourish – October 28, 2023 at 8:30 am - 4:00 pm
Bible Saturday with Drew Lewis – October 28, 2023 at 9:30 am - 11:45 am
Fall Fair – October 28, 2023 at 10:00 am - 12:30 pm
The Awesome Sale – October 28, 2023 at 10:00 am - 2:00 pm
OM Fundraising Partner Luncheon: Arabian Peninsula – October 28, 2023 at 12:00 pm - 2:00 pm
Trunk or Treat – October 28, 2023 at 2:00 pm - 4:00 pm
10th Hallelujah Night presented by Blue Ocean Movement – October 28, 2023 at 7:00 pm - 9:00 pm
Steve Bell Solo Concert – October 28, 2023 at 7:30 pm - 9:30 pm
Worship Invasion Loves Surrey – October 28, 2023 at 7:30 pm - 10:30 pm
Very Very Improv – October 28, 2023 at 8:00 pm - 9:30 pm
Heart of the City: Introduction to the Pipe Organ – October 29, 2023 at 12:00 pm - 1:30 pm
Trunk or Treat – October 29, 2023 at 2:00 pm - 4:00 pm
Jazz Vespers with the Von Trapped Family – October 29, 2023 at 4:00 pm - 5:00 pm
Regent Forum: George Guthrie – Long Ago God Spoke: Divine Action in the Scriptures According to Hebrews – October 30, 2023 at 12:30 pm - 1:45 pm
Trunk or Treat – October 31, 2023 at 5:00 pm - 6:30 pm
Fall Fiesta (Coastal Church, 5 locations) – October 31, 2023 at 6:00 pm - 8:00 pm
FunFest 2023 – October 31, 2023 at 6:00 pm - 8:30 pm
All Hallow's Eve Vigil and Procession – October 31, 2023 at 6:30 pm - 8:30 pm
Light in the Night – October 31, 2023 at 6:30 pm - 8:30 pm
Vancouver Zion Mission Choir: Sing Hallelujah! - From Darkness into Light – October 31, 2023 at 7:00 pm - 9:00 pm

Nov 2023
Imagination Retreat – November 1, 2023 at 9:00 am - 5:00 pm
Holy War in the Holy Land – November 1, 2023 at 10:00 am - 11:30 am
Healing Journey: Art of Patricia June Vickers - Opening Reception – November 1, 2023 at 4:00 pm - 7:00 pm
Tanya Gaw & Guests: SOGI Indoctrination Exposed – November 1, 2023 at 4:30 pm - 6:00 pm
Resilience: An Exclusive Interview with Attorney Samson Inocencio Jr. – November 1, 2023 at 6:00 pm - 7:00 pm
2023 Delta Christian School Annual Open House – November 1, 2023 at 7:00 pm - 9:00 pm
Shaped by Shame: How do we receive the grace that can transform us? – November 2, 2023 at 10:00 am - 11:00 am
The Holy Spirit and the Eagle Feather: The Struggle for Indigenous Pentecostalism in Canada – November 2, 2023 at 12:00 pm - 1:00 pm
Discover the World of Bees – November 2, 2023 at 1:00 pm - 2:00 pm
Heart of the City: Bells of St. James – November 2, 2023 at 2:00 pm - 2:30 pm
Toast Talks: Updates from First United – November 2, 2023 at 4:30 pm - 5:15 pm
Christian Advocacy Society Autumn Banquet Fundraiser – November 2, 2023 at 6:30 pm - 9:00 pm
Heart of the City: Requiem for All Souls – November 2, 2023 at 6:30 pm - 7:30 pm
Requiem in D minor, K. 626, Wolfgang Amadeus Mozart – November 2, 2023 at 6:30 pm - 8:00 pm
An Around the Table intercultural ministry workshop – November 3, 2023 at 9:00 am - 12:00 pm
Canadian L'Abri Lecture: Josue Reichow, Brazilian L'Abri worker, "Reflections on Critical Theory" – November 3, 2023 at 7:00 pm - 8:30 pm
Jake Garton & Kathleen Nisbet – November 3, 2023 at 8:00 pm - 10:00 pm
Christmas Craft Fair – November 4, 2023 at 9:30 am - 3:00 pm
Church Network for Refugee Welcome – November 4, 2023 at 9:30 am - 11:30 am
Fair Trade & Artisan Market – November 4, 2023 at 10:00 am - 4:00 pm
The Nifty Thrifty Store – November 4, 2023 at 10:00 am - 2:00 pm
Hymn Festival: Great is Thy Faithfulness – November 4, 2023 at 7:30 pm - 9:00 pm
International Day of Prayer 2023: Courage to Rise Above – November 5, 2023 at All Day
Equip & Build Lunch – November 5, 2023 at 12:15 pm - 2:00 pm
Rise in Grace – November 5, 2023 at 5:00 pm - 9:30 pm
Healing Journey: Art of Patricia June Vickers - Panel Discussion – November 7, 2023 at 7:00 pm - 8:30 pm
Stories from our Living Rooms 2023: New Hope Fundraising Night – November 7, 2023 at 7:00 pm - 8:30 pm
Mental Health Speaker: Dr. Rami Nader – November 7, 2023 at 7:30 pm - 9:00 pm
Community at a Crossroads: Paving the Way to a Stronger Tomorrow – November 8, 2023 at 6:30 pm - 8:30 pm
Jazz Evensong @ Brentwood: Lorraine Foster & Friends – November 8, 2023 at 8:00 pm - 9:00 pm
Singing Christmas Tree: Tickets available today! – November 8, 2023 at 8:00 pm - 9:00 pm
InspirED Convention 2023 – November 9, 2023 - November 10, 2023 at All Day
Journey to Bethlehem (in several theatres) – November 9, 2023 - November 16, 2023 at All Day
Marketplace Mornings: Missional Innovation with Stephen Mulder – November 9, 2023 at 7:00 am - 8:30 am
Apologetics: What Paul Could Learn from Socrates – November 9, 2023 at 12:30 pm - 1:30 pm
Charting New Horizons for Independent Education – November 9, 2023 at 4:30 pm - 6:30 pm
Worship Night with Phil Wickham – November 9, 2023 at 7:00 pm - 9:00 pm
'Indictment' & Justice for Myles Gray – November 9, 2023 at 7:00 pm - 8:30 pm
My Cousin's Wedding – November 10, 2023 at 6:30 pm - 10:00 pm
Canadian L'Abri Lecture: Clarke Scheibe, "The Birds and the Bees, Take Two: A Positive View of Biblical Sexuality" – November 10, 2023 at 7:00 pm - 8:30 pm