Now that's the way to celebrate your 30th anniversary! When the dust settled at the Commodore Ballroom last Monday (June 23), Pacific Theatre had won four Jessie Awards in the Large Theatre category for plays from their 30th season.
And those awards were the big ones – The Seafarer won for Outstanding Production. In The Foreigner, John Voth won for Outstanding Performance by an Actor in a Lead Role, along with Peter Carlone and Erla Faye Forsyth who both won for Outstanding Performance in a Supporting Role.
Pacific Theatre led the way in the Large Theatre category with their four awards. Bard on the Beach and the Arts Club Theatre won three and two awards respectively.This is the first year Pacific Theatre had competed in the Large Theatre (rather than the Small Theatre) category.
Congratulations to the actors and the whole Pacific Theatre team. And to artistic and executive director Ron Reed, who has provided far-sighted leadership to the enterprise for more than 30 years. I don't suppose any of them do what they do for the awards, but surely they will be able to savour a particularly warm glow of accomplishment this summer season.
Greek Days, Point Grey Fiesta, Fun Days
I'm impressed by churches that go out of their way to meet their neighbours, and some go the extra mile in summer. Here are a couple of examples:
* Pastor Tim Horman of Church from the Hollywood subjected himself to the dunk tank at during Greek Day June 22.
Here was the pitch to his congregation: "Now's your chance to help fund a great cause and dunk Pastor Tim! All in one fell swoop! We're partnering with Kits House for Greek Day to get some local bigwigs in the dunk tank and help raise funds for the new Kitsilano Neighbourhood House . . . Tim will be in good company with some of our local and provincial members of government, community organizers and neighbourhood personalities."
(On Sunday June 1st, Christ Church Cathedral also made a splash by launching its Water Project – affectionately known as 'Brush Your Teeth, Flush the Toilet, Wash Your Hands' – with a dunk tank set up in the Hillman Garden at the intersection of Burrard and West Georgia.)
Church from the Hollywood also marshalled a 'Church on the Street' team which hosted The Oasis, a "kids' art space / chill out tent." Apart from telling visitors their story, they initiated games and activities, in cooperation with Vancity and Kitsilano Neighbourhood House.
* Up the hill, several churches took part in an ecumenical service in Trimble Park, as part of the
Point Grey Fiesta
, also June 22. Among the exhibitors for the fiesta were University Chapel and West Point Grey Baptist Church.
The Gospel and the Grateful Dead – and much more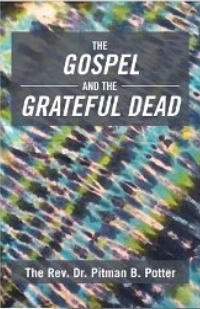 One would think that Pitman Potter would have enough on his plate as a professor of law at UBC Law Faculty and HSBC Chair in Asian Research at UBC's Institute of Asian Research. Not to mention his work as an arbitrator, writer and deacon (at St. Helen's Anglican Church in Point Grey) – the list goes on.
But no, he has found time to write
The Gospel and The Grateful Dead
, which "examines the ways in which the Grateful Dead embodied Christian teachings in areas of community, praise and service. The Grateful Dead," he says, "left an enduring legacy, whose power and longevity stem in significant part from the confluence of values between the Gospel and Grateful Dead."
Well, maybe – but I certainly wouldn't sell Pitman short before hearing him out. (
Vancouver Sun
writer Doug Todd
wrote about Pitman
recently, for those wanting more Deadhead insights.)
Pitman and his wife Vicki are quite impressive people. A couple of years ago
The Light Magazine
wrote about their work
with homeless men on the West Side of Vancouver. Judy Graves had asked them to help out and they did a bang-up job, getting a number of those men off the street and into good housing. One of secrets to their success was just doggedly helping the men to fill out the various forms needed for social services, housing, etc.
But they also led teams which visited the men regularly, wherever they were living around the community.
"Outreach teams organized by Vicki and Pitman Potter walked the streets every week to get to know the men and find out how they could help. Eventually, Neighbourhood Ministry volunteers became acquainted with a core group of 25 to 30 homeless men, developing close relationships with some. Most of these men, all in their fifties or sixties, were escaping the harsher situation in the Downtown Eastside,"
Vicki pointed out that the volunteers had benefitted from their time with the homeless men: "It is attaching one person to one person. The workers now look at people living on the street in a different way – with less judgment and with more compassion and understanding."
Possibly some of Vicki's effectiveness has been due to her knowledge of the way the city works. She is retiring at the end of June as the City of Vancouver's director of development services; she was in charge of all the development applications filed with the city.
An article in the Vancouver Courier quoted her: "Like many folks my age, after 40 years in the workforce, which for me has been mostly government and non-profit work, it's time to take things a little slower. I'm really looking forward to more time with my husband and kids, my elderly parents, walks on the beach and in the forest, and doing the community volunteer work that I really enjoy,"
Camp Artaban's prospects looking up
According to a report on the Diocese of New Westminster website, the DIocesan Council has given new hope to Camp Artaban. The camp has been heavily in debt to the diocese, and unable to fully carry out its mandate.
The "terms of the Proposal are that the Diocese of New Westminster will forgive the balance of the Artaban Debt which consists of a Capital Debt as of May 31st, 2014, of $396,632, and Interest estimated at roughly $400,000. The Camp Artaban Society's responsibility will be to make one or more payments totaling no less than $196,316 (half of the Capital Debt) to the Diocese of New Westminster on or before November 30th, 2014.
"When asked for comment, Camp Artaban Society board chair, Sandi LaCharite immediately said, 'It feels like a ton of weight has been lifted off our shoulders.' Then she said, 'This settlement allows us to vision and dream again. One of the hardest things for us to do is to go to the site in the summer and not see any children there. This is an opportunity that allows us to move forward with our ministry of providing a transformational experience for children, many of whom face incredible barriers in their day to day lives.'"
Daughters in the City wins award
Daughters in the City: Mennonite Maids in Vancouver (1931-61) recently won an award for historical non-fiction from the British Columbia Historical Federation. The Lieutenant Governor presented the awards June 6 at the annual meeting.
Author Ruth Derksen Siemens said, "I was honoured and humbled. These women deserve to be remembered for their significant contribution to the history of Vancouver and to the generations that followed."
The purpose of this book is twofold, says Ruth: "firstly, to preserve the historical account in an accessible form for the Mennonite women and their descendants whose lives were shaped by domestic service in Vancouver; and secondly, to inform a wider audience about the role of these women who arrived in Canada in two waves of immigration (mid-1920s and 1948–50)."
Ruth is a first-generation Canadian of Russian Mennonite descent who was born in Vancouver and also lived in a traditional Mennonite community in the Fraser Valley. She is an instructor of writing and rhetoric at UBC.
I posted an excerpt from the book last fall.