"This place saved my life, literally," says Jeff Parsons. "I look back sometimes and wonder, 'Where would I be today?' Possibly dead . . . Union Gospel Mission (UGM) gave me an opportunity to look at life differently. It gave me a better life, and made me a better person."
Stories like Parsons' are the reason UGM has prepared Christmas dinners for 75 years. Last week (December 5) an army of volunteers welcomed close to 3,000 people for a Christmas meal.
This Christmas season, Parsons will be celebrating the holidays in a warm apartment with his daughter. Seven years ago, the holidays looked much different. 
"Drugs had beaten me down," says Parsons. "I was sleeping on the streets. I didn't have blankets at times. I remember waking up that Christmas day in front of the theatre on Granville, there was a lot of water and snow on the ground and all I had were ragged shoes, sweatpants and a t-shirt."
With an addiction to crack cocaine controlling his life, Parsons had hit rock bottom. That Christmas he felt "lonely, scared, cold and hungry," a desperation that led him to the doors of Union Gospel Mission. Jeff was given a meal and was soon admitted into a recovery program. Today he is steadily employed, dedicated to his family and about to celebrate his seventh anniversary of sobriety January 1.
Wesbrook Bay Books

If you're looking to buy a couple of books for Christmas, you might want to check out a small publishing house that has established itself, quietly, on the UBC campus. From the website:
Wesbrook Bay Books is an emerging Vancouver publisher currently publishing fantasy, middle grade and young adult fiction, historical fiction, memoir and children's picture books. We will consider any well-written manuscript. However, because every book in our 2014 list received national recognition, we now look for quality manuscripts with great plots and polished editing. We pride ourselves on the way we work with authors and call ourselves author-centric, meaning that our authors are treated individually. We push hard so they produce the best book possible – and are proud of our results.
Wesbrook Bay Books now has eight authors, most of them based in the Vancouver area. Beverley Boissery, who is also publisher of Wesbrook under the name Bev Greenwood, has a varied background and has published 21 books, ranging from academic history to young adult fiction.
The other local writers are Jack A. Taylor (who wears several hats, including as pastor of Faith Fellowship Baptist Church in Vancouver); B.A. Schellenberg (who lives with her three children in Vancouver); Hasan Kabir (born in Jeddah, retired in Vancouver); W.P. Gatley (who chaired the board of Northwest Baptist Seminary in Langley); and Jono Howard (who has written over a hundred produced scripts for numerous animated children's series).
Santa Claus Parade
It is good to see some Christians connecting to the Santa Claus Parade, which normally draws about 300,000 people and took place December 6 this year.
Trinity Western University is one of the corporate sponsors, and Coastal Church has been very active, both in collecting many boxes of non-perishable food and baby items for the Vancouver Food Bank and serving as a warming station during the parade.
Christmas concerts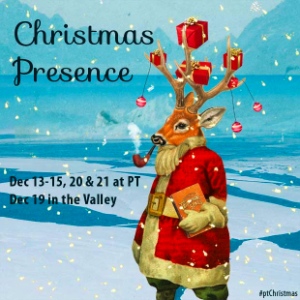 We are approaching the height of the Christmas concert season, and there are almost too many choices – see the list below. Here are a few that stand out for me:
* The 48th annual (!) Singing Christmas Tree at Broadway Church. It's an institution, one of the most popular events of the season. There are just three days left, Friday to Sunday (December 11 – 13). Tickets are sold out. However, organizers say, "30 minutes before each performance, we will open our doors to non-ticketholders and fill all remaining seats in our auditorium." Apparently there will be seats.
* On Saturday (December 12), British poet Malcolm Guite and some musical guests will be at A Christmas Potpourri at Cedar Park Church in Delta to raise money for a local hospice. I've seen him at Regent College and I expect it will be a very good evening.
* Pacific Theatre's Christmas Presence starts on Sunday (December 13) and runs through to the 21st. Great musicians, with a different line up every evening.  Depending on the night you could see various combinations of Ron Reed, Nelson Boschman, Rick Colhoun, Jordan Klassen, Peter La Grand, Sheree Plett, Jeremy Eisenhauer, Carolyn Arends, Garth Bowen, Anna Vandas, Andy Frew, Laurell, Michael Hart and Jon Ochsendorf (and several others).
Sep 2015
Speaking My Mind Toastmasters Club
– September 28, 2015 - December 14, 2015 at 7:30 pm - 9:00 pm
Dec 2015
Bev Ellis: Splendour of the Raw & Flawed
– December 10, 2015 - December 18, 2015 at All Day
Let There Be Light!
– December 10, 2015 at 12:00 am
Timberline Country Christmas 2015
– December 10, 2015 - December 20, 2015 at All Day
A Christmas Carol
– December 10, 2015 - December 12, 2015 at 7:00 pm - 9:00 pm
The Many Storeys and Last Days of Thomas Merton
– December 10, 2015 at 7:00 pm - 9:00 pm
A Traditional Christmas with the VSO
– December 10, 2015 at 7:30 pm - 9:30 pm
A Christmas Carol: On the Air
– December 10, 2015 at 8:00 pm - 10:00 pm
48th Annual Singing Christmas Tree: Toy Factory
– December 11, 2015 - December 13, 2015 at All Day
Miracle: Songs in the Night
– December 11, 2015 - December 13, 2015 at All Day
Jesus and Other Refugees: Both Sides of Christmas
– December 11, 2015 at 7:00 am - 8:30 am
A Traditional Christmas with the VSO
– December 11, 2015 at 4:00 pm - 6:00 pm
Earthkeepers: Evening of Prayer and Confession
– December 11, 2015 at 5:00 pm - 8:00 pm
A Traditional Christmas with the VSO
– December 11, 2015 at 7:30 pm - 9:30 pm
Vancouver Orpheus Choir: Songs for a Winter's Night
– December 11, 2015 at 7:30 pm - 9:30 pm
Celebrate!: A Good Noise Christmas
– December 11, 2015 at 8:00 pm - 10:00 pm
Fred Peter: Art Fundraiser for Refugees
– December 12, 2015 - December 13, 2015 at All Day
A Traditional Christmas with the VSO
– December 12, 2015 at 4:00 am - 6:00 am
First Noel
– December 12, 2015 at 9:30 am - 12:00 pm
Roy Durman Annual Christmas Banquet
– December 12, 2015 at 4:30 pm - 6:30 pm
North Shore Community Christmas Dinner 2015
– December 12, 2015 at 5:30 pm - 8:30 pm
A Christmas Potpourri: Malcolm Guite [UK poet] & Friends
– December 12, 2015 at 7:00 pm - 9:00 pm
A Traditional Christmas with the VSO
– December 12, 2015 at 7:30 pm - 9:30 pm
Celebrate!: A Good Noise Christmas
– December 12, 2015 at 8:00 pm - 10:00 pm
Vancouver Bach Choir: Handel's Messiah
– December 12, 2015 at 8:00 pm - 10:00 pm
Reframe 10-session course connecting Faith & Life (first & third Sundays)
– December 13, 2015 at 1:00 pm - 2:30 pm
Celebrate!: A Good Noise Christmas
– December 13, 2015 at 3:00 pm - 5:00 pm
Carol Sing-a-Long with the Vancouver Children's Choir
– December 13, 2015 at 4:00 pm - 5:30 pm
Marcus Mosely Chorale and Band: Love Comes Alive - a Jazz Vespers Event
– December 13, 2015 at 4:00 pm - 5:30 pm
Blue Christmas
– December 13, 2015 at 7:00 pm - 9:00 pm
Gloria Dei Chorale: Christmas 'Lessons and Carols'
– December 13, 2015 at 7:00 pm - 9:00 pm
Holly Johnson: Art Show and Sale
– December 13, 2015 at 7:00 pm - 9:00 pm
A Traditional Christmas with the VSO
– December 13, 2015 at 7:30 pm - 9:30 pm
Music at Queen's: Caelestra
– December 13, 2015 at 7:30 pm - 9:30 pm
Christmas Presence (not every night)
– December 13, 2015 - December 21, 2015 at 8:00 pm - 10:30 pm
Gloria Dei Chorale: Christmas 'Lessons and Carols'
– December 14, 2015 at 7:00 pm - 9:00 pm
Expecting Emmanuel
– December 14, 2015 at 7:30 pm - 9:30 pm
Blind Boys of Alabama Holiday Show
– December 14, 2015 at 8:00 pm - 10:00 pm
Reason for the Season
– December 15, 2015 at 6:30 pm - 8:30 pm
Brass & Organ Concert
– December 15, 2015 at 7:30 pm - 9:00 pm
musica intima: A Christmas Story
– December 15, 2015 at 7:30 pm - 9:30 pm
Vancouver Pastors Prayer Fellowship Annual Christmas Gathering
– December 16, 2015 at 10:30 am - 2:00 pm
Bethlehem Walk
– December 16, 2015 - December 17, 2015 at 6:30 pm - 8:30 pm
A Traditional Christmas with the VSO
– December 16, 2015 at 7:30 pm - 9:30 pm
Winter Harp
– December 16, 2015 at 7:30 pm - 9:30 pm
Jazz Evensong: We 3 Queens – Karin Plato & Kate Hammett-Vaughan & Jennifer Scott
– December 16, 2015 at 8:00 pm - 10:00 pm
A Traditional Christmas with the VSO
– December 17, 2015 at 4:30 pm - 6:30 pm
Winter Harp
– December 17, 2015 at 7:30 pm - 9:30 pm
A Traditional Christmas with the VSO
– December 17, 2015 at 8:00 pm - 10:00 pm
A Traditional Christmas with the VSO
– December 18, 2015 at 4:00 pm - 6:00 pm
Christmas with Chor Leoni
– December 18, 2015 at 4:30 pm - 6:30 pm
A Traditional Christmas with the VSO
– December 18, 2015 at 7:30 pm - 9:30 pm
musica intima: A Christmas Story
– December 18, 2015 at 7:30 pm - 9:30 pm
Christmas with Chor Leoni
– December 18, 2015 at 8:00 pm - 10:00 pm
Vancouver Chamber Choir: A Dylan Thomas Christmas - A Child's Christmas in Wales
– December 18, 2015 at 8:00 pm - 10:00 pm
Christmas with Chor Leoni
– December 19, 2015 at 2:00 pm - 4:00 pm
Vancouver Cantata Singers: Christmas Reprise XIII
– December 19, 2015 at 2:00 pm - 4:00 pm
A Traditional Christmas with the VSO
– December 19, 2015 at 4:00 pm - 6:00 pm
Laudate Singers Free Family Christmas Concert
– December 19, 2015 at 4:00 pm - 5:00 pm
Christmas Eleganza Tour with Claudia Santiago and Special Guest Performers
– December 19, 2015 at 7:00 pm - 9:30 pm
Gloria Project Concert
– December 19, 2015 at 7:00 pm - 9:00 pm
The Story of Christmas
– December 19, 2015 at 7:00 pm - 9:00 pm
A Traditional Christmas with the VSO
– December 19, 2015 at 7:30 pm - 9:30 pm
musica intima: A Christmas Story
– December 19, 2015 at 7:30 pm - 9:30 pm
Winter Harp
– December 19, 2015 at 7:30 pm - 9:30 pm
Vancouver Chamber Choir: A Charlie Brown Christms - Finding the True Meaning
– December 19, 2015 at 8:00 pm - 10:00 pm
Winter Harp
– December 20, 2015 at All Day
Early Music Vancouver: Festive Cantatas – Praetorius Christmas Vespers
– December 20, 2015 at 3:00 pm - 5:00 pm
A Traditional Christmas with the VSO
– December 20, 2015 at 4:00 pm - 6:00 pm
A Traditional Christmas with the VSO
– December 20, 2015 at 7:30 pm - 9:30 pm
Blue Christmas
– December 21, 2015 at 7:30 pm - 9:30 pm
Light: A Christmas Concert
– December 22, 2015 at 7:00 pm - 9:00 pm
Christmas Eve Eve: Carols in the City
– December 23, 2015 at 5:30 pm - 7:00 pm
Good Noise: Gospel for the City
– December 24, 2015 at 1:00 pm - 3:00 pm
Jesus' Birthday Party for Children
– December 24, 2015 at 4:00 pm - 5:00 pm
Journey of Christmas
– December 24, 2015 at 6:00 pm - 9:00 pm
Canada Chinese Christian Winter Conference 2015
– December 27, 2015 - December 31, 2015 at All Day
Worship Invades 2016
– December 31, 2015 - January 1, 2016 at 9:00 pm - 1:00 am