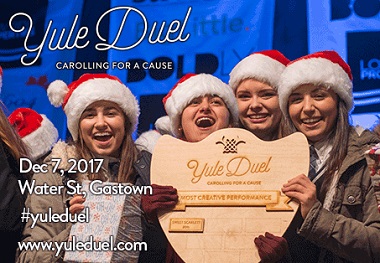 No doubt many public Christmas celebrations lack any significant spiritual element, but there are exceptions. The most obvious are the concerts, many of which are listed below. And here are a couple of others that show promise:
Yule Duel
More than 20 choirs will be at Yule Duel, 'carolling for a cause' tonight (December 7) from 6 – 9 pm along Water Street in Gastown.
An article in the Vancouver Sun noted:
"The competition is surprisingly fierce as there are so many talented vocal groups in Vancouver," said two-time judge Morna Edmunson. "The choirs have to step up their acts and get more creative every year. The entertainment is outstanding." . . .
. . . if you want to make your voice heard without joining a choir, you can get a voting ballot with a $5 donation. All proceeds will go to May's Place, a hospice providing compassionate end-of-life care to the most vulnerable in Vancouver's Downtown Eastside. Last year's Yule Duel raised $58,000 for May's Place.
May's Place is named after May Gutteridge. At the time of her death in 2002, Douglas Todd said in the Vancouver Sun:
Wearing her trademark green beret, Gutteridge ran St. James Social Services Society for more than 30 years, expanding it into a major hostel and outreach agency with an annual taxpayer-supported budget in excess of $3 million.
Gutteridge was a devout Christian who prayed and meditated an hour a day, often at St. James Anglican Church in the Downtown Eastside, before going about her work in one of Canada's poorest neighbourhoods.
Dundarave Nativity
The elders of the Squamish Nation return to the Dundarave Festival to show their love for the Dundarave Nativity, and to bless the festival with paddle songs and traditional dances. Join master storyteller Wendy Charbonneau in the Dundarave Nativity Pavilion to experience first-hand the power of a deep spiritual connection to this beach and this season.
The origins of the Dundarave Nativity remain a mystery. Carved of old growth cedar, this setting depicting the first Christmas has been at the centre of the season in West Vancouver for generations. The carvings show the serenity and universality of that moment, in faces composed to evoke the features of an Aboriginal holy family with angel, shepherd and kings of every race.
The original carvings have been painstakingly restored by master carver Bill Seminoff. Over hundreds of hours, Bill has made this a labour of love, working to the completion of the setting with a new figure, King Melchior, in the festival's last season. This season he will unveil the latest addition to the Dundarave Nativity. The new carvings have been made possible through the generous gift of two tons of red cedar from Timberwest.
Vigil With the Silenced
The holiday season is not all carols and Christmas trees. The 13th annual Vigil With the Silenced: A Just Advent will take place twice, December 7 at St. Andrew's-Wesley United Church and December 21 at the corner of 1st Avenue and Commercial Drive. Both will begin at noon.
Organizers describe the purpose of the vigils:
Advent 
prepares us for the birth of the One who embodies caring . . . something about being born in a "cowshed," amid the phenomenally hierarchical 
Roman Empire
, then, that links to us, now . . .
Well-intentioned annual blitzes to donate goods for the homeless or food banks or contribute gifts to 'needy' children might mask the dark reality of political and economic policies that perpetuate poverty and homelessness. 
Advent
 is a prophetic time – an un-masking time – to profess light coming into the world. We vigil
 to summon a setting right of that which has caused hurt, exclusion and anguish. 
James Houston at 95
If you know of Regent College, you probably have come across Dr. James Houston in one way or another. Speaking at chapel December 5, just before the assembly sang 'Happy Birthday,' Regent's president Jeff Greenman said, "It is hard to overstate his influence."
Noting that Houston was involved before the school officially began, he also pointed out that his vigour persists at 95 – this year he has taught in Brazil, Paraguay and Japan, finished off a couple of books and still teaches courses at Regent.
Here is a portion of the write-up about Houston on the Regent College site:
James Houston is the one of the "founding fathers" of Regent College. In 1966, while he was university lecturer at Oxford (where he taught from 1947 to 1971, specializing in cultural and historical geography), James Houston was invited by a committee of Granville Chapel to become the first principal of Regent College.
Regent received its charter in 1968, and James Houston was appointed principal in 1970, and also taught part-time at the University of British Columbia. Along with vice principal W.J. Martin, he sought affiliation for the college with UBC, which was granted in 1974.

Following his term as principal of the college from 1970 to 1978, James Houston was appointed chancellor (1978-1980) as well as professor of spiritual theology, until his appointment was endowed in 1991 as the Board of Governors' Professor of Spiritual Theology. 
Go
here
for a podcast interview, in which Houston discusses the early days of Regent College, how Christian business leaders will shape Christianity's future, living a long life of gratitude, the loss of elders in Western culture, and why quantum physics is important.
Ken Smith, remembered
Another major influence on the Regent College story passed away recently. Ken Smith (June 17, 1927 – November 14, 2017) lived in Vancouver his whole life, working in business and property development.
He was instrumental in starting up the Calling Foundation (which built Parkdale Manor and Blenheim Lodge), Pioneer Camps on Thetis Island and at Chehalis, as well as Chemainus Theatre and the Honeymoon Bay Retreat Centre on Vancouver Island. (I knew Ken from Christian Info Society; he played a very significant role on the board while I worked there.)
He also had a major role in the formation of Regent College. Rod Wilson, former president of Regent, spoke of his role; here is a portion of what he said.
Those of you who knew Ken, knew that he loved to talk about the early days of Regent College. Even in his later years when his faculties were not what they once were, he could provide fascinating details on meetings, events and people. I loved hearing his stories about the various gatherings that occurred in the mid-1960s.
It was in 1966 when he returned from a trip to the Dominican Republic that he had a conversation with Brian Sutherland. This interaction was a continuance of dialogue that had been occurring about the commencement of a new school. But now it was time, since this was a Christian group, to form a committee, comprised of Brian Sutherland, Marshall Sheppard, Dick Richards and Ken.
His story of the naming of Regent College was iconic. There was a discussion about what to call this new organism and a decision was made that it would not have Bible, Seminary or Theology in the title because that would make it sound too much like schools that were training people for so-called full-time ministry.
But it also needed to be a short name that was easy to understand and memorable. Ken listened as the conversation went on and remembered that he had some real estate in Vancouver named Regent Properties. Can't you hear him? "What about calling it Regent College?" he said. The rest, as they say, is history!
Ken was aware that in any organization there is often debate and disagreement as to who founded it, who was responsible for its existence, and who should be receiving the credit for its origin. Those of you who know Regent College will also know that such debate characterizes its oral history. But for Ken, this was not an issue at all. In an email to Regent's development director Christie Goode in 2014, Ken said this . . .
The many threads that became the tapestry of the college inspires me to give you my personal perspective on the naming of the founder. The founder of Regent College was the living Lord God. No individual could claim this title. A group of brothers, led by the Spirit, each had a part in the foundation and formation of the college, but it is the Lord's doing and it is marvelous in our eyes.
Ken always got the core vision of Regent College and spread the word with his own inimitable voice. In his written reflections at the 25th anniversary of the college he wrote . . .
It didn't make sense to spend 16 years or more to be trained in a profession and only have a Sunday School indoctrination in the most important subject of our life . . . our faith.
Ken and I had many conversations about money, fundraising and budgets and he always came back to the same refrain. He summarized it well in those same remarks at the 25th anniversary of the college . . .
Each succeeding year meant fresh challenges and stretching of our faith in the person of the Lord for all our needs.
And that was how Ken framed his own incredible financial sacrifice for the school. This was not his money to retain and consume, but it was the Lord's provision that he was to steward for the development of the enterprise. . . .
Dec 2017
Overnight Christmas
– December 7, 2017 - December 10, 2017 at All Day
13th annual Vigil With the Silenced: A Just Advent
– December 7, 2017 at 12:00 pm - 1:00 pm
Yule Duel
– December 7, 2017 at 6:00 pm - 9:00 pm
Adult & Teen Challenge BC Banquet Tour
– December 7, 2017 at 6:30 pm - 9:00 pm
Christmas Tales
– December 7, 2017 - December 8, 2017 at 7:00 pm - 9:00 pm
Aurora: Annual Christmas Concert
– December 8, 2017 - December 10, 2017 at All Day
Christmas Open House at the Duncan Africa Society & Guitar Co.
– December 8, 2017 - December 9, 2017 at 11:00 am - 3:00 pm
It's a Wonderful Life: A Live Radio Play
– December 8, 2017 - December 10, 2017 at 6:00 pm - 9:00 pm
NightShift Christmas Open House
– December 8, 2017 at 6:00 pm - 8:00 pm
Homes for the Holidays? A Fundraiser for the tent cities and Alliance Against Displacement
– December 8, 2017 at 7:00 pm - 9:00 pm
Singing Christmas Tree
– December 8, 2017 at 7:30 pm - 9:00 pm
Eastside Story Guild: The Whisperer - The Story of Elijah
– December 9, 2017 - December 12, 2017 at All Day
Holy is God's Name Advent Retreat
– December 9, 2017 at 9:30 am - 12:30 pm
After Arrival: Free Workshop on Private Sponsorship of Refugees
– December 9, 2017 at 10:00 am - 3:00 pm
St. Hildegard's Sanctuary Quiet Day for Advent
– December 9, 2017 at 10:00 am - 3:00 pm
Two Voices, One Accord: The Challenge of Intergenerational Worship
– December 9, 2017 at 10:00 am - 3:00 pm
Singing Christmas Tree
– December 9, 2017 - December 10, 2017 at 3:00 pm - 4:30 pm
Singing Christmas Tree
– December 9, 2017 - December 10, 2017 at 7:00 pm - 8:30 pm
Handel's Messiah
– December 9, 2017 at 8:00 pm - 10:00 pm
Laudate Singers: Making Spirits Bright!
– December 10, 2017 at 3:00 pm - 4:30 pm
Jazz Vespers with the Mighty Fraser Big Band
– December 10, 2017 at 4:00 pm - 5:30 pm
Jazz Vespers: Jen Hodge, Company B
– December 10, 2017 at 4:00 pm - 5:00 pm
Blue Christmas
– December 10, 2017 at 7:00 pm - 8:00 pm
Christmas Concert with the Silvertones
– December 11, 2017 at 2:00 pm - 3:00 pm
Lunchtime Concert: Rosemary Siemens (violin) & Eli Bennett (saxophone)
– December 12, 2017 at 12:10 pm - 12:50 pm
Christmas with HOPE International Development Agency & Pacific Theatre
– December 13, 2017 at 7:00 pm - 10:00 pm
Almost, Maine by John Cariani
– December 14, 2017 - December 16, 2017 at 12:00 am
Christmas at the Starlight Theatre
– December 14, 2017 - December 18, 2017 at All Day
Cold Clear Sky: An Anthology of Woodcuts by Dan Law
– December 14, 2017 - December 21, 2017 at All Day
The Lion, the Witch & the Wardrobe
– December 14, 2017 - December 31, 2017 at All Day
Timberline Country Christmas
– December 14, 2017 - December 20, 2017 at All Day
Winter Harp
– December 14, 2017 at 7:30 pm - 9:30 pm
Christmas with Chor Leoni
– December 15, 2017 at All Day
Journey of Christmas
– December 15, 2017 - December 24, 2017 at All Day
Loft Country Christmas (four evenings)
– December 15, 2017 - December 16, 2017 at 5:30 pm - 9:30 pm
Carol Sing-Along with Michael Hart
– December 15, 2017 at 7:00 pm - 9:00 pm
Singing Christmas Tree
– December 15, 2017 at 7:30 pm - 9:00 pm
The Christmas Toy Factory
– December 15, 2017 - December 16, 2017 at 7:30 pm - 9:30 pm
Good Tidings! A Good Noise Gospel Christmas
– December 15, 2017 - December 16, 2017 at 8:00 pm - 10:00 pm
Bez Christmas Craft Market
– December 16, 2017 at 10:00 am - 8:00 pm
Christmas with Chor Leoni
– December 16, 2017 at 1:30 pm - 3:30 pm
Amabilis Singers: A Christmas Gift
– December 16, 2017 at 2:00 pm - 4:00 pm
Out of the Cold presents: Christmas Market & Dessert Theatre
– December 16, 2017 at 3:00 pm - 9:00 pm
Singing Christmas Tree
– December 16, 2017 - December 17, 2017 at 3:00 pm - 4:30 pm
North Shore Community Christmas Dinner 
– December 16, 2017 at 5:00 pm - 8:00 pm
Christmas Dinner Theatre: A Tree Lot Christmas
– December 16, 2017 at 5:30 pm - 8:00 pm
Carols for the Climate
– December 16, 2017 at 7:00 pm - 10:00 pm
Don Moen: Christmas - A Season of Hope, with Lenny LeBlanc
– December 16, 2017 at 7:00 pm - 10:00 pm
Frontline Voices: A Season of Hope
– December 16, 2017 at 7:00 pm - 9:00 pm
Singing Christmas Tree
– December 16, 2017 - December 17, 2017 at 7:00 pm - 8:30 pm
I Can See the Star, with the Marcus Mosely Chorale
– December 16, 2017 at 7:30 pm - 9:45 pm
Winter Harp
– December 16, 2017 at 7:30 pm - 9:30 pm
Vancouver Chamber Choir: A Baroque Christmas – Bach and More
– December 16, 2017 at 8:00 pm - 10:00 pm
Laudate Singers: Free Family Christmas Concert
– December 17, 2017 at 2:00 pm - 3:00 pm
Festival of Nine Lessons and Carols
– December 17, 2017 at 3:00 pm - 4:00 pm
Out of the Cold presents: Christmas Market & Dessert Theatre
– December 17, 2017 at 3:00 pm - 9:00 pm
The Gallery Singers: Angels from Heaven Came
– December 17, 2017 at 3:00 pm - 5:00 pm
Winter Harp
– December 17, 2017 at 3:00 pm - 5:00 pm
Laudate Singers: Free Family Christmas Concert
– December 17, 2017 at 4:00 pm - 5:00 pm
Christmas Tales
– December 17, 2017 at 7:00 pm - 9:00 pm
Winter Harp
– December 17, 2017 at 7:00 pm - 9:00 pm
Christmas with Chor Leoni
– December 18, 2017 at All Day
Christmas Presence
– December 19, 2017 - December 23, 2017 at All Day
Christmas Tales
– December 19, 2017 - December 21, 2017 at 7:00 pm - 9:00 pm
13th annual Vigil With the Silenced: A Just Advent
– December 21, 2017 at 12:00 pm - 1:00 pm
Christmas Tales
– December 22, 2017 at 6:30 pm - 8:30 pm
Vancouver Cantata Singers: Christmas Reprise
– December 23, 2017 at 2:00 pm - 3:00 pm
Early Music Vancouver: Festive Cantatas
– December 23, 2017 at 7:30 pm - 9:30 pm
Light of the Night
– December 24, 2017 at 4:00 pm - 8:00 pm
Celebrate New Year's Eve 2018 with Worship Invasion
– December 31, 2017 - January 1, 2018 at 9:30 pm - 12:30 am