Times are tough in Britain, which just passed Italy and Spain for the highest number of coronavirus deaths. But a viral new worship video and an interview with the irrepressible Alpha leader Nicky Gumbel offer clear evidence that the church there has not lost hope.
The UK Blessing went on YouTube May 3 and within a day had more than one million views (now 1.6). Dozens of individuals – each singing from their own home – blended their voices in a blessing for their nation, taken directly from scripture.
The song sounds beautiful in Canada too; I recommend taking a listen.
Here is how the musicians describe The UK Blessing:
At this unique and challenging time in the United Kingdom over 65 churches and movements, representing hundreds of others, have come together online to sing a blessing over our land. Standing together as one, our desire is that this song will fill you with hope and encourage you.
But the church is not simply singing a blessing, each day we're looking to practically be a blessing. Many of the churches included in this song have assisted with supplying over 400,000 meals to the most vulnerable and isolated in our nation since COVID-19 lockdown began.
This alongside phone calls to the isolated, pharmacy delivery drops and hot meals to the NHS frontline hospital staff. Our buildings may be closed but the church is very much alive!
There is even a sort of local connection for The Blessing. Kari Jobe and her husband Cody Carnes, along with two others from Elevation Worship, wrote it in early March, sang it at Elevation Ballantyne in Charlotte, North Carolina, and released the video worldwide March 6.
Both Kari Jobe and Cody Carnes were to have participated in the Worship Central Conference here in Vancouver March 6 – 7. She was unable to attend, in the end, but he led worship on the 6th, so he introduced the participants to The Blessing on the day of its release.
We can now experience their original version of the song online; it has gone even more viral than The UK Blessing, with more than 11 million views.
Shaila Visser and Nicky Gumbel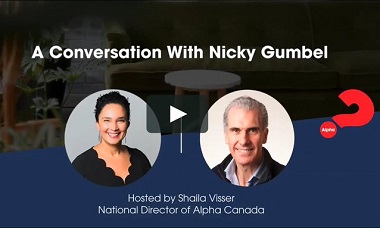 Another blessing from the United Kingdom is the Alpha Movement, guided by Nicky Gumbel.
Late last week, Shaila Visser, national director of Alpha Canada – based in New Westminster – interviewed Gumbel, whose words offer an encouraging complement to The UK Blessing.
Though he recognized how hard COVID-19 is for so many people – and that his wife Pippa (Pips to him) recently had lung cancer and is thus in a vulnerable category – he said "there is a huge amount of opportunity."
He added:
We've said to the church [Holy Trinity Brompton in London, where he is vicar and where Alpha was born] right from the start, this is not a moment to retreat, this is a moment to see the kingdom of God advance.
Gumbel discussed how the church should respond generally during this time of disruption, but not surprisingly, he did spend a fair bit of his time talking about Alpha – in particular his real surprise at the effectiveness of the online version.
He said:
Alpha Online has totally, totally astonished me. As you know Shaila, you've been proved right and I've been proved wrong on many occasions – and this is another occasion where I've been proved totally wrong, because . . . I always said, why would anyone want to do Alpha online, it's about having a meal together , , ,
But when COVID-19 came along, his own Alpha group was forced online, and "it worked so well." But he still wondered whether that would be the case with people just meeting for the first time online.
Well, he said, it does:
Alpha Online works so much better than Alpha in person – and I've been trying to work out the last five weeks why is this? Why has it worked so much better?
I don't yet know, but I can tell you a few things that work better:
First of all, they are so much more relaxed. They don't have to travel to get there, they don't have to travel home at the end of the evening, and they are sitting in their home with a cup of coffee and they are so relaxed.
Secondly, we don't have to play the name game to learn their names, because with Zoom all their names come up on the screen. . . . It's amazing how, when you use people's names, that creates a much closer bond, much faster.
Next thing, people are willing to open up online in a way that they're not willing to do when they're face to face, because it's much less threatening. . . .

Visser said:
I'm thrilled that the church in Canada has picked up Alpha Online and has over the last few weeks got trained. We've provided webinars for them, and 349 churches are running Alpha online right now, with over 470 courses. Which for us, for spring, is extraordinary.
Gumbel said they are starting two courses each week, Wednesday morning and Wednesday evening, but added, "We're put to shame, because I gather Jon Tyson in New York is starting one every day."
Visser asked him what he would say to church leaders in Canada right now:
Gumbel responded:
God is able to take something that is horrible and use it for good. . . .
Something is happening, and the world is being prepared to pay a cost to save lives, quite rightly, to save lives. But doesn't that demonstrate that actually, if we're prepared to pay a cost, we could do a lot more.
COVID-19 is a threat to everyone, including the rich. And by the rich I don't mean people who are really wealthy. I mean people who have a bike, or a car, or a roof over their head, or food every day. Because it affects the richer part of the world, we take action.
But what about the 25,000 people who die every day of starvation, including eight and a half thousand children. Put their pictures on our front page every day and people would say we should pay a cost. There's enough food in the world to go around. We should pay a cost to do something about this.
What about sanitation? What about clean water? What about all these issues?
What about homelessness? In London, all the homeless have been put into hostels because we had to. But why can't we do that in normal times? Why can't we solve these issues? Yes there's a cost, but what this shows is we're prepared to pay a price for that.
But then, what about the most important thing that anyone can experience, which is salvation? The prayer in 2 Chronicles 7:14 is, "If my people who are called by my name will humble themselves and pray and seek my face and turn from their wicked ways, then will I hear from heaven and forgive their sins and heal their land."
Well, that's what we're praying for, that God will heal our land; our world is broken. But that starts with healing individuals' lives, with bringing salvation to individual lives. And this is a massive opportunity for people to find salvation.
That's why we run Alpha. Not because we want those people doing Alpha. There are many different ways that you can find salvation; Alpha's just one way. I've often said. I'm not committed to Alpha; I'm committed to people meeting Jesus. If I find a way that works for us better, we're going to drop Alpha and do that. But right now I haven't found a better way, so I'm going to keep doing Alpha. . . .
This is global. Almost every place in the world is experiencing this same thing. God has got people's attention. You know the famous C.S. Lewis quote: "God whispers in our pleasures, speaks in our consciences, he shouts in our pain" – and this is God's megaphone to raise a deaf world. He didn't send it, but he can use it, to raise a deaf world..
So this is a moment of opportunity. It will pass. God willing, this will pass. . . .Be proactive. Don't let's sit back at this time . . .