Brentwood Presbyterian Church has been offering live jazz music for years, but the pandemic had forced them online until this week.
They will offer live weekly Wednesday night Devotional Jazz and Jazz Evensong events, along with their annual Christmas Jazz Concert.
Gerry Teichrob runs Pathways Forward as a change consultant, but he is also a jazz musician. Here he introduces Brentwood's unique vision and ministry.
In a time when churches can be perceived as insular and self-serving, it is refreshing to see Brentwood Presbyterian Church bless and nurture the jazz/arts community.
Led by Rev. Dr. Brian Fraser, the small but vibrant congregation has welcomed musicians and artists to share their creative works. Over this past decade a significant part of the church's response to the question "Why do we exist?" has focused on connecting with and offering a venue for the Lower Mainland's jazz-loving community.
The church provides multiple opportunities for Vancouver jazz musicians to share their music with appreciative audiences. Brentwood has hosted a weekly Wednesday evening Jazz Evensong service since 2013, as well as numerous other events and opportunities for jazz musicians and other artists.
These include choral workshops, the 'What Can Jazz Teach the Church' project, and special services such as the Prodigal Son Suite, composed and performed by the church's music director Dan Reynolds, the annual Thomas Merton and Jazz service on Palm Sunday, the Miles Black trio performing Oscar Peterson's Easter Suite, and the 'We Three Queens' Christmas concert.
Many gifted jazz players, including the best of the Vancouver jazz scene, have embraced opportunities to grace the stage at Jazz Evensong. The church's wonderful acoustics – described by musicians and listeners as having depth, warmth and clarity – are a providential asset.
A special part of Jazz Evensong is the opportunity to support Brentwood's 'Socks for Souls' initiative, which has provided thousands of pairs of socks for homeless people.
I became aware of Brentwood through a friend who had started attending Jazz Evensong. As a pastor and jazz musician with Quintessential Jazz band, I was curious to know more about what Brentwood was doing and why.
Since then, I have appreciated the opportunity to get to know the energetic 'jazz provocateur' Brian Fraser.
Whenever we meet, I experience his enthusiasm. His joy was vividly expressed the day he told me the church is now the home for the Brentwood All Stars Jazz Big Band, led by their other music director, Ben MacRae.
When asked what motivates Brentwood's jazz-loving mission, Brian explained:
First, God gifted us with a space that has amazing acoustics and was being grossly underused, in our discernment.
Second, we had a small but determined group of people who loved music and wanted to welcome musicians to use that space to explore together what our with-nessing and witnessing could provoke in aligning church and jazz with God's missioning for justice with kindness and humility.
Third, as jazz legend Monty Alexander says, 'It feels good!'
What started as a vision to serve the jazz and arts community has become a very meaningful ministry – a welcoming space for musicians to share their music. But Brentwood wants to do more than just provide opportunities for musicians.
Part of the mission is to engage and encourage artists to explore their spirituality in a supportive environment. The reflections offered at Jazz Evensong are soul-nourishing for musicians and audiences alike. Brian Fraser has become for many the unofficial chaplain to a community of artists.
Brentwood is an active participant in the divine impulse of 'coming into the world' with a loving embrace. Throughout the Covid pandemic restrictions, Brentwood has hosted several online jazz events and has been looking forward to the day when it is possible to gather once again and enjoy the music.
The Sanctuary at Brentwood is a place where people come together to celebrate, consider, connect and contribute, gently carving out its identity as a space and place for lovers of all things jazz.
Gerry Teichrob is the founder/director of Pathways Forward Transitional Ministry Consulting, which specializes in helping organizations, not-for-profits and churches through leadership transitions. He also plays bass in the Quintessential Jazz Band.
Brian Fraser emailed out to supporters and friends November 22: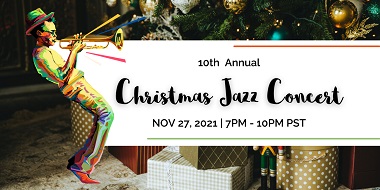 We're back in person for our jazz services this Wednesday, November 24. As you know, there are now two services, with an hour in between to hang and chat. No refreshments yet, but feel free to bring coffee, etc.
Devotional Jazz with the Dan Reynolds Trio and me runs from 6:30 – 7:00pm. If you can't or don't feel comfortable in person, the live stream link is https://youtu.be/9yugYjPXc2c
Jazz Evensong this week [December 1, will be Conrad Good & Friends]. In person is welcome now, but live stream will happen as well at https://youtu.be/3Z0hw0u-rAI
Devotional Jazz and Jazz Evensong will carry on until December 22. The 10th Annual Christmas Jazz Concert will take place this Saturday (capacity 60 people).