It has been a real pleasure to watch the Centre for Missional Leadership (CML) develop into a valuable ecumenical resource for the local Christian community (and beyond) over the past few years.
And I believe the newest addition to the team will add something important to the mix. Albert Chu will join them January 1 as Director of the Centre for Missional Leadership, which is part of St. Andrew's Hall on the UBC campus.
A November 18 release stated:
Rev. Chu is the founding pastor of Tapestry Church, a multi-campus church in the Reformed tradition of over 1,200 people located in the Lower Mainland. . . .
Ross Lockhart, Dean of St. Andrew's Hall, said, "He is a gifted interpreter of gospel and culture, a proven church planter with a desire to equip disciples for ministry, a mentor and recognized leader within the Church in Vancouver . . ."
The Director of the Centre for Missional Leadership provides leadership, oversight and direction for the ministry experiments and programs of CML at St. Andrew's Hall. CML equips missional leaders to enable the flourishing of Christian communities faithfully witnessing to God's mission in the world.
St. Andrew's Hall is a college of the Presbyterian Church in Canada, located on the UBC campus since 1955, providing theological education in partnership with the Vancouver School of Theology. Along with its work through the CML, St. Andrew's "provides a ministry of chaplaincy and hospitality through its residence."
Chu, who has an MA in Sociology from the University of Alberta and an MDiv from Regent College, will work half-time with CML and will continue as lead pastor at The Tapestry.
He will supervise and direct CML Associates in such areas as Cyclical Vancouver, the CML Certificate in Missional Leadership, the Guder Scholar program, the Pastor-in-Residence program, online webinars for the equipping of leaders, as well as occasional missional leadership conferences.
Chu joins what is already a strong team, which includes:
* Rev. Dr. Tim Dickau, who serves as CML Associate for the Missional Leadership Certificate Program, as well as Director of City Gate Leadership Forum. Prior to joining CML, Tim served for 30 years as pastor of Grandview Church in East Vancouver. He will be leading three events early next year; watch for his 'Creating Conversation' column on Church for Vancouver next week.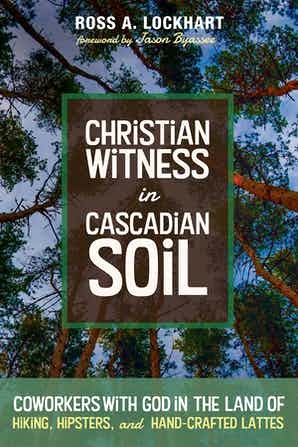 * Rev. Andrea Perrett, a CML Associate in New Witnessing Communities, who curates the Breaking Bread Network, a dinner hosting collective for the Lower Mainland. She is also Assistant Director of Cyclical Cascadia, a church planting support initiative.
* Darrell Guder, who is CML Senior Fellow in Residence. He retired as Princeton Theological Seminary's Henry Winters Luce Professor of Missional and Ecumenical Theology and edited the influential book Missional Church in 1998. He visits to lead classes several times each year.
CML staff have written several recent books:
* Ross Lockhart, editor: Christian Witness in Cascadian Soil (Cascade Books, 2021)
* Ross Lockhart & Jason Byassee: Better Than Brunch: Missional Churches in Cascadia (Cascade Books, 2020)
* Tim Dickau: Forming Christian Communities in a Secular Age (Tyndale Academic Press, 2021)
* Ross Lockhart: Beyond Snakes and Shamrocks: St. Patrick's Missional Leadership Lessons for Today (Cascade Books, 2018)
Christmas Bazaars
Is it just me, or are Christmas Bazaars and Craft Fairs back with a vengeance? The Anglicans seem to have a stranglehold on the market, and their events are popping up all over Metro Vancouver.
Some have already come and gone, believe it or not, but there are plenty left to enjoy, especially over the next two weekends. They're a nice addition to the Christmas season, especially after this long spell of enforced (sometimes chosen) distancing.
Here are the ones I'm aware of:
One anomaly is the A Rocha Market Christmas Open House, December 4, 10 am – 4 pm in south Surrey. Not a church event and not Anglican, but well worth experiencing.
Evangelicals & Science Skepticism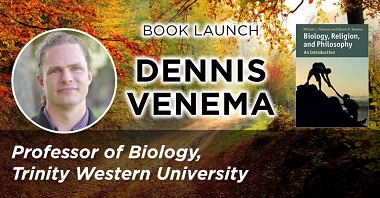 Dennis Venema, a Professor of Biology at Trinity Western University will launch his latest book, Biology, Religion and Philosophy: An Introduction (Cambridge University Press, 2021) next Monday (November 29) on the TWU campus.
Here is part of the description of the event:
With increasing science skepticism among evangelicals, the church faces pastoral and missional pressures that science alone is not capable of addressing.
Despite current trends, an understanding of the deeper and richer history of Christianity, science, and epistemology may provide signposts to a better future.
This talk will survey some areas of evangelical science skepticism and discuss how philosophy might help the church navigate these issues.
Venema (PhD, UBC) is a past Fellow of Biology for the BioLogos Foundation and is co-author, with Scot McKnight, of Adam and the Genome: Reading Scripture After Genetic Science (Brazos, 2017).
His research focuses on the genetics of pattern formation using the common fruit fly, Drosophila melanogaster. He also writes and speaks widely on the intersection of evolutionary biology and Christian faith.
This event is funded by a Supporting Structures grant from Scholarship & Christianity In Oxford and Canadian Scientific & Christian Affiliation (CSCA).
Go here for more information.
Nov 2021
Four Visions: Outside Looking In
– November 17, 2021 - December 12, 2021 at All Day
Explore the Indigenous Atlas of Canada
– November 22, 2021 - November 26, 2021 at 10:00 am - 3:00 pm
Run Alpha Q & A
– November 25, 2021 at 10:00 am - 11:00 am
Jordan Peterson: Sic et Non, with Ron Dart
– November 25, 2021 at 7:00 pm - 8:30 pm
Palimpsest
– November 26, 2021 - November 27, 2021 at All Day
Annual Christmas Crafts and Lunch
– November 26, 2021 at 10:00 am - 2:00 pm
NightShift Gala 2021
– November 26, 2021 at 6:00 pm - 9:00 pm
Friday Night Talks @ L'Abri: Daniel McDougall, on Food
– November 26, 2021 at 7:00 pm - 8:30 pm
Neil Osborne
– November 26, 2021 at 8:00 pm - 10:00 pm
Emotion-Focused Family Therapy Caregiver Workshop
– November 27, 2021 - November 28, 2021 at 8:30 am - 1:30 pm
Christmas Bazaar
– November 27, 2021 at 10:00 am - 2:00 pm
Holiday Craft Fair
– November 27, 2021 at 10:00 am - 3:00 pm
St. John's Christmas Fair
– November 27, 2021 at 11:00 am - 2:00 pm
Holly Berry Fair
– November 27, 2021 at 1:00 pm - 4:00 pm
10th Annual Christmas Jazz Concert
– November 27, 2021 at 7:00 pm - 10:00 pm
Discovery Project
– November 29, 2021 at 5:30 pm - 6:30 pm
Dennis Venema Book Launch: Evangelicals & Science Skepticism: Can Philosophy Help?
– November 29, 2021 at 7:30 pm - 9:00 pm
ELO National Forum 2021
– November 30, 2021 at 9:00 am - 2:35 pm
Dec 2021
Advent Prayer Week
– December 1, 2021 - December 8, 2021 at All Day
Jazz Evensong @ Brentwood: Conrad Good & Friends
– December 1, 2021 at 8:00 pm - 8:45 pm
First Christmas Interactive Experience
– December 2, 2021 - December 12, 2021 at 6:00 pm - 9:00 pm
BC One Heart Call to Prayer
– December 2, 2021 at 7:00 pm - 8:30 pm
Chasing the Light: A Himalayan Life Fundraising Event
– December 2, 2021 at 7:00 pm - 9:00 pm
Hans Boersma: Five Theses on Bible Reading
– December 2, 2021 at 7:00 pm - 9:00 pm
Opening Reception: 'Held in the Now' by Fiona Moes Pel
– December 2, 2021 at 7:00 pm - 8:30 pm
Sanctuary's Virtual Christmas Gala: In My Shoes
– December 2, 2021 at 7:00 pm - 8:00 pm
Friday Night Talks @ L'Abri: Liz Snell, On the Novels of Marilynne Robinson
– December 3, 2021 at 7:00 pm - 8:30 pm
Really Good Christians – They Go at Easter and Christmas: Understanding Occasional Religious Practice
– December 3, 2021 at 7:00 pm - 8:30 pm
A Rocha Market Christmas Open House (including carolling)
– December 4, 2021 at 10:00 am - 4:00 pm
Christmas Bazaar
– December 4, 2021 at 10:00 am - 3:00 pm
Christmas Market
– December 4, 2021 at 10:00 am - 3:00 pm
St George's 113th Annual ACW Bazaar
– December 4, 2021 at 10:00 am - 2:00 pm
St. Stephen's Christmas Market
– December 4, 2021 at 10:00 am - 3:00 pm
Book Signing: God's Firestarters
– December 4, 2021 at 11:00 am - 1:00 pm
Mission Central Fundraiser
– December 4, 2021 at 7:00 pm - 9:00 pm
St. Anne's Holiday Bazaar
– December 5, 2021 at 11:30 am - 2:00 pm
Vancouver Welsh Men's Choir: Sing We Now of Christmas
– December 7, 2021 at 7:30 pm - 9:00 pm
City Dream Centre: Christmas Project 2021
– December 8, 2021 - December 20, 2021 at All Day
Christmas Artisan Fair
– December 8, 2021 at 10:00 am - 3:00 pm
Chasing the Light: A Himalayan Life Fundraising Event
– December 8, 2021 at 7:00 pm - 9:00 pm
Christmas Presence
– December 8, 2021 - December 22, 2021 at 8:00 pm - 10:00 pm
Jazz Evensong @ Brentwood: Triology, with Marcus Mosely
– December 8, 2021 at 8:00 pm - 8:45 pm
Integrity: Fighting the Evil of Corruption
– December 9, 2021 at 6:00 am - 8:00 am
Conversations with . . . Wanda Fost: Connecting Rest and Generosity
– December 9, 2021 at 6:30 pm - 8:00 pm
Good Tidings! A Good Noise Gospel Christmas (3 shows)
– December 10, 2021 - December 11, 2021 at All Day
Changing the Way We Welcome Refugee Claimants: Research & Recommendations
– December 10, 2021 at 1:00 pm - 2:30 pm
Christmas at Tenth, with Ron Reed & Michael Hart (4 events)
– December 11, 2021 - December 12, 2021 at All Day
Vancouver Thunderbird Chorus: 'Tis the Season
– December 11, 2021 at 2:00 pm - 3:30 pm
Marcus Mosely Chorale: Peace on Earth
– December 11, 2021 at 2:30 pm - 4:00 pm
Christmas Drive Thru
– December 11, 2021 at 4:30 pm - 6:30 pm
Join Theo Bessem, Andrew Marcus, Joe Mettle and Naomi Owobowale for a Night of Worship
– December 11, 2021 at 6:00 pm - 8:00 pm
VSO Pops: A Dee Daniels Christmas
– December 11, 2021 at 8:00 pm - 9:30 pm
The Gallery Singers: We Wish You a Merry Christmas
– December 12, 2021 at 3:00 pm - 5:00 pm
Vancouver Welsh Men's Choir: Sing We Now of Christmas
– December 13, 2021 at 7:30 pm - 9:00 pm
A Post-Pandemic Missiology: A Candid Conversation with Denominational, Regional and Network Leaders
– December 14, 2021 at 7:00 am - 8:00 am
Alpha Webinar: Stories of Celebration
– December 14, 2021 at 9:00 am - 10:00 am
José Euzebio Costa Silveira: Common
– December 15, 2021 - January 12, 2022 at All Day
José Euzebio Costa Silveira: Common (opening reception)
– December 15, 2021 at 4:00 pm - 7:00 pm
Jazz Evensong @ Brentwood: We Three Queens
– December 15, 2021 at 8:00 pm - 8:45 pm
Festive Cantatas: Bach's Christmas Oratorio featuring Pacific Baroque Orchestra
– December 16, 2021 at 7:00 pm - 8:30 pm
Vancouver Welsh Men's Choir: Sing We Now of Christmas
– December 16, 2021 at 7:30 pm - 9:00 pm
Christmas with Chor Leoni (six shows)
– December 17, 2021 - December 20, 2021 at All Day
Carols in the City
– December 17, 2021 at 4:00 pm - 7:00 pm
Sleighbell Songs: A Musical Benefit for the Surrey Foodbank
– December 17, 2021 at 7:00 pm - 8:30 pm
Marcus Mosely Chorale: Peace on Earth
– December 17, 2021 at 7:30 pm - 9:00 pm
Christmas Tales (two shows)
– December 18, 2021 at All Day
North Shore Community Christmas Dinner (volunteer opportunities)
– December 18, 2021 at All Day
Vancouver Symphony Orchestra: Traditional Christmas (3 shows)
– December 18, 2021 - December 19, 2021 at All Day
Vancouver Welsh Men's Choir: Sing We Now of Christmas
– December 18, 2021 at 10:00 am - 11:30 am
The Five Love Languages Workshop
– December 18, 2021 at 11:00 am - 2:00 pm
Vancouver Cantata Singers: Christmas Reprise XVIII
– December 18, 2021 at 2:00 pm - 3:30 pm
Winter Harp
– December 18, 2021 at 3:00 pm - 4:30 pm
Re:Birth – A Christmas Celebration
– December 18, 2021 at 4:00 pm - 5:30 pm
Brian Doerksen: Christmas at Our House
– December 18, 2021 at 6:00 pm - 7:00 pm
Winter Harp
– December 18, 2021 at 7:00 pm - 8:30 pm
Vancouver Cantata Singers: Christmas Reprise XVIII
– December 18, 2021 at 7:30 pm - 9:00 pm
Tidings of Comfort & Joy
– December 19, 2021 at 2:00 pm - 3:30 pm
Joy to the World: Jazz Christmas Concert & Sing-along
– December 19, 2021 at 3:00 pm - 4:30 pm
Winter Harp (two shows)
– December 19, 2021 at 3:00 pm - 8:30 pm
Christmas Caroling Event
– December 19, 2021 at 6:00 pm - 7:00 pm
Dickens' 'A Christmas Carol' Reading
– December 19, 2021 at 7:00 pm - 8:30 pm
Blue Christmas Service
– December 21, 2021 at 3:00 pm - 4:00 pm
Winter Harp
– December 21, 2021 at 7:30 pm - 9:00 pm
Jazz Evensong @ Brentwood: Ilhan Saferali & Friends
– December 22, 2021 at 8:00 pm - 8:45 pm