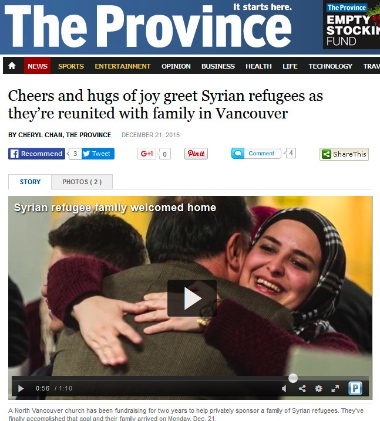 "Today after a long journey we finally welcomed our new Syrian neighbours to Canada! It was an honour to help reunite one of our neighbours with his family." That post on the Canyon Heights Church Facebook page referred to the long journey made by the refugees, but also to the church's experience.
Canyon Heights has been working with Hisham Wattar, ever since he came into their Capilano Grind coffee house a couple of years ago and told them how his family (his sister, two nieces and two of one niece's children) remained in limbo in Cairo, Egypt after fleeing Syria several years ago.
Canyon Heights is on Capilano Road, across from the Cleveland Dam in North Vancouver; Wattar – who runs Best Falafel on Commercial Drive – is not a member, but he lives nearby.
Wattar, along with family, friends and Canyon Heights members, greeted the refugees at Vancouver International Airport December 21. There are good video interviews by The Province and Global News with Wattar, pastor Steve Moore and members of the refugee family. I commented on the situation back in June.
"When he asked me that day, I told him we'd try and see what happens," said Moore. "If I knew how great it was going to be, I would have got involved in this process a long time ago." Wattar and the church members put up $48,000 to bring the family members in, so the move hasn't cost taxpayers anything.
Several other groups of refugees have already arrived at churches. Last week I noted that Peace Mennonite Church welcomed the first family in this wave of Syrian refugees. Since then, a family sponsored by First Baptist Church has arrived. And another, sponsored by Holy Nativity Orthodox Church in Langley. No doubt there are others . . . and there will certainly be many more in the near future.