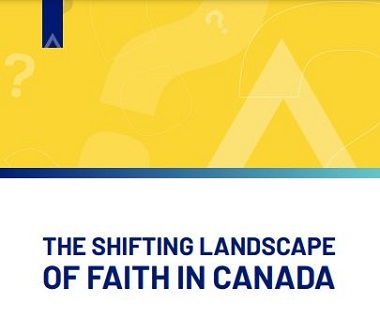 A leading Christian think tank released The Shifting Landscape of Faith in Canada November 23. The 61-page Cardus report, written by Ray Pennings and Jenisa Los, builds on research carried out with the Angus Reid Institute since 2017.
The substance of the paper was prepared this spring (a Church for Vancouver article was posted April 20). Cardus will host an assessment of the report at its Ottawa office and online November 24.
A release from Cardus stated:
Religion holds an increasingly delicate place in Canadian society according to The Shifting Landscape of Faith in Canada, a new report from think tank Cardus. The report compiles data from nine representative surveys of the Canadian population, creating one of the most comprehensive looks at religion in Canada.
The findings suggest:
Upwards of 60 percent of all Canadians say God and religion should be completely out of public life.
Non-religious Canadians tend to view all faith groups as damaging to Canadian society.
Canadians under age 40 are more positive about faith groups' contributions to public life than their older counterparts, except for the contributions of Roman Catholic and Evangelical Christians.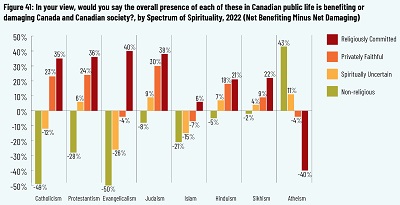 "Canadians are seeing an increasingly negative association with faith, which suggests that faith communities aren't telling their story well," says Ray Pennings, executive vice president of Cardus and a report co-author.
"Religious communities need to find ways to communicate their faith in ways secular Canadians can understand, emphasizing their positive contributions to Canadian society in deeds as much as in words."
The findings also suggest there is some appetite for spiritual matters among secular Canadians:
Almost half of Canadians are spiritually uncertain – not religiously observant, but open to a reality beyond the physical world.
Canadians who've joined a new faith are more likely to have been raised in no religious tradition than in a religious one.
Following is the Introduction to the study.
In 2022, Canadians' relationship to faith, spirituality and organized religion cannot be described as a linear path but rather is better categorized as a journey of faith that is continually shifting over time.
At the core, certain key questions highlight Canadians' complicated journey of faith: How have Canadians' understanding of God or a higher power changed over time? Are Canadians practicing religion in a public and private manner today? Are Canadians who identify as religious public about their faith? How do Canadians view faith communities that are different from their own? What factors draw Canadians toward and away from religion?
Not everyone who was born in a religious tradition stays in that tradition, but neither do those who were born in a non-religious background. In the midst of this two-way traffic and journey of faith, what can be said about the future of faith institutions and their impact in the public square?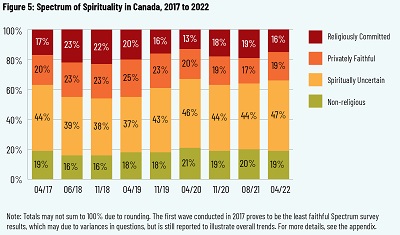 In exploring these questions, Cardus maintains that faith is a core part of human life. Every Canadian has a belief system that guides how they make sense of the world around them, and previous studies have shown how these beliefs predict people's behaviour.
So, while this paper may be of particular interest to faith leaders, it also has important implications for all Canadians.
Canada's religious landscape remained largely unchanged from the mid-nineteenth century until the end of World War II, when the majority of Canadians identified as Roman Catholic or Protestant.
Previous research has explored how Canada's religious landscape has changed shape through the Quiet Revolution in the 1960s, which weakened the Catholic Church's influence over social institutions; rising secularization; and an increasing number of immigrants from countries in which Christians are in a minority. 
While Statistics Canada data indicates an increasingly diverse religious landscape and a growing number of Canadians who have no religious affiliation (23.9 percent in 2011 versus 12.5 percent in 1991), Cardus's research has illustrated that the religious affiliation Canadians report may not be an accurate depiction of their overall spirituality, religious beliefs or practices.
Over the past five years, Cardus has worked with the Angus Reid Institute to develop a tool not only to understand these shifts away from religious life but also to identify where these shifts are taking place within and between religious groups in terms of personal and group spiritual beliefs and religious activities.
Several macro-scale theories and their supportive evidence have been presented in social-science research to explain why Western societies are moving away from religion and organized religious activities altogether as well as the reasons for a "shrinking middle category" of those who are religiously affiliated but are less likely to fall on one of the two ends of the religious spectrum.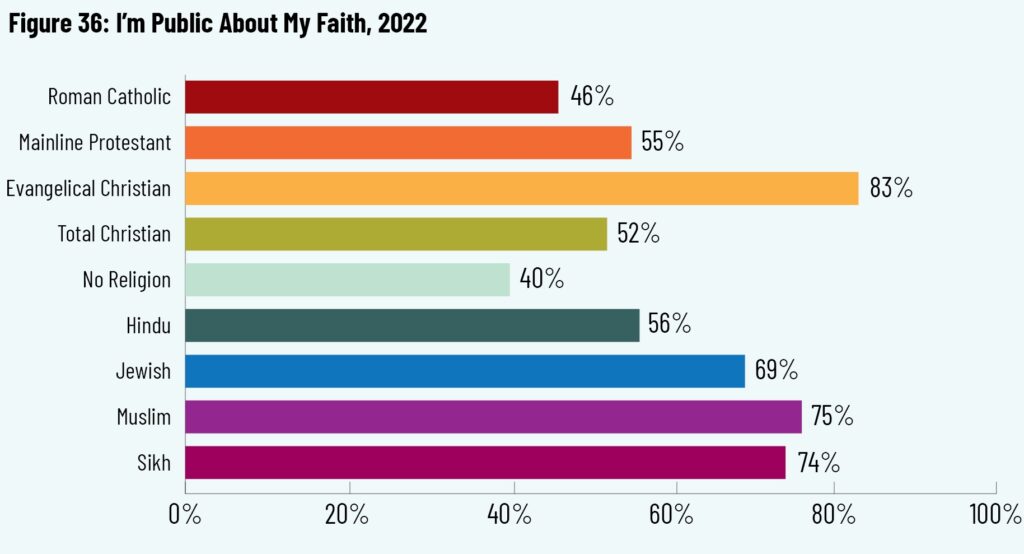 That said, on a micro-scale, there is a lack of understanding about the push-and-pull factors within faith groups and the journey to and away from faith in Canada. What factors draw Canadians to a faith group, and what pushes them away from their childhood religion? How might being raised in a religious tradition predict their religiosity?
Cardus's research is dedicated to filling these gaps, with the aim of fostering a greater commitment to pluralism in public life for the flourishing of Canadian society.
This analysis will first evaluate the most recent Spectrum of Spirituality index results from 2021 to 2022, particularly focused on each religious indicator by sociodemographic characteristics and religious affiliation, and then present a broad overview of how the seven Spectrum indicators have changed since the index's inception.
The study will also explore individuals' journey from the faith tradition they were raised in to their current religious identity, followed by a brief look at correlations between religiosity and their answers to questions about faith in the public square.
The report reflects feedback from nine groups of religious leaders across the nation earlier this year. Some 90 percent of those leaders were Christian, but other faiths were represented as well.
The paper ends with "a discussion for faith leaders on areas of opportunity and future challenges."
Why the Faith? 
Why the Faith Tour Finale

will examine The Shifting Landscape of Faith in Canada today (November 24), online:
We toured Canada, heard from over 200 voices from faith communities in eight different cities, and now we want to share what we heard.
As the final event in our "Why the Faith?" tour, we are unveiling new polling from the Angus Reid Partnership and Cardus which paints a picture of the past, present, and future of spirituality across the country. The data is intended to equip faith leaders and communities, and strengthen their role as social institutions in society.
Join us for a conversation about the changing nature of faith in Canada and what exactly this means for public life. In building a greater, more nuanced understanding of the journey of faith of our communities and fellow Canadians, perhaps we can be better prepared in finding our footing as we seek the common good among institutions, government, and society.
Our panel discussion will be moderated by Rev. Dr. Andrew Bennett, Program Director for Faith Communities at Cardus. We look forward to hearing from our panelists:
Dr. Jaspreet Kaur Bal, Ontario Vice President, World Sikh Organization
Cari Kozierok, Executive Director, Ve'ahavta
Janet Noel-Annable, CEO, Christian Horizons
Questions we will explore include:
Do we still rely on religious communities to care for refugees and immigrants? For caring for the poor?
How are religious communities addressing political differences?
What kinds of polarization are we seeing among youth regarding religion?
A report about census data on religion affiliation in Canada was released by Statistics Canada October 26. Go here for a Church for Vancouver article: 'BC, Metro Vancouver are 'leaders' in Christian decline, religious diversity.'