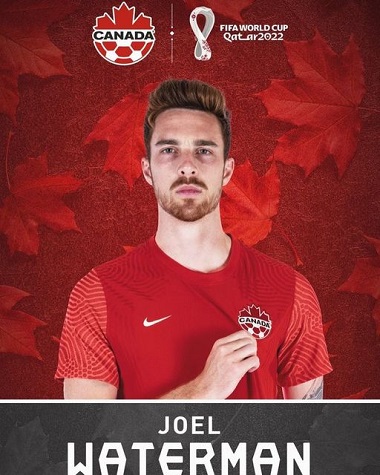 All eyes are on the Canadian men's soccer team as they gear up to take part in the FIFA World Cup next week.
Many of us have jumped on the bandwagon as Alphonso Davies and the team have demonstrated some serious talent and depth. Only once before, in 1986, has a Canadian team qualified for the tournament.
One exciting development in recent days has been the addition of Joel Waterman to the roster November 13.
CBC Early Edition host Stephen Quinn spoke with Mark Parker, who coached him as a young boy. He said:
Absolutely fantastic [that Joel has made the cut]. . . . It's a reward that he's been looking for for many, many years. . . .
I don't think you could script Joel's journey, the way it's turned out. Going from Aldergrove to Langley United to Surrey United, and then to Trinity Western – where he finished a degree before becoming a professional football player with Calgary.
As leaders and parents we always tell the kids, education is important, and many of them look at the goal and the desire to be a professional footballer, but Joel's done both. Now he's with Montreal . . . and in a couple of days on the country's global platform. It's fantastic.
Asked whether it was apparent to Parker, as provincial team coach, that the young Waterman would make it this far, he said no:
Joel was a slight boy, he was a small-framed boy, but now he's a 6'2″, 6'3″ man. . . . So those are things you look at as a youth player, and you go, no, he's too small. But that's not the case. The development model in the world we live in is not linear. It varies and fluctuates all the time.
But one thing I can say about Joel – he was very goal-focused. From a very young age he said that he wanted to do this and he's stuck to his guns and he's come through.
Go here for the full interview.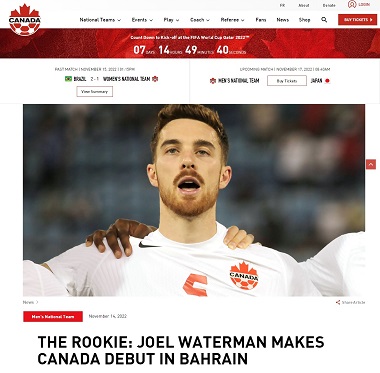 Canada Soccer posted a story about Waterman November 14, which said:
Joel Waterman's path to his Canada debut wasn't as straight or narrow as some of his international peers.
At 26 years still young, he was already older than a dozen other players in the Canada squad when they suited up to face Bahrain on Friday 11 November less than two weeks before the FIFA World Cup Qatar 2022™.
Hard work, commitment and big dreams were part of his journey as he moved from Canada Soccer's National Training Centre in British Columbia to provincial teams, university soccer, the Canadian Premier League and finally Major League Soccer, notably winning a Canadian Championship in 2021 with CF Montréal. He can now add international debutant to the list of his milestones across a burgeoning career.
A November 14 release from TWU stated: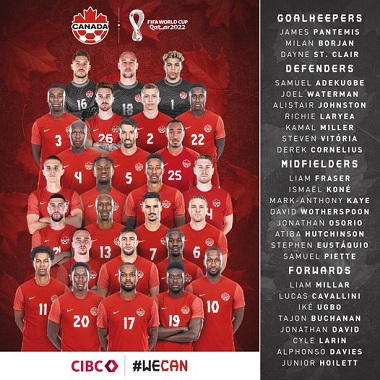 Waterman's meteoric rise within the Canadian soccer ranks sees him become the first-ever Spartan to be named to Canada's senior men's soccer team. He is also the only player on the World Cup roster to have spent five years playing in U SPORTS.
The star defender was named to the roster just two days after earning his first international cap in a friendly against Bahrain. Waterman started for Canada and played all 90 minute
Waterman, who holds the title of being the first Canadian Premier League (CPL) player to make the transition to Major League Soccer (MLS), has been playing for CF Montréal since 2020. Waterman has accumulated 61 appearances since joining the MLS side while tallying three goals in the process.
Waterman, who played his final season with the Spartans in the fall of 2018, captained TWU to a Canada West silver medal and a fourth-place finish at the U SPORTS championship in his senior season.
A 20202 article in Sparta, the annual publication of the TWU Athletics Department, featured Waterman's career and developing faith. Mark Janzen wrote:
It was the summer of 2018 and Waterman was playing with Calgary Foothills FC in the PDL (Premier Development League now known as USL2). With his fifth and final year at Trinity Western on the horizon, his time in Calgary marked a crucial step in both his professional aspirations and his spiritual walk. . . .
Sitting in his billet's kitchen, Waterman was introduced to the family's grandmother, who was a deeply spiritual person. They made some small talk and then she took a more serious tone.
"God has you here for a reason," she said. "I don't know what that reason is, but you're here for a reason."
Something stuck.
"In that moment, everything made sense," Waterman says. That night, he prayed a prayer he'd never truly prayed before. He embraced a Jesus-focused faith.
"That moment in Calgary was amazing," Waterman says.
"I finally realized what soccer was for me. It wasn't just soccer. It was about how I can serve people through soccer. I understood my 'why.' It wasn't just to win games and win titles. It was for the glory of God and how we serve each other. It changed my perspective on everything." . . .
Waterman loved the atmosphere at TWU, but said he had not been particularly devout when he began there:
"It basically took one visit to Trinity and one conversation with (then head coach) Pat (Rohla) and (former associate head coach and now current head coach) Mike (Shearon) to make my decision. Spirituality wasn't my focus at that point, so I don't know why I was so big on Trinity. Something just felt different."
Upon returning home from his visit to the Langley, B.C. campus, he told his parents that "(TWU) felt like home." . . .
At the same time that his soccer career was starting to take off, his off-the-field life was beginning to discover a different path.
"In my first couple years, I was the guy who didn't really pay attention when we'd pray or talk about faith stuff. But I think everything that happened were little seeds being planted.
"Without judgement, I could talk to people like Sam Delfs (who worked as a spiritual leader within the Spartans program) and he was an amazing mentor with me. Then obviously Mike (Shearon) was a huge help for me in my walk.
"At some point, Jesus made sense."
Go here for the full article.
Waterman is an ambassador with KidSport BC, whose "mission is to remove the financial barriers that prevent some children from playing organized sport" (and supported him as a young boy). They tweeted November 13:
Congratulations to our #KidSport ambassador @16Waterman we'll be watching and cheering the entire team all the way!
Canada will play Japan in a pre-tournament friendly November 17 (5:40 am Pacific Time) in Dubai, before opening the World Cup in Group F action November 23 against Belgium.
World Cup schedule for Canada:
November 23: vs. Belgium – 11 am PT
November 27: vs. Croatia – 8 am PT
December 1: vs. Morocco – 7 am PT