That British Columbia is part of Cascadia has been recognized for some time (Vancouver Sun columnist Douglas Todd's book Cascadia: The Elusive Utopia opened many local eyes in 2008), but the significance of that bioregional designation for the church has been brought home several times for me in the past couple of weeks.
America's religious future, and BC's
Mark Silk wrote 'The Pacific Northwest (PNW) is the American religious future' for Religion News Service (RNS) May 31.
In the early 2000s, he and his academic centre carried out studies which found that the Pacific Northwest was the most distinctive of the eight regions into which they divided the U.S. because of "the region's low degree of religious identification." 
They described it as the 'None Zone.' That designation caught on – and is still eminently applicable.
Here is a portion of Silk's article:
A couple of years ago the University of Victoria's Centre for Studies in Religion and Society got a Canadian government grant to conduct a study of religion in this cross-border region, known as Cascadia.
Among other things, the study would advance and update our earlier findings on the PNW. New quantitative and qualitative data were compiled, and this past week the scholarly team convened at the University of Washington to go over the first drafts of chapters.
The results have confirmed, in a fine-grained way, that Cascadia remains as much the None Zone that it appeared to be early in the century – only more so. In Washington and Oregon, the proportion of adults who say they have no religion has risen from just above 20 percent to 32 percent, while in BC it has gone from 35 percent to 44 percent. Among young adults, the proportions are considerably higher.
Although we were aware, at the turn of the century, that the proportion of Nones had grown in the U.S. and Canada, it was far from clear that this would turn into the major trend it has become in both countries. Then, Cascadia seemed like an outlier – a region set apart by its degree of irreligiousness.
Now it seems like a forerunner, a regional laboratory of demography indicating where North America north of the Mexican border is headed when it comes to religion. To me, the most striking discovery of the new project is the change in outlook among the region's evangelicals.
Two decades ago, they saw Cascadia as a mission territory ripe for making major inroads on the vast number of the unchurched. Then, they understood themselves as at the crest of a powerful evangelical wave sweeping over America.
Now they see themselves as living on the shore of ebb-tide Christianity and are finding ways to accommodate to the dominant culture. Increasingly, they have become open to (if not quite affirming of) LGBTQ members. They are soft on abortion. They embrace the environment. Some even go so far as to foreswear evangelization.
"There's an effort on the part of evangelicals (in the region) to redefine themselves," said Michael Wilkinson, a sociology professor at Trinity Western University in BC. "Their confidence is gone."
Go here for the full article.
But one newly published book and a recent conference suggest there are still many signs of life in the local Christian community.
Streams in the Negev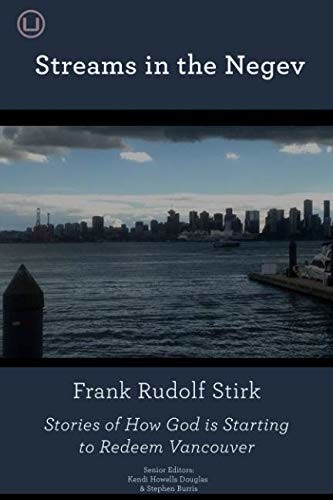 Frank Stirk's new book, Streams in the Negev tells "stories of how God is starting to redeem Vancouver." 
Jason Byassee's Foreword gives a good sense of the hope implicit in the book:
It is a wonder to see the Church in Vancouver through Frank Stirk's eyes. He took me on a walk of the Downtown peninsula once. I was new to the area, trying to learn what the ecclesial scene is like for the sake of my work at the Vancouver School of Theology. 
He walked me around like an experienced gumshoe, showing where he'd detected signs of the Holy Spirit and where he expected to see more. What I love about his vision is that he can see things that aren't there: churches long gone, but whose traces of faithfulness are still discernible for those with eyes to see.
Also churches barely there now, that meet in coveted rental space, long for permanent places, and scratch out a hearing for the gospel in ways that are hard-won. And he can help us envision churches that aren't yet there at all, except in the purposes of God. 
Christians profess belief in the communion of the saints. That is, when we worship the room is crammed with far more people than we can see. For Frank Stirk, all of Vancouver is a holy place, and if you squint a little, you can see the place as God does.
Stirk told me in conversation recently that in 1888 there were six churches in the Downtown core, and nine in 1988 – for a net gain of only three in the space of a century. After that, the number of new churches began to rise slowly. Then following – some even say because of – the Winter Olympics in 2010, there was an unprecedented burst in church planting.
By around mid-2015, there were 28 churches ministering in the Downtown, the West End, Coal Harbour and Yaletown. Several have since moved to East and South Vancouver and a few have failed, but he says there are still maybe around 20 churches in the area.  
Christian Witness in Cascadian Soil
Writing on the Anglican diocesan website, Alecia Greenfield described a mid-May conference which featured a real variety of Christian activity. 
Here is a portion of what she wrote about Christian Witness in Cascadian Soil:
Keynote speaker Dr Christopher James spoke about his research on church planting in the secular west. His study explored an urban, tech-savvy, progressively liberal and post-Christian city, Seattle [based on his book Church Planting in Post-Christian Soil, Oxford University Press, 2017].
Suggesting we can all learn from church planters, his research led to several recommendations.
He shared the importance of place, of dwelling in the neighbourhood. He suggested the neighbours shape the very identity of the church and the church in community set in a very specific geography.
He also recommended the practice of receiving hospitality (not just providing it). He reminded us of the story of the disciples being sent into the world not only to give the good news but also to receive the community's hospitality (Luke 10:4).
He suggested communal discernment. Telling stories about church planters talking to neighbours and other churches.
Finally, after extensive study of church plants, he recommended cultivating embodied, experiential and everyday spiritualities such as practicing the gathering for communal meals and the examine.
Then Steven Bell presented 'A Sent Life Together: Connecting with Neighbours through a Neo Monastic Church in Vancouver's Downtown Eastside,' which illustrated many of these themes in lived practice.
Altogether there were three lectures and 19 short papers presented. The range of topics was massive (which does not feel like a nearly big enough word).
From Andrew Stephens-Rennie's presentation on 'Revitalizing the City: How One Congregation Transformed it's Charitable Food Ministry to an Agent of Shalom' [posted here] to Peter Sander's performance, 'You Shall Go Out with Joy: The Importance of Congregational Singing in Missional Worship,' or Shannon Bell's talk, 'My Ministry is a Disaster,' describing mission and the motion of God and church in central BC during the 2017 wildfires. . . .
One participant called the conference a garden of beautiful ministry and an inspiration to find the courage, when the Spirit moves, to try something new. 
Go here for the full article.
Congress 2019 meetings
I would love to have been able to attend the conversations between several scholars who gathered during Congress 2019 at UBC this week.
In fact, it was the tantalizing tidbits I saw on Twitter that got me thinking about this article. I will have to be satisfied with mentioning them and then getting back to their work in the future.
Among those meeting were executive members of the Canadian Society for the Study of Religions (CSSR):
Three June 4 tweets by Thiessen give a sense of what we missed:
Session @cssr_executive on religious nones in Cascadia @swilk033 @racheldianeb, Mike Wilkinson & Paul Bramadat, focusing on who/what are religious nones rather than who/what they are not. #congressh
Fastest growing religious groups in BC @racheldianeb @cssr_executive. #congressh
Where religious nones are the majority, "religion" is a taboo topic & "religious" people perceive discrimination leveled against them @racheldianeb @cssr_executive. #congressh
There is much more to say about these writers and their subjects; I hope to write more on them in the future.