Here is your opportunity to catch up on some vital missional theology and practice – from academics who are engaged in on-the-ground research and from some 20 missional practitioners presenting papers on the joys and challenges of 'church planting in post-Christian soil,' to quote the title of the main speaker's book.
I'm not sure I can think of an event over the past few years that offers quite this combination; Christian Witness in Cascadian Soil (May 10 – 11 at St. Andrew's Hall on the UBC campus) should be an enlightening couple of days.
Keynote speaker Christopher James will address the theme 'Good News from the None Zone: Four Practices for Joining God in Post-Christian Soil.' It is a topic he is well acquainted with.
His Church Planting in Post-Christian Soil (Oxford University Press, 2017) focused on three areas:
Uses a pioneering methodological approach by integrating sociological and theological perspectives
Offers practical proposals for churches rooted in robust theological reflection
Provides original data on churches that have recently been founded in Seattle, Washington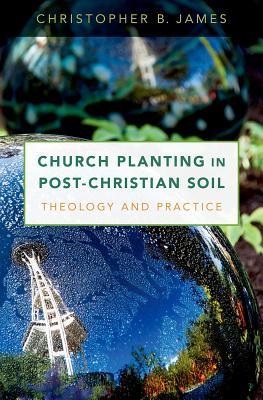 Seattle is not Vancouver, but there is considerable overlap, and his insights will no doubt be valuable. An article in Seattle Met from a couple of years ago give a sense of where he comes from:
Raised in Bothell, James was well familiar with Seattle's perch at the leading edge of prevailing national trends: urbanization, tech culture, progressive values and a "post-Christian" profile. Further, the Northwest lacked a historically dominant religious presence, like the Baptists of the Deep South –making the Northwest a kind of religious tabula rasa.
So he spent 2013 and 2014 researching Christian churches that had arisen in Seattle since 2001. Between spin-offs, branches of multisite churches, and, later, independents that took over the Mars Hill properties after its collapse, James knew there was action here. (A 2015 real estate study would find Seattle to have the second-highest number of religious institutions per capita in the nation.) But what he found was a whopping 105 new churches. In "post-Christian" Seattle.
Stranger still, the "post-Christian" was the reason. "Seattle's secular, non-Christian reputation ignited evangelicals, who have inherited the missionary messages," now Dr. James theorizes. "In some ways their identity thrives on a sense of embattlement." What better battleground than the None Zone?
James found four categories of new churches here: one composed of creative spin-offs from progressive mainline congregations, one conservative group forefronting evangelism a la Mars Hill, another conservative group of predominantly nonwhite Pentecostals and charismatics who focus on spirituality of worship, and finally a group spanning the theological spectrum and bringing church to neighborhood Third Places.
The description of his book on the OUP site adds this:
After an in-depth survey- and -interview-based analysis of the different models of church-planting he encountered, James identifies five threads of practical wisdom:
1) embracing local identity and mission
2) cultivating embodied, experiential, everyday spirituality
3) engaging community life as means of witness and formation
4) prioritizing hospitality as a cornerstone practice
5) discovering ecclesial vitality in a diverse ecclesial ecology
Stimulating, encouraging, and stereotype-shattering, this book invites readers to reconsider the narrative that portrays these first decades of the twenty-first century as a period of ecclesial death and decline, and to view our time instead as a hope-filled season of ecclesial renewal and rebirth.
The two other main speakers are Darrell Guder ('Exploring the theological 'why' of church planting') and Jonathan Wilson ('Beloved Community as Missional Witness'), both world renowned missional thinkers and both senior fellows with the Centre for Missional Leadership (CML), which is sponsoring this gathering.
Stories from the trenches
Conference organizer Ross Lockhart – Associate Professor and Director of the Centre for Missional Leadership at St. Andrew's Hall and Presbyterian Director of Denominational Formation at VST (he teaches at St. Mark's College and Regent College as well) – solicited papers for the event.
They will be presented under three headings:
Connecting with Cascadian Neighbours
Stephen Bell: A Sent Life Together: connecting with neighbours through a neo-monastic church in Vancouver's Downtown Eastside  
Jamie Anderson-Reid: House, Home and How to be a Good Neighbour
David Warkentin

, 

The Practice of Storytelling: Indigenous-settler relationships in Cascadia
Shannon Bell

: 

My Ministry is a Disaster!
 Jenn Richards: From Soldiers to Midwives: bearing witness to the triune God in our everyday conversations
Worship & Missional Vocation
Chebineh Che: Witnessing Out of Worship: a theoretical network approach
 Paulo Pereira Junior:

 

Church Revitalization

: 

dealing with broken smithereens and brick

s

Young Tae Choi: Arts Ministry Beyond the Sunday Worship Service

:

how can an arts ministry be missional in a public arena?
 Rebecca Simpson: You Forgot it in People – Re-Membering the Church: reflections on what Indie rock collective Broken Social Scene might say to the missional church
 Brian Fraser: Gaining a Hearing for the Gospel: missioning with the jazz community through dialogical evangelization
Tim Dickau: Seeking the Kingdom of God as a Church in a Secular Age
Anne-Marie Ellithorpe: Spirit-shaped Friendships and the Planting of New Worshiping Communities
Peter Sanders:

 

You Shall Go Out With Joy: the importance of congregational singing in missional worship
Witness & Formation Beyond Worship
Corey Schlosser-Hall: Growing Ministry in Old Places: reflections on recovering one presbytery's willingness to risk and innovate for the gospel of Jesus Christ in Cascadian soil
Andrew Stephens-Rennie:

 

Revillaging the City

: 

how one congregation transformed its charitable food ministry to an agent of shalom
Todd Wiebe:

 

Faith After Atheism

: 

Christian theology and spiritual formation in a landscape of default agnosticism
 Layna Haley:

 

Experience Kaleo
 Jon Bell:

 

Of Sacred Places and Holy Ground
 Axel Schoeber:

 

Keep Your Sense of Humour!
The conference will conclude with a panel discussion featuring  Christopher James, Darrell Guder and Jonathan Wilson.
Register at [email protected] or by calling Mavis Ho at 604.822.9372 – $100 for both days, lunch included. Students, half price.