Peruvian theologian, Gustavo Gutierrez, said "You say you care about the poor? Then tell me, what are their names?"
Care for refugees?
Ann Ball, executive director for New Hope Community Services, says:
It's easy to say the words, 'we care about refugees,' but knowing them by name and hearing their stories provides a real opportunity to share life with them and to live out the gospel too. Every day at New Hope we interact with refugees, by name, and see that they, like us, want their children to have a better life than they had.
They have risked everything, including their lives, to make it to Canada. I think this is a key moment in history for the church to reach out and say to refugees, 'You are my neighbour and I love you as I love myself.'
In Canada, refugees are classified as government-sponsored, private-sponsored or asylum-seekers. The escalation in asylum claims over the last few years has kept the issue of refugees in the news – not always in a positive way. The Canadian Border Services processed 7,355 claims between January and April of this year.
According to the United Nations High Commissioner for Refugees, worldwide, "persecution, conflict, violence or human rights violations" have created a surge of almost 70 million refugees.
After the Syrian conflict, and after recent U.S. government restrictions, Canada has seen a significant increase in border crossings and consequent claims – resulting in the pressure on refugee-assisting organizations to stretch themselves at the same time that many churches are feeling a sense of 'compassion fatigue.'
New Hope
New Hope Community Services – whose mandate is taken from Isaiah 58:7 (God's affirmation that his people should "provide the poor wanderer with shelter") – has provided transitional housing for over 600 refugees since 2004. Those refugees have come from 60 different countries, so the unrest in our world is not isolated.
World Refugee Day
World Refugee Day (June 20) is recognized each year as a time to remember the struggles and the achievements of people all over this planet who had to flee their homes to avoid persecution.
The Central Public Library in Vancouver will host an Information Fair on the 20th, where organizations like New Hope, Journey Home and Kinbrace will join with Amnesty International, Canadian Red Cross, UNHCR, MOSAIC, ISS of BC and S.U.C.C.E.S.S. to provide firsthand knowledge of refugees. A panel discussion and film will also be featured.
Refugee stories
Ball recalls some of the refugee stories as follows:
On one hand the stories are heartbreaking, and on the other hand, they give a sense of hope and resilience.
One of our families escaped on a motorcycle and looked back to see their home blown up just moments later. Others have been arrested and tortured for information. Many have spent years in refugee camps, waiting for an opportunity to leave and go somewhere safe.
There are also stories of being able to have a conversation in English for the first time and actually understanding the conversation. Another hard and bitter arrival at New Hope now smiles and opens up to people around her.
One resident said "Canada is sometimes good and sometimes bad. But we are safe and my kids can go to school safely. This is good."
One of the greatest challenges for refugees is that of affordable housing in the urban centres where the legal, social and support services for them are located. Not all refugees (for example, asylum-seekers and privately-sponsored) receive government funding and they depend greatly on compassion groups and organizations.
New Hope is fortunate to have an apartment building to house and support some of the families. They're raising capital funding to try to buy another.
Another challenge is the trauma which children have faced and are processing as they arrive in this new country. Ball says these children "have seen and heard things no child should have to experience and it's hard to know what the long-term impact of that might be."
How to help?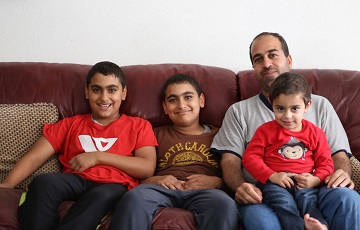 How can churches or groups of believers help? Getting to know the names and faces of a few refugees is a good start. There are many who have come and who are looking for positive community and relationship.
Donations are always appreciated but it would be good to find out the names of those you help.
Participation in events may get you closer to the heart of organizations helping refugees – all are welcome:
Volunteering with repairs or painting or gardening;
taking time for a cup of tea;
going on an outing in the park or mountains;
sharing with the 25 children through a summer camp;
preparing and serving a community dinner;
subsidizing the cost of monthly rental for housing;
tutoring;
providing hospitality and supportive community as they integrate into Canada.
Ball concludes, "I don't think there is anything more rewarding than building a relationship with a refugee family and seeing them thrive in their new life in Canada."
To contact New Hope go here.
Jack Taylor is the founder of New Hope and continues to serve as lead pastor at Faith Baptist Church in Vancouver. This article first appeared in The Light Magazine and is re-posted by permission.