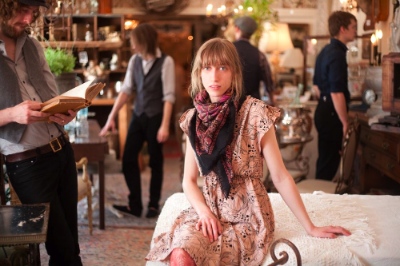 They're the darlings of CBC Radio. Lauren Mann and the Fairly Odd Folk are still celebrating their recent (May 8) win over 4,500 other contestants in CBC Music's Searchlight competition, and next month they'll open for the likes of Tegan and Sarah at the CBCMusic.ca Festival in Deer Lake Park
A CBC release said, "The Calgary-area alt-folk troupe and its song I Lost Myself have triumphed in the annual contest to discover the country's best new musical act, beating out thousands of artists in different genres – from hip hop to indie rock.
"'I could see this song being played in festivals around the world . . . in every commercial, movies. It's one of those songs, to me, that has the most widespread appeal,' said rapper and producer Kardinal Offishall, one of this year's three Searchlight judges.
 
".I see something very special there, something exciting . . . It's very textured, very layered," added fellow judge Sarah Slean.
"'This band sounds really awesome. The song is gorgeous. They are terrific songwriters," said judge Torquil Campbell."
Lauren and the band had already been planning a western tour, including stops at Cafe Deux Soleils in Vancouver (May 30), House of James in Abbotsford (June 4), the Acoustic Emporium in Chilliwack (June 6).
And now there's the CBCMusic.ca Festival at Deer Lake in Burnaby (June 14) – a much bigger event. They will pick up $20,000 worth of musical equipment from Yamaha Music Canada while they're out here.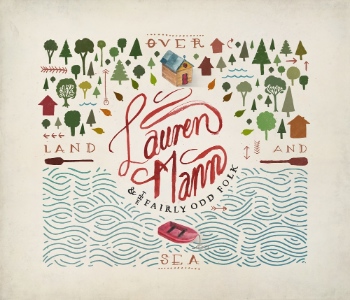 I don't know whether they will hang around between the 6th and 14th, and pick up another couple of dates, but Lauren says in her blog that she was brought up in Langley and that the Lower Mainland and Vancouver Island are her favourite places to perform. And they've demonstrated over the past three or four years of extensive touring around North America and Europe that they're not averse to making things up along the way.
Back to House of James for a moment. That's a Christian bookstore, whose owner, Lando Klassen, has been a big promoter of talented musicians over the years. He has opened the store's coffee shop to dozens (probably hundreds) of musicians; most are Christian, though that's not a requirement to play there.
But the House of James link made me wonder whether faith plays a role in the lives of Lauren Mann and the Fairly Odd Folk. As I checked a little further, it became clear that Christian faith has indeed played a significant part in the band's history.
One group celebrating Lauren Mann and the Fairly Odd Folk's Searchlight win is The Antidote Radio, which plays "Christian music that doesn't suck." To explain this "indelicate" phrasing, the Peterborough, Ontario-based station says its intention is "to dispel the myth that music created by artists who share a Christian world-view is second-rate." 
The folks at Antidote clearly believe LMFOF has made the cut, even describing them as "a long-time favourite." They plan to interview the band May 21.
Looking at their music website, I don't see any evidence that Lauren Mann and the Fairly Odd Folk want to be seen as a Christian band per se. They're clearly happy to put themselves out there in the world, as they are, and see what comes down the road.
But if you scroll through the Fairly Odd Blog, you'll see plenty of evidence of the Christian faith which permeates their music. Lauren describes the blog this way: "These are the chronicles of Lauren Mann and the Fairly Odd Folk as documented by Lauren. You'll find stories and snapshots of life on the road, as well as what we do when we're home."
Recent comments are mainly about the rigours, and pleasures, of touring, of an unsuccessful Indiegogo campaign and of the recent CBC triumph. But earlier this year she referred to going to church as one of the ways she's getting to know her relatively new neighbours in Brooks, Alberta.
Going back a couple of years, there are many references to faith, including the fact that she and her husband Zoltan worked at Circle Square Ranches, to their church in Calgary, to their trip to the Czech Republic to work with church planters, to their time in Denmark with Youth For Christ ("Ebbe, our fearless tour manager who loves Jesus, metal music and makes delicious spaghetti.")
From a December 31, 2010 post:
"Anyway, when it comes down to it though, I love what I do, and I think I'm the luckiest person in the world to travel (with my husband!) and live my dream of touring and playing my music all over the country. And the people we meet along the way, the connections we make, and the experiences we have make it totally worth the long drives, the minimal food selections and the uncertainty.
"If there's one thing I would like you (if anyone reads these few musings) to take away from this, it is to never stop pursuing the dreams and hopes and aspirations that have been placed in your heart. I think God works through us in many ways, one of those being the talents that we have. So pursue that! Nothing is impossible."
Blessings on your journey, Lauren and assorted Odd Folk!