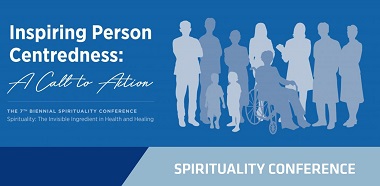 It's good to see a Catholic health care community working with an evangelical nursing school to explore the role of spirituality in healing.
Providence Health Care (which runs 10 hospitals, clinics and residences in Metro Vancouver, including St. Paul's) and Trinity Western University's School of Nursing are teaming up for a major conference May 8 – 10 in downtown Vancouver.
Inspiring Person Centredness: A Call to Action is both the 7th Biennial Spirituality Conference and the 4th Faith and Nursing Symposium. Organizers describe the nature of the gathering:
We are excited to bring together an inspirational conference full of learning, sharing and networking. Spirituality is the Invisible Ingredient in Health and Healing. Join in conversations about encounters as the basis of spirituality, and spirituality as the basis of wellness. Engage in the paradox of how a focus on the individual – a person-centred focus – is also the foundation of togetherness, relationships and connection.

Among the speakers will be Dr. Julio Montaner, a man with a formidable resume:
UBC and St. Paul's Foundation Chair in AIDS Research. Dr. Montaner is a UBC-Killam Professor of Medicine, the Executive Director and Physician-in-Chief of the BC Centre for Excellence in HIV/AIDS, and the UNAIDS Special Advisor on HIV Therapeutics (2014-2017). Dr. Montaner played a key role in the development and implementation of Highly Active Antiretroviral Therapy (HAART) as the modern standard of care for HIV disease.
Montaner will speak on this topic 'Social Justice, personally and globally – do health care institutions matter?'

John Swinton will also address the conference. A Professor in Practical Theology and Pastoral Care at the University of Aberdeen, he will speak on 'Health Care and Social Isolation: Theological Reflections.'
Swinton will be kept busy while he is in town. As a visiting faculty member at Regent College, he will teach a course (Reimagining Disability and Mental Health, May 13 – 17) and deliver a lecture (Hearing Voices: Human and Divine, May 13). He will also speak on 'Interpersonal Relationships and Mental Health' at Tenth Church May 15 as part of the Redefining Healing Seminar.
The organizing team for the Spirituality Conference is a strong combination of leaders from each institution, including Christopher De Bono, PhD (Vice President, Providence Health Care Mission, People and Ethics) and Sheryl Reimer-Kirkham, PhD (Acting Dean and Professor, TWU School of Nursing).
Bonhoeffer book launch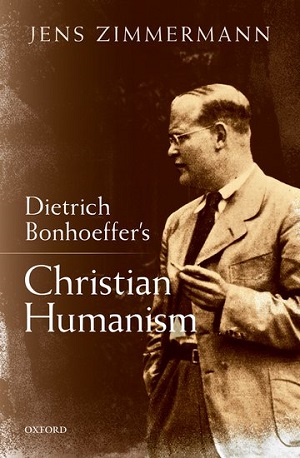 Dietrich Bonhoeffer remains a subject of fascination – and of many books. Regent College professor Jens Zimmerman has joined the conversation with a very well received book, which he will launch next Wednesday (May 8).
Here is what Regent says about he evening and the book:
Join us for a special evening lecture with Jens Zimmermann, marking the release of his new book, Dietrich Bonhoeffer's Christian Humanism (Oxford University Press, 2019).
Why did Bonhoeffer think that the Christian life is all about becoming truly human? Why did he think that both church and government should cooperate in human flourishing? How do we explain this pacifist's endorsement of assassinating Hitler to stop the Nazi terror? What does Bonhoeffer mean when he says that "the sacred is only found in profane, and the revelational only in the rational? And why would this Protestant theologian so deeply inspired by Karl Barth consider recovering human rights on the basis of natural moral theology so important?
Dr. Zimmermann will address these and other questions by claiming that Bonhoeffer's views arise from his Christian humanist outlook firmly rooted in the mystery of the incarnation.
Rowan Williams, former Archbishop of Canterbury, and Stanley Hauerwas, famed American theologian (who has spoken at Regent and will be leading a workshop at VST next week, both think highly of the book, so Zimmerman's talk should be insightful.
Making space for faith at UBC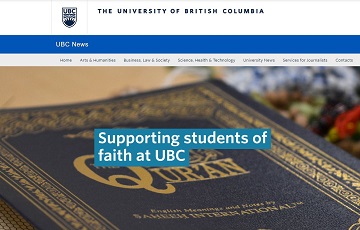 'Supporting students of faith at UBC' was the title of an April 17 article in UBC News. Here is some of the content:
UBC has opened a temporary prayer room to give Muslim students an accessible space on the west side of campus to practice their faith during the high-pressure exam period. . . .
As research increasingly supports a link between wellness and spirituality, the prayer space is one way in which UBC is striving to support the spiritual needs of a diverse population of students, faculty and staff.
"We want students to feel a sense of connection and belonging," says Patty Hambler, UBC director of health promotion and education. "And for some people, the community of faith on campus is their main point of connection."
UBC does not have data on students' religious affiliation, but the number of AMS faith-based clubs is an indication of how important religion and spirituality are for many UBC students. (The most recent Undergraduate Experience Survey included a question on religious or spiritual affiliation, but the data is not yet available.)
There are currently 25 faith-based societies and associations at the AMS, ranging from the Chinese Christian Fellowship and the Jewish Students Association to the Campus Association for Bahá'í Studies and the Zen Sangha club.
In addition to the clubs, students of faith can also connect with one of 14 university chaplains at the University Multi-Faith Chaplains Association (UMCA).
"We do lots of referrals to counseling, but if students are looking for encouragement, for affirmation, to be able to end a conversation with prayer is really affirming to students who come from a faith perspective," says coordinating chaplain Craig O'Brien, a Baptist pastor.
Go here for the full article. O'Brien is pastor of Origin Church, which meets on the UBC campus. Eight of the 14 chaplains (described here) represent Christian groups: Anglican, Baptist, Brethren Tradition, Mennonite Brethren, Pentecostal, Presbyterian, Roman Catholic and United.
UBC president Santa Ono has led the way in faith-friendly initiatives. Next week (May 8), for example, he will deliver The Carr Lecture at St. Mark's College.
He has spoken at Origin Church and taken part at least once in a Chapel UBC event at the Chan Centre, as well as preaching off campus at Tenth Church, addressing a major Canadian Scientific and Christian Affiliation conference and being the keynote speaker for the BC Leadership Prayer Breakfast.
May 2, 2019
Welcome to Worship
– May 2, 2019 at 10:00 am - 12:00 pm
spirit(us): Exploring Pathways to Art, Earth and Us
– May 2, 2019 at 7:00 pm - 9:00 pm
May 3, 2019
Punjabi Masihi Church 25th Anniversary / Annual Convention
– May 3, 2019 - May 5, 2019 at 7:00 pm - 5:30 pm
Regent College Convocation 2019
– May 3, 2019 at 7:30 pm - 9:00 pm
Diane Lines' Jump
– May 3, 2019 at 8:00 pm - 10:00 pm
May 4, 2019
BC God and Government Conference
– May 4, 2019 at 8:30 am - 5:30 pm
Faith & Work Conference
– May 4, 2019 at 9:00 am - 4:00 pm
Flourishing Congregations: From Understanding to Practice
– May 4, 2019 at 9:00 am - 4:00 pm
160th Anniversary Celebration of St. John the Divine
– May 4, 2019 at 10:00 am - 2:00 pm
Living Single Again (Saturday mornings)
– May 4, 2019 at 10:00 am - 12:30 pm
Spring Has Sprung Giveaway
– May 4, 2019 at 10:00 am - 12:30 pm
Spring Concert
– May 4, 2019 at 2:00 pm - 3:30 pm
The Wondertale of Naomi and Ruth
– May 4, 2019 at 7:00 pm - 9:00 pm
May 5, 2019
Yom HaShoah; Honouring Holocaust Remembrance Day
– May 5, 2019 at 2:30 pm - 4:30 pm
Song of Love: A Choral Concert of Worship
– May 5, 2019 at 7:00 pm - 9:00 pm
VOS Youth Singers Spring Concert 2019
– May 5, 2019 at 7:30 pm - 9:30 pm
May 6, 2019
Unsettling the Word: Stories & Songs for Unis'to'ten
– May 6, 2019 at 7:00 pm - 8:30 pm
May 7, 2019
The Prophetic Voice: Pastors Conference 2019
– May 7, 2019 - May 9, 2019 at All Day
May 8, 2019
Spirituality Conference: Inspiring Person Centredness – A Call to Action
– May 8, 2019 - May 10, 2019 at All Day
The Carr Lecture: Santa Ono – Liberal Arts in the 21st Century: More Important Than Ever
– May 8, 2019 at 7:00 pm - 9:00 pm
Book Launch: Dietrich Bonhoeffer's Christian Humanism
– May 8, 2019 at 7:30 pm - 9:00 pm
May 9, 2019
Courageous Woman Conference
– May 9, 2019 - May 11, 2019 at All Day
Whispering Grass by Haitao Yin
– May 9, 2019 at All Day
March for Life Victoria (including church services and gala dinner)
– May 9, 2019 at 12:00 pm - 8:00 pm
May 10, 2019
Christian Witness in Cascadian Soil
– May 10, 2019 - May 11, 2019 at 8:30 am - 4:30 pm
Her Story: an Open House Café
– May 10, 2019 at 9:30 am - 11:30 am
High Bar Gang
– May 10, 2019 at 8:00 pm - 10:00 pm
May 11, 2019
Faith in Action: Practicing Biblical Advocacy
– May 11, 2019 at 9:30 am - 3:30 pm
Renovate Worship: Including Mixed Ages and Abilities
– May 11, 2019 at 9:30 am - 4:30 pm
Lighthouse Harbour Ministries Spring Luncheon
– May 11, 2019 at 12:00 pm - 2:00 pm
SIM Monthly Mission Meeting
– May 11, 2019 at 12:00 pm - 2:00 pm
Alzheimer Café
– May 11, 2019 at 2:00 pm - 4:00 pm
Borders to Beginnings
– May 11, 2019 at 5:30 pm - 8:30 pm
Gloria Dei Chorale: Spring Concert
– May 11, 2019 at 7:30 pm - 9:30 pm
May 12, 2019
Getting Our Story Straight with Brian Fikkert
– May 12, 2019 at 7:00 am - 8:30 am
Jazz Vespers in the Valley: Glenda Rae Trio
– May 12, 2019 at 4:00 pm - 5:00 pm
The Eisenhauers
– May 12, 2019 at 7:00 pm - 10:00 pm
May 13, 2019
Tax Preparation (Mondays)
– May 13, 2019 at 10:00 am - 3:15 pm
Persistence of Light: A Reading by John Hoyte
– May 13, 2019 at 12:15 pm - 1:30 pm
VST Convocation 2019
– May 13, 2019 at 7:00 pm - 9:30 pm
John Swinton: Hearing Voices – Human and Divine
– May 13, 2019 at 7:30 pm - 9:00 pm
May 14, 2019
Dr. Stanley Hauerwas: Revitalizing the Church Workshop
– May 14, 2019 at 9:30 am - 2:00 pm
May 15, 2019
Canadian Viewpoints: Concealed and Revealed – Opening Reception
– May 15, 2019 at 4:30 pm - 7:30 pm
Provincial Leaders Dinner
– May 15, 2019 at 6:00 pm - 8:00 pm
Peter Harrison: The Shifting Territories of Science & Religion
– May 15, 2019 at 7:30 pm - 9:00 pm
May 16, 2019
Canadian Viewpoints: Concealed and Revealed
– May 16, 2019 - July 12, 2019 at All Day
DivorceCare (ongoing, several locations)
– May 16, 2019 - January 7, 2020 at All Day
Xtreme Theatre: Les Misérables School Edition
– May 16, 2019 - May 18, 2019 at All Day
BC Leadership Prayer Breakfast
– May 16, 2019 at 7:15 am - 9:00 am
Book Launch: I'm the Bob & Cathy's Kid
– May 16, 2019 at 12:15 pm - 1:30 pm
Journey 101 (Thursday evenings)
– May 16, 2019 - June 20, 2019 at 7:00 pm - 9:00 pm
May 17, 2019
Brave Love Women's Gathering
– May 17, 2019 - May 18, 2019 at 6:30 pm - 9:00 pm
A Garden Green CD Release Party
– May 17, 2019 at 7:00 pm - 10:00 pm
African Children's Choir: Just as I Am Tour
– May 17, 2019 at 7:00 pm - 9:00 pm
Bruce Hindmarsh & Steve Bell: Praying the Psalms in Spirit and Song
– May 17, 2019 at 7:30 pm - 9:00 pm
The Cake
– May 17, 2019 - June 8, 2019 at 8:00 pm - 10:00 pm
May 18, 2019
spirit(us) - Exploring Pathways to Art, Earth and Us
– May 18, 2019 at 7:00 pm - 9:00 pm
May 19, 2019
African Children's Choir: Just as I Am Tour
– May 19, 2019 at 6:00 pm - 8:00 pm
May 20, 2019
African Children's Choir: Just as I Am Tour
– May 20, 2019 at 7:00 pm - 9:00 pm
Jeffrey Greenman & Mark Glanville: Improvisational Leadership – a jazz-talk
– May 20, 2019 at 7:30 pm - 9:00 pm
May 21, 2019
Beulah AZ Café (third Tuesday of each month)
– May 21, 2019 - June 18, 2019 at 4:00 pm - 5:30 pm
May 23, 2019
Long & McQuade Presents Rashid Williams
– May 23, 2019 at 7:00 pm - 9:00 pm
Multiply: Let's Celebrate Together
– May 23, 2019 at 7:00 pm - 9:00 pm
Jazz & Spirituality: Digging into Worshiping in Jazz
– May 23, 2019 - May 25, 2019 at 7:30 pm - 4:00 pm
Tom Reynolds in Concert
– May 23, 2019 at 7:30 pm - 9:00 pm
May 24, 2019
BC Home Learning Conference
– May 24, 2019 at 12:00 pm - 5:00 pm
Historymaker 2019
– May 24, 2019 - May 26, 2019 at 6:00 pm - 12:30 pm
The Sojourners
– May 24, 2019 at 7:00 pm - 10:00 pm
From the Old World to the New:
– May 24, 2019 at 8:00 pm - 10:00 pm
May 25, 2019
Walk for Life
– May 25, 2019 at 9:00 am - 1:00 pm
WMI Spring Conference
– May 25, 2019 at 9:30 am - 6:30 pm
A Toolkit for Spiritual Survival Retreat with Fr. Rolheiser & Dr. Higgins
– May 25, 2019 at 1:30 pm - 4:30 pm
Good Noise Vancouver Gospel Choir: The Return of Soul Gospel
– May 25, 2019 at 3:00 pm - 5:00 pm
Ember
– May 25, 2019 at 7:00 pm - 9:00 pm
Worship Invasion
– May 25, 2019 at 7:30 pm - 10:00 pm
Good Noise Vancouver Gospel Choir: The Return of Soul Gospel
– May 25, 2019 at 8:00 pm - 10:00 pm
May 26, 2019
Jazz Vespers in the Valley: Seven Women in Jazz
– May 26, 2019 at 4:00 pm - 5:00 pm
African Children's Choir: Just as I Am Tour
– May 26, 2019 at 7:00 pm - 9:00 pm
Duncan Africa Fundraiser
– May 26, 2019 at 7:00 pm - 9:00 pm
Religion & Violence: Inter-Religious Studies Conference
– May 26, 2019 - May 28, 2019 at 7:00 pm - 5:00 pm
May 27, 2019
Focus on Life 21st Annual Gala Dinner
– May 27, 2019 at 5:30 pm - 9:30 pm
The Role of the Laity in the Reform of the Church: A Modest but Urgent Proposal
– May 27, 2019 at 7:00 pm - 8:30 pm
Wesley Hill: Retrieving Asceticism – how contemporary Christians are retrieving an ancient theme
– May 27, 2019 at 7:30 pm - 9:00 pm
May 28, 2019
12th Annual NightShift Charity Golf Classic
– May 28, 2019 at 9:30 am - 7:00 pm
Jesuit Scotch Tasting Reception
– May 28, 2019 at 5:00 pm - 7:00 pm
May 29, 2019
Maxine Hancock: Costly Grace & Severe Mercy – theological resonance in Louise Penney's 'Three Pines' mystery novels
– May 29, 2019 at 7:30 pm - 9:00 pm
Jazz Evensong (Wednesday evenings)
– May 29, 2019 - June 19, 2019 at 8:00 pm - 9:30 pm
May 31, 2019
Hillsong United Tour 2019
– May 31, 2019 at 7:30 pm - 10:30 pm
June 4, 2019
ARC Canada Conference: Family Vibes
– June 4, 2019 - June 5, 2019 at All Day
June 5, 2019
Roots: Shaping a Deeper Life (Wednesday evenings)
– June 5, 2019 - July 3, 2019 at 7:00 pm - 9:15 pm
June 6, 2019
Welcome to Worship
– June 6, 2019 at 10:00 am - 12:00 pm
June 7, 2019
Starfield: The Reunion Tour
– June 7, 2019 at 7:00 pm - 9:30 pm
June 8, 2019
Memorial Service for Thomas Cheung
– June 8, 2019 at 12:00 am
Memorial Service for Thomas Cheung
– June 8, 2019 at 10:30 am - 12:30 pm
Artisan Fair
– June 8, 2019 at 1:00 pm - 4:00 pm
Hymn Festival: I Will Sing of the Mercies of the Lord
– June 8, 2019 at 7:30 pm - 9:30 pm
June 9, 2019
Jazz Vespers in the Valley: Kristian Alexandrov Trio
– June 9, 2019 at 4:00 pm - 5:00 pm
African Children's Choir: Just as I Am Tour
– June 9, 2019 at 7:00 pm - 9:00 pm
VOS 2019 Spring Concert: A Psalm for Our Time
– June 9, 2019 at 7:30 pm - 9:30 pm
June 10, 2019
Redefining Healing Seminar
– June 10, 2019 at 7:00 pm - 9:00 pm