Creating Conversation is a weekly editorial, curated by the Centre for Missional Leadership (CML), which gives opportunity for people to speak about issues they believe are vital for the church in Vancouver.  
One of the goals of this weekly article is to spark dialogue – and action. We invite you to join the dialogue here on the Church for Vancouver website.
We also invite you to use the article as a discussion starter with your small group, church staff, friends and your neighbours. Thanks for participating in the conversation!
I first set foot on the campus of the University of British Columbia in the fall of 2017. I was just about to start my undergraduate degree and I was ecstatic to be starting a new adventure.
It was my first time living away from home, my first time exploring a new city and my first time feeling like I was completely responsible for myself. What first struck me about UBC was the magnitude of its campus. With 18-storey residential dormitories and buildings of world-class architecture, I was in awe. UBC is its own city – a microcosm of the rest of Vancouver.
It seemed to emulate what I felt like university represented: a place of learning and limitless opportunities; a place where many different people are brought together to pursue their academic aspirations; a place to discover where we would fit in and where we belong in the world. There are academic questions to be asked and social clubs to explore. During this time, big existential questions begin to creep in: Who am I? How do I fit into this world? Is there more to life than this?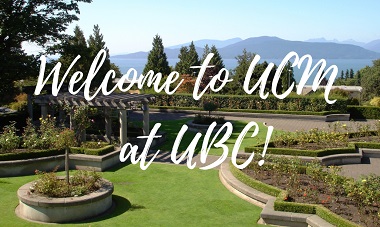 Fast forward to now: I am working as a part-time campus ministry aide with the campus ministry that I belonged to as a student, University Christian Ministries (UCM).
Campus ministry is a missions field that seems to fly under the radar of many Christians and churches. It doesn't quite fit into the 'traditional' mould of missionary efforts such as overseas missions.
Campus ministry focuses on evangelizing to students at (typically) a secular post-secondary institution. Often, these ministries are Christian student clubs on campus that operate separately but are related to general campus student clubs.
However, I am deeply convinced that university campuses are a vital and necessary place to which we must continue sending support and gospel-preaching ministers. I truly believe that campus ministry is a place where the gospel meets students, answering their questions about belonging and identity by pointing them to Jesus Christ. It is a place where we can welcome the stranger and bring them into the fold of God's beautiful family.
Intersection between local and global
When a stranger sojourns with you in your land, you shall not do him wrong. You shall treat the stranger who sojourns with you as the native among you, and you shall love him as yourself, for you were strangers in the land of Egypt: I am the Lord your God. – Leviticus 19:33-34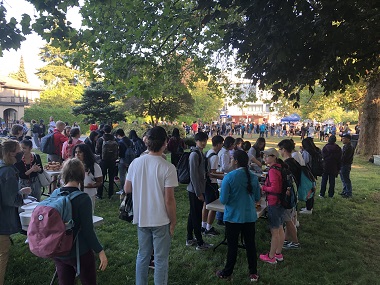 University campuses are unique spaces where students from international and local backgrounds are given an opportunity to interact as peers. In fact, it is a growing priority for many universities in Canada to increase their international relations and international student population.
For example, UBC's Vancouver campus alone has 16,804 international students. Combined with the 43,488 domestic students, UBC has 60,292 undergraduate students. At Simon Fraser University, there are 23,530 domestic students and 6,932 international students.
When we take a moment to think about this distinct feature of post-secondary campuses, sending missionaries here seems to make so much sense! It is a local mission field with global reach. The opportunity to spread the good news internationally in one location is potent.
For many students, their post-secondary degree is where they are for the first time exposed to cultural, ideological and social beliefs that differ from their own. This can both be an eye-opening experience and one that may lead to a evaluation of what one values and deems as core to one's identity.
This is why campus ministry is critical: it might be where a student hears about Jesus for the first and only time. This unique tension of local and global is something Christians should pay attention to: how are we to welcome the stranger into our midst? And how can we continue to pour into those who are already established?
Ministry through radical hospitality
Then the righteous will answer him, "Lord, when did we see you hungry and feed you, or thirsty and give you something to drink? When did we see you a stranger and invite you in, or needing clothes and clothe you? When did we see you sick or in prison and go to visit you?"
The King will reply, "Truly I tell you, whatever you did for one of the least of these brothers and sisters of mine, you did for me." – Matthew 25:34-40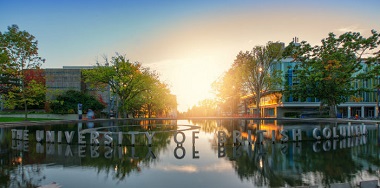 Working at a secular post-secondary institution means that means that we sit at a crossroad of a plethora of other clubs, organizations and communities that would otherwise be isolated. It is part of our Christian calling to place ourselves at these crossroads and love our neighbours well as we continue to spread the word of the gospel on campus.
Deeply formed relationships and friendships are often a way in which the Holy Spirit moves through students to point others to Jesus' love for us. There are countless stories of students who cancel their exchange trips or extend their exchange trips just to be with Christian community a little bit longer. They feel like they truly belong and are welcomed into a new family. This is part of the story of UCM's current campus ministry director.
This is a beautiful reflection of the vision of Christ's body of believers: to love another as yourselves and to welcome one another as Christ has welcomed you, for the glory of God (Romans 15:7).
One example of our ministry addressing the needs of students at UBC campus is an initiative called 'Soup Wednesday.'
Currently at UBC, there is a food insecurity crisis. The use of food banks on campus has increased over 500 percent compared to pre-pandemic levels and over 35 percent of undergraduate students at UBC report that they lack consistent access to the food needed to stay healthy.
These alarming levels of need are a call to action for Christians on campus. For those of us at UCM, this means providing a free soup lunch at our community house every other Wednesday of the month. This initiative helps us to provide for our neighbours and gives students the opportunity to bring their friends and explain the heart of our ministry to them. As Jesus modelled for us, caring for people's physical and spiritual needs go hand in hand.
Disciples who make disciples
Therefore go and make disciples of all nations, baptizing them in the name of the Father and of the Son and of the Holy Spirit, and teaching them to obey everything I have commanded you. And surely I am with you always, to the very end of the age. – Matthew 28:19-20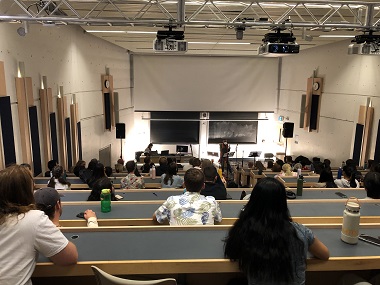 One of the joys of campus ministry is that it offers an opportunity for many to encounter Christianity in a less intimidating or formal way. Many students might be curious about spirituality or be struggling through questions about faith; in these instances, it might be intimidating for them to go into a structured setting such as church on a Sunday.
This is where campus ministry is so effective: it reaches students in their natural environments. Interactions often happen between peers rather than from a formal pastor to a congregant.
The benefits of this are twofold: Christian students are empowered to go and make disciples by reaching out to their friends and classmates, while those who do not know Jesus are met in friendship by their peers and welcomed into conversations about the gospel. Campus ministers are crucial in both their work to make the gospel known to students and to encourage and disciple students to go and do the same.
Local church involvement
From him the whole body, joined and held together by every supporting ligament, grows and builds itself up in love, as each part does its work. – Ephesians 4:16
Campus missions is a unique ministry. It is not church, nor is it simply a social community. It hangs suspended in between: a community of believers that is united because of vocation (as students) and location (university campus).
Because campus ministry is not a replacement for church, we desperately need and hope for partnerships with local churches. Church is not optional in the Christian life but is an essential aspect of following Christ. Support through prayer, a sharing of resources and introducing university students to local congregations are substantial ways churches and campus ministries can work together.
I encourage local churches to reach out to a campus ministry at a nearby college or university or inquire with any university-age students in their own congregation. As we are all called to welcome the sojourner, let us ask ourselves where there are spaces in our own lives where we can radically love others.
Tanya Lui-Thomas serves part-time with University Christian Ministries at UBC. She graduated with a bachelor's of kinesiology from UBC and is working as a recreation aide at a retirement home. Tanya loves sharing a delicious meal and reading a good book! She lives in Vancouver with her husband Jameson.