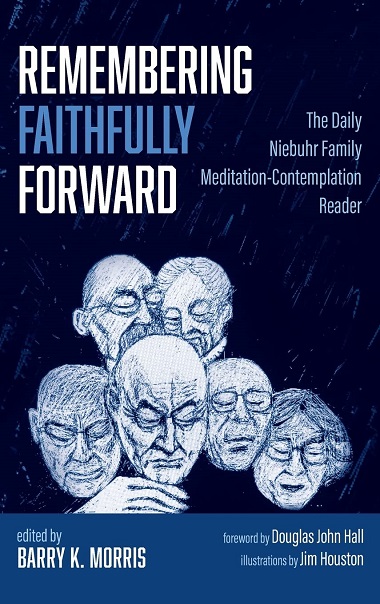 Late last year I wrote twice about local books published in 2022. One post covered 15 local books, under the broad heading 'Church in culture, living the Christian life.' The other looked at eight 'Art, fiction and literature' books.
This week I will look at 11 books involving 'biography and autobiography.' Next week I will round out the series with 'academic' books.
The write-ups are generally from Amazon and publisher / author sites.
Barry Morris: Remembering Faithfully Forward: The Daily Niebuhr Family Meditation-Contemplation Reader (Resource Publications)
This first book is neither biography nor autobiography, but it does shed light on an impressive family.
Daily meditation readers abound; some, thankfully, endure. Rare are spiritually grounded and contemplative invitations that feature four generations of earnest family teachers, preachers, activists, journalists and controversial prophets.
In various life conditions, threatening and challenged by sickness and despair, herein are eight Niebuhrs' faithful wrestlings. They bequeath bristling morsels and compelling insights, creatively compacted into more than 400 entries and reference leads for further consideration.
Thus, deeply influenced by the patriarch and matriarch, Gustav Sr. and Lydia, arise Reinhold's steadfast reflections on grace-grounded justice and its principles; the caringly layered meanings of the love of neighbour and God from his brother, H. Richard; the dedication to render the faith intelligible to postmoderns held by his son, Richard Reinhold; and the decisive and insightful journalism by, in turn, his son, Gustav Jr., on Lincoln being duly lobbied for mercy to indigenous peoples.
And that's not all – the indispensable reminiscences of Reinhold's educator sister, Hulda, and his wife, Ursula, as well as the unearthed grace-based Serenity Prayer of his daughter Elisabeth, corporately express rare gleanings of the Niebuhr clan's virtual school of warm contemplative action.
Barry K. Morris is a United Church minister, who is now with the Longhouse Council of Native Ministry in East Vancouver. He studied in Vancouver, Chicago and Wales. He reviews for AAR's Reading Religion and has contributed to and authored books on urban ministry or particular persons, including The Book of Rita's Living; The Word on the Street; Hopeful Realism in Urban Ministry; and A Faithful Public-Prophetic Witness.
Barry is a lifelong student of the Niebuhrs and a grateful reader of meditation/contemplation books, especially in the service of grounding social justice commitments. He notes in the Preface/Introduction that during a post-graduate degree at the Vancouver School of Theology he took a seminar on Reinhold Niebuhr with Professor Terry Anderson, who had been Niebuhr's last teaching assistant: "His interpersonal reminiscences enriched the sessions. Each class opened with a Reinhold Niebuhr prayer."
Dora Dueck: Return Stroke: Essays & Memoir (CMU Press)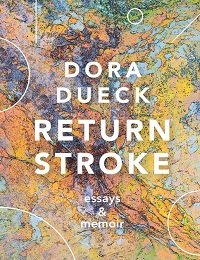 These graceful, probing personal essays by award-winning fiction writer Dora Dueck engage with a diverse range of ideas (becoming a writer, motherhood, mortality, the ethics of biography, a child's coming-out) because in non-fiction, she writes, "the quest for meaning bows to the experience as it was."
Yet within Return Stroke, one theme in particular does resonate – change. "How wonderful," the author writes, that our "bits of existence, no matter how ordinary, are available for further consideration – seeing patterns, facing into inevitable death, enjoying the playful circularity of then and now."
The book's title – the title of one essay, where it literally refers to lightning – suggests such a dynamic: "When I send inquiry into my past, it sends something back to me." The topic of memory, in all its malleability, impermanence and surprising power, is especially central to the collection's concluding piece, an absorbing memoir of the author's 1980s life in the Paraguayan Chaco.
Whether she is discovering the more meaningful part that imagination holds within her religious faith or relating with astonishing clarity and honesty the experience of giving birth away from her home country, Dora Dueck's beautifully written essays and memoir make her an insightful and generous companion.
Dora Dueck is the author of four books of fiction and articles in a variety of journals. A lay historian, she has served in editorial positions at the MB Herald, on conference boards and in the local church. Dueck grew up in Alberta, resided later in Manitoba, Saskatchewan and Paraguay, and has retired to Delta. She and her late husband Helmut have three children and 10 grandchildren.
Dora Dueck: On Holy Ground: Stories By and About Women in Ministry Leadership in the Mennonite Brethren Church (Kindred Productions)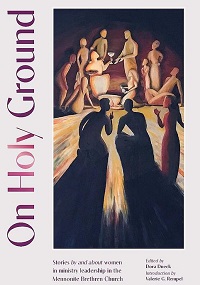 On Holy Ground grew out of a wish to set the lived experience of women alongside – or within – the institutional history of women in leadership ministry among Mennonite Brethren, as recently written by Doug Heidebrecht in Women in Ministry Leadership: The Journey of the Mennonite Brethren, 1954 – 2010.
His excellent narrative of denominational meetings, motions and debates on the subject is invaluable, but it was real women who were under the spotlight during all that discussion and it's the voices of real women who need to be on record as well with their recollections of this history. In this book, we hear some of those voices, telling their compelling stories.
See above for background on Dora Dueck.
John H. Redekop: Mennonite in Motion: The Life and Times of John H. Redekop, PhD (Fraser River Books)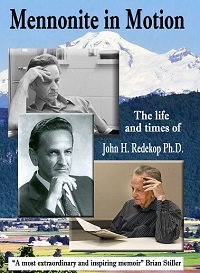 John Redekop begins his memoir with an account of his forebears migrating from Russia in 1913. The story continues with a description of their impoverished farming years in Saskatchewan where John was born. His family endured dust storms and drought in the 1930s and then settled on a farm in British Columbia which required blasting tree stumps in order to bring virgin land into production. The book follows the chronology of his life.
"Mennonite in Motion is an engaging and compelling tome of a read . . . a bounty and beauty of a book." Dr. Ron Dart
I posted an article on Mennonite in Motion last year.
John Redekop attended Mennonite Educational Institute and UBC, then earned a master's degree at Berkeley and a PhD at the University of Washington. He taught at Wilfrid Laurier University in Ontario for many years, then took early retirement and became a scholar in residence and then adjunct professor at Trinity Western University. He has written several books and has been a commentator on political and religious issues for many publications.
 Nelson Boschman: The Growing Season: Contemplations on Wine and the Soul (independently published)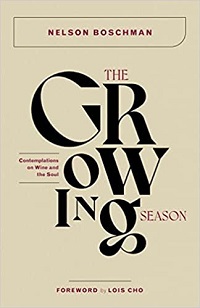 The Growing Season explores the intersection between vineyard, cellar, tasting room, and soul. It's a closer look at the transformation that occurs from grape to glass, and what that process can teach us about what it means to flourish as human beings.
Nelson Boschman's The Growing Season, like some wines, masks its strength by a deceptive smoothness. I felt, from beginning to end, like I was being guided through a tasting by a knowledgeable friend. But at the end I realized I had more than tasted: I had savoured a full bottle of wisdom about what it takes to make both a fine wine-and a fine soul. "Wine makes the heart glad," says the Psalmist. And so does this book. – Dr. Loren Wilkinson, professor emeritus of philosophy and interdisciplinary studies, Regent College
I posted a portion of the introduction to The Growing Season last year.
Nelson Boschman is a pastor, writer, spiritual director, jazz musician, wine enthusiast, husband and father of one in Vancouver. He is the pastor of spiritual formation at Artisan Church, and a partner of SoulStream.org, a community that seeks to nurture contemplative experience with Christ, leading to inner freedom and loving service.
Peter Twele, Samir son of Babylon: Guilt by Association: Hope in the Midst of Hopelessness in Iraq (independently published)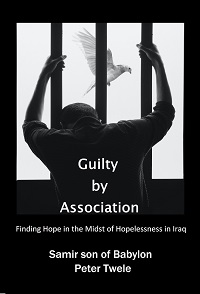 Samir's teen years were fraught with atypical teen issues. For him, they were years filled with forced social exclusion, the loss of his brothers to Saddam Hussein's governing policies, as well as Samir's eventual imprisonment. And circumstances for him and his family continued on that downward spiral throughout his early adulthood, filling them all with continual fear and misery.
Samir's survival instincts, ingenuity, faith and hope, convinced that he had a future worth living for, carried him through. A few key people, in the right place at the right time, along with a number of miracles, which could only be explained as God's timely intervention, carried him forward.

For those who are facing adversities in their own lives and are losing faith and hope, this personal account of insurmountable struggles which ends in ultimate triumph, can hopefully serve as an encouragement that there is very likely a light at the end of the tunnel for them as well. Never give up!
Peter Twele first moved to the Middle East in 1984, where he resided and traveled extensively for over 11 years. After studying Arabic for a number of years, he then worked and did research through a number of institutions in the Middle East, including the Phonetics Research Center at the University of Jordan, the American Center of Oriental Research, the American Institute for Yemeni Studies and the Yemen Centre for Research and Studies. He has also taught in the Linguistics programs at both Trinity Western University, and at the University of Texas in Arlington. To this day he continues with his desire to build bridges of understanding between the West and the Middle East . . . mostly by trying to help Westerners understand and appreciate Middle East cultures.
Tore Jørgensen: Stutthof Diaries Collection: For Truth & Honor (Friesen Press)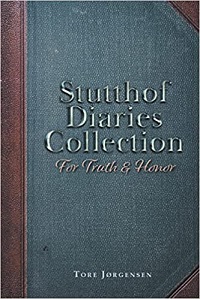 In the early days of World War II, as Nazi Germany brutally invaded and occupied neighbouring countries around Europe, hundreds of Norwegian police officers were commanded to carry out the orders of the Nazi occupiers of their homeland – Norway. They refused. Even under threat of death, they refused.
Their refusal led to their imprisonment and their removal from Norway, ultimately to KZ-Stutthof in eastern Poland, where an elaborate network of concentration and death camps had been created mainly for Jews and Poles. Author Tore Jørgensen's father was one of those police officers.
The story of these Norwegian police officers celebrates the redemptive force of conscious choice against evil, of how love and compassion can help people through some of the darkest periods of their lives.
Through their stories, the Norwegian police officers, loyal to their country and each other while reaching out to aid their fellow sufferers at the same time that they struggled for their own survival, urge readers to not repeat the history and the myth of racial superiority that led to the rise of Nazism.
For more than two decades, Tore Jørgensen collected and translated the available diaries and memoirs of many of the police officers who were taken captive by their Nazi occupiers, as well as the remembrances of other prisoners at Stutthof. In addition, he interviewed survivors of the Stutthof camp. Jørgensen lives in Abbotsford with his wife; they have four children and 10 grandchildren. He is a member of the Board of Elders at Sevenoaks Alliance Church.
Lorne Braun: My Abandonment, Their Treasure: A Memoir About the Traveller Gene (independently published)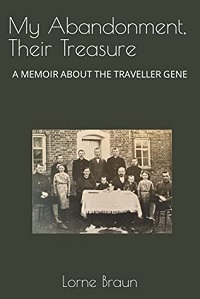 Family history and legacy is interwoven with the poet's own experiences, many of them mirroring his father's life. Lorne Braun's imagining of his father's travels from Russia to Canada, set against his own journeys around the world, provides a window into how past and present can merge into a hope-filled future.
The encounters include escape from genocide, refugee flashbacks, child soldiers and hostile regimes, but also hope-filled connections of grace, whether through a reimagining of how to look back at trauma or seeing the world in a new way.
Ultimately the poet provides not only a view of his own personal formation but an example of how one can see their own path through the eyes of another.
After 35 years working in international development: working and consulting with NGOs, the private sector, and the Canadian Government, Lorne Braun continues to volunteer with Initiatives of Change International, is on the Rivendell Foundation board and is a member of the Rivendell community on Bowen Island. He is now passionately writing poetry and his memoirs. He lives in Richmond.
W. Allan MacLeod: Unshackled: The Allan & Meryle MacLeod Life Story

(Judson Lake House Publishers)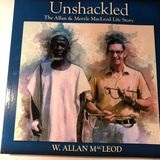 Allan and Meryle MacLeod spent 29 years with Gospel Missionary Union (now Avant Ministries International) serving in Mali Republic and Ivory Coast, West Africa, from pre-independence, through independence in 1960 and the turbulent times which followed, in medical, construction and teaching ministry. 
Allan gives us a very personal and delightful account of missionary life in Africa, of the 
local church's steady growth and of God's wonderful provision in times of need, leading 
readers to praise and a deeper understanding of God's faithfulness in the lives of those
serving him.
Unshackled can be ordered from Allan at [email protected] for $15.00 plus postage. The MacLeods now live in Mission.
John Murray: It's All About Love: Confessions of a Caregiver (Pagemaster Publishing)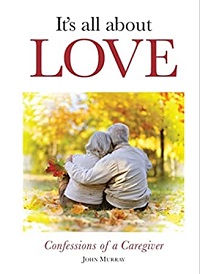 It's All About Love is the true story of a husband lovingly caring for his wife through her many years of suffering with Parkinson's disease. If you are a caregiver, you will quickly identify with the struggles and difficulties they face. If you are dealing with such issues, then this book will give you great encouragement.
The book is honest, real, true to life and down to earth. If you are caregiving, expect to be, or simply want to learn more about it, this book is for you.
"All I want to do here is to relate how life is and how it has been for us. I plan to share the things that have occurred and affected us on our journey with Parkinson's disease. All illnesses are different, which create different scenarios.
Caretaking is not an easy road to travel. In fact, it can be quite difficult at times and often uphill. It is a permanent learning experience. However, certain principles remain the same and interpersonal relationships are similar in these different scenarios. Those who are caregiving will see themselves reflected in our situation and will identify with some of the issues we have faced."
John Murray and his wife Rita live in Metro Vancouver; they have two grown children and five grandchildren. He grew up and was educated in the United Kingdom. He studied theology in Birmingham, England and in Toronto. His life experience has been in business, in pastoral ministry, in Christian journalism and for the last 20 years before retirement he was the Executive Director of Eurovangelism Canada.  As such, he travelled extensively in Eastern Europe, from Russia in the north to Albania in the south. Since retiring he has written four books.
Marja Bergen: Justice for All: The Courage to Overcome (Friesen Press)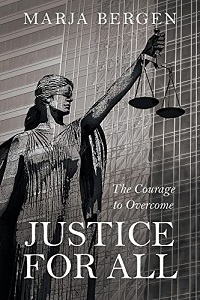 Would you like to live a more meaningful life? Perhaps you want to speak out against injustice or make a change in your own life but lack the courage to do so. Justice for All recounts the inspirational achievements of 12 of history's greats, all of whom overcame personal challenges and gave their lives to fighting the injustices of their times.
People like William Wilberforce, who helped abolish slavery in Britain; Mahatma Gandhi, the Indian leader who was shy about public speaking but became one of the most influential leaders of modern times; and Mother Teresa, who saw Christ's suffering in the poor she ministered to.
Author Marja Bergen encourages the reader to identify what helped these leaders do what they did and to foster similar qualities in themselves, along with confidence in a God who tells them that they are of value to their community and their world.
With a focus on modern Christians, Justice for All is for readers looking to make changes both in their lives and society. We can all learn from these outstanding individuals who shaped our world, from two thousand years ago to the present day.
Marja Bergen has published nine books. She lives with bipolar disorder but has managed to stay confident throughout most of her 76 years. Since 2006 she has been a pioneer in raising mental health awareness in the Christian church. She founded a faith-based peer support group (Living Room) and helped others form across Canada. In 2010 she was awarded the Outstanding Community Volunteer Award by the Canadian Mental Health Association (BC Division). She lives in Burnaby with her husband Wes.