Earthkeepers and another network of faith leaders are strongly urging Vancouver City Council to adopt a plan which "focuses on reducing our carbon pollution through 19 proposed actions that focus on how we move around the city, how we build and renovate and how we amplify [our efforts]."
Here is a November 6 post from their website, followed by an outline of the proposal.
Earlier this week, our team submitted a letter to the Vancouver City Council expressing our support for the Council's adoption of the Climate Emergency Action Plan (CEAP).
Specifically, we encourage Council to scale up ongoing work under the Climate Emergency Report, work to protect nature and enhance climate adaptation, reduce GHG emissions in the Transport and Building sectors, and incorporate just recovery principles in post-COVID plans.
Earthkeepers, along with a number of other faith leaders in Vancouver also jointly signed a letter expressing a support for the Climate Emergency Action Plan (click here for full letter).
Following is the full letter from Earthkeepers to city council council:
Dear Vancouver City Council members,
Thank you for joining in with other cities worldwide to declare a climate emergency for the City of Vancouver. Thank you for your vision of making this city one of the greenest in the world.
We are Earthkeepers: Christians for Climate Justice, a grassroots, citizen-led ecumenical group of Christians concerned about a sustainable and just future for our neighbors in this city, country and around the world, and this treasured Earth that is our home.
Many of our leadership team members, supporters and volunteers grew up in and currently live in the City of Vancouver.
We have helped with shoreline cleanups for New Brighton park, and led nature-inspired engaged ecology and prayer walks in local parks, and teach and engage Christians in climate change science and civic action through outreach at churches in Vancouver and Metro Vancouver.
We are grateful for the opportunity to live, work and minister in this city and help make it a better place.
We exhort the Vancouver City Council to adopt the Climate Emergency Action Plan, to set the city on a sustainable path that would align with the Intergovernmental Panel on Climate Change's scientific recommendations for a stable climate.
We join in with other faith leaders in Vancouver to call the City Council to adopt the Climate Emergency Action Plan and are signatories in the October 28th open letter from Vancouver Faith Leaders.
We support continuing and scaling up the work under the Climate Emergency Report (2019), and highlight a few areas of interest to Earthkeepers: Christians for Climate Justice.
Protection of Nature and Climate Adaptation 
We support the continued work under Big Move 6, especially the measures to support shoreline habitat and improve natural shoreline defences.
We encourage the updated plan to integrate and mainstream climate adaptation actions that are consistent with adaptation best practices used by other jurisdictions and endorsed by agencies including USAID and the UNFCCC.
Restoring natural shoreline defences in areas such as False Creek and the south shore along the Fraser would support those neighbourhoods vulnerable to flooding as well as restore the habitats there. We encourage the plan to include and integrate local and native plant species in habitat restoration in order to support ecosystem resilience.
Reducing Greenhouse Gas Pollution in Transportation and Buildings 
Given the significant carbon footprint of the transportation sector, we support the continuation of the plans to improve trips by active transport, and scaling up the actions under Big Moves 1, 2 and 3. We encourage the City to work with churches and other religious organizations to implement zero-emissions strategies for houses and centres of worship.
Many people of faith and religious organizations wish to contribute to climate action and would support measures that enable energy and resource conservation and cost-savings.
Just Recovery and Renewal 
Due to the COVID-19 pandemic, we are witnessing how poverty, systemic racism and climate and environmental justice, are all linked.
We urge that all work areas under the Climate Emergency Report and other related plans incorporate the principles of a Just Recovery, which has been endorsed by over 400 organizations, including many non-governmental organizations, labor unions and religious groups.
These six principles are:
Put peoples' health and wellbeing first, with no exceptions
Strengthen the social safety net and provide relief directly to people
Build resilience to prevent future crises
Prioritize the needs of workers and communities
Build solidarity and equity across communities, generations and borders
Uphold Indigenous rights and work in partnership with Indigenous peoples
We exhort that the principles of sustainability, public health, equity and justice be integrated and mainstreamed into the updated Climate Emergency Response Plan, and forthcoming neighbourhood, transit and housing plans. Building the foundations for community resilience now will support us in preparing and responding to future crises.
We will continue to keep you and the municipal government staff in our prayers as you direct this Plan and oversee its implementation, as we work together for a better and more sustainable city.
Respectfully,
The Leadership Team at Earthkeepers: Christians for Climate Justice.
Earthkeepers will host a Prayer Night for Bold Climate Action November 26, 5 pm.
***************************************
Editor's note:
I watched several hours of the November 3 and 5 city council meetings related to the Climate Emergency Action Plan. November 3 was devoted primarily to presentations from city staff and questions from councillors. November 5 focused on comments and questions from the public; more speakers will be heard next Tuesday (November 17) at 3 pm.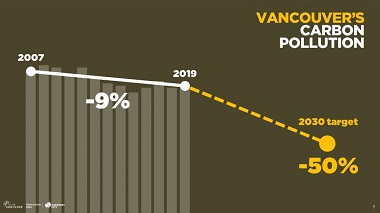 Speaking of how Vancouver has been doing, and the need for the CEAP, the city's climate policy manager Matt Horne said November 3:
The grey bars [on the image] represent city-wide carbon pollution in Vancouver from buildings, transportation and waste. Over the last decade you can see that modest decline, about a 9 percent reduction in emissions, so we're starting to move in the right direction.
If you compare that to our 2030 targets, we're not moving fast enough and we need to accelerate our progress if we're going to get on track with those targets. In essence, this is what the Climate Emergency Action Pan is proposed to do, is to transition us from that white line to the dotted yellow line and put ourselves squarely on track for those 2030 targets.
Noting that the two major elements of carbon pollution are natural gas use in buildings (54 percent) and gas and diesel in vehicles (39 percent), he added:
In the Climate Emergency Response Report in April 2019, six 'Big Moves' were set to frame the city's ambition around responding to the climate emergency. The Climate Emergency Action Plan includes the detailed actions for four of those [Big Moves 2 – 5]. . . .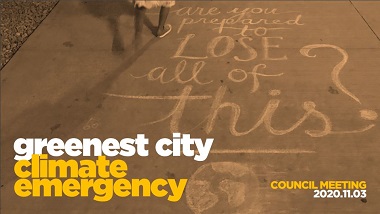 The 371-page report on the Climate Emergency Action Plan presented to city council November 3 goes into tremendous detail about a proposed plan of action.
Here are some guidelines about the nature of the four Big Moves, from near the beginning of the report:
In January 2019, Vancouver Council declared a climate emergency in recognition of the urgent threat posed by climate change, and as a call to scale up Vancouver's efforts to cut carbon pollution. In April 2019, Council approved the Climate Emergency Response, which established six new targets (referred to as "Big Moves") to guide the City's efforts in response to the climate emergency.
The Climate Emergency Action Plan (this report) provides the road map to achieve the following four Big Move targets in ways that also bring financial, health and economic benefits to Vancouver . . .
How We Move
Big Move 2: Active Transportation and Transit
By 2030, two-thirds of all trips in Vancouver will be made on foot, bike or transit.  Actions: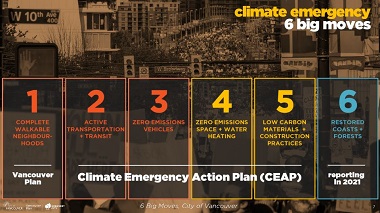 • Implement Transport Pricing in the Metro Core
• Expand and Improve Our Walking/Rolling, Biking Network
• Improve Bus Speed and Reliability
• Encourage More Walking, Biking and Transit Use
• Promote Remote and Flexible Work Options
• Eliminate Parking Minimums and Introduce Parking Maximums in New Developments
• Implement Residential Parking Permits City-Wide
Big Move 3: Zero Emissions Vehicles
By 2030, 50% of the kilometres driven on Vancouver's roads will be by zero emissions vehicles. Actions:
• Implement a Carbon Pollution Surcharge on Residential Parking Permits
• Expand Public Charging Network
• Increase EV Charging on Private Property
• Support Charging Infrastructure for Passenger Fleets
How We Build / Renovate
Big Move 4: Zero Emissions Space and Water Heating
By 2030, the carbon pollution from buildings will be cut in half from 2007 levels. Actions:
• Set Carbon Pollution Limits and Streamlined Regulations
• Support Early Owner Action
• Build Industry Capacity
• Facilitate Access to Renewable Energy
Big Move 5: Low-Carbon Construction Materials
By 2030, the embodied emissions from new buildings will be reduced by 40% compared to a 2018 baseline. Actions:
• Set Embodied Carbon Pollution Limits for New Buildings
• Make It Easier and Less Expensive to Use Lower-Carbon Materials in New Buildings
• Support the People Using Low-Carbon Materials in New Buildings
• Low-Carbon Planning and Strategies
(Big Move 1 deals with Walkable Complete Neighbourhoods. while Big Move 6 is focused on restored coasts and forests.)
Go here for the full plan.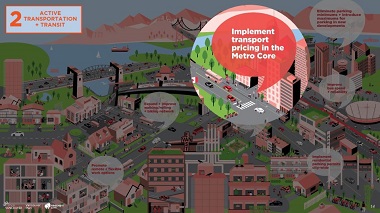 Horne spoke of "game changer actions" for each of the four Big Moves. In the case of Big Move 2 (Active Transportation and Transit) he said:
The objective here is by 2030 two-thirds of our trips would be by walking, rolling, cycling and transit.
If we're going to be successful with that objective, ultimately that will mean more of our road space dedicated to walking, rolling, cycling and transit – those are safer and more viable options for more people.
The game changer action here is to implement transport pricing in the metro core – sometimes referred to as mobility or congestion pricing – the general concept being that drivers should be charged per trip into the metro core with the objective of encouraging them to choose active transportation and transit.
Transport pricing isn't just about active transportation and transit though. The people that need to drive also benefit, based on a review of other systems, because there is reduced congestion and faster and more reliable travel times . . .
He said they plan to improve conditions for those who walk, roll, cycle and transit, sometimes at the expense of those who drive:
[One recommendation is] to implement residential parking permits on a city-wide basis. Currently only about 10 percent of our residential streets have parking permits, and we're hoping to change that to be city-wide.
The change will allow us to better manage curb space to start to reflect the value of that public space. It will also support our objective of allocating some of that space for other uses such as wider sidewalks, parklets, patios and bike lanes.
While city planners and council members have been on this trajectory for some time and seem committed to it, pushback is likely to grow, especially related to transportation issues.
Many of the November 5 speakers strongly supported the plan. Others (including some councillors, on both days) raised questions which have surfaced in media coverage, citing such issues as the potential hardship on less affluent drivers and seniors, on tradespeople and others required to work in the city's central core, and on downtown businesses.
Kris Sims, BC director of the Canadian Taxpayers Federation delivered (6:09:45 – 6:31:10) a polite but firm rejection of the 'transport pricing' elements of the the presentation on Active Transportation and Transit, followed by some spirited back and forth between Sims and several councillors.
November 17, and beyond, could be lively down at city hall.