First United has long been a steady and welcoming presence in the Downtown Eastside for the homeless and poor, first as a church and more recently as a community centre and social service provider.
Now First United Community Ministry has big plans for its property, planning a tower which will offer housing and several floors for programs.
A November 6 article by Jen St. Denis in The Tyee described those plans:
First United Community Ministry plans to partner with Lu'ma Native Housing Society to build an 11-storey building with seven floors of housing and four floors for First United's social programs.
"We're really hoping we'll have shovels in the ground next summer," said Carmen Lansdowne, executive director for First United.
First United has been trying to redevelop the building for the past 12 years, but Lansdowne said this time, she's confident the project will go ahead.
In September, the regional council for the United Church sold the property to First United for $10, meaning the ministry can tap into the equity to help fund the new building.
The municipal, provincial and federal governments are also aligned on providing more funding for affordable housing, Lansdowne said.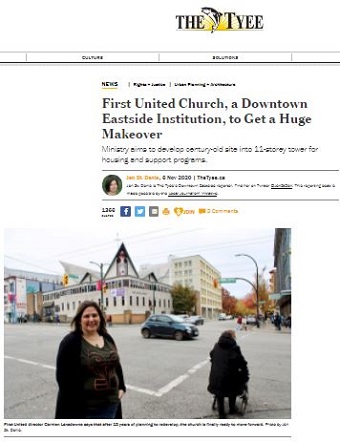 First United hasn't held church services at its building at the corner of Gore and East Hastings streets since 2007, when the congregation had dwindled but the demand for social services continued to grow.
Instead of filling a church every Sunday with worshippers, the church became a full-time shelter and drop-in space.
Go here for the full story.
Redevelopment plans on the First United site state:
The first four floors, operated by First United, will provide a safe and inclusive community space where people are welcomed with joy, kindness, dignity and respect. The space will encourage healing by offering services and programming that reflect the needs and interests of the community.
Lu'ma Native Housing Society will offer safe, secure homes for Indigenous Peoples in a supportive and caring environment on the upper seven floors.
The proposed project includes:
• Two drop-in spaces, a large dining room, a legal advocacy clinic, a commercial kitchen, multipurpose spaces, public showers, a day sleeping room, a chapel and sacred spaces, outdoor decks, computer lab and administrative offices, developed following consultation with Downtown Eastside residents
• 105 non-market studio and one-bedroom homes, with laundry and amenities
Go here for more.
CLA Housing Townhall
Christian Life Assembly in Langley will be holding a Virtual Townhall November 19 for people wanting to learn more about the CLA Housing project.
Here is the church's description:
On February 19th, 2019, the membership of Christian Life Assembly voted in favour of providing a parcel of land for a new, affordable rental housing development on their Langley Campus located at 21277 – 56th Avenue. Shortly thereafter, the CLA Housing Society was formed.
Incorporated under the Societies Act of British Columbia, we are a stand-alone, non-profit organization whose sole purpose is to oversee the construction and operation of a 98-unit affordable rental housing development for families and independent seniors.
In addition to our partnership with Christian Life Assembly, this project also involves a partnership with BC Housing – who are not only funding the build but have also guaranteed 60 years of operational funds for any shortfalls and/or maintenance issues.
Though still in our preliminary stages we are working closely with the Township of Langley on our rezoning activities, and our community engagement initiatives. At present, we are not yet accepting applications; however, those who are interested in receiving regular updates are invited to submit their name and email address using the online forms provided at the bottom of the website.
Go here for details of the project.
CLA will also be undertaking a more timeless and timely, though temporary, building project on several work bee days over the next month. They will construct Bethlehem: "This nativity will remind our community of the original and most important part of Christmas."
Social conservatives homeless
British Columbians may be feeling a bit smug as they look at the electoral mess south of the border. But some may be feeling a certain amount of dis-ease as they survey the local situation.
An article by Terry O'Neill in The B.C. Catholic makes the case:
For every winner in politics, there are always multiple losers, and not all of them are political parties.
Indeed, in the Oct. 24 provincial election it was clear that not only were multiple political parties on the losing side of the ledger – the B.C. Liberals being chief among them – but also that significant aspects of public-policy debate were crushed under an avalanche of "woke"-era political correctness.
Discussion of current affairs close to the heart of practising Catholics [and evangelicals], including assisted suicide, taxpayer-funded abortion, contraception as a new social program, and gender identity, was either completely absent or deemed beyond the pale.
The most notable example of the latter was the dismissal by the B.C. Liberals of Chilliwack-Kent incumbent candidate Laurie Throness. . . .
Essentially what Throness was arguing for is the classic big-tent, centre-right coalition that was first assembled in B.C. in 1941 by way of a formal Liberal-Conservative coalition, then reanimated by the Social Credit Party, and finally manifested by the B.C. Liberal Party.
However, under leader Andrew Wilkinson, the B.C. Liberals have clearly veered left on social issues, leaving social conservatives with no viable party in which to place their allegiance – the minuscule B.C. Christian Heritage Party (CHP) and the moribund B.C. Conservative Party both playing an inconsequential role in the election results.
Go here for the full comment.
Nov 2020
Fertility and Faith: A Conversation with Philip Jenkins
– November 12, 2020 at 12:00 pm - 1:00 pm
Being Missional in a Pandemic
– November 12, 2020 at 3:00 pm - 4:00 pm
A Rocha Talks: Earthkeeping in the City – From backyard composting to electric vehicles
– November 12, 2020 at 5:00 pm - 6:00 pm
Canadian L'Abri Lecture Series: Josh Darsault, "The Medium and Message of the Bible"
– November 13, 2020 at 7:00 pm - 8:30 pm
Friday Night Reads: Falling: A Wake by Gary Kirkham
– November 13, 2020 at 8:00 pm - 9:30 pm
Faith and Freedom in China
– November 14, 2020 at 11:00 am - 12:00 pm
ELO Forum Online
– November 16, 2020 at 8:30 am - 12:30 pm
Discernment in Hard Times (Tuesday mornings)
– November 17, 2020 at 9:00 am - 10:30 am
Remembering Dr. J.I. Packer
– November 18, 2020 at 12:00 pm - 1:30 pm
Dialogue on Aging: Sleep Health for a COVID-19 World
– November 18, 2020 at 1:00 pm - 3:00 pm
Remembering Dr. J.I. Packer – in Conversation
– November 18, 2020 at 1:45 pm - 2:45 pm
John Owen: Protecting Democracy from the Outside
– November 18, 2020 at 4:00 pm - 5:00 pm
Global Apologetics Conference
– November 19, 2020 - November 21, 2020 at 3:00 pm - 6:00 pm
Arresting the Darkness: A Himalayan Life Virtual Gala
– November 19, 2020 at 7:00 pm - 8:30 pm
Canadian L'Abri Lecture Series: Clarke Scheibe, "The Birds and the Bees, Take 2, Part 2: Biblical Worldview"
– November 20, 2020 at 7:00 pm - 8:30 pm
Friday Night Reads: The Blood Knot by Athol Fugard
– November 20, 2020 at 8:00 pm - 9:30 pm
MCC@100: Centennial Celebration
– November 21, 2020 at 5:00 pm - 6:00 pm
Night with the Persecuted Church
– November 22, 2020 at 4:00 pm - 5:30 pm
EFC Webinar: Understanding the Proposed Conversion Therapy Ban
– November 24, 2020 at 9:00 am - 10:00 am
Alpha Webinar: Opportunities for Invitation This Christmas
– November 25, 2020 at 9:00 am - 10:00 am
Ideas that Matter: Malcolm Guite – Poetry Pushes Back: The Practical Power of Poetry to Rebalance Our Lives
– November 25, 2020 at 12:00 pm - 1:30 pm
TWU Live
– November 25, 2020 at 4:00 pm - 6:00 pm
SENT Conference 2020 (Wednesday evenings)
– November 25, 2020 at 7:00 pm - 8:30 pm
Broken Signposts: A Conversation with N.T. Wright
– November 26, 2020 at 12:00 pm - 1:00 pm
Peoples of African Descent & Canadian Churches: A Cross-Canada Conversation
– November 26, 2020 at 4:00 pm - 5:30 pm
Prayer Night for Bold Climate Action: November edition
– November 26, 2020 at 5:00 pm - 6:00 pm
Darrell Johnson: Discipleship and Ministry in this Temporary New Normal
– November 27, 2020 at 12:00 pm - 1:00 pm
Canadian L'Abri Lecture Series: Donna Hornibrook, former head coach of field hockey at Cornell, "Sports and Faith"
– November 27, 2020 at 7:00 pm - 8:30 pm
St. Hildegard's Sanctuary Annual ILLUMINATE Gala
– November 27, 2020 at 7:00 pm - 9:00 pm
Friday Night Reads: The Mountaintop by Katon Hall
– November 27, 2020 at 8:00 pm - 9:30 pm
The Church and Affordable Housing, by CityGate Leadership Forum
– November 28, 2020 at 10:00 am - 12:45 pm
P2C's Global Missions Night
– November 29, 2020 at 7:00 pm - 8:30 pm
Fall Online Forum: For the Love of Creation
– November 30, 2020 at 4:30 pm - 5:30 pm
Dec 2020
12th Annual Mission Possible Gala
– December 2, 2020 at All Day
Alpha Webinar: The Power of Invitation
– December 2, 2020 at 9:00 am - 10:00 am
Engaging in Ministry with the New Normal
– December 2, 2020 at 10:00 am - 11:15 am
Together at Midday: Elizabeth Sung
– December 2, 2020 at 12:00 pm - 12:30 pm
Who is My Neighbor, Abrahamic Dialogue During the Time of COVID
– December 3, 2020 at 8:00 am - 9:00 am
EFC Webinar: The Church and Covid
– December 3, 2020 at 11:00 am - 12:00 pm
Why You Should be Concerned about Euthanasia Bill C-7
– December 3, 2020 at 12:00 pm - 1:00 pm
Sanctuary's Virtual Christmas Gala: Heart Mind & (Soul) Sole
– December 3, 2020 at 7:00 pm - 8:00 pm
Canadian L'Abri Lecture Series: Liz Snell, The Moral Foundation of Freedom
– December 4, 2020 at 7:00 pm - 8:30 pm
Postponed: Friday Night Reads: The Messiah by Patrick Barlow
– December 4, 2020 at 8:00 pm - 9:30 pm
Refugees and Borders: Remapping the World We Think We Know
– December 5, 2020 at 2:00 pm - 4:00 pm
Together Project: A Conversation on Canada's Global Engagement
– December 8, 2020 at 11:00 am - 12:00 pm
Singalong (At Home) Messiah 2020
– December 8, 2020 at 7:00 pm - 9:00 pm
Ideas that Matter: David Leong – Reimagining Belonging: Race and Place in Christian Communities
– December 9, 2020 at 12:00 pm - 1:00 pm
Cardus: Foundations for a Post-Pandemic World
– December 9, 2020 at 1:00 pm - 2:00 pm
WROL (Without Rule of Law)
– December 10, 2020 - December 13, 2020 at All Day
Rowan Williams: A public lecture to mark the 850th anniversary of the murder of Saint Thomas of Canterbury
– December 10, 2020 at 9:30 am - 10:30 am
Human Rights Day Webinar: Forgotten Fundamental Freedoms Panel
– December 10, 2020 at 11:30 am - 1:00 pm
Planning for the Post-Pandemic City
– December 10, 2020 at 3:00 pm - 5:00 pm
Dr. Iain Provan: Seeking What is Right – the Old Testament and the Good Life
– December 14, 2020 at 12:00 pm - 1:00 pm
St. James Music Academyu 14th Annual Christmas Concert
– December 14, 2020 at 7:00 pm - 8:30 pm
LifeCanada presents 'The Culture Call'
– December 15, 2020 at 4:00 pm - 5:30 pm
Pro-Life Outreach Opportunity in Vancouver (Application Deadline)
– December 17, 2020 at All Day
Christmas with Chor Leoni
– December 18, 2020 - January 1, 2021 at All Day
Online Conversation with Malcolm Guite
– December 18, 2020 at 10:30 am - 11:30 am
Lessons & Carols: From Coast to Coast to Coast
– December 18, 2020 at 5:00 pm - 6:00 pm
Christmas Presence at Home
– December 19, 2020 at All Day
North Shore Community Christmas Dinner
– December 19, 2020 at All Day
musica intima: ceremony of carols
– December 19, 2020 at 7:30 pm - 9:00 pm
Brian Doerksen: Christmas at Our House
– December 20, 2020 at 12:00 pm - 1:30 pm
Hope is Born: A Christmas Special
– December 20, 2020 at 7:00 pm - 8:30 pm
Phoenix Chamber Choir: Rejoice & Sing
– December 20, 2020 at 7:30 pm - 9:30 pm
Christmas with the Bach Choir 2020: Digital Edition
– December 22, 2020 at 7:00 pm - 9:00 pm
Hope Alight
– December 24, 2020 at All Day