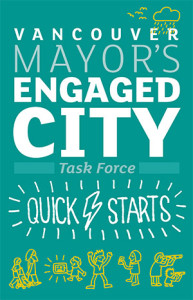 Vancouver mayor Gregor Robertson's website recently announced that his Engaged City Task Force is launching some "steps to modernize civic engagement" and some new online tools to achieve that goal.
Noting how ironic it is that unprecedented access to communication technologies "should coincide with the decline of civic engagement and increased feelings of isolation," the task force is helping city hall to broaden its conversations with the public (pdf).
The task force's first report, released May 22, featured 16 recommendations, including:
* a city-wide block party;
* a crowd-sourced venue list which would alert the public to community spaces which would be suitable for their events; 
* a mobile city hall which would provide basic services in various neighbourhoods;
* an 'Open Doors' day, where residents could tour city hall, performance venues, etc;
* participatory budgeting, so residents could participate in determining neighbourhood improvements.
They have also created an '
Online Ideas Forum
' so that citizens can add their proposals to those of the task force. Input will be Incorporated into the task force's final report, which is due out by the end of July.
Cynics will say that Robertson has his eyes on the next civic election in the fall of 2014. Many have made the point that he and his team put on a good show of consulting the public, then push through whatever is on their agenda, from bike lanes to increased control of community centres.
Even assuming there is some truth in these claims – this is politics after all – the Engage City Task Force does have potential. Make a suggestion!