Feast and Fallow is a unique venture in a number of ways, not least for the kind of food it offers but also for where it has found a home.
The co-hosts of Vegan Twosome (Diana Wu and Amir Aghelnejad) reported on Feast and Fallow in an October 9 YouTube video:
Diana: It is on West 41st [just east of] Cambie. It is in the Oakridge area; there's a shopping mall, Oakridge Centre, that's being redeveloped, and there are a lot of residential areas.
I grew up around this area so I'm very, very familiar with it, and I have to say, wow, amazing that a vegan cafe has opened. There is no such thing in this area, even at this moment.
[The interior] is very modern, bright. The really cool thing is that this space as a cafe actually belongs to the church that's right beside it. The church has allowed for this non-profit business to use this space right now.
Amir: Absolutely, which is really, really cool for a church to do, I think.
Diana: So progressive.
Whose is it?
These comments appear to offer a good reflection of the surrounding community's reception of Feast and Fallow since it opened in September.
Manager Stevan Mirkovich told me the cafe has been warmly welcomed by neighbours "from all walks of life."
He did clarify the ownership situation a little bit further. While Feast and Fallow does sit directly beside Oakridge United Church, they are separate entities, not financially connected to each other.
The cafe is a social enterprise which does have a memorandum of understanding with the church, allowing it to use the space. However, it is the Pacific Mountain Regional Council of the United Church of Canada (PMRC) which actually oversees its work.
Feast and Fallow can be found on the New Communities page of the PMRC along with 10 other initiatives, which all seem to be considered part of 'Church Planting': "a broad term that refers to starting new communities of faith for the benefit of those who are not yet part of the Church."
Though Mirkovich is clear that the cafe is a social enterprise and by no means an evangelistic work, he does look forward to sharing a eucharistic meal with fellow believers there in the future.
At this point, neighbours who walk into Feast and Fallow will find good plant-based vegan food, friendly service and opportunities to participate in community and learn about food justice – if they are interested.
Good food
When you walk up to the counter to order, you will see sourdough bread (with some variety, depending on the day), along with croissants, muffins, cookies, banana bread and three open face sandwiches – Carrot Lox, 'Just' Brekkie and The Parfait – along with coffee, matcha and other drinks.
(As a fairly committed non-vegan / non-vegetarian, I can attest to how tasty all three main dishes are; the bread – all baked by Mirkovich – is amazing.)
According to the Feast and Fallow site, three main elements make up the food offerings: slow bread, just coffee and nutritious food. Each is thoroughly thought through and described on the website.
Bread is central:
Bread can sustain life. Just three ingredients: flour, water, salt.
We feel and believe that the best bread is baked in accordance to the following ideas and principles.
1. Whole, Real, Simple Ingredients
We aspire to bake with as much whole freshly milled flour as we can. . . .
2. Natural Fermentation Process (Sourdough without commercial yeast)
Making good bread takes using the best processes and methods. We bake exclusively with wild yeast (sourdough) and our levain is always a 'young' levain (not as sour). . . .
3. Water
Ever tried cooking a cup of rice with half a cup of water? It does not work. Grains deserve to be handled and cooked properly and that requires a proper amount of hydration. . . .
4. Time
Can you see where this is going? Time, like water and yeast, was adjusted to fit our detached, cheap, mass production scales. . . .
5. Temperature
We bake our loaves dark. Darker than most are used to. Why? Because you can't rush this part of the process either. . . .
Go here for the full description; these are just excerpts.
The Vegan Twosome were very complimentary about the 'Just' Brekkie Sandwich they shared; Aghelnejad said, "It was absolutely delicious – there was nothing I could change about it."
Food justice
A lot of thought and preparation undergirds Feast and Fallow. Mirkovich told me in a phone conversation:
Our attempt is to merge the world's hospitality, business, social enterprise and food justice with a particular emphasis on community and relationships that gets us reacquainted with food.
Feast and Fallow's vision statement begins:
Society at large does not appreciate or understand how our recent industrial food systems and productions have engineered an entirely new way of being in relationship with our planet, our food, and with one another.
It's like a new chapter in human history. Basically all the way through human history before the last 100 or so years, people have innately, intuitively and wisely understood that eating is relational. It's bound up as cultural, ecological, agricultural and economic at the root.
This foundational understanding means that eating was always bound to ecological limits and ecological potential. A group could not abuse the land for long and expect to be able to eat from it.
Four short vlogs on the Feast and Fallow site offer further insights into Mirkovich's thinking.
Why Feast and Fallow?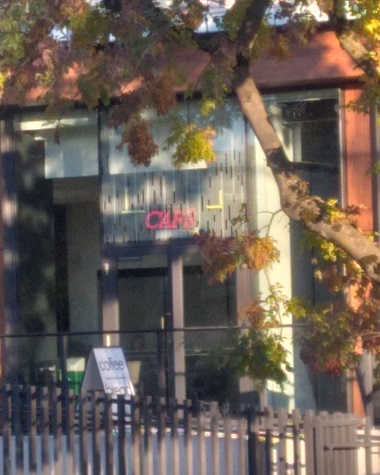 We all have a good idea of what it means to feast. But what do they mean by fallow? Here is what they said on one Instagram post:
I think what I appreciate about the definition is its indication that when it looks as if nothing is happening, looks are probably deceiving.
Rest is some of the deepest work to be done. In the history of food – with all of the prepping, drying, planting, growing, cultivating, harvesting, preserving, fermenting, to name a few steps along the way – we begin to see and experience a pattern. A pattern wherein there are times to feast and there are times to lie fallow.
It's in this experience of just stopping and not doing, not touching, not interfering – that we regain perspective and the world around regains its capacity to produce life. The circles of life, of birth and of death, of provision and restoration, are all present and a part of world respected, trusted and embraced.
Unique background
Mirkovich began specifically preparing for Feast and Fallow in September, 2018. But he was on course for this adventure even before that.
His spiritual journey is quite unique. His mother was Serbian Orthodox before converting to the Seventh-day Adventist faith when he was 10. After attending Trinity Western University, he served as an Adventist pastor from 2004 to 2017. He is now ordained as a United Church minister.
His Adventist training was valuable:
Absolutely! My early adoption of plant-based living was definitely a lot easier because I was exposed to the veganism / vegetarianism of the Seventh-day Adventist Church.
Though he is quick to point out that he was neither vegan nor vegetarian as a youth. Like most Adventists around the world, he was concerned about health and well-being, but not about strictly following denominational food guidelines – until his pastoral training in 2003:
I ate enough meat in my first 19 years to last a lifetime!
On the business side, and completely separate from his work at Feast and Fallow, he runs a national vegan tradeshow:
My relationship to the vegan community is definitely bolstered by the fact that I own Planted Expo, Canada's largest vegan tradeshow.
The next Planted Expo in Vancouver will be May 27 – 28, 2023 at the Vancouver Convention Centre.
On a much smaller scale, Mirkovich baked and delivered bread to many local people during the couple of years before opening Feast and Fallow.
Church and cafe
On Sunday mornings, a sliding wall is opened to allow free access between the Oakridge United Church and the cafe. Generally, though, during its operating hours (Tuesday to Saturday, 8 am – 3 pm) the wall separates the two spaces.
The church held a rededication / grand opening service September 25, which marked a very special moment for a church which had lost its building and then been affected by COVID-19. (They met at Marpole United during the construction phase, and then began gathering, and regrouping, at their current location last fall.)
I wrote
here
about the demolition of the old church in early March 2018. Heritage Vancouver had placed the church building on its 
2015 Top 10 Watch List
, so there was a real sense of loss when it was torn down.
However, in its place the church has provided for 47 residences at The Parker and retained space for the congregation and Feast and Fallow in the six-storey building.
One major connection between Feast and Fallow and Oakridge United is that the two leaders – Stevan Mirkovich and Rev. Heather Joy James – are married.
Mirkovich told me that at least one member of Oakridge United helps out as a volunteer at the cafe. And he knows of at least a couple of others from local churches. (One is Barry Jung, who I have posted a number of stories about for his work, with his wife Joan, in fostering community in the Oakridge area; he attends Granville Chapel.)
Mirkovich introduces one of his vlogs by saying:
This might feel like a strange place for me to start – with food and physicality being so central to my themes and interests. But the truth is that as humans, our tangible expressions are tied into much more than what we can simply see and feel.
We are also spiritual, or soulful creatures. Just as our bodies experience hunger and require feeding, and play, and rest – our souls need also be deeply intertwined and connected in order to feel nourishment and care.
Without that – our connected rootedness – we are not inhabiting the totality of the terrestrial human life that is ours to experience. Without soul care and transcendence, our material existence will be lifeless, stale even, and likely leave us feeling purposeless.
But partnering those things together – our earthiness and our spiritual composition – can lead and guide you, and me, and our communities, into that new kind of life that is promised and fulfilled in Jesus.
Could a church develop out of Feast and Fallow? Maybe. Mirkovich is himself a United Church minister who has taken on interim roles at local churches while preparing for the cafe.
He said:
It wouldn't be a Feast and Fallow Church; it is a social enterprise. . . . God wants the world to be fed and this is a good work to do.
I do care about a eucharistic kind of meal, tied to me and my faith. I want to worship with people around a eucharistic meal.
Mirkovich added that any such work would be connected to Oakridge United Church, which he attends himself.
Future events
Mirkovich told me, "What we really want to do is to build community through events, workshops and education – moments where people can dive into food justice issues."
In early October, a Regent College food class came out to visit: "They ate, heard the vision – what is the Christian response to the agricultural crisis that we face."
Feast and Fallow also recently hosted a 'coffee cupping' event as a fundraiser for a coffee farmer in Guatemala. And Mirkovich has just announced a cookie baking workshop December 19, which should provide lots of good Christmas presents. Then a sourdough workshop . . . and much more.
"I plan to be around a long time doing this," he said.