I felt some trepidation when I arrived, late, for the first night of the Festival of Hope, which ran from Friday to Sunday (March 3 – 5). The area outside Rogers Arena was quiet; there weren't even any protesters. I wondered whether there were many people inside.
I needn't have worried. The arena was full to the rafters and the atmosphere was electric. It seemed like every youth group in the city – and their friends – had agreed to meet up for a night of music and praise at Rogers Arena.
'A big decision'
Fawnda Bullshields, a young Indigenous woman I know, put it this way:
Youth Extreme from New Beginnings Baptist Church [in Strathcona] attended Festival of Hope. The youth come from broken homes and often rely on the youth group to be like their family. The youth group is like a safe home and the leaders are more like parents who help them not only know Jesus but mentor them with life skills.
When we went to Friday night Festival of Hope one of the youth said, "This is like a concert – so Christians actually have fun?" For this particular youth it demonstrated that living a Christian life is not just boring but rather exciting.
Our youth struggle listening through a message at youth group, but when Franklin Graham got up to speak the youth listened to the message and were respectful. Later, when they did the altar call, many people went down to the ground floor to accept Jesus as their Lord and Saviour.
Our youth did not go down, but they were impressed with all the people who wanted to give their lives to Jesus. One girl said "Wow, that is a lot of people!" I asked her if she wanted to go down, but she said no. I said it's a big decision and you want to be ready for this step, and she agreed.
This youth showed me that she knows that giving your life to Jesus is a big deal and when she does she will no doubt be ready to live her life fully for God.
I'm not sure what the young people who went with Fawnda are thinking several days after the event, but I know of others from the church who have made professions of faith.
By the numbers
Dave Ingram, Festival director with the Billy Graham Evangelistic Association of Canada (BGEA), offered this summary:
Well, that was quite a weekend! After all the hard work, and prayer and preparation; what a joy to see so many people come and so many make commitments.
In brief, we had 10,053 attend tonight, and 34,406 total, and we had 616 make commitments Sunday night, with 1,929 total. But on top of that we had 65,429 view the Festival online (from 76 countries!) with 466 commitments, and we also had 389 people make commitments during our Christian Life and Witness Courses. 
So altogether we had 2,774 commitments made during the Festival journey. Praise God for these lives impacted! As the day was winding down I was reflecting on the Festival journey over these past two-plus years in Vancouver and I am so thankful for the opportunity to work with all of you. God gave us a great team!
Report from Surrey
Kevin Cavanaugh, lead pastor of Cedar Grove Church in Surrey, was a counsellor at the Festival. He said during a video shot at his church on Sunday:
I want to share with you some of the really exciting things that have been happening this weekend down at the Festival of Hope. In fact, on Friday night, when Franklin Graham gave the invitation for people to come down, we just got completely and totally overwhelmed by the number of people coming to seek to give their lives to Christ.
Some of us were counselling five, six and seven people – we were only supposed to be counselling one – because there were so many people that came to make a decision.
Cavanaugh then introduced a young man, Julius, who had been one of four who said he wanted to accept Christ at Rogers Arena
Media attention
Although the media offered lots of opportunities for critique of Franklin Graham before the Festival, I haven't found any sign that anyone actually attended to report on the event itself – I'd be happy to be corrected on that. [See note following article.]
CBC Radio did run an article (Franklin Graham thankful for controversy over Vancouver event) and a 32-second video clip March 3, just before the three-day event began, asking Graham to respond to concerns about his participation.
The article said, in part:
"Of course there's been a little bit of controversy the last few weeks, which has helped even more to get the word out," said the 64 year old son of televangelist Billy Graham.
On February 10, Vancouver Mayor Gregor Robertson was part of a meeting of 14 local leaders from evangelical, Anglican, Roman Catholic and other Christian groups, which discussed concerns about Graham speaking in the city, considering his remarks about LGBTQ people and Islam. . . .
Dozens of Christian leaders from different ecumenical backgrounds made public a letter outlining their opposition to Graham being in Vancouver.
Graham said in the video:
I want the churches that have been opposing, or the groups that were in opposition, they are certainly welcome, I would certainly want to invite them to come and hear for themselves to see if the concerns they have had are warranted or not.
Gracious response
I know that several who signed the letter opposing Graham's participation did in fact attend. City in Focus president Tom Cooper was one of them; he wrote this email to local Festival leaders March 6:
Dear brothers and sisters in Christ,
I wanted to write you a short note to thank and praise God for both the attendance and the response to the festival of hope. I personally attended on Friday night, along with a few friends – and was deeply touched by the response of so many people to the invitation to commit their life to Jesus (of particular joy was to see so many young people coming forward).
It reminded me of my own journey when a similar offer was made to and accepted by me at Malibu through Young Life over 40 years ago.
So well done and may the ripple effect continue to impact His Kingdom in the years to come.
Blessings,
Tom
Cooper's letter should not be taken as a sign that differences of opinion over Franklin Graham's participation in the Festival of Hope were not deeply held. But it should remind us of similar comments made even during the heat of the dispute, which I quoted in earlier articles.
During a CBC interview February 21, Giulio Gabeli, leader of the local Festival team, said:
Obviously, our hearts are a little heavy, that different relationships and different colleagues are at odds with the vision and the purpose of the Festival of Hope.
I just want to clearly say that events come and go, but relationships endure. We're not divided, we're not separated; I want to make that very clear. We've agreed to disagree, and once again, our desire is very simply to present a very clear gospel message, a message of hope to our city.
And those critiquing Graham's participation included these conciliatory words in their February 24 letter:
We wish to make clear that we value the work our sisters and brothers in Christ have done in organizing the Festival, which intends to celebrate and share the true message of Christianity: the Good News about Jesus of Nazareth. We pray that the Festival of Hope will be all that God wants it to be. . . .
We want to continue to work with all our sisters and brothers in the faith, even in the wake of this controversy. We do not want disagreement on this one initiative to reverse the tide of cooperation that has been building for years now.
Looking ahead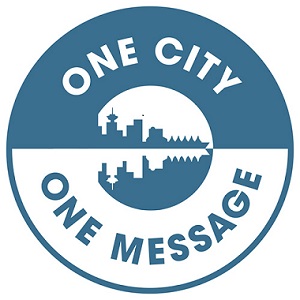 I attended a 'Canadian Evangelicals Forum' hosted by the Evangelical Fellowship of Canada (EFC) for local Christian leaders March 8. Aileen Van Ginkel, a vice president of the EFC, said she felt very encouraged by discussion which took place about the Festival, having been nervous that there might be some heated debate on the topic. In the room were at least a couple of people who had signed the letter and a couple who were on the Festival leadership team.
I expect we will see many more encouraging signs of cooperation this spring, including:
* One City One Message, which looks set to involve a good number of churches June 11. This initiative grew out of city councillor Andrea Reimer's words during the Vancouver Consultation's City Summit in November – more to come on that soon.
* Voices Together, which is expected to draw some 12,000 Christians from all backgrounds to the Pacific Coliseum July 1 to worship God together as we celebrate Canada's 150th birthday.
My view is that this public disagreement between Christians will, in the long run, strengthen the church. We need to be willing to face our differences without being fearful, and those in the city who have ears to hear and eyes to see will have noticed that the Church of Vancouver has done just that over the past few weeks.
* March 9: Joseph Jones was good enough to point out that Darren Fleet went to the Festival and posted a story on Vice March 6.